Instant Pot Chicken Stock will make your homemade soups and other dishes taste better than ever. It's easier than you think to make and a Gr8 staple to keep in your freezer.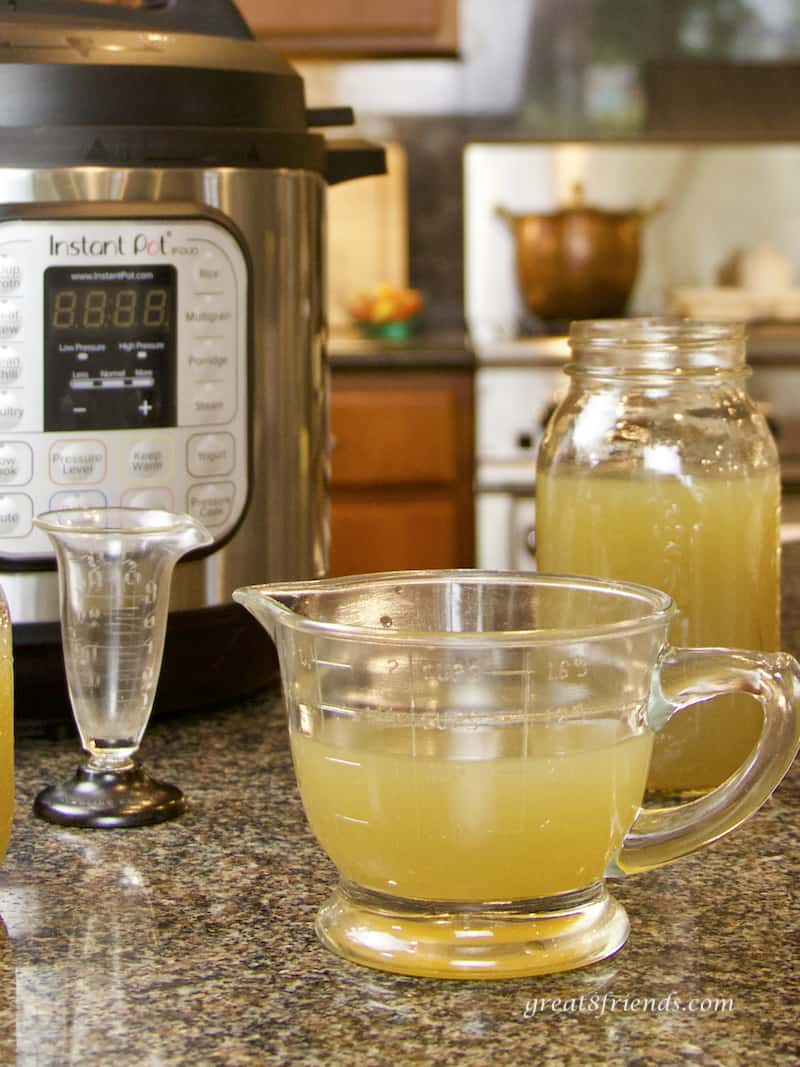 So, I finally got an Instant Pot! My sweet daughter, Tori, gave it to me for Christmas and was I ever surprised! Surprised because I had decided to buy myself a gift and had ordered one, but thankfully, it was still in the box. I never told Tori that I had bought one, shhhh, don't say anything!
It took me a couple weeks to get up the courage to use it. Do you get that? You take this big Instant Pot out of the box and there are 2 books with it and several buttons on the front. A bit intimidating! Not to mention the whole pressure thing...if it's going to explode, believe me, it will be in my kitchen!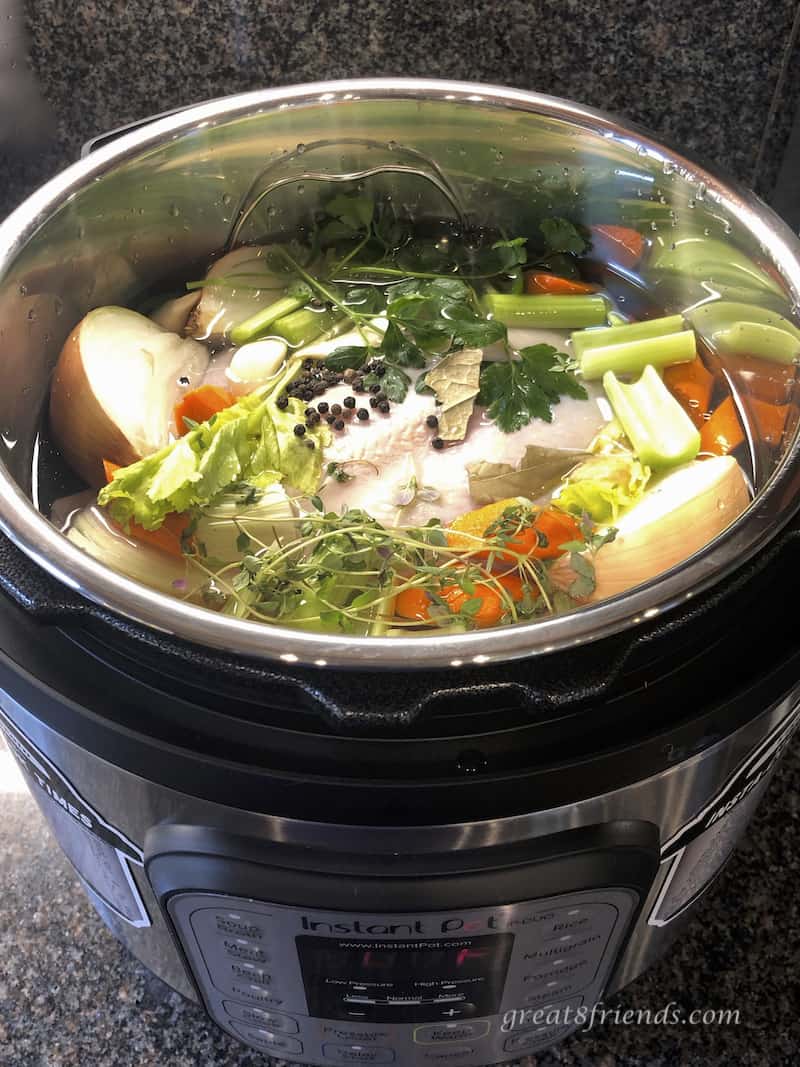 Well, I decided that chicken stock should be my first attempt. I figured that if I was going to ruin food, it shouldn't cost too much. This is my basic chicken stock recipe that I've always done on the stovetop. So much easier and quicker in the Instant Pot!
How to make Homemade IP Chicken Stock
It really couldn't be easier to make. You basically put a whole chicken into the inner pot of your Instant Pot. Then you cut up the basic vegetables that make most dishes taste delicious: an onion, some carrots and celery and some garlic cloves. Add in the aromatics, the peppercorns, parsley, thyme, and bay leaf. Then fill the pot with water and turn the Instant Pot on. It's that simple!
You may have noticed that I didn't put salt on that list. That's because I like to salt things once they're cooked so I can control the saltiness.
Afterwards, just strain the broth, cool it, and then portion it into containers or bags to freeze. You also have the chicken meat,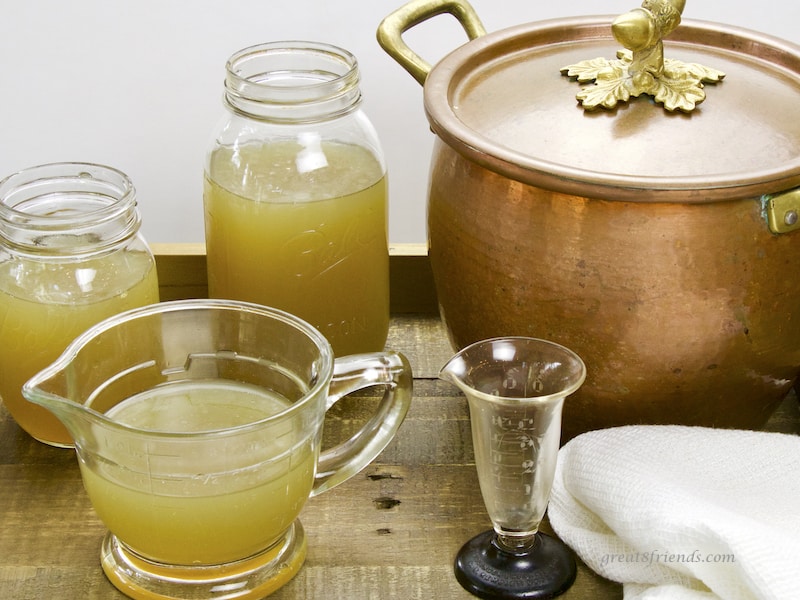 What to do with leftover chicken meat?
Here are a few ideas. Pro tip: shred the chicken instead of dicing, it may be a bit dry and shredding will give you a better texture.
If you've never made your own chicken stock, you are missing out. Keep portioned zipper bags in your freezer and add more flavor to your cooking than you could ever imagine. In addition to flavor, homemade stock adds a certain silkiness to recipes. I know it sounds crazy, but try it!
Some recipes for using your Instant Pot Chicken Stock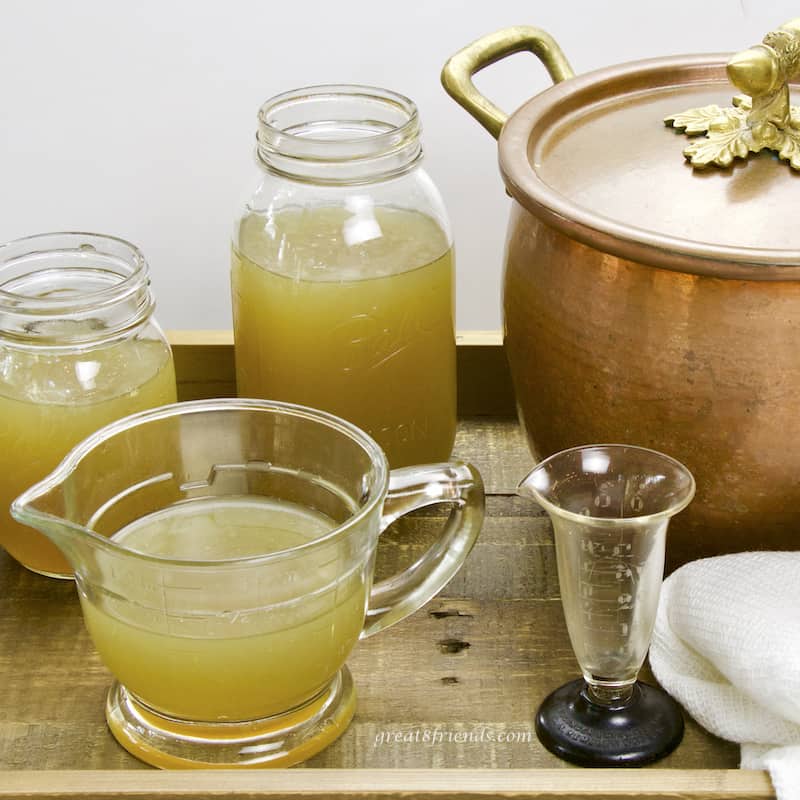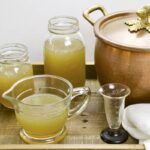 Print Recipe
Pin Recipe
Save this Recipe
Saved!
Please leave a rating!
Instant Pot Chicken Stock
It's always Gr8 to have homemade chicken stock in your freezer!
Ingredients
4

pounds

chicken

,

either a whole chicken or parts

1

onion

,

cut in quarters (I don't peel the onion)

3

ribs

celery

,

cut in large chunks

2

medium carrots

,

cut in large chunks (nor do I peel the carrots)

3

garlic cloves

,

smashed and peeled

½

teaspoon

black peppercorns

4

sprigs

fresh parsley

,

optional

5

sprigs

fresh thyme

,

optional

1

bay leaf

Water

Salt to taste

,

add at the end of cooking or when you use the stock, depending on the recipe you are making
Instructions
If the giblets are inside the cavity of the chicken, remove them. Then place the chicken in the inner pot of the Instant Pot.

Toss all the other ingredients into the pot and fill with water to about ½" below the max line on your Instant Pot.

Put the lid on and seal the lid. Make sure the pressure valve is in the SEALING position.

Turn on PRESSURE COOK and set timer to 45 minutes.

When cooking is complete let the pressure release slowly. If you do quick release, you will get a lot of spitting from the valve.

When the pressure is fully released, open the lid and use a large slotted spoon or spider to lift out the large pieces of chicken and vegetables. Then strain the stock into a large bowl or pan.

If you refrigerate the stock overnight, the fat will come to the surface and solidify, making it easy to remove and discard.

Once cooled with the fat removed, portion into freezer containers or bags. You will have stock for a while!
Notes
Gr8 Do Ahead Tips:
Once the stock has cooled you can portion it into freezer zipper bags. Keep it in your freezer for up to 6 months.