Paella is a vibrant Spanish dish made with a variety of proteins and vegetables. Similar to a casserole only much more elegant!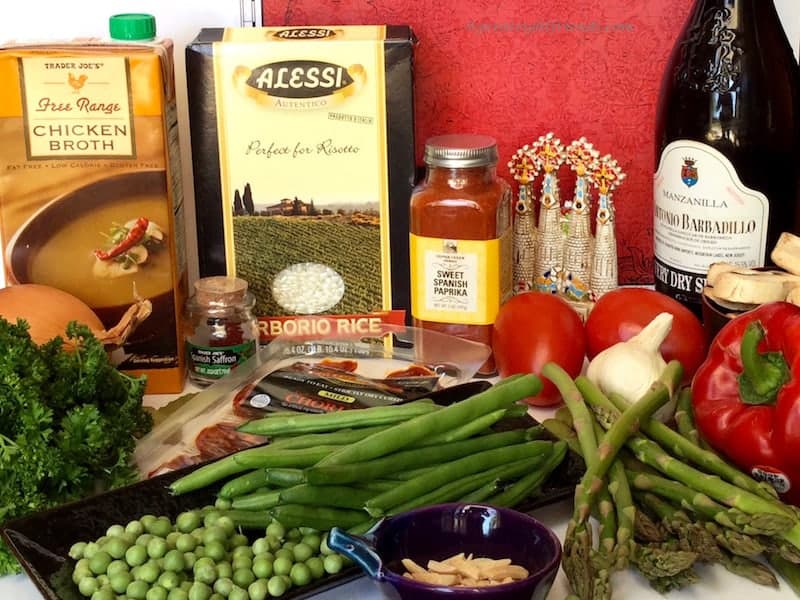 I've always loved the cuisine of other countries and enjoying them while in that particular part of the world...even better!
While studying in Madrid during college, I was fortunate enough to live with a wonderful group of ladies who taught me how to cook their native dishes. Among my favorites was Paella.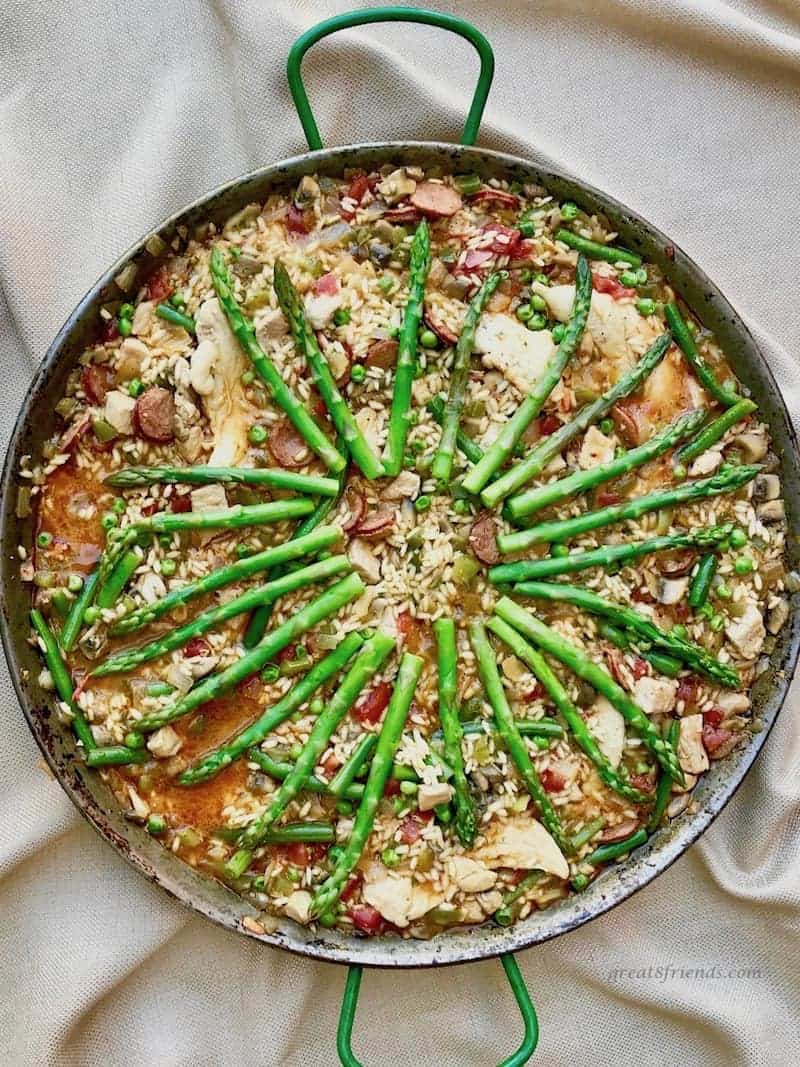 Paella is a traditional rice dish seasoned with beautiful golden strands of saffron.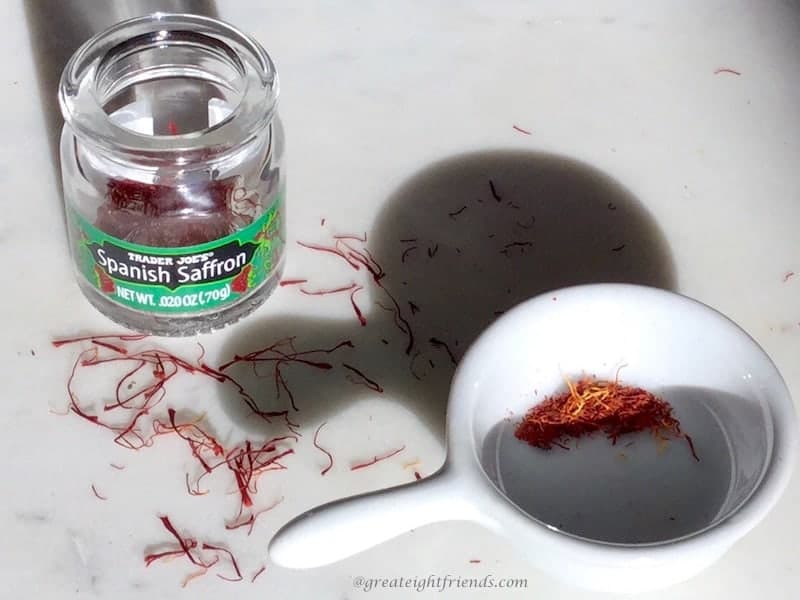 There are many versions of this traditional Spanish dish, always with rice as the main base.
Some recipes call for all seafood, some consist of meat and seafood, there are recipes with chicken only, and then there are recipes with a combination of all of the above.
And a few cities actually have a paella dish named after them; they seem to have the bragging rights of theirs being better and more authentic!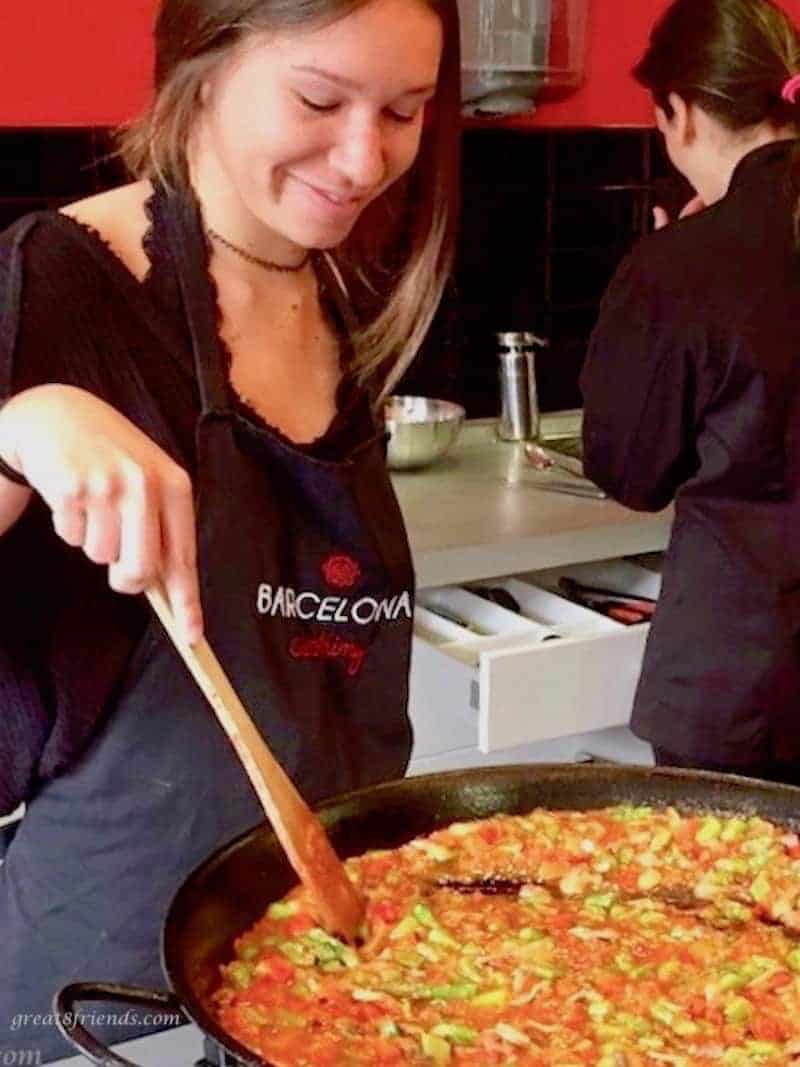 Our daughter, Miranda studied in Barcelona during her senior year at LSU. Having no classes on Fridays, she and a couple of her friends took a paella cooking class... I was a little envious! The photos she texted us brought back wonderful memories of my year in Spain.
Her cooking class was a bit more elaborate than mine from the late 70's! Her class took place in a cooking school. Mine, in a family kitchen...which I actually loved! I can't wait to compare the recipes!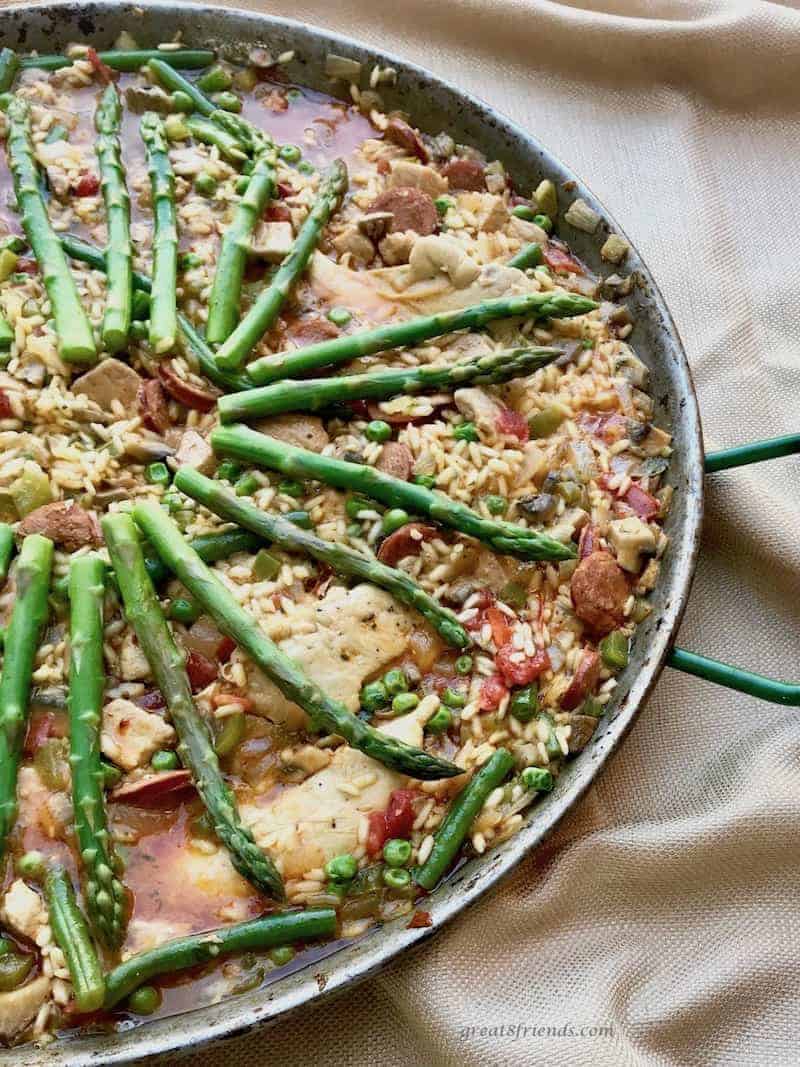 Although there are many dishes that I learned to make during my year abroad, I still love making paella all these years later; and the aromas from the kitchen take me back to my days on Calle de Quintana.
Hmm....maybe Miranda and I need to have a Paella cook-off! ¡Viva España!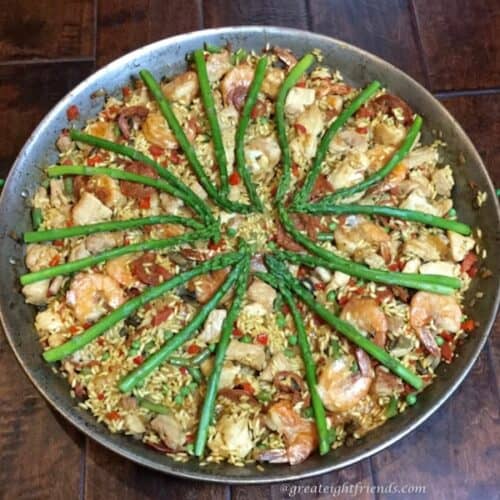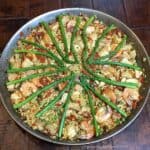 Print Recipe
Pin Recipe
Save this Recipe
Saved!
Please leave a rating!
Paella
Special Equipment needed: One 14″-18″
paella pan
, or very large shallow casserole of similar size.
Ingredients
8

Tablespoons

olive oil,

divided

2

Tablespoons

slivered blanched almonds

6

cloves

garlic

,

minced

2

Tablespoons

chopped parsley

¼

cup

dry sherry

¼

teaspoon

crumbled saffron threads

Kosher or sea salt

1

pound

chicken breasts or chicken tenders

,

cut in 2″ pieces

6

cups

chicken broth

12-16

large or extra large

shrimp

,

in their shells

1

pound

pork loin

,

cut in 2″ pieces

¼

pound

Spanish chorizo*

,

cut into ¼″ slices (Spanish chorizo is as firm as salami, not the soft chorizo in the bacon section in the meat dept.)

1

onion

,

finely chopped

1

red or green bell pepper

,

finely chopped

1

bay leaf

2

medium

tomatoes

,

chopped

1 ½

cups

chopped mushrooms

¼

pound

cooked green beans

2

teaspoons

paprika

3

cups

Arborio short grain rice

½

cup

fresh or frozen peas

16

asparagus spears

,

cooked

*Spanish chorizo is available at some regular and and some specialty supermarkets. I actually found mine at Cost Plus World Market. You can also order it online.
Instructions
Heat 1 Tablespoon of olive oil in a small skillet and sauté the almonds and garlic until golden, careful not to burn.

Transfer the browned almonds and garlic to a mortar and pestle or mini food processor. Add the parsley, sherry, saffron, and ⅛ teaspoon of salt and mash or process the mixture to a paste.

Sprinkle chicken with salt.

Keep the broth warm in a large pot over the lowest heat, while you prepare the steps below.

Heat 5 Tablespoons of the oil in a paella pan (or another pan of a similar size).

Sauté the shrimp in their shells over high heat and remove to a warm platter. Do not fully cook. They will continue to cook with the rest of the dish in the steps below.

In the same skillet, sauté the chicken over high heat, for 5 minutes, turning once, until brown but not fully cooked.

Transfer the chicken pieces to the platter with the shrimp. Add the pork and

chorizo

to the same pan. Cook 1-2 minutes.

Transfer to platter.

Add the remaining 2 Tablespoons of oil to the pan and reduce heat.

Add the onion, bell pepper, and bay leaf to the pan and sauté until the onion and pepper are softened.

Stir in the tomatoes, mushrooms and green beans and sauté 5 minutes longer.

Add the paprika and rice. Coat well with pan mixture.

Slowly pour the hot broth into the pan. Stir to incorporate and bring to a boil.

Add the almond/parsley mortar mixture. Season to taste with salt, and continue to boil gently for 3 minutes, stirring and turning the pan from time to time.

Add the reserved pork, chorizo, and peas and continue to gently boil for 2 minutes more, until the rice is no longer soupy, but enough liquid still remains in pan to continue cooking the rice.

Remove the bay leaf and discard. Arrange the chicken and shrimp over the rice.

Transfer the pan to the oven. Cook, uncovered for 10-12 minutes or until the rice is almost al dente.

Remove from oven and arrange the asparagus on top of the paella. Cover with foil and let rest for 5-10 minutes, until the rice is cooked.

Serve and enjoy this delicious Spanish dish!
Notes
*Spanish chorizo is available at some regular and and some specialty supermarkets. I actually found mine at Cost Plus World Market. You can also order it online.
Recipe adapted from two recipes in Paella! Spectacular Rice Dishes from Spain, a cookbook by Penelope Casas.