The eight of us enjoyed many ingredients grown or produced in California at our dinner party themed "Gr8 eats bountiful California."
I never take for granted the fresh food available in California. We are so lucky to be able to enjoy an array of different produce and food products grown and produced in our state.
With that in mind, Joel and I decided that "Gr8 Eats Bountiful CALIFORNIA" would be our theme this year for our Gr8 dinner. Therefore, we wanted to highlight some of the natural resources available locally and in other areas of the state.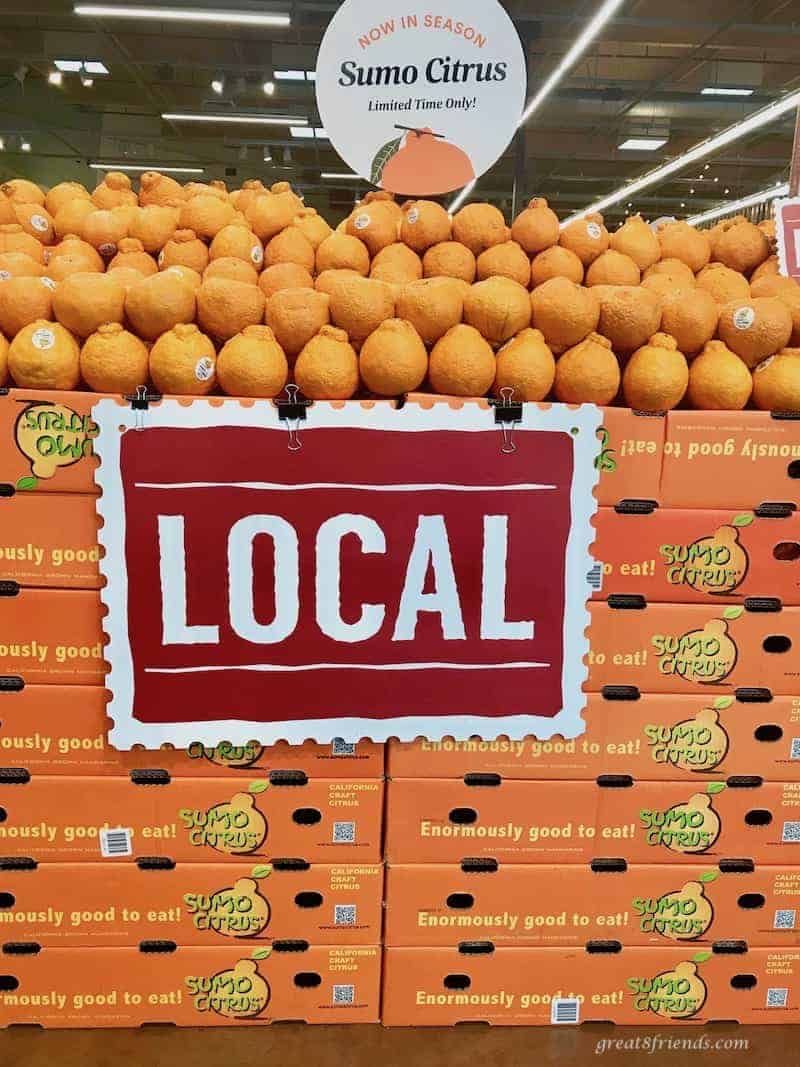 Did you know?
California grows over 200 different crops, some grown nowhere else in the nation.
California produces almost all of the country's almonds, apricots, dates, figs, kiwi fruit, nectarines, olives, pistachios, prunes, and walnuts. It leads in the production of avocados, grapes, lemons, melons, peaches, plums, and strawberries. Only one other state produces more oranges than California. Can you guess which one it is?
The most important vegetable crops grown in this state are lettuce and tomatoes. Broccoli and carrots rank second followed by asparagus, cauliflower, celery, garlic, mushrooms, onions, and peppers. California also grows more cotton than all states other than Texas.
With these facts in mind, we decided on
The Menu
We did not need to serve a cocktail concoction for this gathering! Almost 90% of the wine supplied to the US comes from California. Joel and I travel to Napa once a year and so we were delighted to share some of our Napa favorites.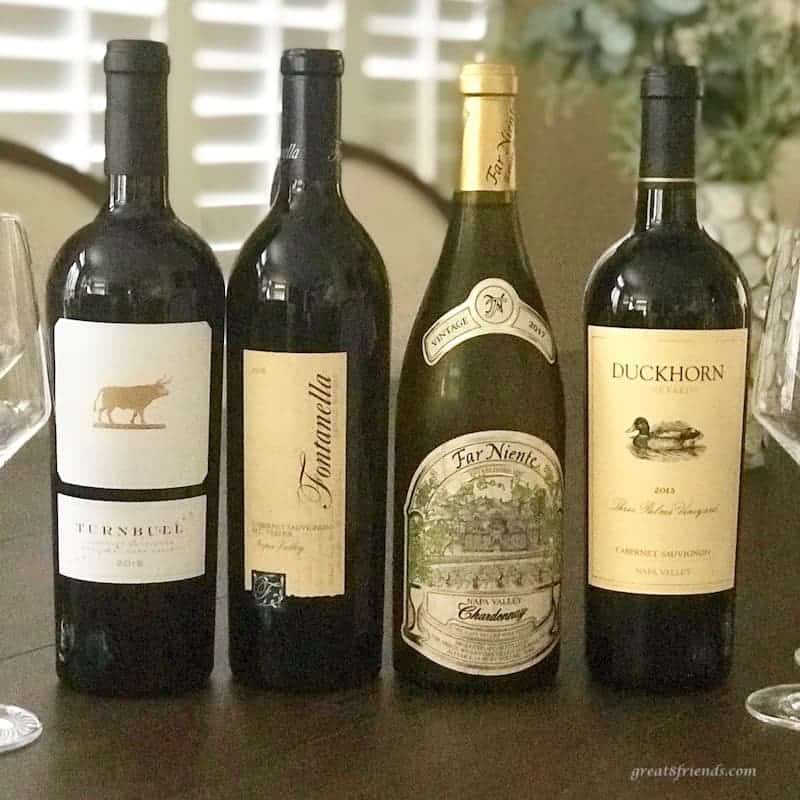 The highlight on the appetizer table was Anna's California Roll! Check out her step by step instructions on how you can make them at home. This delicious roll of rice, cucumber, imitation crab sticks, avocado, fish roe and seaweed is now super popular in California and everywhere.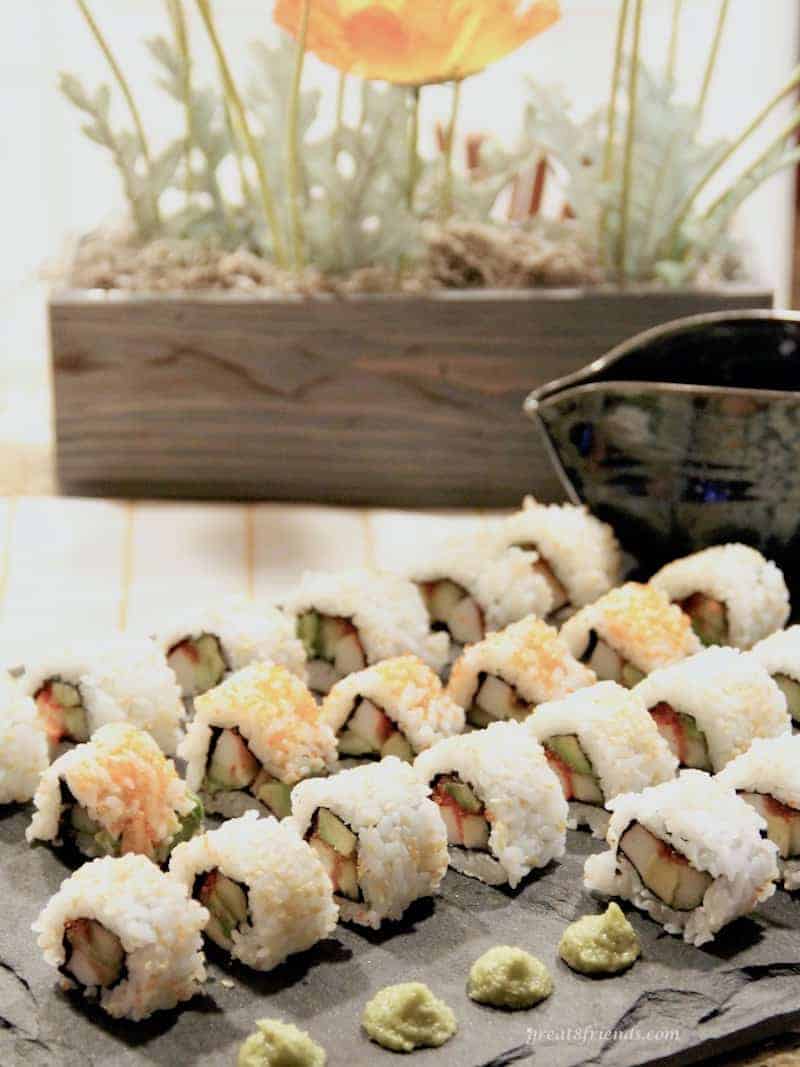 Also, these Citrus Olives with Coriander and Fennel are the perfect appetizer to serve with any meal and can be made several days ahead of time!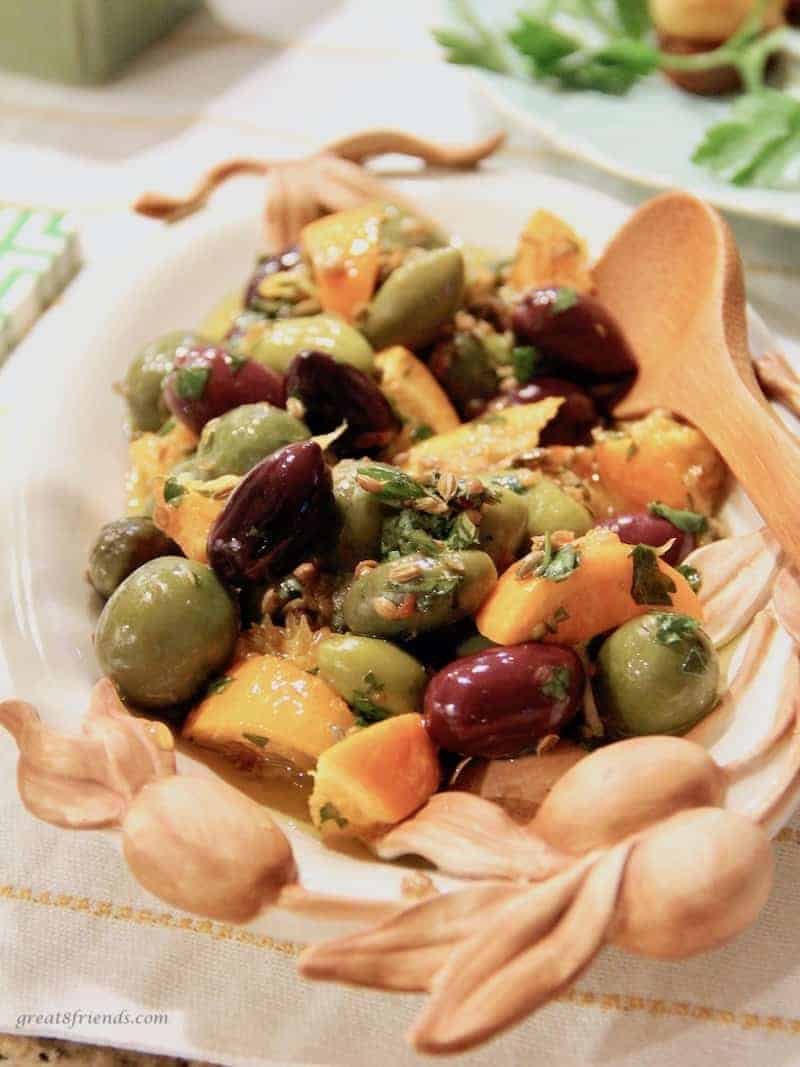 This tomato soup is by far one of my favorite recipes. It is easy to prepare and you can make it a day ahead of time which is helpful when planning a dinner party!
Joel picked up bread at the Bourdin San Francisco Sourdough Bakery. No, he did not drive to San Francisco. We are fortunate enough to have one close to home here in Southern California!
Jurga brought my favorite salad featuring California's finest strawberries, avocados and walnuts.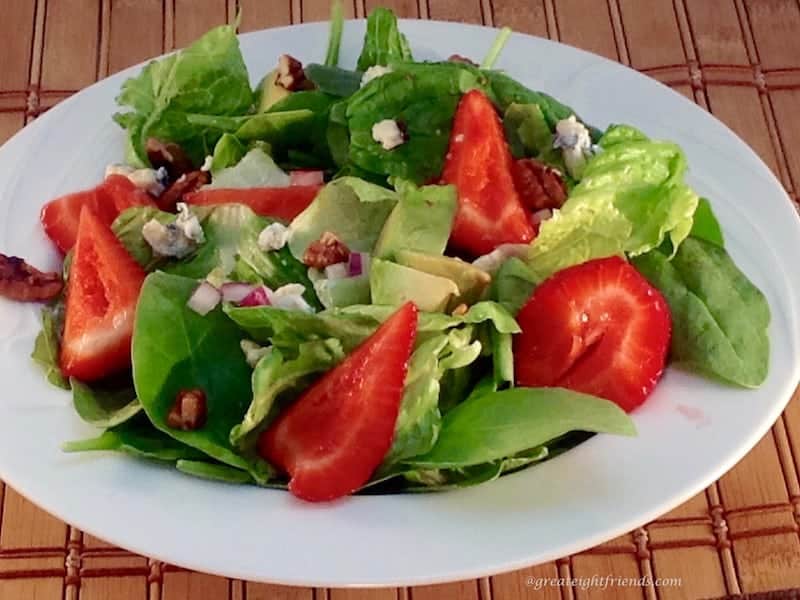 Did you know that the tri tip was discovered and marketed in California? Although we grilled the tri tip for our Gr8 dinner, you might want to check out our popular slow cooker version.
Wanting to include one of California's top crops I made Ina Garten's Artichoke Bread Pudding! It was the perfect side dish and paired deliciously with the tri tip!
Well Oranges! Certainly we need to end with a something a bit citrusy and Debbie's Orange Almond Cake with Citrus Glaze was the perfect ending to a California bountiful meal! And yes, we each got our own individual cake!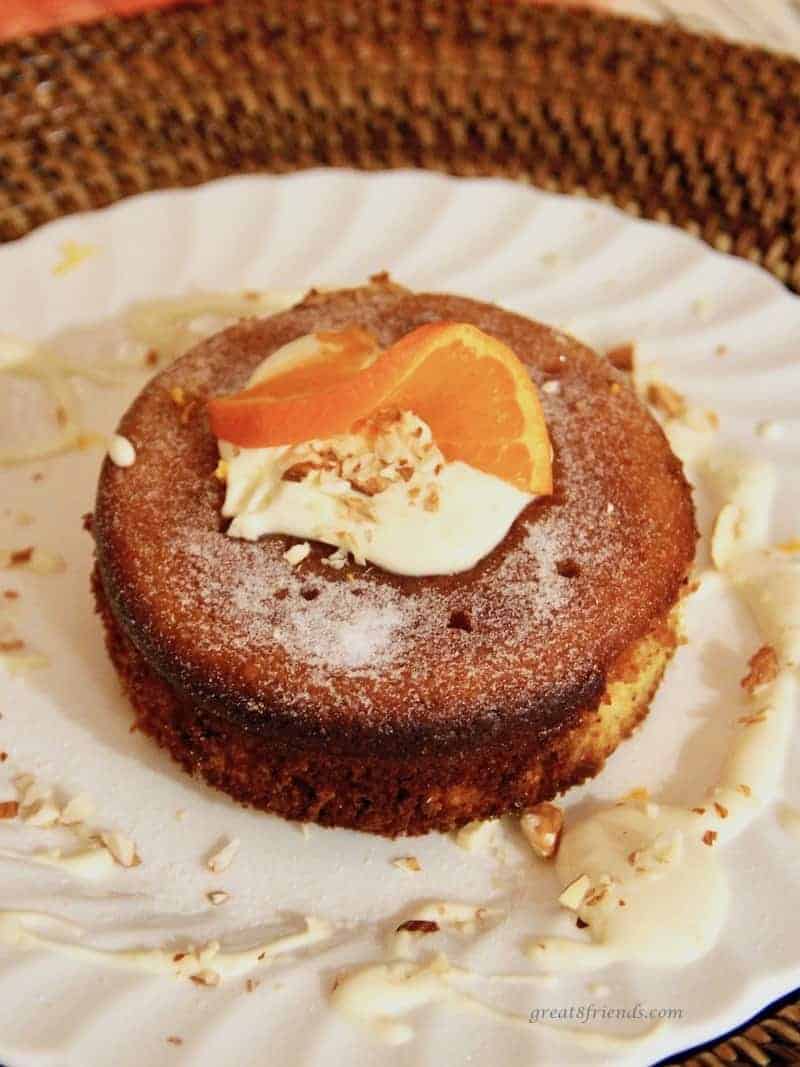 The Invitation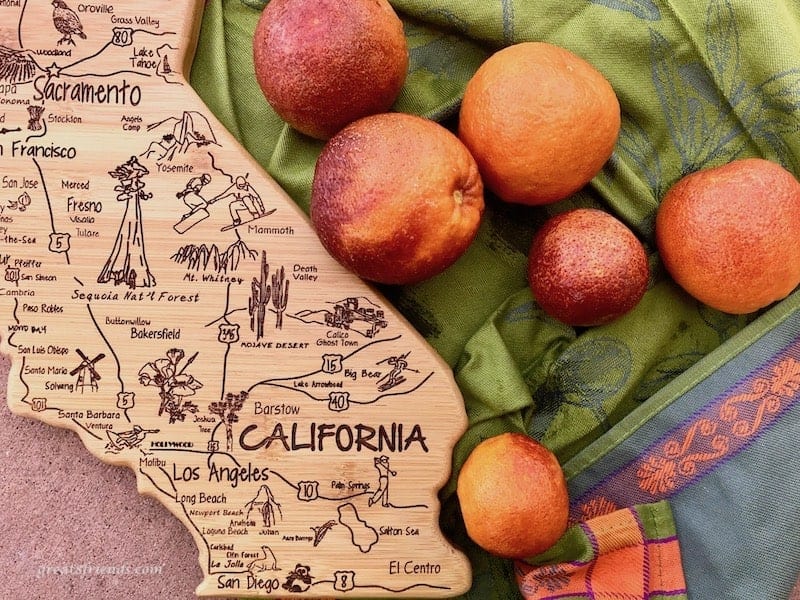 This post contains affiliate links which means Great Eight Friends may earn a small commission if you click on the link. There is no additional cost to you. As an Amazon Associate we earn from qualifying purchases.
Once we decide on the menu, the invitation is the next step. I found these California wooden cutting boards at Bed Bath and Beyond and wrote the menu on the reverse side. The words written in bold are products California is known for.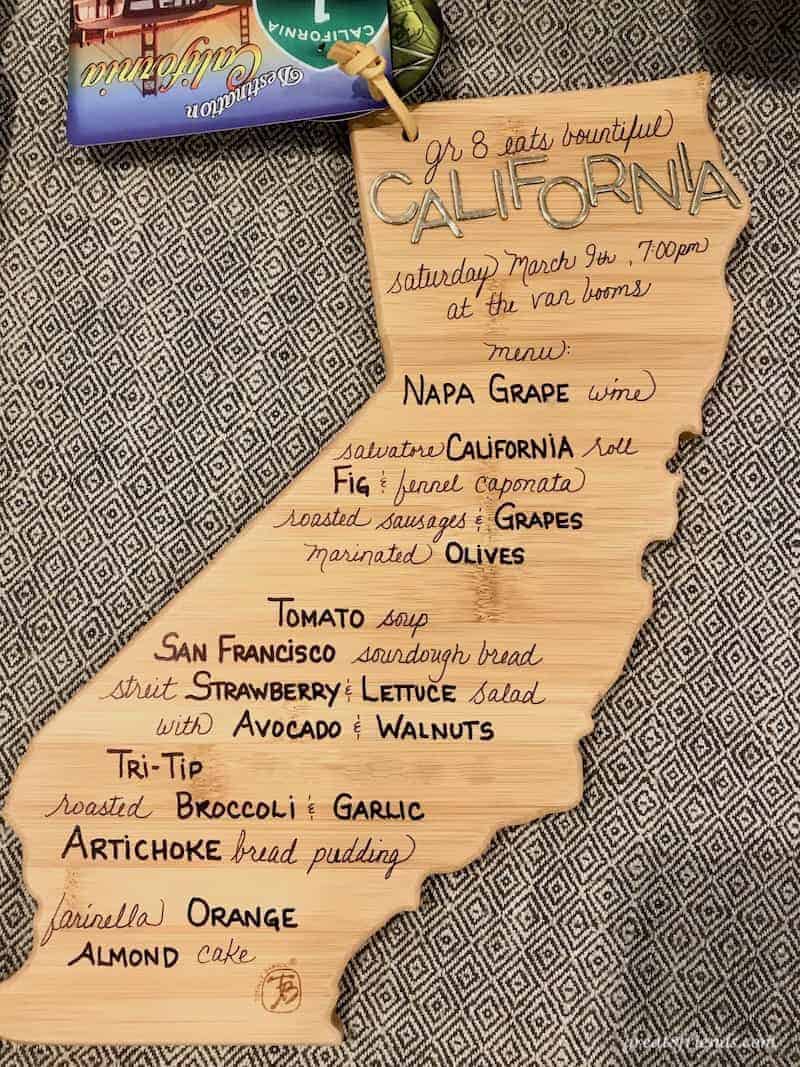 I delivered the invitation to each porch one evening with a California poppy and a lit up wine bottle.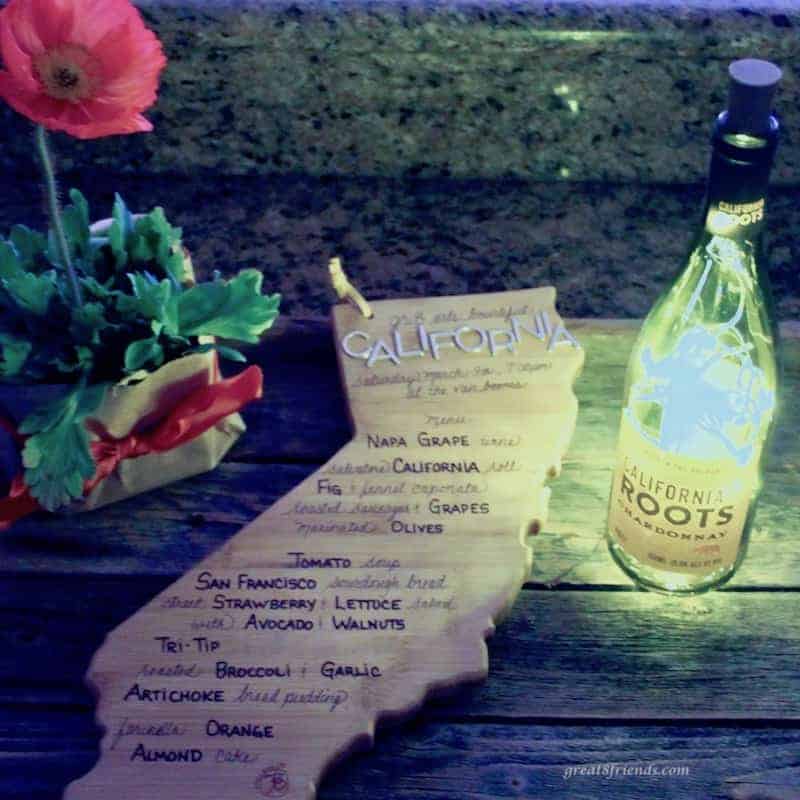 The Table
With an open mind and not knowing exactly what I was going to do for a centerpiece, I wandered through Roger's Gardens in Newport Beach.
I came upon fresh beautiful green lettuce plantings and knew they would fit the theme perfectly! I kept them planted and added some dried moss to hide the plastic containers. Then by placing fresh fruit here and there, voilà, I had a centerpiece.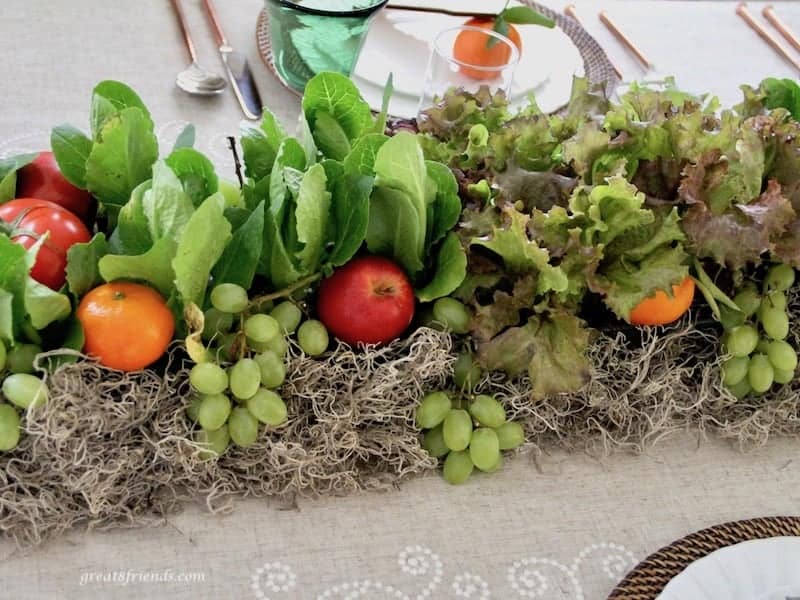 I was super excited to be able to find the napkins on Etsy and the place cards were ordered from our favorite local gal at PoppyJack Etsy Shop!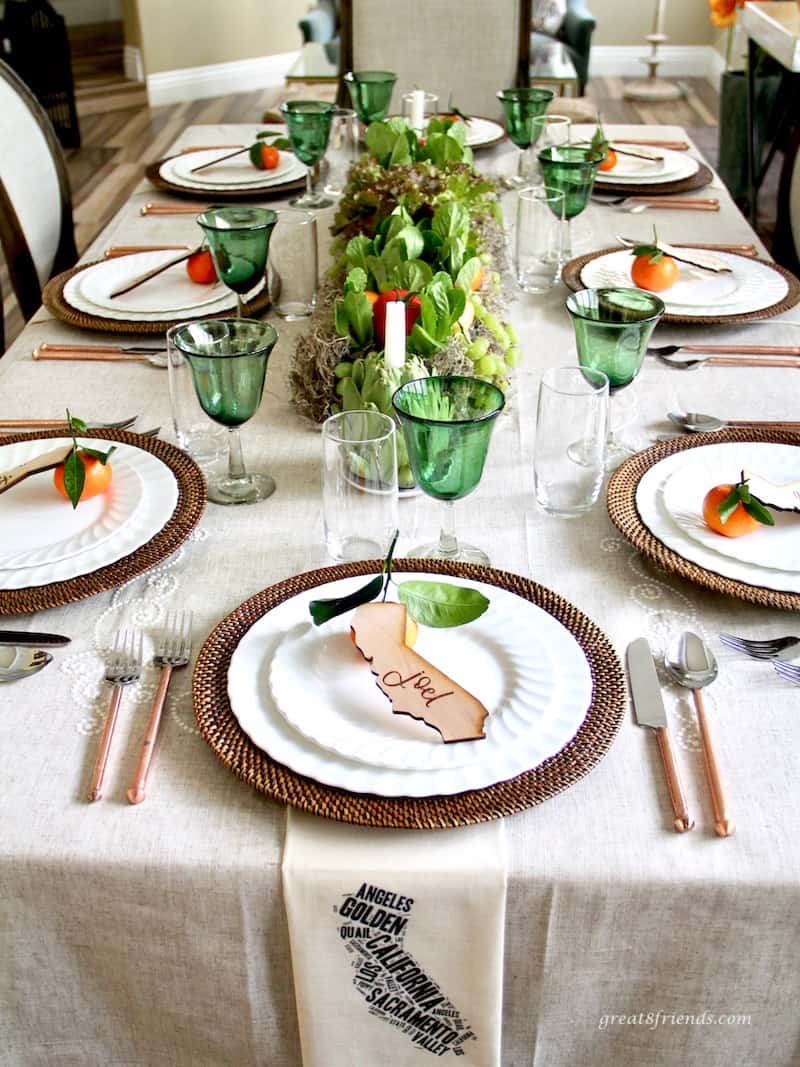 Our sweet friend Katelyn Lizardi Rodriguez designed our gift bags. You can follow her on Instagram and check out her website. Katelyn also helped us a few years ago with designing our Gr8 logo.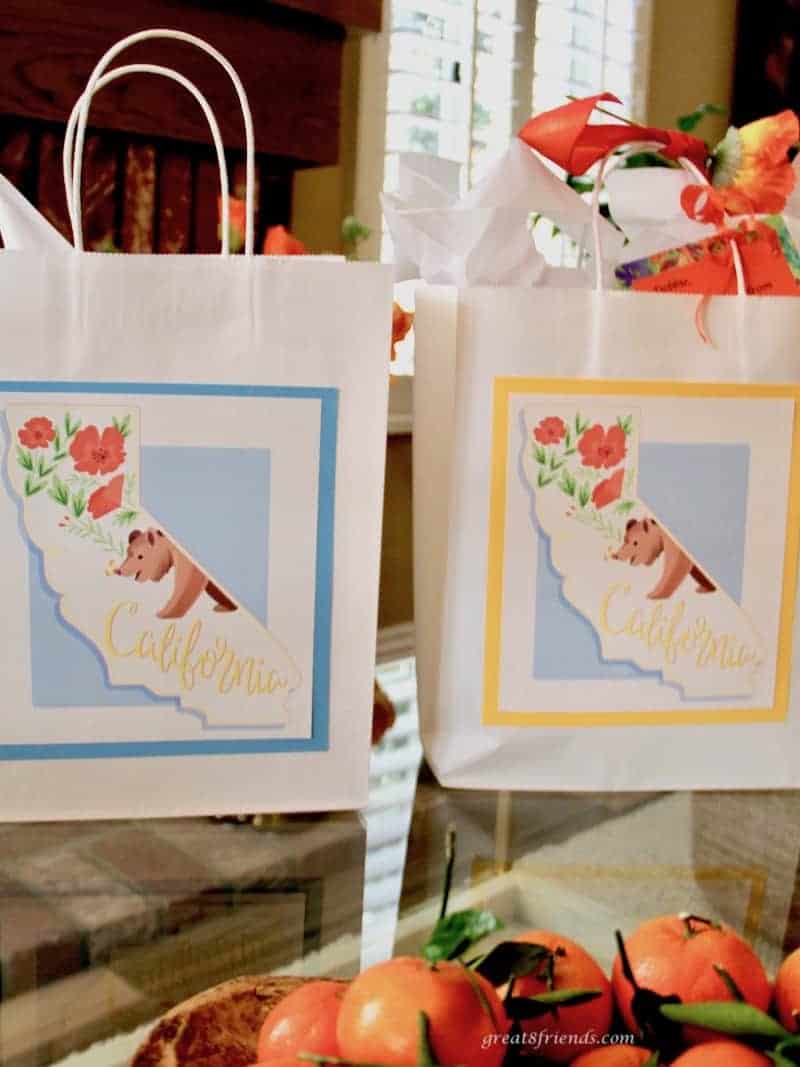 The end of our evening always comes too soon and we have to say goodbye until the next time.
Let us know below in the comments what food or recipe is unique to your state! Maybe something will inspire us for our next Gr8 theme dinner party!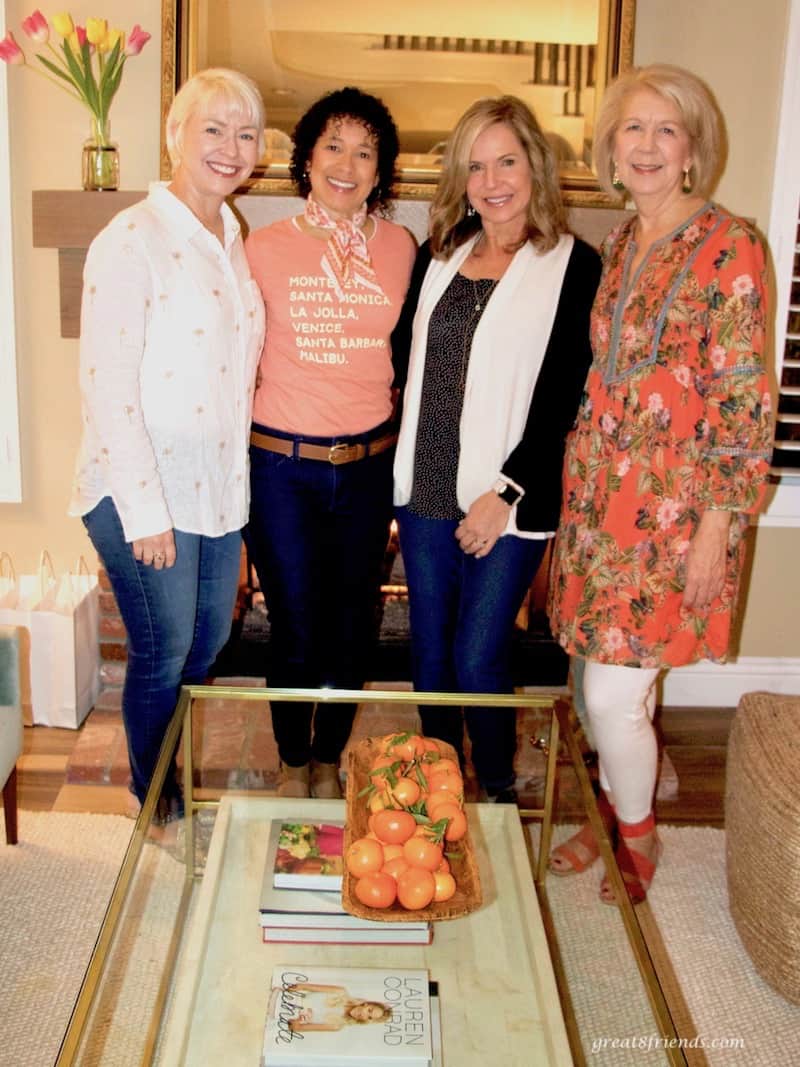 Wishing you from California Gr8 Food, Gr8 Friends and Gr8 Fun!
Bountiful California Recipes
Homemade California Roll
Homemade Sushi? You CAN do this!
Some Asian markets sell the sushi rice already prepared. It's okay to buy it!
The timing for cutting the veggies and rolling the sushi is only 30 minutes. If you make your own rice it will take considerably longer.
Gr8 Recipe Here!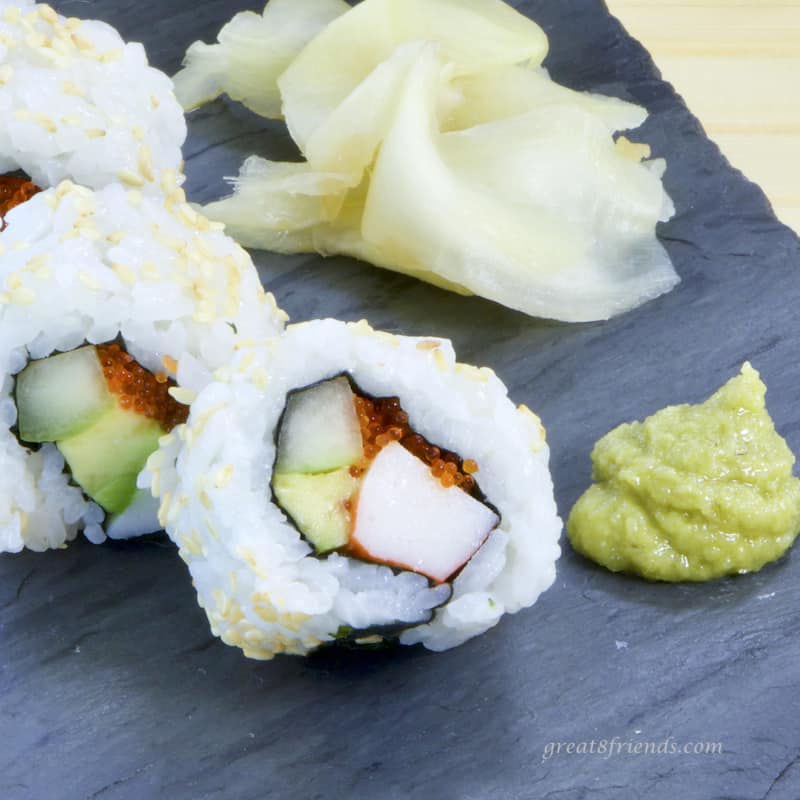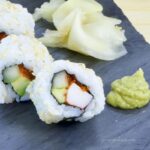 Citrus Olives
These Citrus Olives are the best little snack to have on hand when friends stop by, or even when it's just you and you need a little somethin'!
Gr8 Recipe Here!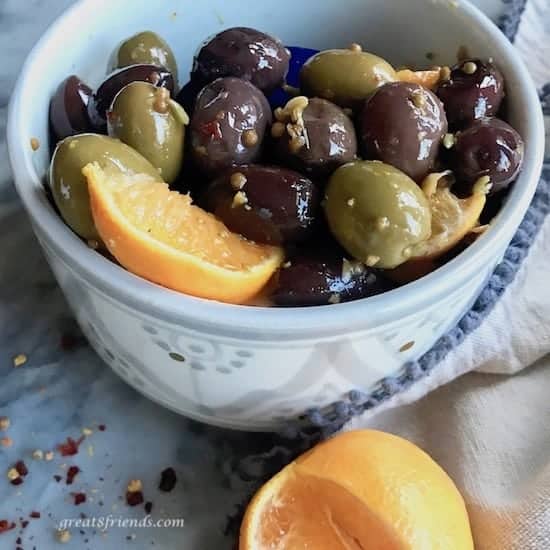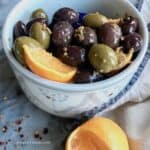 Tomato Soup with Parmesan Crisps
This looks fancy but is super easy for a weeknight supper. You probably have everything you need to make this!
Gr8 Recipe Here!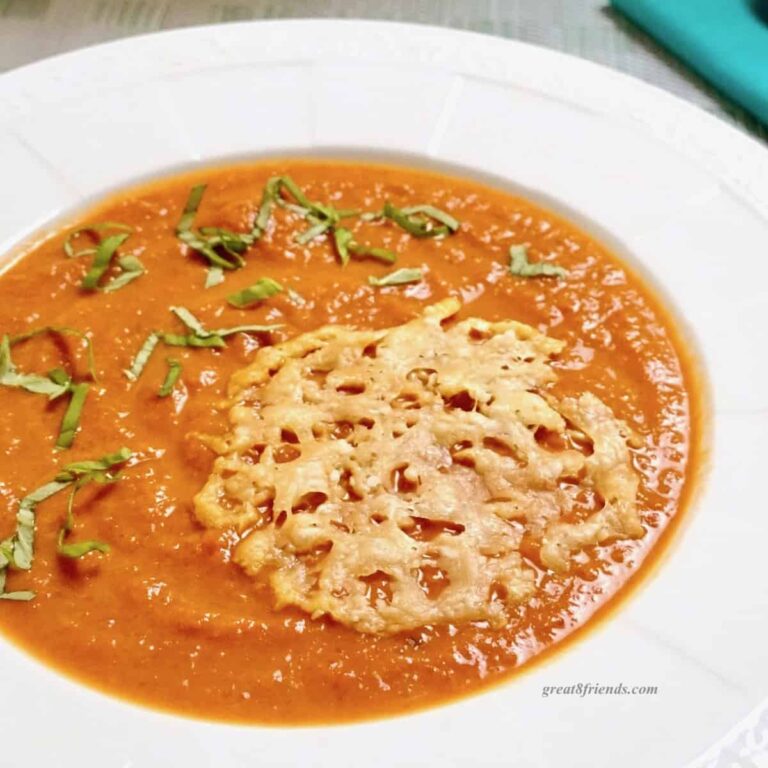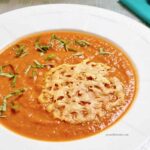 Strawberry Summer Salad
Any combination of fresh fruits can be used. Fresh raspberries and sliced oranges make a beautiful presentation!
Gr8 Recipe Here!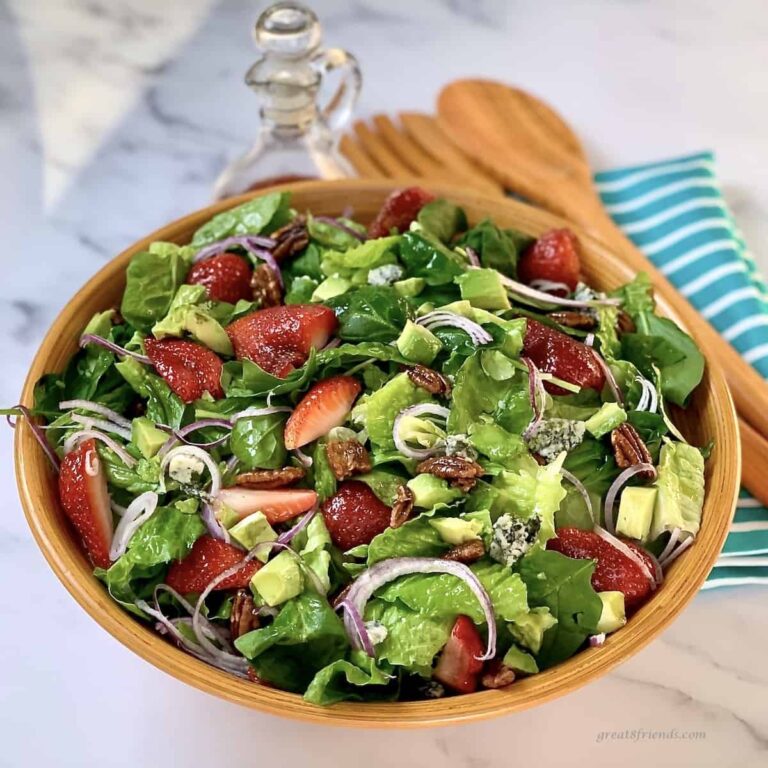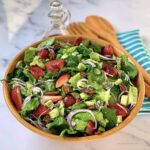 Slow Cooker Tri-Tip Roast
This Slow Cooker Tri-Tip Roast is the perfect Sunday, or any day, supper! Start it in the morning and have a delicious meal that evening!
If you don't have a slow-cooker (Crock-pot®) or prefer to cook this in the oven, cover with foil and bake it at 325° for 2 to 3 hours.

Gr8 Recipe Here!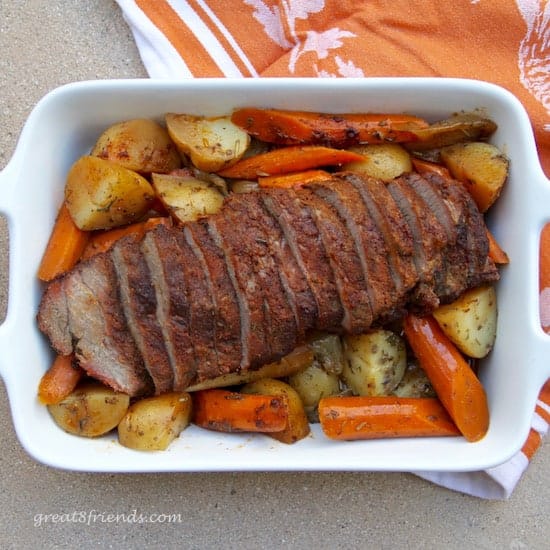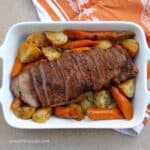 Orange Almond Cake with Citrus Glaze
A light citrus cake that's moist and delicious. It has the perfect amount of sweetness drizzled on top, making it a Gr8 dessert. Maybe even grab a slice to start off your day with a hot cup of tea or coffee.
Gr8 Recipe Here!