This Orange Almond Cake with Citrus Glaze is a light citrus cake that's moist and delicious with just the perfect amount of sweetness drizzled on top.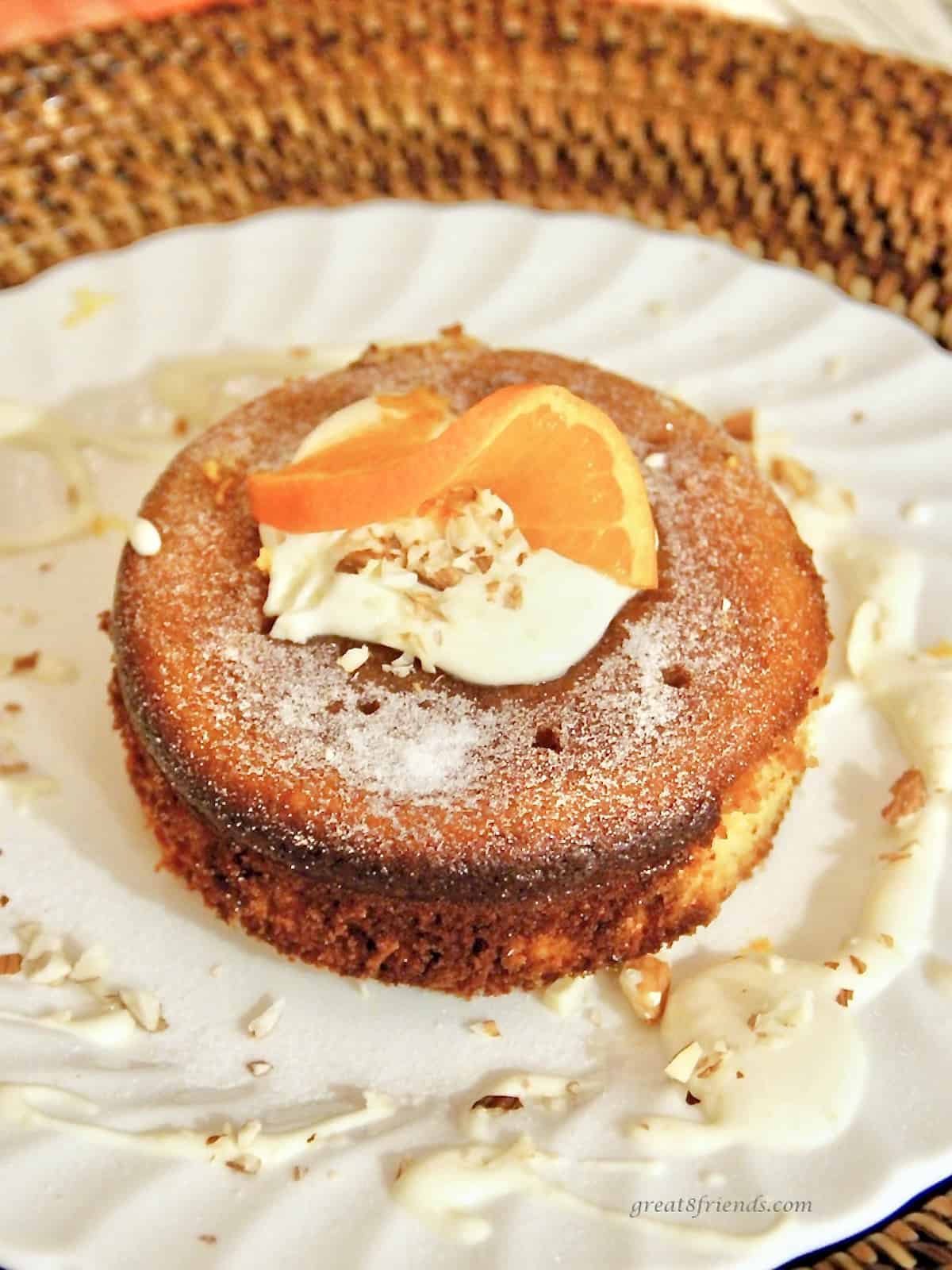 If you remember my love for all things citrus, you can imagine how I practically jumped for joy when my dish for Kyle and Joel's Great 8 dinner was an Orange Almond Cake! Almonds, being my favorite nut, made it a win win. My two favorites together in a dessert.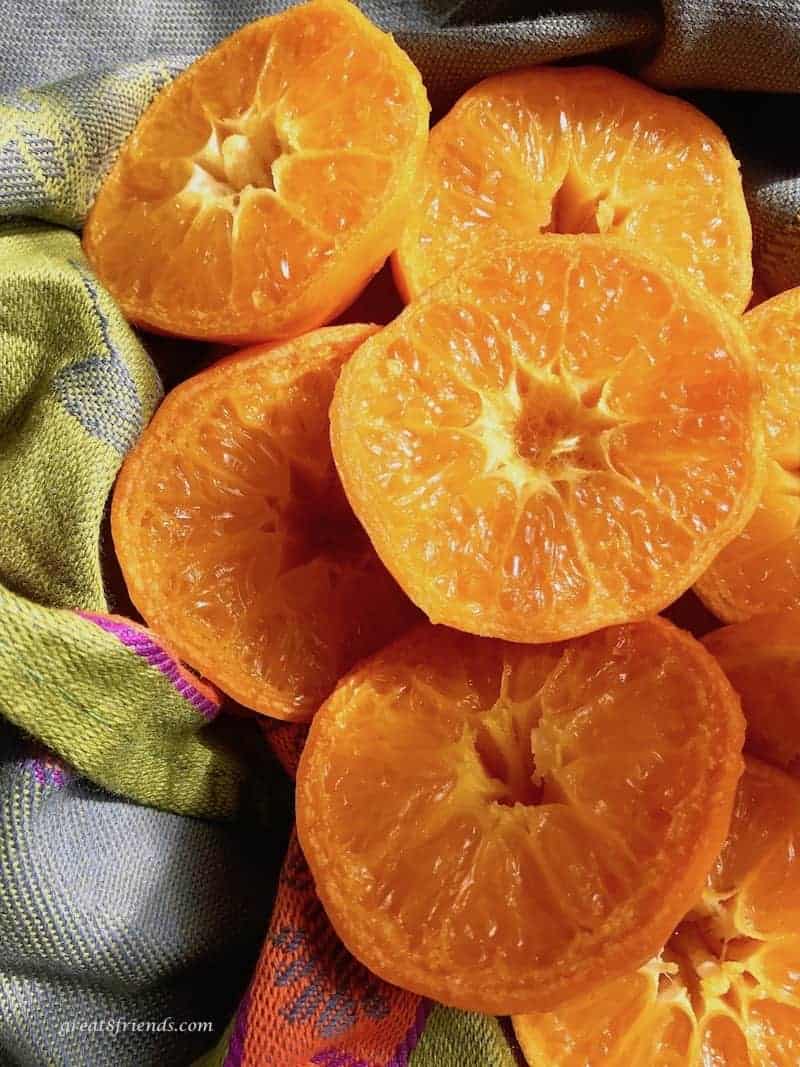 Add a little Citrus Glaze on top...Boy was it a winner!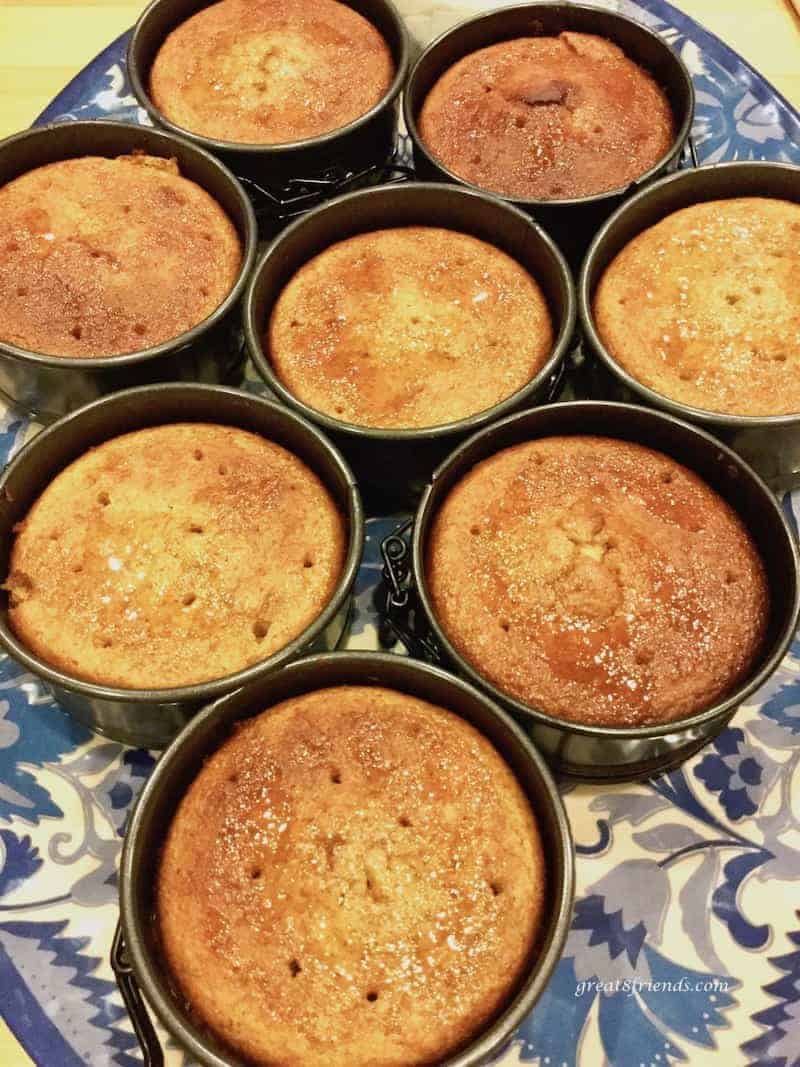 When making desserts for our Great 8 Dinners, I often like to change it up a little.
When asked to bring "a" pie, I bake "a" pie...for each of us! When asked to bake "a" cake, I bake "a" cake for... each of us! Get where I'm going here?
Yep, eight individual Orange Almond Cakes! Lucky for me, I was able to find eight 4" springform pans (the perfect size!) at Michaels.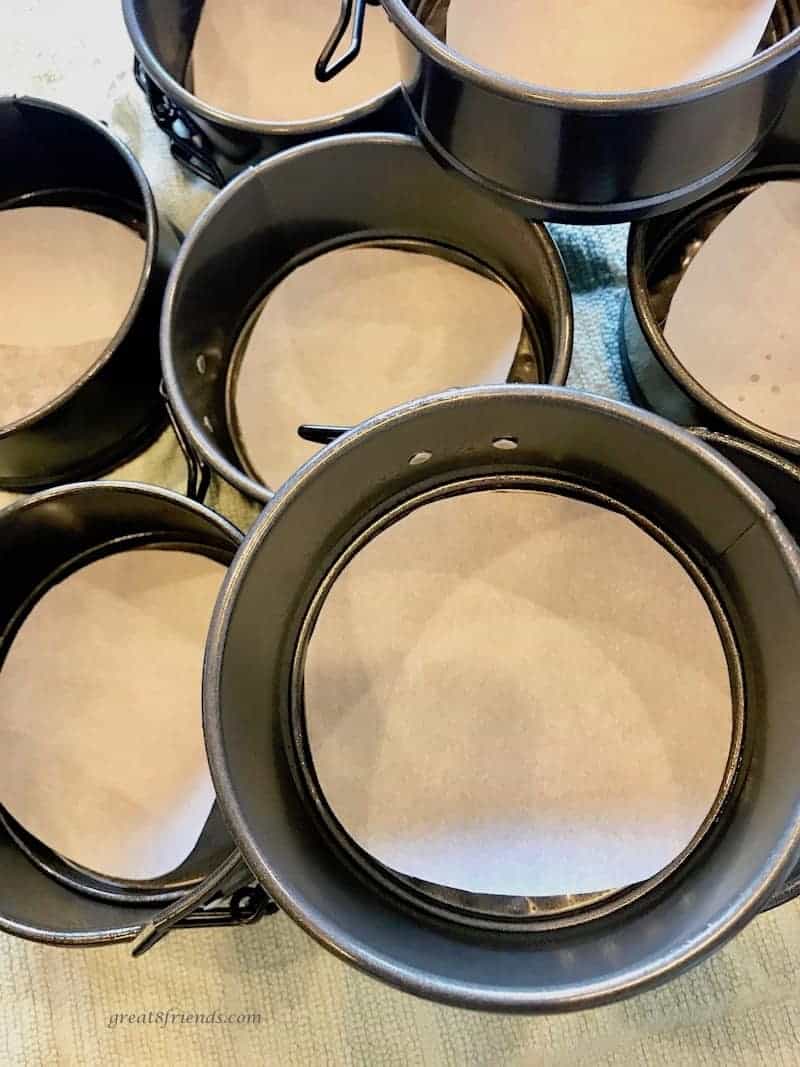 When you read through the recipe, don't be surprised with the first step. Cooking the oranges, peel and all, for 2 hours is necessary since you want the peel to be as soft as possible, because the entire orange is used in the recipe...even the peel.
We all know the bitterness of orange peel if you've ever tried it raw. The bitterness totally cooks off during the cooking process. When blended together, the aroma...oh MAN! I gave in to the temptation and tasted it with a spoon! YUM! My favorite!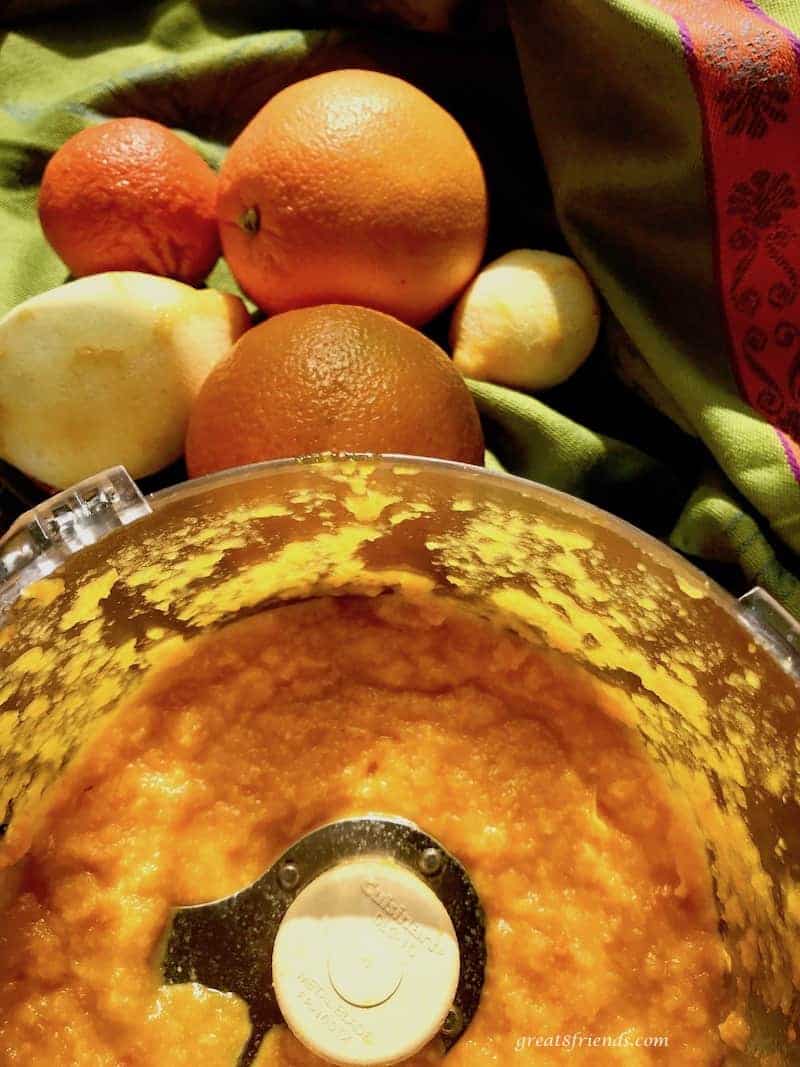 As soon as you take your first bite, your tastebuds burst with joy! The moistness of the cake and the citrus almond flavor are a Gr8 combination right there. Add the sweet, somewhat tart glaze and WOW! "Orange" you ready to make it?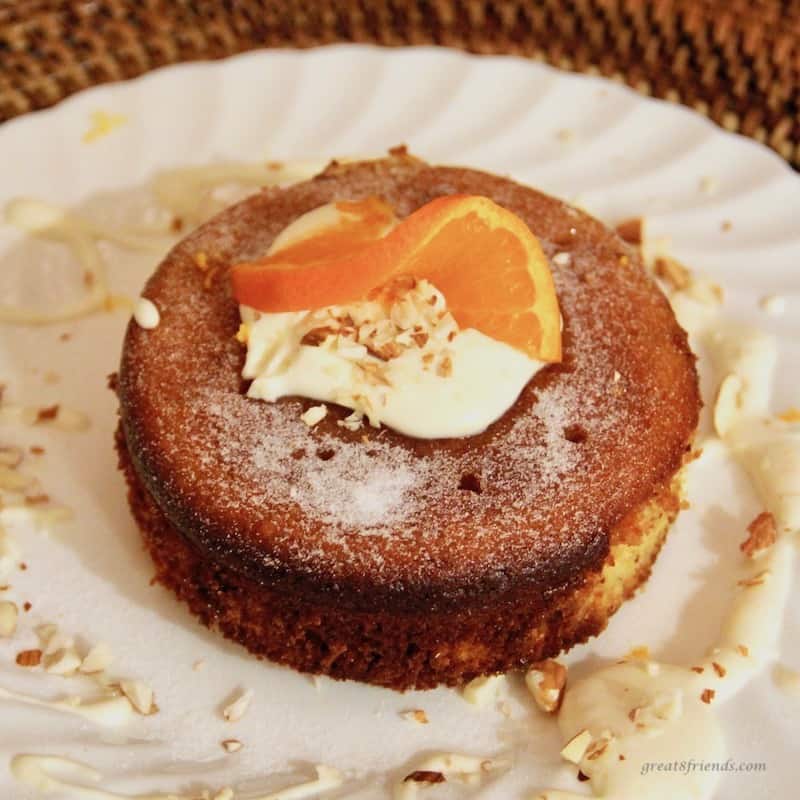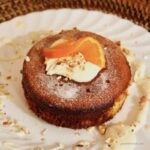 Print Recipe
Pin Recipe
Save this Recipe
Saved!
Please leave a rating!
Orange Almond Cake with Citrus Glaze
A light citrus cake that's moist and delicious. It has the perfect amount of sweetness drizzled on top, making it a Gr8 dessert. Maybe even grab a slice to start off your day with a hot cup of tea or coffee.
Ingredients
2

large

oranges

,

washed, little circle stem base removed. Try to choose oranges with smooth peel, with no blemishes or pitted marks

6

large

eggs

1

cup

extra fine sugar

,

I used C&H Baker's Sugar (in a carton)

1

cup, plus 3 Tablespoons

almond flour,

divided (found at your local grocer in the baking aisle)

1

teaspoon

baking powder

Cooking spray for pans

Parchment paper for pans
Citrus Glaze
1

cup

confectioners sugar

3 ½

Tablespoons

freshly squeezed orange juice
Finishing Touch
1

cup

heavy whipping cream

1 ½

Tablespoons

sugar

1

small

orange

3

Tablespoons

crushed almonds or almond flour

,

optional
Instructions
In a large sauce pan, place oranges in their entirety with water to cover. Bring to a boil. Continue to boil for 2 hours, or until very very soft. Keep an eye to make sure that the oranges always have water to cover. Let cool.

While the oranges are cooking, prepare the pan or pans by taking the base of the springform pan and "tracing" it with the point of a knife onto parchment paper. Cut along the "line", and place onto the base of pan. Repeat if using multiple pans.

Spray parchment and walls of pan with cooking spray. Sprinkle base and walls with 3 Tablespoons of almond flour. Set aside until ready to use.

While oranges are cooling, with an electric mixer, beat the eggs. Add extra fine sugar, remaining 1 cup of almond flour and baking powder. Mix thoroughly.

Once cool enough to handle, cut oranges in half. Carefully take out any seeds and discard.

Place 4 orange halves into the bowl of food processor or blender. Puree until smooth and of even consistency.

Add orange puree to the egg mixture. Mix thoroughly.

Pour mixture into prepared pan or pans. Bake for an hour, or until tester comes out clean. Let rest for about 20 minutes.

Gently loosen from pan and remove base and parchment circle. Allow to cool completely. Depending on which side you prefer as the good side, you may chose to invert onto serving plate or plates.
Citrus Glaze
Whisk together powdered sugar and orange juice.

With a skewer or toothpick, poke several holes into the top of cakes.

Drizzle Citrus Glaze over top of cakes. Transfer extra glaze into a small serving pitcher to pass if needed.
Finishing Touch
Place heavy whipping cream and sugar in a bowl. Beat until stiff peaks form, about 1-2 minutes.

Zest half of the orange and thinly slice the other half. Slice the halves in half, creating a ½ circle slice.

Decoratively, add a dollop (or dollops) of whipped cream on top of cake. Twist orange slices and add to dollop(s). Sprinkle orange zest over top. Optional: Sprinkle crushed almonds or almond flour over top as well.
Notes
Gr8 Tip:
Blood oranges would be a beautiful option. The color would be a deep rich ruby red color!
Single Springform Pan:
If choosing to use a single springform pan, the ingredients and instructions are the same. The pan should be no larger than 8" to 8 ½".