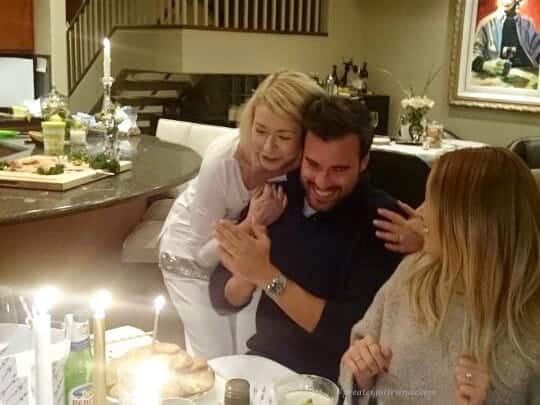 February is filled with birthdays (why is that?). My son's birthday is the first week and his bride's is also that first week!
After they had been dating for over a year, I wanted to throw a family birthday dinner for the two of them and include Lauren's family in the celebration. Well, come to find out, her father's special day falls right between theirs! So each year now we have a dinner to celebrate three birthdays.
And YES, figuring out a theme to fit two men and a very feminine lady has been my challenge! Last year, Lauren turned 29, so we went with the simple 29th birthday party, because...who doesn't want to be 29 again!! I kept the decorations simple and made each of them a cake themed with a "Favorite Thing."

Birthday Night!
This year I decided to defer to our girly-girl and the theme was one of Lauren's favorites, "Gold and White." And the decorating was so fun! And simple! Any time you set a vibe with an invitation and the decorations, everybody gets in the mood and has a Gr8 time!
Since my china is cream with gold trim, that was a no brainer. And I have several white tablecloths, because how versatile is a white tablecloth? So, √ and √ (that's a square root sign, but I'm using it as a check-mark!).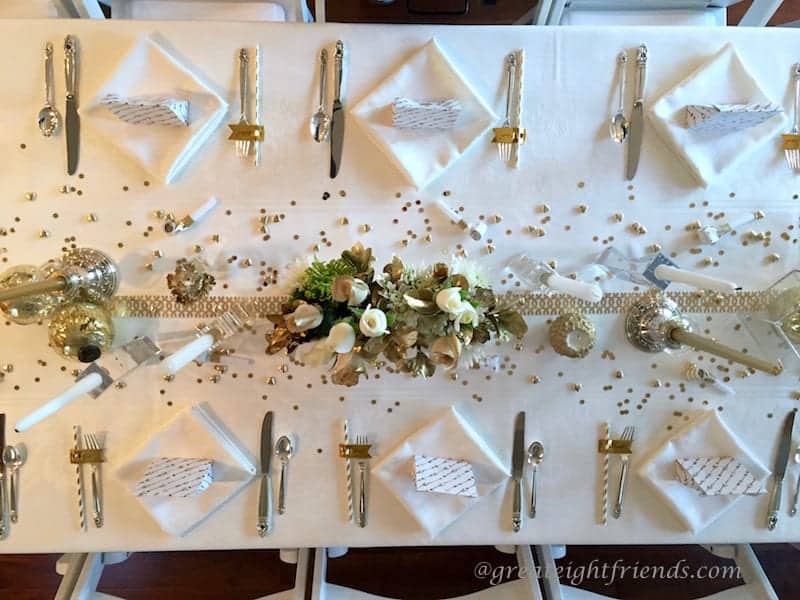 I used a variety of crystal and silver colored candle holders for an eclectic/fun look. The design down the center of the table is just some leftover ribbon, easy and perfect!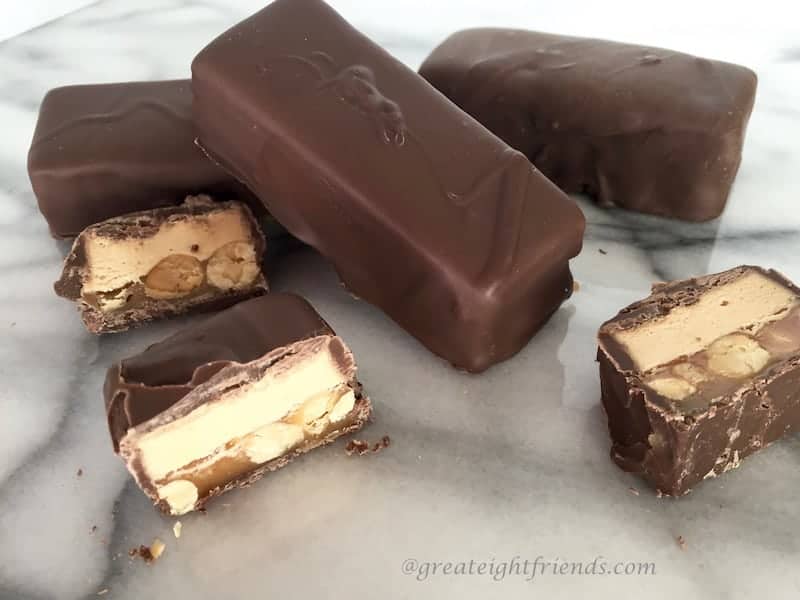 For party favors I made Chocolate, Caramel, Peanut Candy Bars and put them in these cute (gold and white) bags from Target.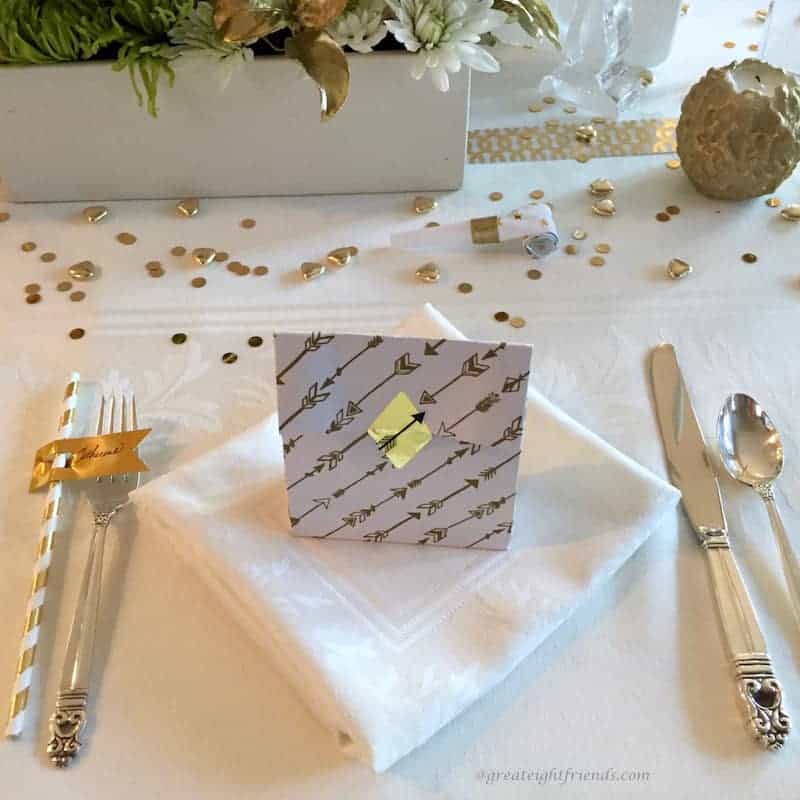 The chairs were rented because more people fit at the table that way. And believe me, we were close! I added a folding card table at one end and we were able to seat 14 people all together!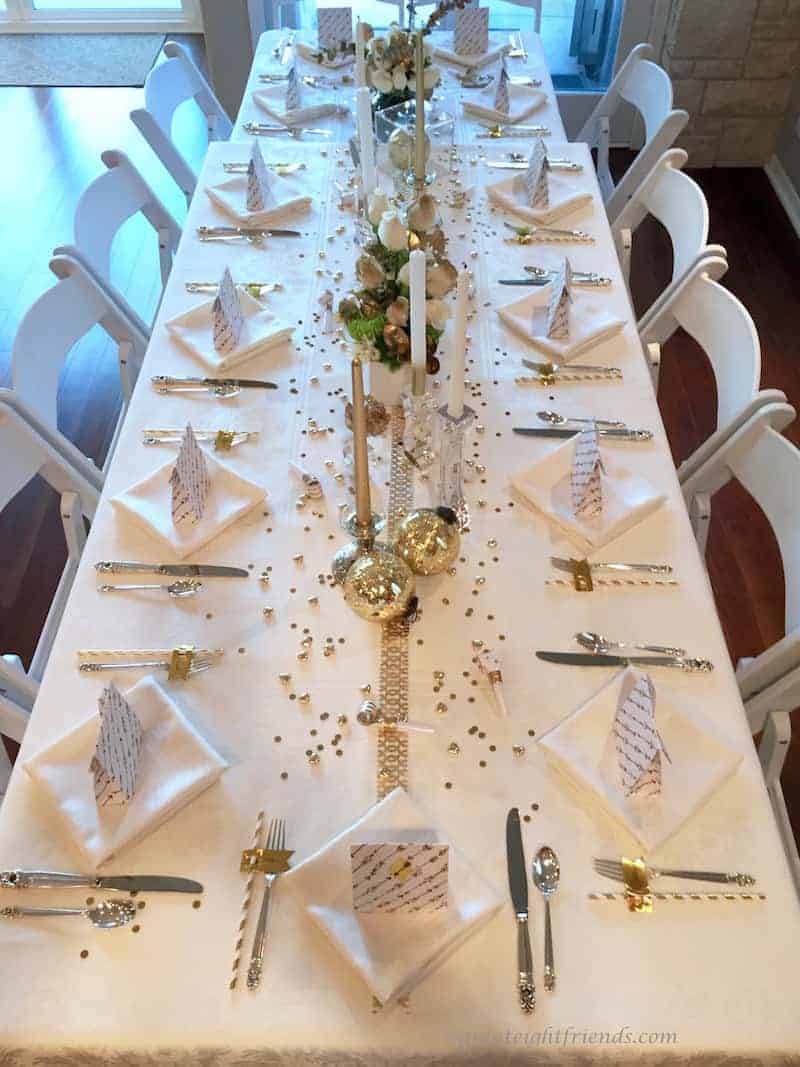 Since the theme was decided about a month ahead of time it was easy to pick up items when I saw them. Target and the craft store were my best resources. But I did find the party blowers at the grocery store the day before the shindig and added them to the table! And nothing has to be too pricey, use what you have (I promise, you'll surprise yourself). And paper party goods are fun because you don't have to spend a fortune, especially when shopping early.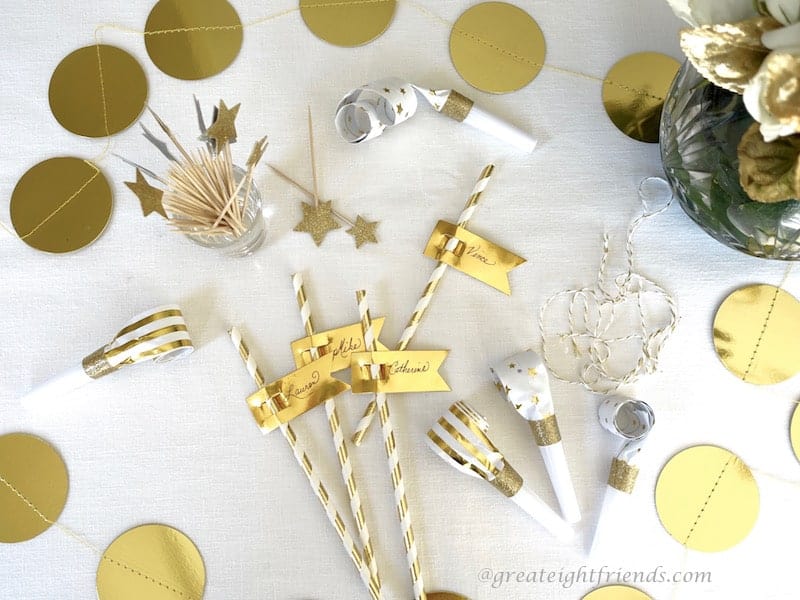 I also kept the menu simple:
Dessert was also simple. Instead of the traditional cake each birthday person got their favorite dessert. My son LOVES my Snickerdoodle cookies; Lauren's favorite is fruit crumble, so I made an Apple Crumble using this delicious recipe from Epicurious; and her dad loves Mastro's Butter Cake. Vince's errand was to drive to Mastro's and pick up a couple of Butter Cakes.
The evening was a success, a good time was had by all and since a lot was done ahead of time I wasn't exhausted at the end!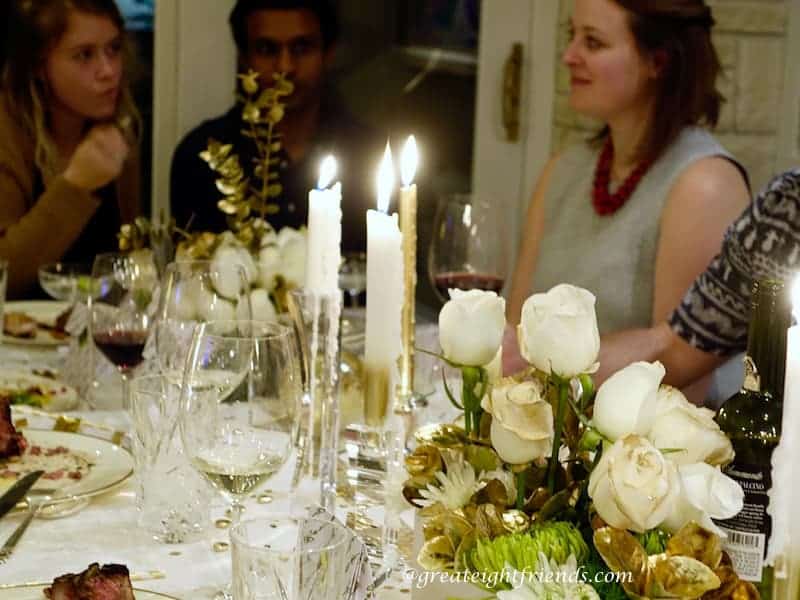 Gr8 Tip for Easy Entertaining:
Set your table 3 to 5 days ahead of time. And do the flowers the day before. This eliminates having to think about two big items the day of the party.
Gr8 Golden Idea:
Edible Gold is a fun way to add sparkle and interest to any party! And some gold, real gold, is really edible! For an explanation go here.
I bought mine through Amazon and it was a Gr8 addition to our "Golden Margaritas."

Just to let you know, Great Eight Friends earns a small commission for items purchased through this link.