Here you go! Serve this easy appetizer at your next gathering. Everyone will love the combination of shrimp, candied bacon and avocado on a crostini.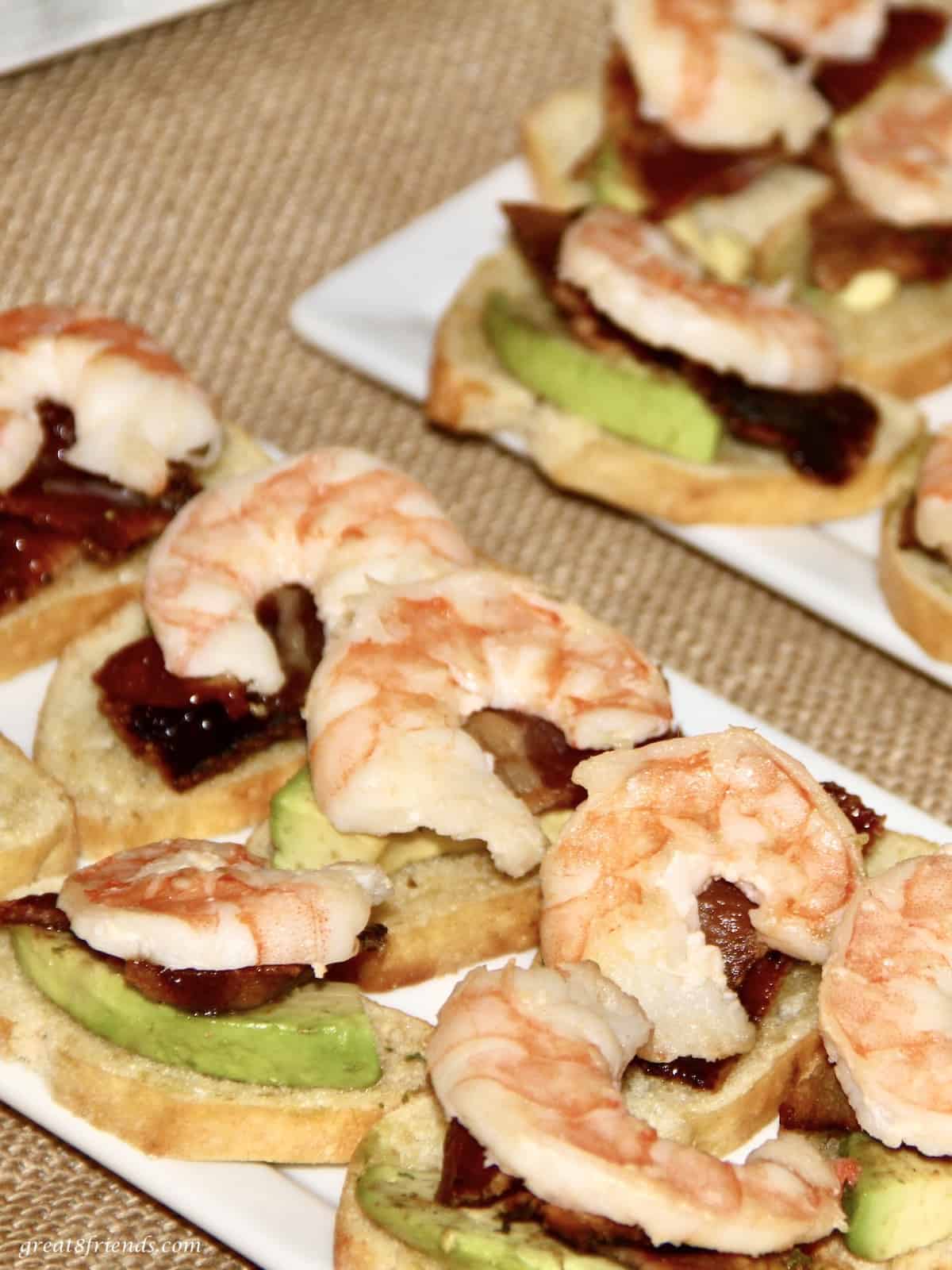 This is one of my "go to" appetizers that is hearty and easy to make. I like to make all the parts ahead of time and then assemble right before my guests arrive.
Can we talk about candied bacon?! DELICIOUS! And so easy to make! Add the brown sugar and pepper to the bacon, put it in the oven, set the timer and, voilà, yummy candied bacon!
Why not serve candied bacon for breakfast, or in smaller pieces as a party snack! Everyone loves bacon and with the addition of the sugar and pepper, it really kicks it up a notch!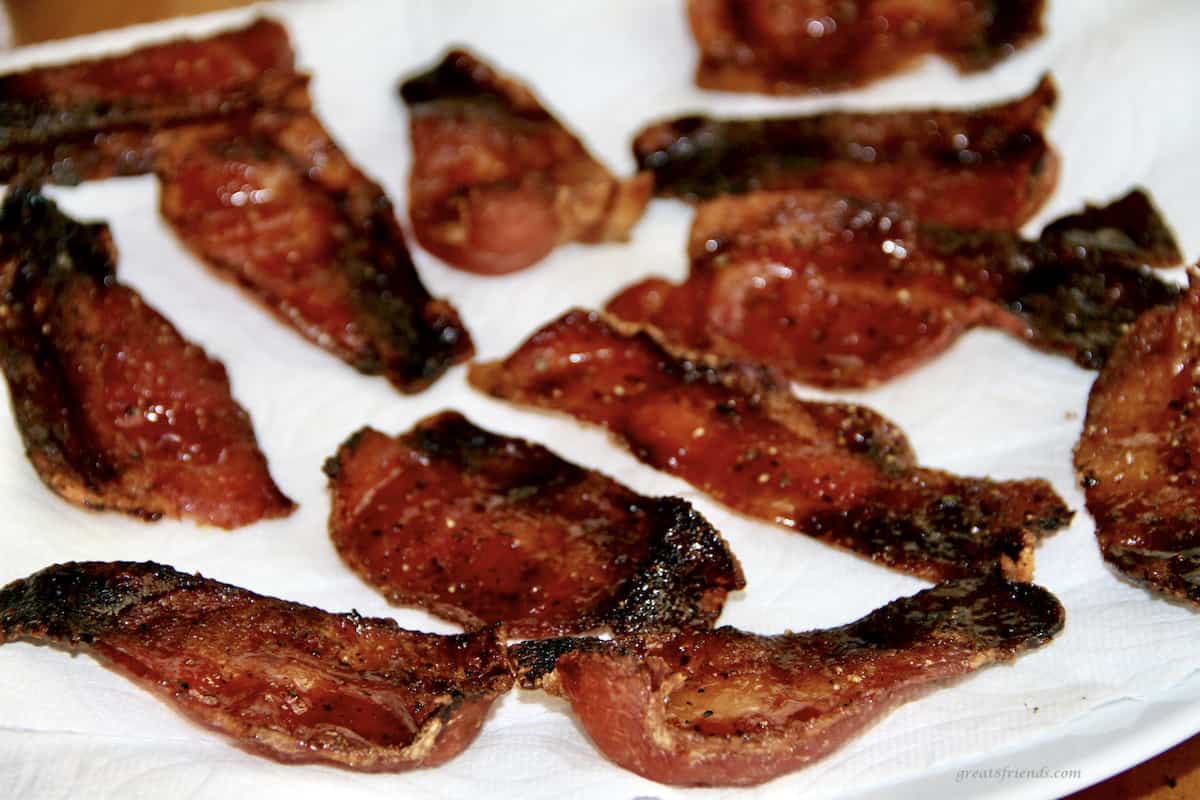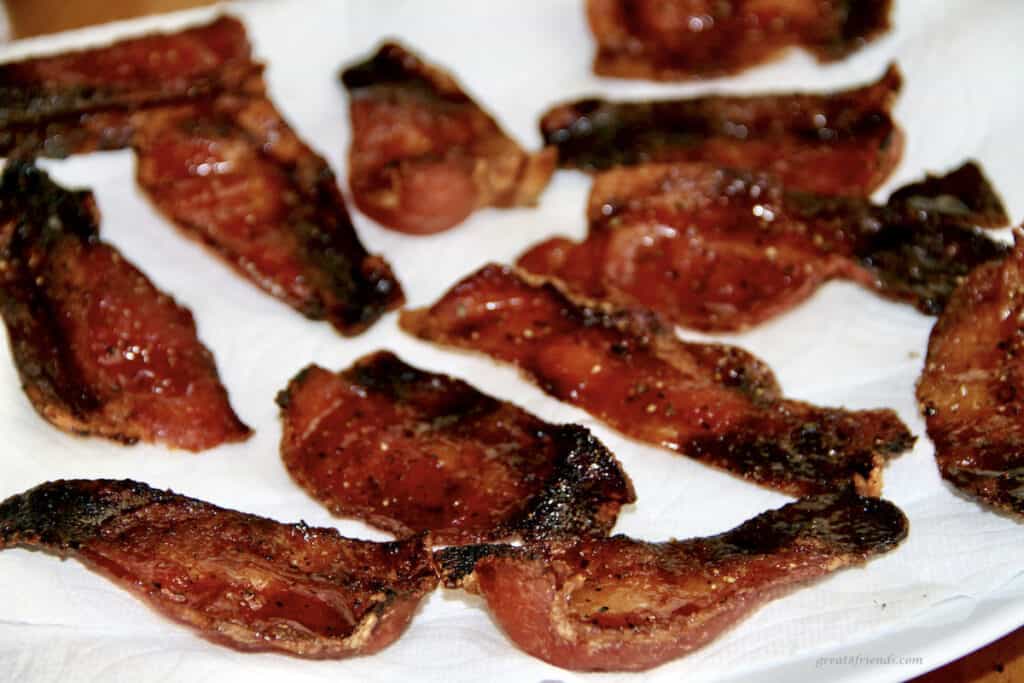 The crostini, bacon and shrimp can all be prepared earlier in the day. Then all you have to do is slice the avocado and assemble. The perfect job for one of your kitchen helpers!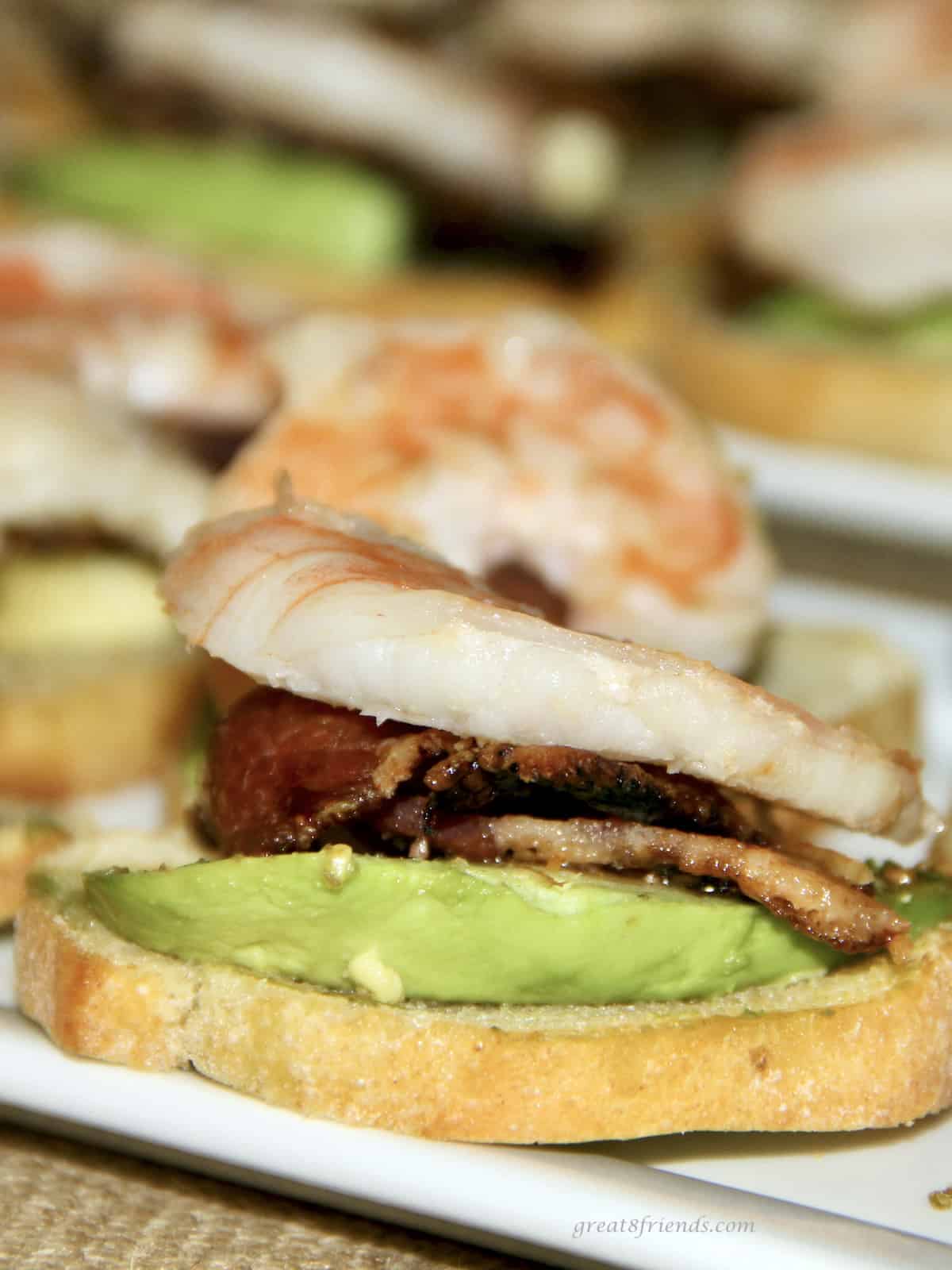 Here's how to make this Shrimp, Bacon and Avocado Crostini ahead of time:
Sprinkle the bacon with brown sugar and pepper and bake in the oven. YUMMO! Cover and keep in the fridge until time to assemble.
Brush the slices of bread with olive oil and bake in the oven. Keep in a sealed plastic bag on the counter until time to use.
Cook the shrimp in a pan on the stove. Cover and store in the fridge until serving.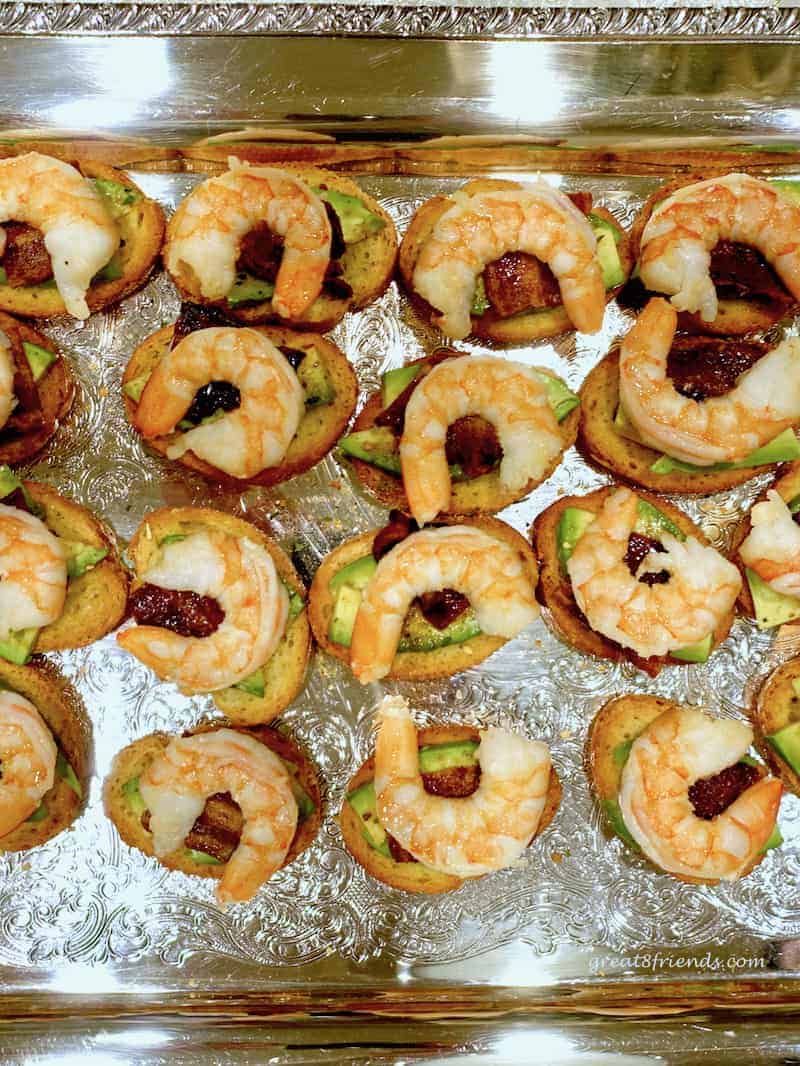 Let us know if you try this Shrimp, Bacon and Avocado crostini appetizer! We would love to get your feedback in a comment below!
More Gr8 Hearty Appetizers!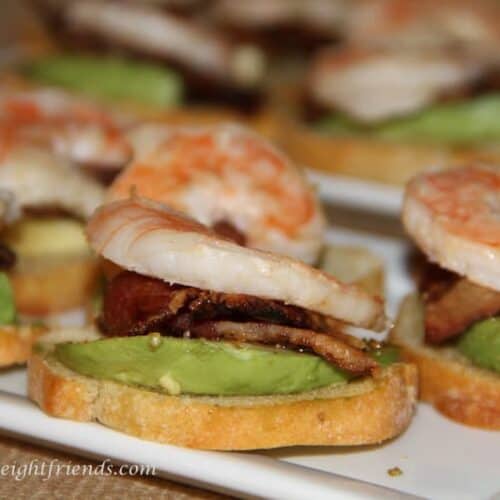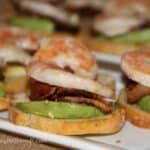 Print Recipe
Pin Recipe
Save this Recipe
Saved!
Please leave a rating!
Shrimp, Candied Bacon, Avocado Crostini
I love this hearty appetizer that I share with you from a great local caterer, Caroline Cazaumayou. The ingredients can be prepared ahead of time and assembled just before serving.
Ingredients
4

thick slices of bacon

1

Tablespoon

brown sugar

freshly ground pepper

½

soft french baguette

,

cut into ¼" thick slices

8

(21-25 per pound)

raw shrimp

,

peeled, deveined and tail off (usually you can buy it this way)

garlic powder

1

large

avocado

Spike® seasoning

,

or another seasoning of your choice

fresh lemon juice
Instructions
Preheat oven to 375°F.


Cut the bacon slices in half.

Line a baking sheet with aluminum foil and place a wire rack on top.

Lay the slices of bacon on the wire rack and sprinkle with the brown sugar and some pepper.  Press the sugar gently onto the bacon.

Bake the bacon until very brown, about 25 to 30 minutes. Let cool until crisp.

Cut each half slice into 4 pieces. (The bacon can be prepared a day ahead and stored in a sealed plastic bag in the refrigerator. Bring to room temperature before assembling.)

Lightly brush the bread slices with olive oil.

Bake for 8 to 10 minutes or until light brown and crisp. (This can be prepared a day ahead and stored in a sealed plastic bag at room temperature.)

In a small nonstick skillet heat 1 teaspoon of olive oil over medium heat.

Add the shrimp and season with garlic powder and salt.

Cook for about 2 minutes on each side or until pink. Remove from the heat and cool.

Cut the shrimp in half lengthwise. (The shrimp can be made earlier in the day.)

To assemble:

・Place a thin slice of avocado on top of a crostini and sprinkle with Spike seasoning.

・Top with 2 pieces of bacon and a shrimp half.

・Repeat with the remaining ingredients.

Lightly drizzle with lemon juice and serve.
Notes
Gr8 Tips:
To keep your avocado from turning brown on the appetizer tray, once you've sliced it, rinse the slices under cold running water, and gently pat dry. This will keep your appetizer looking fresh and green!
Spike Seasoning, it should be available in the baking and spice section of your grocery store. There are several varieties and they even have a salt-free/gluten-free option!
Gr8 Make Ahead Tips:
The bacon, crostini and shrimp can all be prepared ahead of time and then assembled just before serving.
Recipe from Caroline Cazaumayou.