You will love this Nacho Typical Nachos recipe! The addition of chicken and the buffalo nacho sauce make this appetizer perfect for any crowd! And making them in your cast iron skillet is brilliant!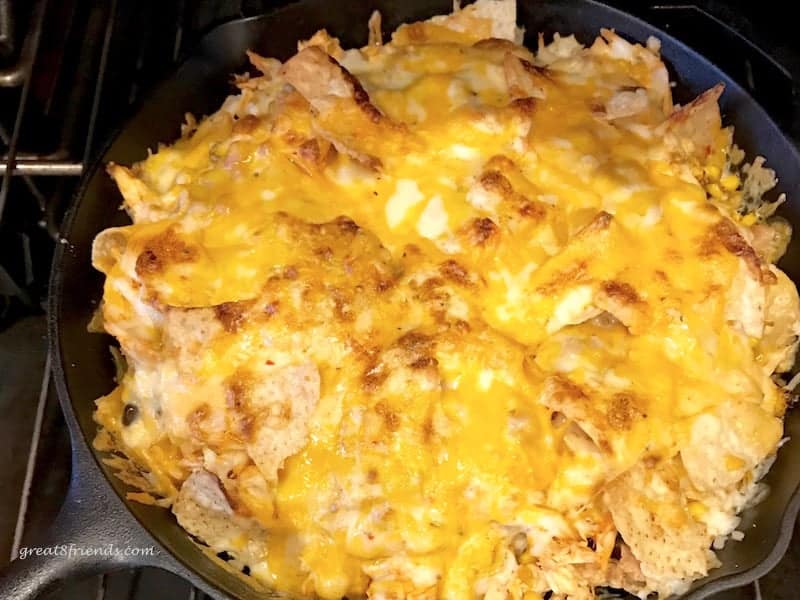 Where do I begin? Okay, I know….first off, who doesn't like Nachos? Anyone? Didn't think so! Let's get this party started! Well friends, these are "Nacho" Typical Nachos Recipe!
Game Time!
At a bar watching a game? Or starting off at a tailgating party before a game? Maybe just at home with some friends with the game on.
Wherever you are, Nachos are a Gr8 dish to share with friends. It's time to gather together over some melty, cheesy, chippy goodness!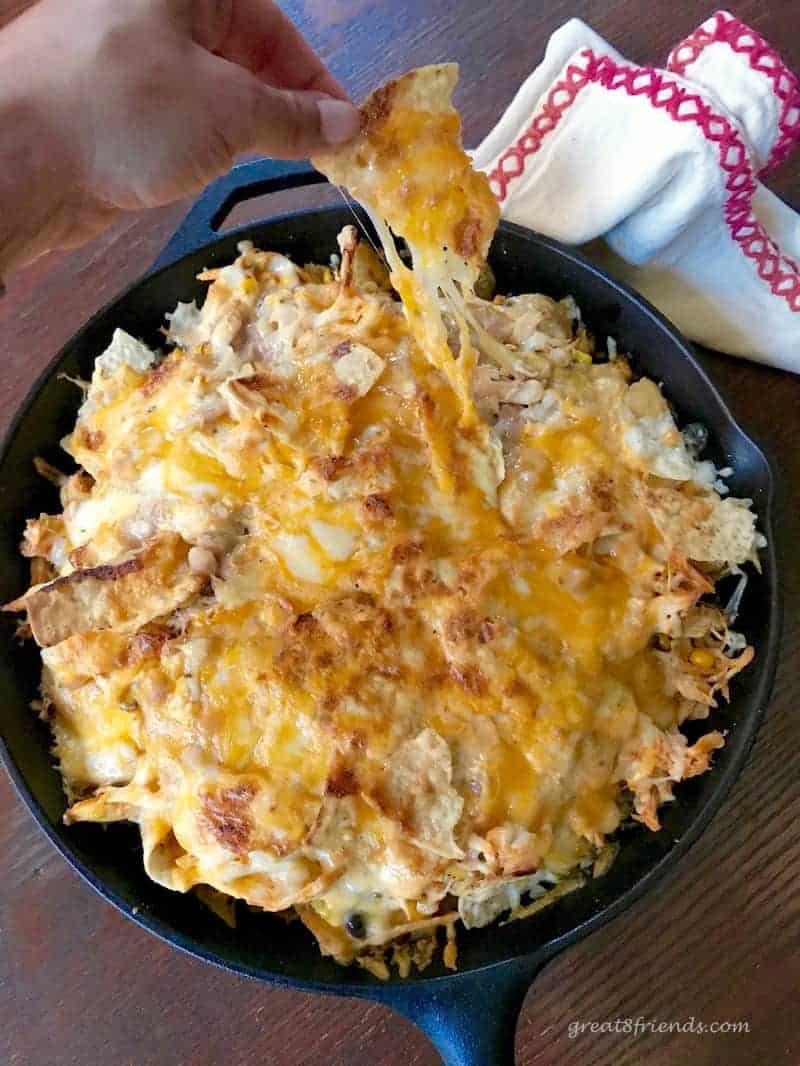 Most Nachos are meat, beans, chips and cheese Some are meatless. Certainly, most people would agree that when the Nachos are all dressed up, when melted, the cheese is often the star of the "show," right?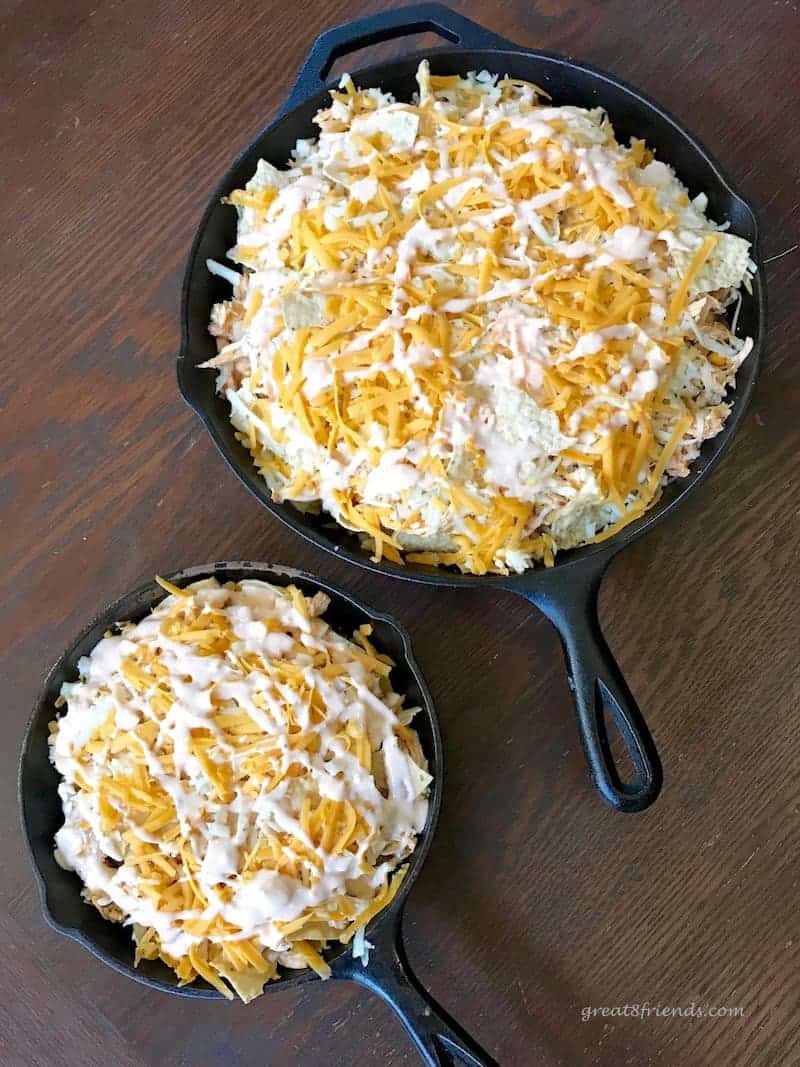 Although these nachos have all the flavors of Mexico, like I said, this is "Nacho" Typical Nachos Recipe!
Because I do love my cheese, the Buffalo Nacho Sauce here in this recipe adds a little extra goodness to the dish. Pairing perfectly with the melted cheesy love!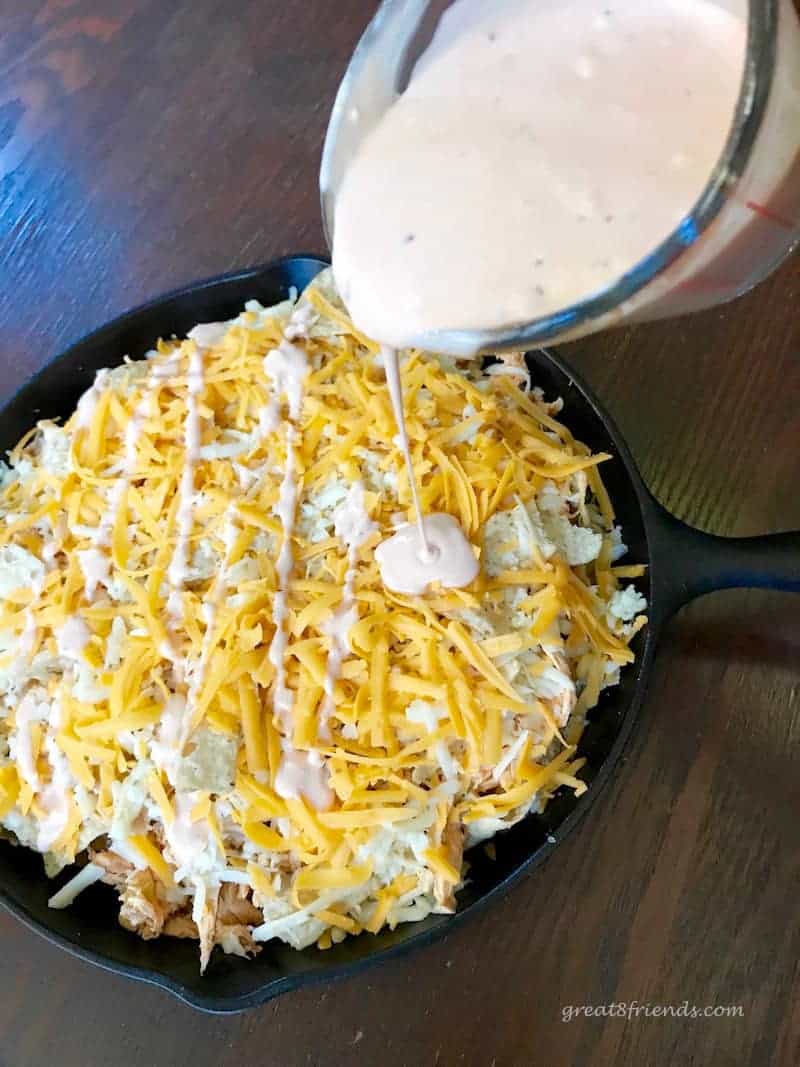 Double up!
Let me give you a little hint! Make a little extra sauce. Maybe even double it.
Because once you taste it, you'll be happy you have more. It's got the "kick" of heat that most people love. Therefore, I always have a little on the side for some extra drizzling!
Confession: While roasted at home is always Gr8; store bought rotisserie chicken saves at times, too!
It was a crazy busy day when I created this recipe, therefore, the chicken that I used was one from our local market.
A hot and ready rotisserie chicken, with skin that was nice and crispy brown. The meat, moist and easy to shred and bathed in the hot sauce, when mixed in with the corn and cheese, I could've eaten it as I layered it...right then and there!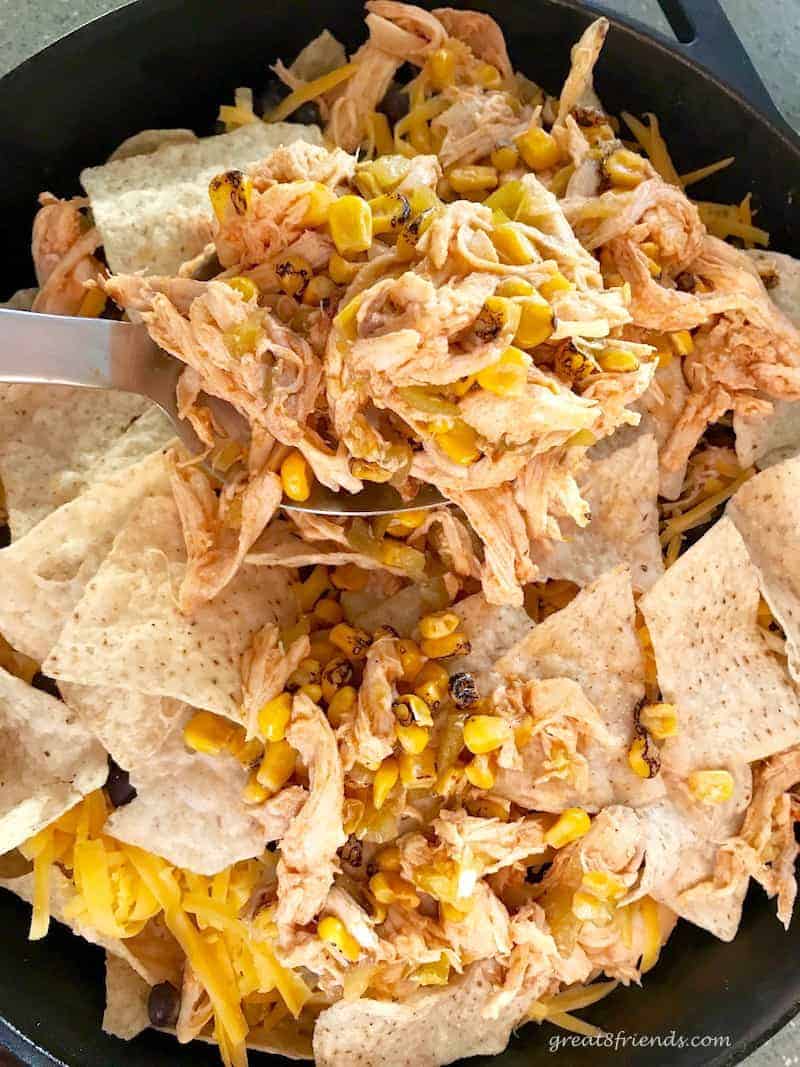 There was so much chicken shredded from the bird, I needed to use both my 12" and 7" Lodge cast iron skillets. Seems like I'm going to have some extra for lunch tomorrow!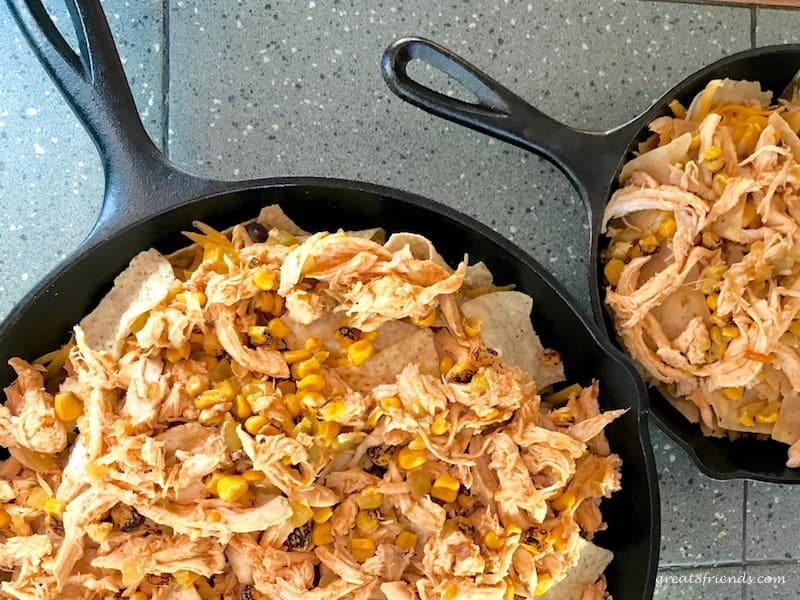 For dinner the four of us ate about three-fourths of the larger skillet, then covered the remainder and kept it in the fridge. Yay! Leftovers!
Our daughters, Bela and Miranda, divided what was left and brought some to work along with a little container of our always on hand, Salsa Verde.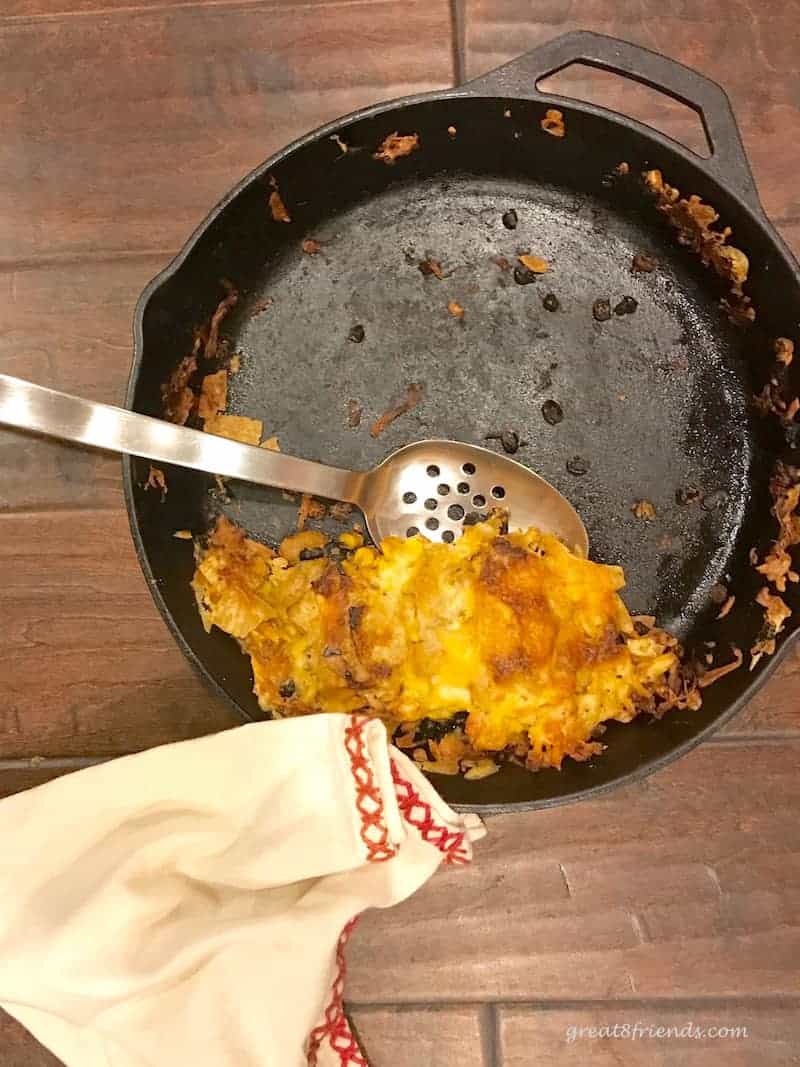 Sharing is caring!
How happy was I, when a few days later, my sister in law, Laura, asked me to bring an appetizer to her World Series party.
Another busy day (story of my life!)…what should I bring?! Hey! I've got that smaller skillet of nachos in the fridge! Yes, this is perfect!
I preheated the oven, shredded a little more cheese on top, drizzled a little extra sauce (see...so glad I had extra!), popped it in the oven and done…. Ready in time for the first pitch! I hope Laura has some Pink Lemonade Margaritas ready to mix up!
A Gr8 way to feed a crowd! Boy were these nachos a "hit!"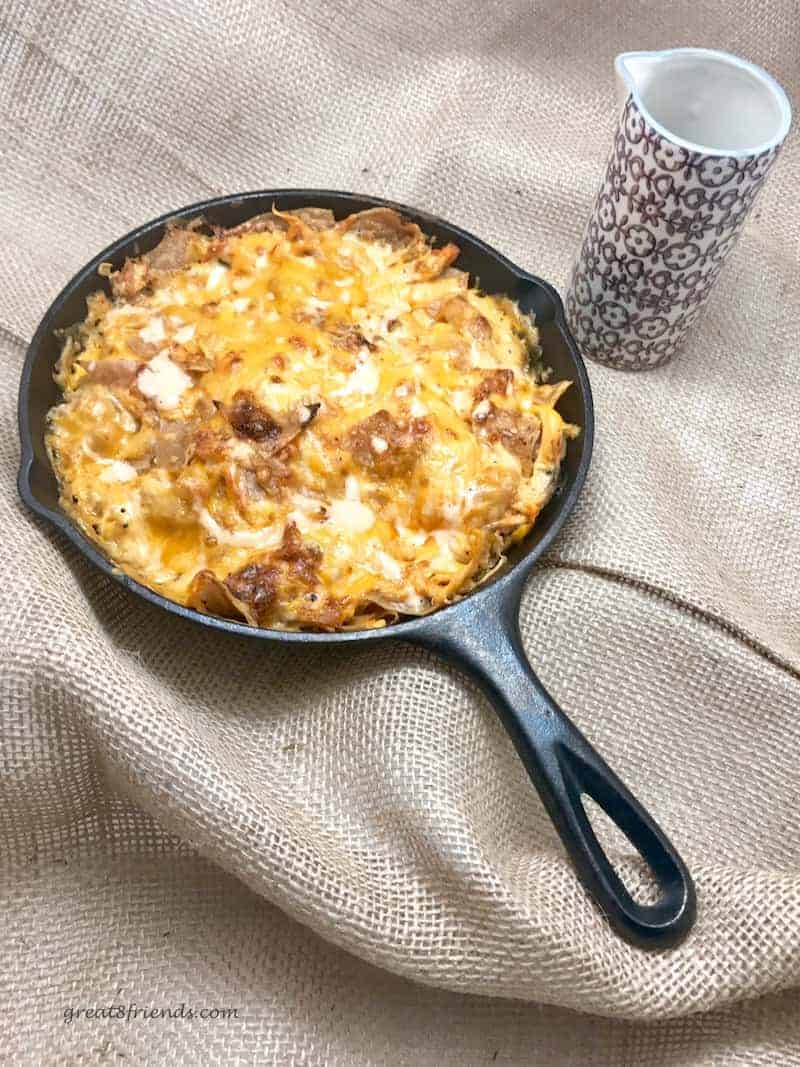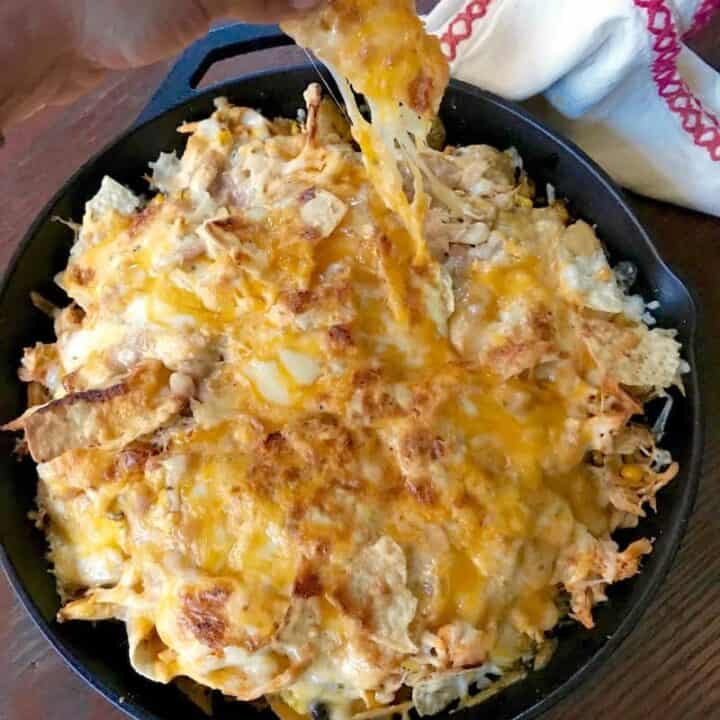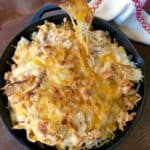 Print Recipe
Pin Recipe
Save this Recipe
Saved!
Please leave a rating!
"Nacho" Typical Nachos
Definitely "Nat-cho" Typical Nachos! Crisped in the skillet with a delicious creamy sauce, takes this appetizer (which could be a meal!) to another level!
Ingredients
3

cups

cooked shredded chicken

½

cup plus 3T

Louisiana Hot Sauce,

such as Frank's or make your own (recipe below)

8

ounce can

diced green chilies

,

drained

1 ½

cups

frozen roasted corn

,

(Trader Joe's frozen in a bag…my FAVORITE! Thawed and drained.)

13 to 16

ounce bag

tortilla chips

14 ½

ounce can

pinto or black beans

,

drained and rinsed

1 ½

cups

sharp cheddar cheese

,

shredded

1 ½

cups

pepper jack cheese

,

shredded

1

small

white onion

,

chopped

½

cup

salsa fresca ,

optional, drained, see Gr8 Tip below

1

avocado

2

firm Roma tomatoes

,

diced

1

jalapeño pepper

,

diced

1

tight handful

cilantro leaves

,

chopped

Buffalo Chicken Nacho Sauce (recipe below)
Buffalo Chicken Nacho Sauce
1

cup

bottled chunky blue cheese dressing

⅛

cup

crumbled blue cheese

2 ½

Tablespoons

hot sauce
Homemade Louisiana Hot Sauce (or use a bottled sauce)
2

Tablespoons

cayenne pepper

⅓

cup

white vinegar

3

Tablespoons

water

¼

teaspoon

kosher salt
Instructions
Buffalo Chicken Nacho Sauce
Mix all of the ingredients to combine. Cover and refrigerate if not using right away.
Nachos
In a medium bowl, combine the shredded chicken with the hot sauce.

Gently fold in the diced green chilies and corn.

In an oven proof skillet (cast iron or oven proof serving dish/tray) evenly scatter a full layer of tortilla chips.

Add ½ of the chicken mixture, spread evenly.

Add ½ of the beans.

Add 1 cup of the cheddar cheese evenly over the beans.

Add layer of remaining chicken.

Followed by a layer of remaining beans.

Sprinkle evenly a 1 cup layer of the Pepper Jack cheese over the beans and a layer of ½ of the chopped onion.

Add a few more tortilla chips on top.

Combine the remaining amounts of the two cheeses, cheddar and pepper jack (½ cup each) and sprinkle evenly on top with the remaining chopped onion.

Drizzle with ½ cup of the Buffalo Nacho Sauce.

Bake for 10 minutes, or until cheeses have melted.

While nachos are in the oven, dice the avocado.

If you are using the Salsa Fresca, drain the liquid one more time.

Once the nachos are out of the oven, drizzle the salsa over the top and scatter the diced avocado, tomatoes, jalapeno and cilantro leaves over the salsa.

Do a final drizzle of the Buffalo Nacho Sauce OR have a small bowl of the sauce on the side for guests to add if they'd like.
Homemade Louisiana Hot Sauce
Mix all of the ingredients to combine. Cover and refrigerate if not using right away.
Notes
Gr8 Tip:
We have a Gr8 Salsa Verde recipe! Try and drain off as much of the liquid as you can. Drain again right before adding it on top of the nachos, so chips won't be soggy.
sm 1/2819