Impress your guests with this Puff Pastry Pear Tart recipe which is a super easy dessert to prepare! Did I mention it only requires six ingredients?!
I was deliberate in adding the word "easy" to this title. Although you can make homemade puff pastry (and I will someday), fresh or frozen puff pastry is magic!
What could be easier than buying a box of pastry in the freezer section of your market and with little effort, you end up with a simple and delicious dessert? I'm kind of obsessed with it.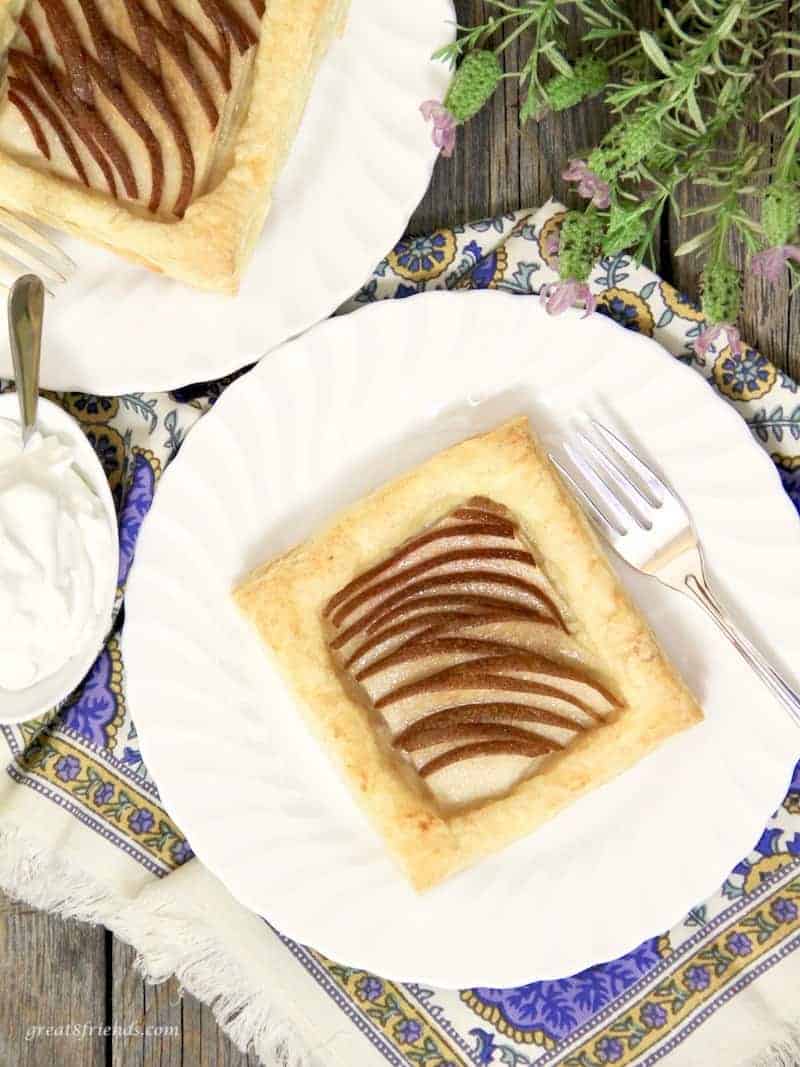 You can use it for both savory or sweet dishes. Pretty much take it out of the box and in some cases roll it out and fill with just about anything.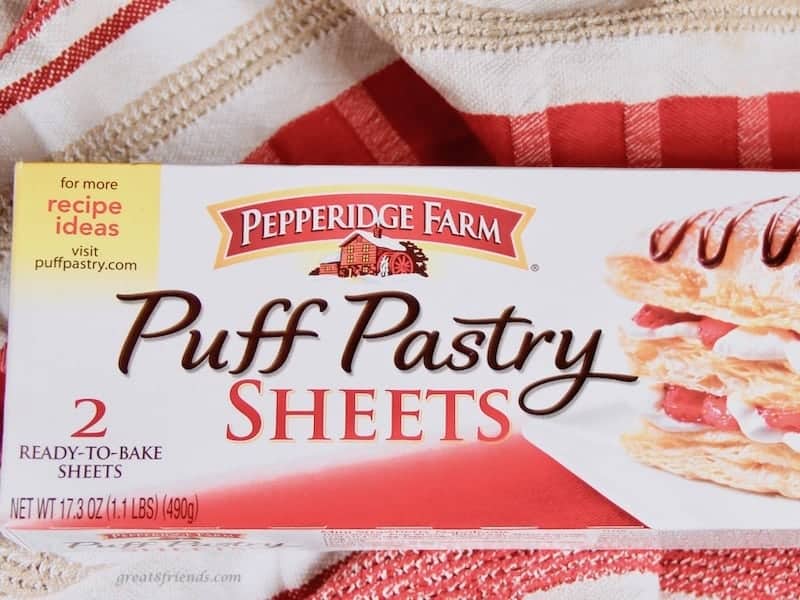 For these pear tarts, you don't even need to get out your rolling pin. Just cut each sheet into 4 squares and, voilà, you have the beginning of a flaky light crust!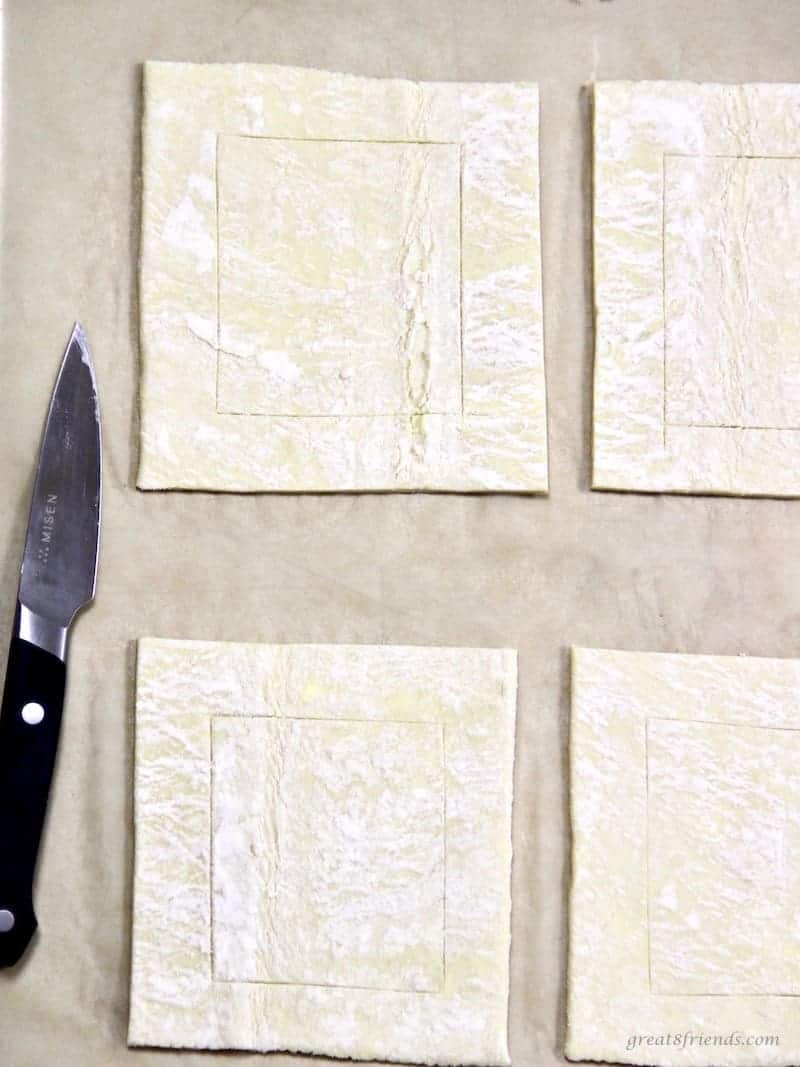 Add the pears, brush with butter, sprinkle with sugar, bake for 17 minutes and you have dessert!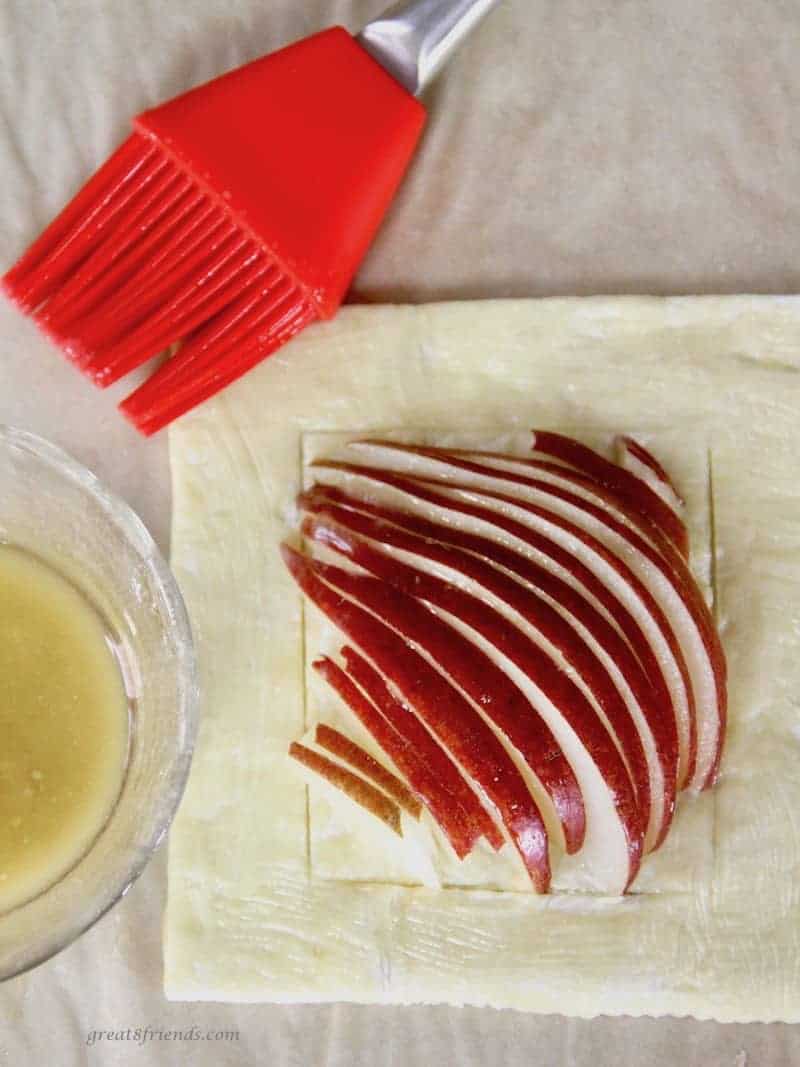 For Anna and Vince's Provence Gr8 Dinner the invitation requested that I bring a French pear tart. I decided to make eight individual pear tarts using puff pastry. The result was an elegant and delicious dessert just like you would expect any French dessert to be.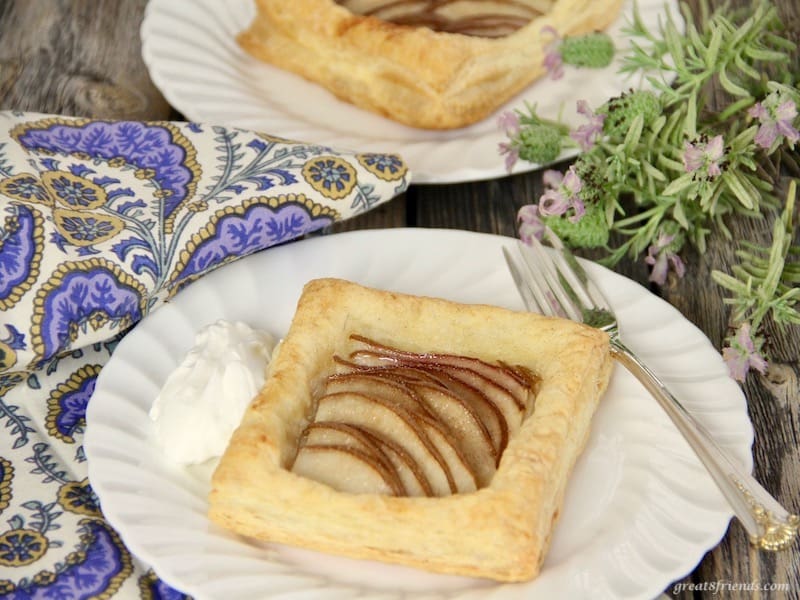 Only a few ingredients are needed. This lends the flavor to be mostly the fresh pears combined with the soft flaky crunch of the crust. Serve it with make-ahead whipped cream or ice cream for just a tad bit more sweetness.
And if you are really short on time, a can of pears works just as well! I made this one and had it the next morning with coffee and it was perfect. Just a touch of sweetness.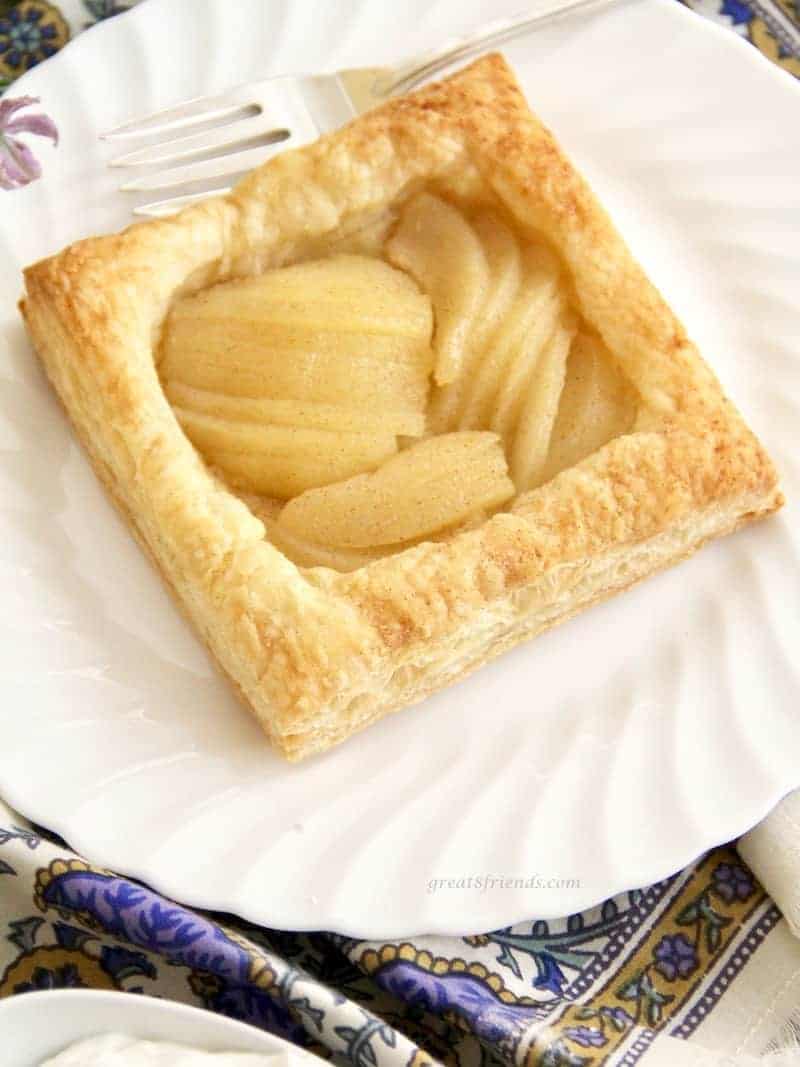 Other Gr8 Easy Dessert Recipes: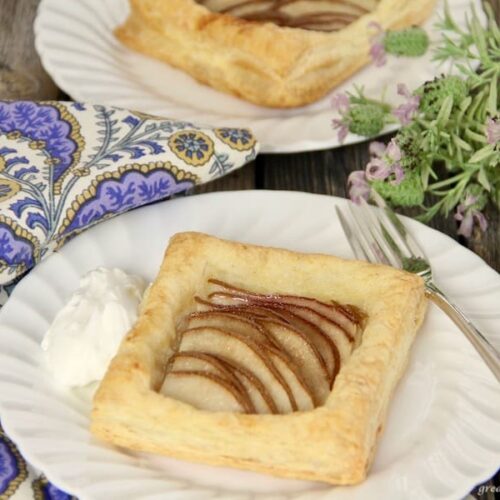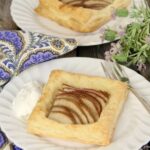 Print Recipe
Pin Recipe
Save this Recipe
Saved!
Please leave a rating!
Easy Pear Tart Recipe
With only six ingredients needed, this easy and delicious dessert will certainly impress your guests!
Servings:
8
individual servings
Ingredients
2

sheets

puff pastry

2

Tablespoons

granulated sugar

1

teaspoon

cinnamon

4

pears

,

ripe and firm, Any kind of pear will work. I like the contrast of color by using a pear with red skin.

2

Tablespoons

unsalted butter

1

teaspoon

vanilla extract

parchment paper or silpat mats

,

for the baking sheets
Instructions
If your pastry puff sheets are frozen, thaw according to the package directions.

Add the cinnamon to the granulated sugar and set aside for later.

Cover your baking sheets with parchment paper or silpat mats. For 8 tarts, I use two baking sheets with about 1" in between each tart.

Cut each pastry sheet into 4 equal sized squares and place them on the lined baking pans.

With the sharp point of a knife, score a square frame about ¾" from the edge of each tart pastry. Do not cut all the way through. This will be your frame for the fruit.

Slice the pears in fourths, core them and then thinly slice them (about ⅛" slices).

Work on one baking sheet at a time, keeping the other baking sheet of dough in the fridge to keep the pastry cold. Lay the pears onto the pastry puff square in any order, any design that you prefer. I place them with no regard to the scored frame and then go back and trim them (with my very sharp paring knife) so that they would be within the squared frame.

Melt the butter. Add the vanilla to the melted butter and combine.

Brush the tarts with the butter/vanilla mixture. Brush both the pastry and the fruit.

Liberally sprinkle the sugar/cinnamon on top of each tart.

Bake in the oven for 17 - 20 minutes. Watch carefully at about 15 minutes and take them out once they are a deep golden brown. (In my oven at about 10 minutes, I needed to flip the pans around so that the back tarts cooked the rest of the time in the front of the oven. This made them more evenly golden brown.)

The tarts can be served warm or at room temperature.
Notes
Gr8 tips:
Canned pears can also be used. Two 15 ounce cans will make 8 tarts. Drain the pears and lay on paper towels to absorb some of the juice. Follow the instructions above for preparing and baking.
Best served right away but leftovers can be kept up to one day in a tightly covered container. Really yummy for breakfast!
Feel free to add more than one layer of fruit on each tart. The cooking time will be about the same.
For extra sweetness, drizzle honey over each tart after they are removed from the oven.