Need a pretty way to make sure they eat their vegetables? Vegetable Pâté will make them feel fancy too! The colorful, flavorful layers bring the bounty of the garden to your table.
In the evening, I like to relax. And what I enjoy most, for example, is searching for recipe ideas for our Great 8 dinners.
Time to figure out a Vegetable Pâté recipe! I'm one happy gal when my task for the next Great 8 dinner involves vegetables.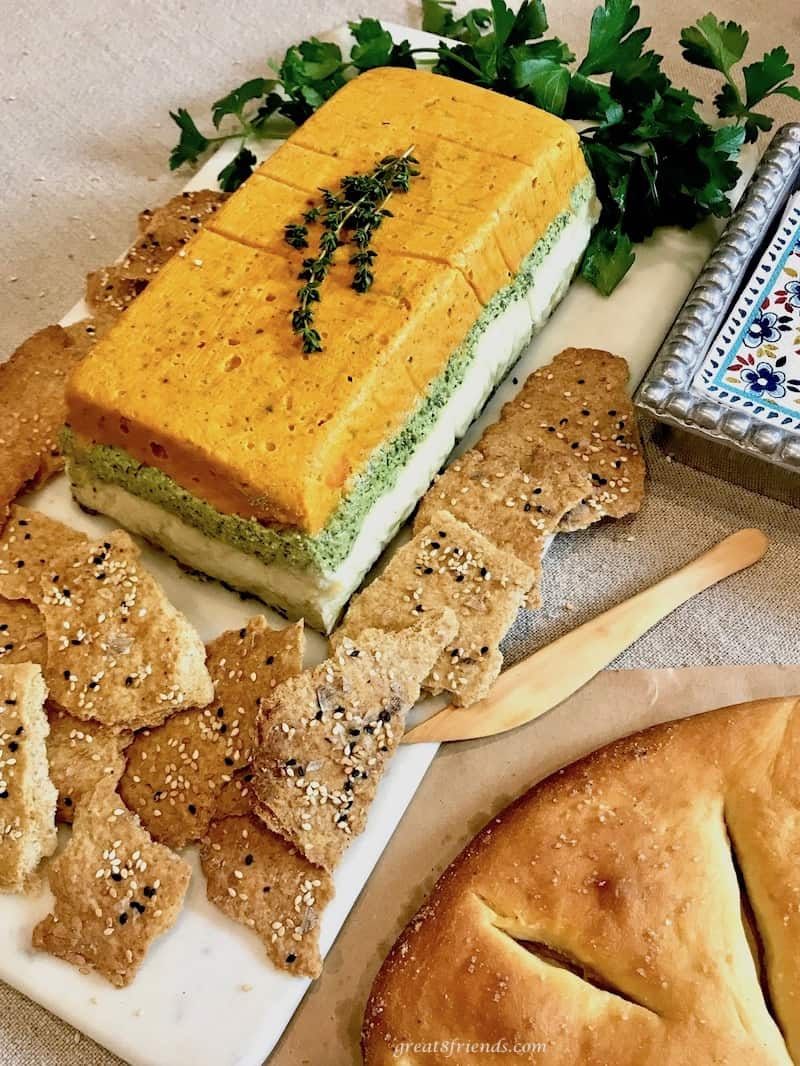 So...Anna and Vince, Vegetable Pâté, huh? How fun is this! Merci! I'm ready! Let's go! Let the fun begin!
I went to Manassero Farms the day before, to find all of the vegetables I needed. As a result, they had everything! They always do!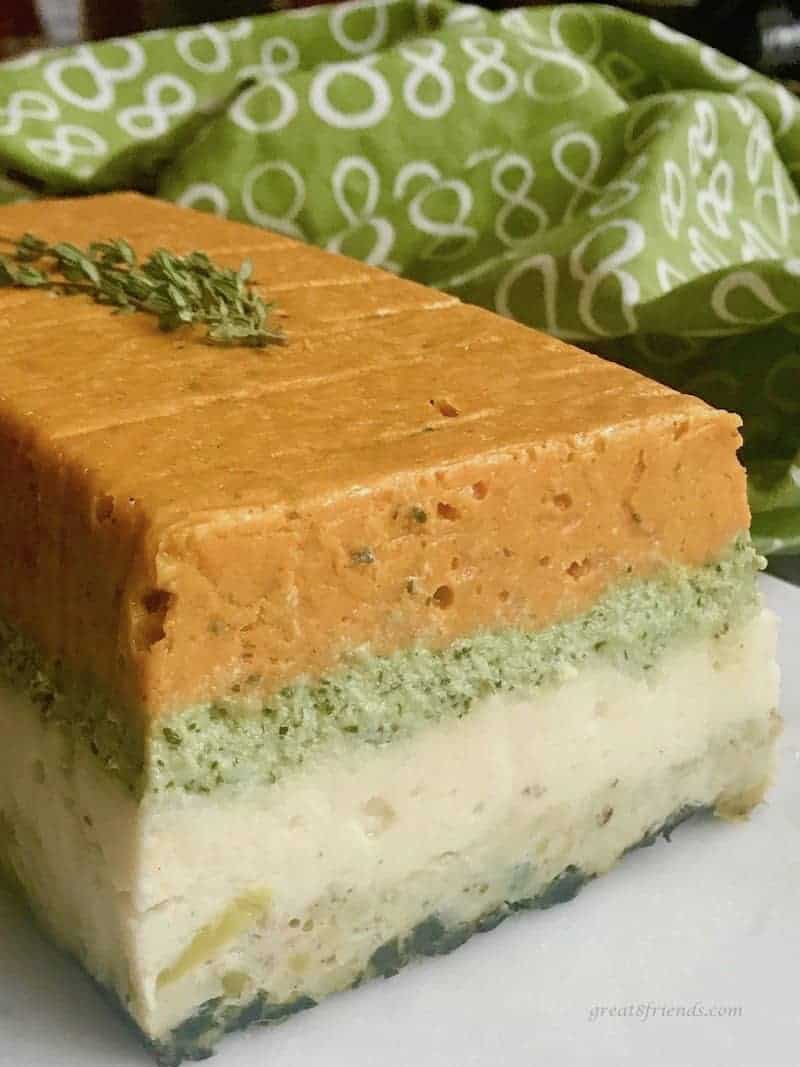 Vegetable Pâté doesn't have to just be considered an appetizer, in fact when served at brunch with slices of Anna's French Bread, it makes for a Gr8 early afternoon meal. When enjoyed as a light lunch, for example, it is delicious with her Minted Cucumber Salad.
The idea of creating Vegetable Pâté reminds me of coming up with a color palette. The vegetables you choose are the "paints"!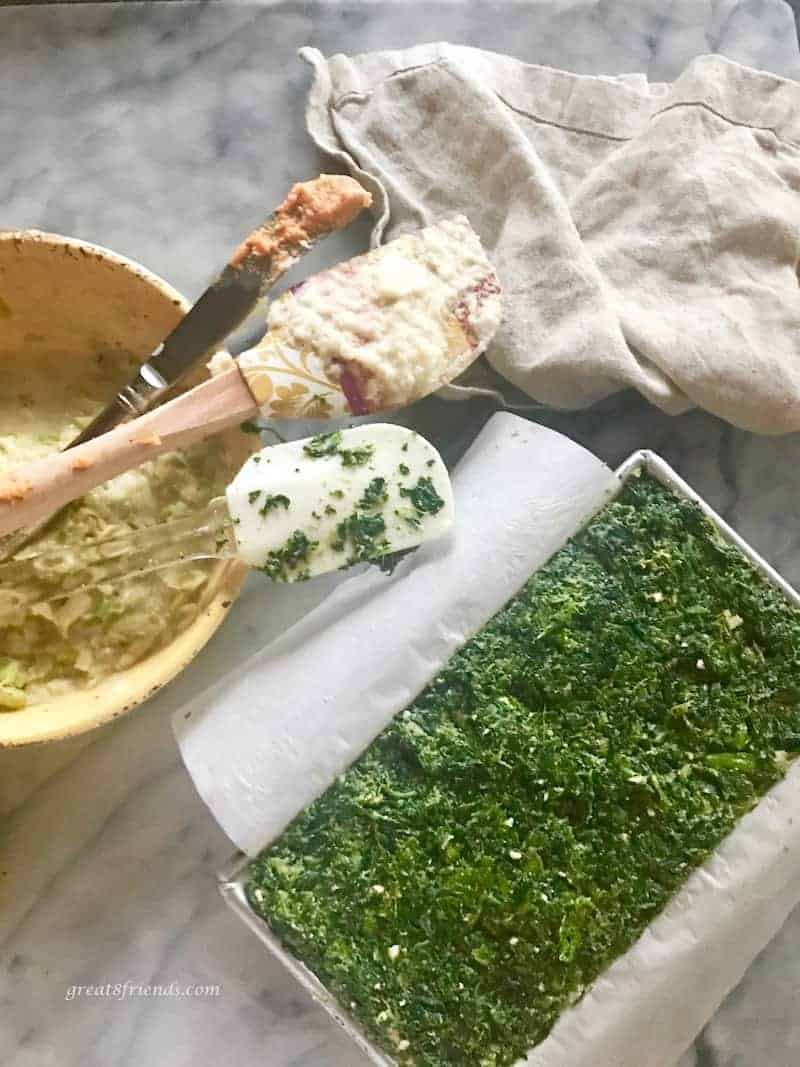 Here's where the artistry comes in! My favorite thing! Which colors should I use here? I'm thinking carrots, broccoli, cauliflower, spinach and leeks. I love these together. Not only because of the colors, but because the flavors combined are perfect together.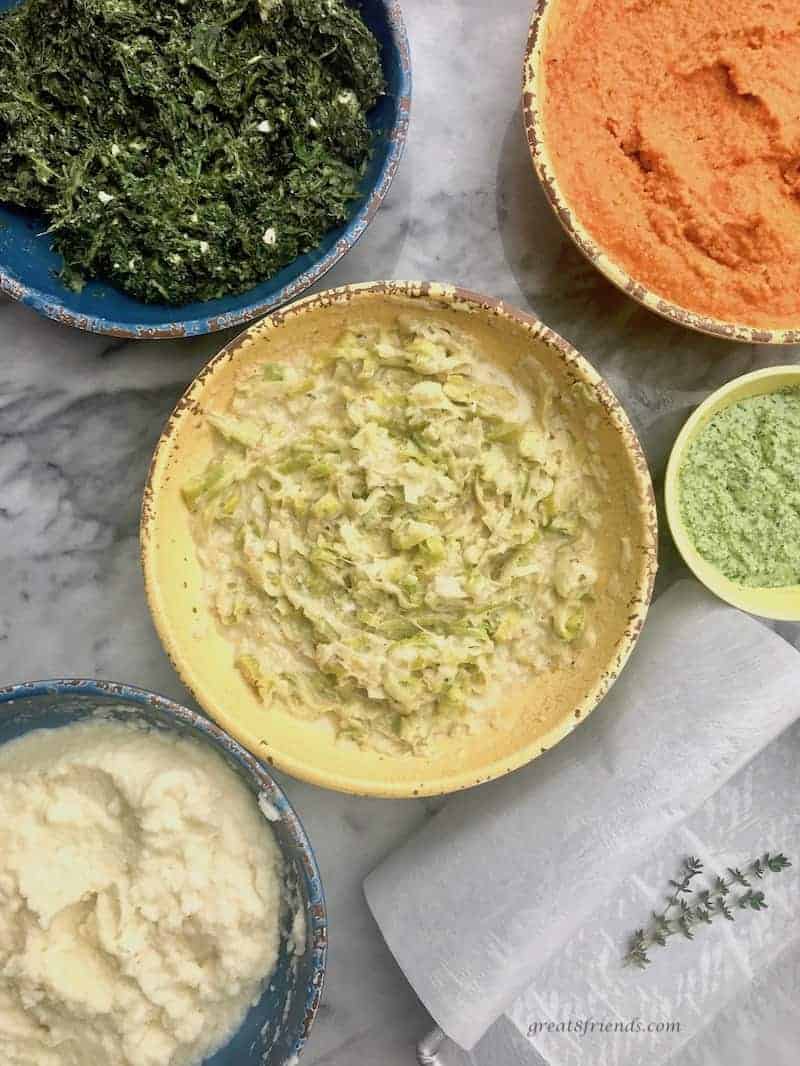 Being in the craft industry and the kitchen on a daily basis (my 2 favorite places to be!) the details of this dish combine the two!
From creating the thyme sprig "decor" on the parchment to layering the colors...this is SO up my alley! A delicious work of art. Certainly the finished dish is the masterpiece.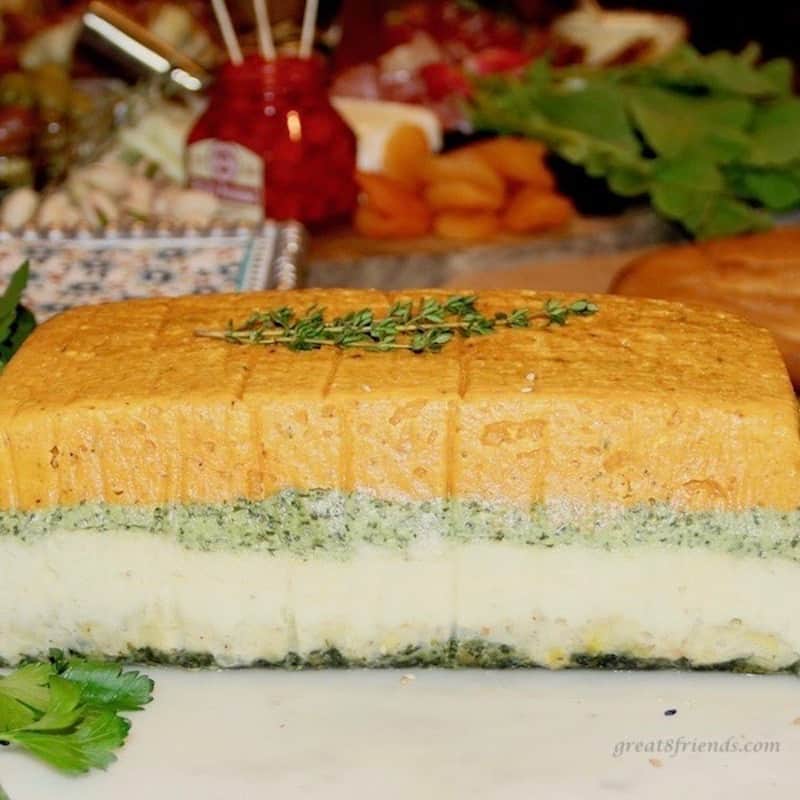 Other Gr8 Veggie Appetizers: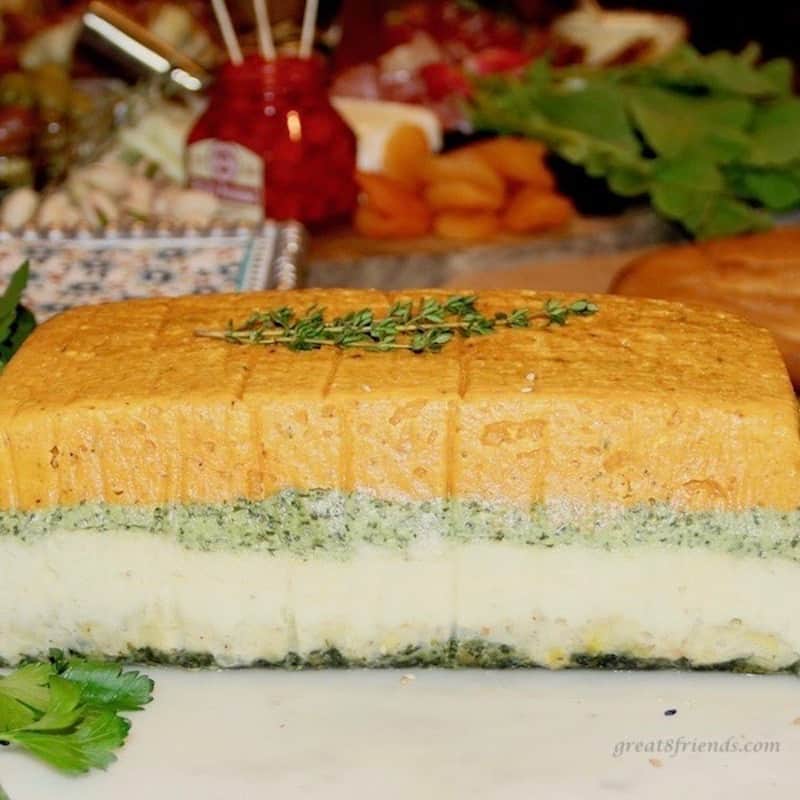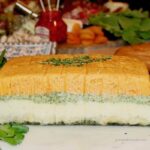 Print Recipe
Pin Recipe
Save this Recipe
Saved!
Please leave a rating!
Layered Vegetable Pâté Recipe
When you want to bring (or serve) an impressive appetizer, this Vegetable Pâté recipe will be the talk of the table! With multiple layers of color and flavor and served with crackers or a sliced baguette, it makes plenty! Giving everyone a bit to bring home.
Servings:
12
or more servings
Ingredients
Cooking spray

parchment paper,

to line pan

2 - 3

bunches

rapini (also known as broccoli rabe) or equivalent to 3 cups chopped

,

thick stems removed (or you can use broccoli florets)

1

large

head of cauliflower

,

florets separated, thick stem removed and discarded

4

medium

carrots

,

peeled and diced (enough for 2 ¼ cups)

3

Tablespoons

olive oil

4

large

leeks

,

lighter green and white parts only, sliced into ¼" slices

1

clove

garlic

,

peeled, minced

10

ounce bag

fresh spinach

,

longer stems removed

3

Tablespoons

crumbled feta cheese

3

Tablespoons

ricotta cheese

3

Tablespoons

plain yogurt

3

medium

eggs

,

separated

3

teaspoons

lemon juice

1 ½

teaspoons

lemon zest

,

finely grated

1

Tablespoon

chopped scallions

salt and freshly ground pepper

,

to taste

a few

sprigs

fresh thyme

,

for garnish
Instructions
Lightly oil a standard size loaf pan (9" x 5" x 2-½") with cooking spray.


Line pan with parchment paper, keeping excess hanging over.

Spray parchment liner with cooking spray.

In 3 separate medium saucepans (or 1 pot at separate times) add water to 2 " below rim. Add ½ Tablespoon salt. Bring to a boil. Separately blanch the cauliflower, carrots and the rapini until tender. Once the rapini, cauliflower and carrots are tender, drain and place in separate bowls of ice cold water to stop the cooking. Keeping separate, drain, lay flat and blot with paper towels until dry to touch.

In a medium skillet over medium heat, sauté sliced leeks in 2 Tablespoons of olive oil, until translucent. Season with salt and pepper. Transfer to a plate.

In same skillet warm 1 Tablespoon of olive oil over medium heat. Sauté garlic for 30 seconds.

Add spinach and sauté until it cooks down, about 3 minutes. When cool enough to handle, remove from the pan and chop finely.

Mix the crumbled feta cheese with the chopped spinach. Set aside.

In a small bowl, combine the ricotta and yogurt. Set aside.

In a food processor or blender, place the rapini, 1 egg yolk, 2 Tablespoons of the ricotta/yogurt mixture and 1 teaspoon of the lemon juice. Purée until smooth. Transfer to a bowl.

Stir in the chopped scallions.

Repeat with the cauliflower, 1 egg yolk, 2 Tablespoons of the ricotta/yogurt mixture and 1 teaspoon of the lemon juice. Transfer to a separate bowl. Stir in the lemon zest.

Repeat with the carrots, 1 egg yolk, 2 Tablespoons of the ricotta/yogurt mixture and 1 teaspoon of the lemon juice. Transfer to a bowl.

To each individual mixture, add salt and pepper to taste.

With an electric mixer or immersion blender, beat the egg whites until stiff.

In their separate bowls, gently fold ⅓ of the egg whites each into the rapini mixture, the cauliflower mixture and the carrot mixture, until just combined. Check seasoning and add salt and pepper if needed.
Assembly
In the prepared pan, decoratively "style" the thyme sprigs onto the parchment lined pan.

Carefully without disturbing the sprigs, spoon in the carrot mixture. Evenly smooth out the top. Gently tap on workspace to release any bubbles.

Add the layer of rapini mixture on top of the carrot layer. Gently smooth out the top, being careful not to blend the carrots from below into the rapini.

Repeat the above step with the cauliflower mixture.

Carefully spoon and spread the sautéed leeks on top of the cauliflower.

On top of the leeks, carefully add the spinach layer. Gently smooth out the top.

Cover spinach layer with a piece of lightly oiled parchment paper. Gently smooth and lightly press down. Fold hanging parchment flaps over to "close".

Place loaf pan in a rimmed roasting pan and then place on the oven shelf. Carefully pour boiling water into roasting pan to come about ⅔ way up the sides of the outside of the loaf pan.

Bake for about 40 minutes.

Keeping oven on, unfold parchment flaps. Remove the individual oiled sheet.

Cook for 10 - 15 minutes longer, or until the top has firmed up a bit.

Remove loaf pan from water pan and the oven and allow to cool for 45 minutes before moving on to next step.

When cooled, carefully run a wet nonserrated knife along sides of pan.

Place serving platter or plate face down on spinach side of loaf pan.


Gently flip and invert onto serving platter or plate. Carefully peel away parchment.

Tah dah! How pretty is that! Bon Appétit!
Notes
Gr8 tips:
This is a perfect make ahead dish. Wrap in 2 layers of plastic wrap (not in pan). Thaw out in refrigerator on a plate 4-6 hours before serving, or until "spreadable".