This is the best way to cook bacon for a crowd. Do you love to entertain? Cook your bacon in the oven! It's easy to make a lot at once and the clean-up is a breeze!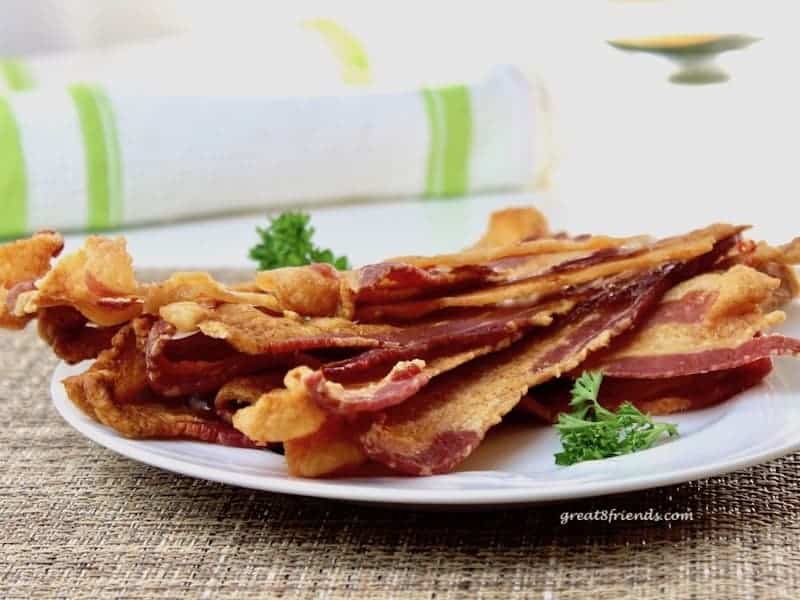 I love bacon. I am BACON. It is my real last name. You know what tastes better with bacon? More bacon. Bacon makes everything better.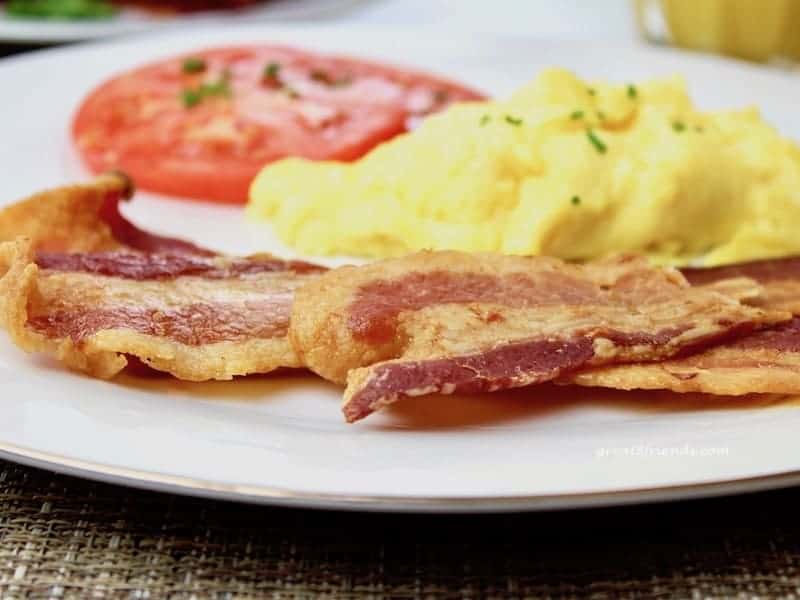 There is nothing like waking up to the smell of coffee brewing and bacon being fried unless you wake up to the smell of bacon being baked.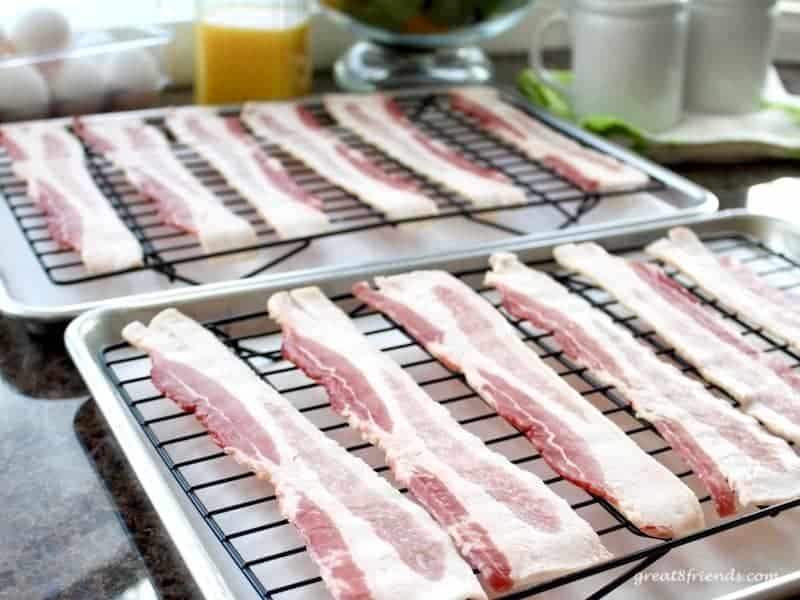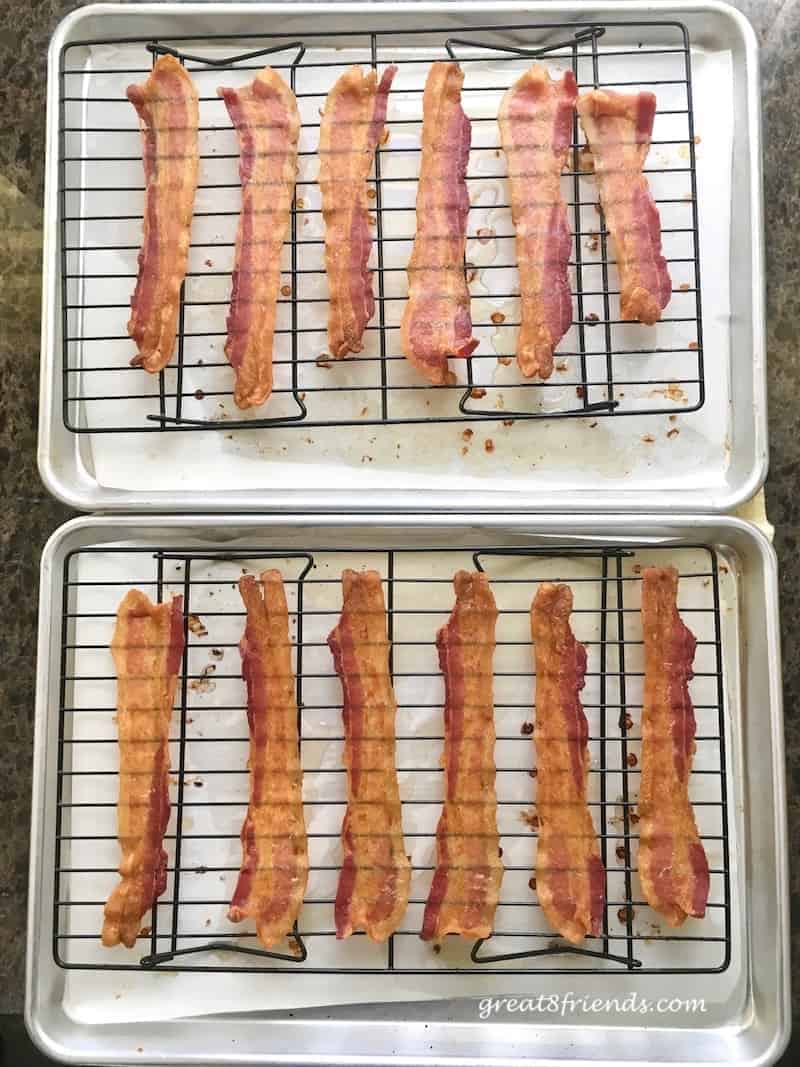 That's right. Bacon that is cooked perfectly in the oven -- no monitoring necessary! Simply line a large baking sheet with aluminum foil, place a cooling rack on top and lay out the bacon in a single layer. If you are really particular about cooking your bacon evenly, you can rotate the pan halfway through the cooking time.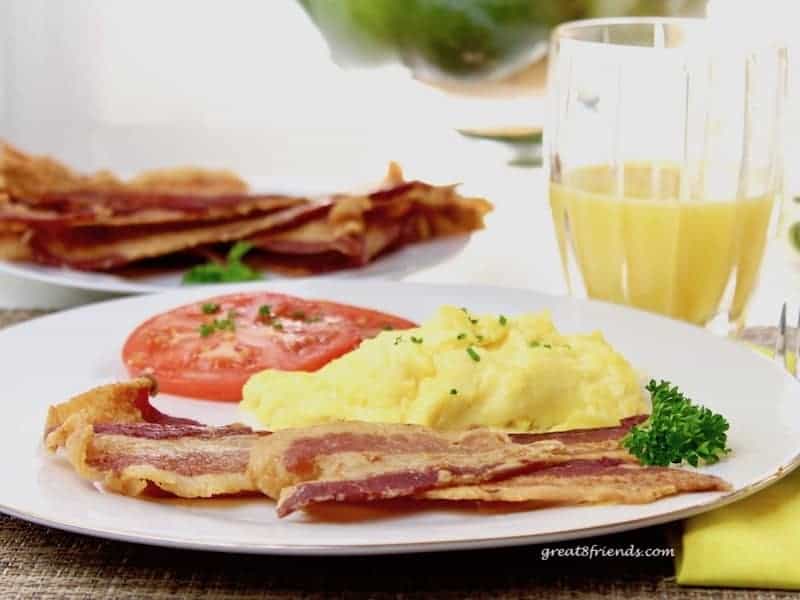 For a few quick slices, I still think a skillet is the way to go; but when cooking a pound or more of bacon for a big Saturday brunch or for a week of easy meal add-ins, I am a total oven-baked-bacon convert.
If you want to save the bacon grease, let it cool slightly, then pour it into a container and refrigerate. If you don't want to save the grease, let it solidify on the baking sheet and dispose of properly.
So easy. So good. And so not messy! The bacon is a perfect accompaniment to Julia's Omelets. Need I say more?
Gr8 recipes with Bacon: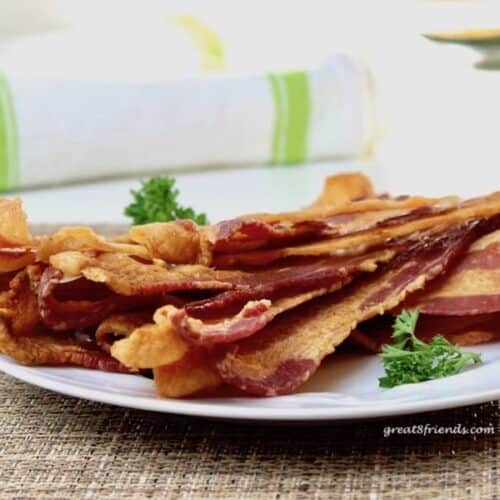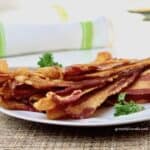 Print Recipe
Pin Recipe
Save this Recipe
Saved!
Please leave a rating!
Cook Bacon in the Oven
Ingredients
bacon

baking sheet

parchment paper or aluminum foil

cooling rack
Instructions
Preheat the oven to 400°F.

Arrange the bacon in a single layer on a slightly greased metal cooling rack and place it on a parchment or foil lined baking pan (this makes cleanup easier). The bacon can be close together, but don't let it overlap or the bacon will stick together during cooking.

Place the baking sheet of bacon in the oven and cook until the bacon is deep golden-brown and crispy, about 20-30 minutes. Exact baking time will depend on the thickness of the bacon and how crispy you like it.

Remove the bacon from the oven and use tongs to transfer it to a plate lined with paper towels to drain and finish crisping.

Serve immediately.
Notes
Gr8 Do-Ahead Tip:
You can refrigerate leftover bacon for a week or freeze it for up to 3 months; warm the bacon in the microwave before serving.
Gr8 Tip:
For a sweeter bacon, sometimes called "Candied Bacon," often used for salads, sprinkle some brown sugar on the bacon before cooking. For skewered bacon, thread the bacon on the skewers before baking.