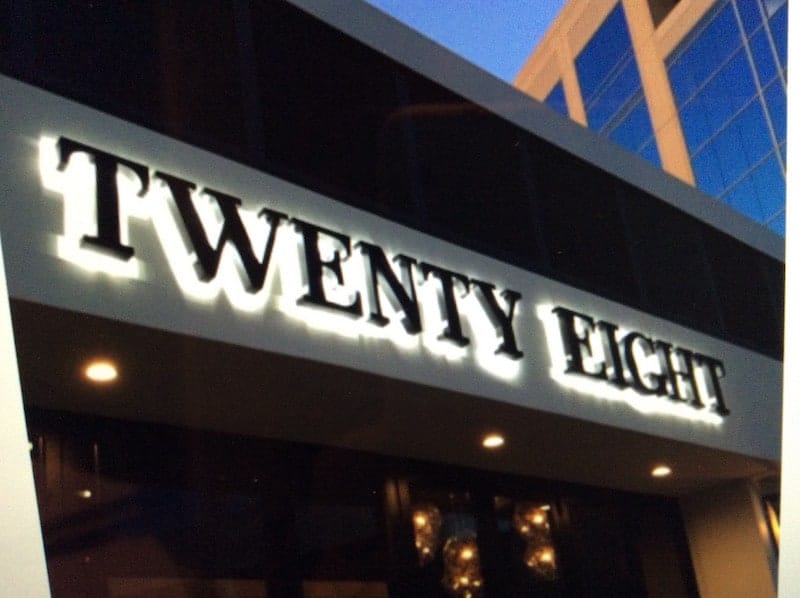 It's January and time again to celebrate Debbie! Her birthday is in late December and we looked forward to taking her out to dinner to a restaurant she has not yet visited.
We found Twenty Eight (yes, that's the name of the restaurant and not Debbie's age!) in Irvine, California and we scored! The evening was Gr8 Fun from beginning to end and we all agreed that we would visit again. Twenty Eight is described as "Modern American Cuisine with a Chinese Soul," and we were excited to enjoy a meal prepared from a Top Chef Finalist, Shirley Chung.
Of course the first item of business was to order a cocktail. The menu features seasonal cocktails and Debbie enjoyed the "Ginger Rouge" which included Amsterdam Gin, Kings ginger liqueur, cranberry preserve, lime mint, and simple syrup.  We toasted the birthday girl and another gr8 year together.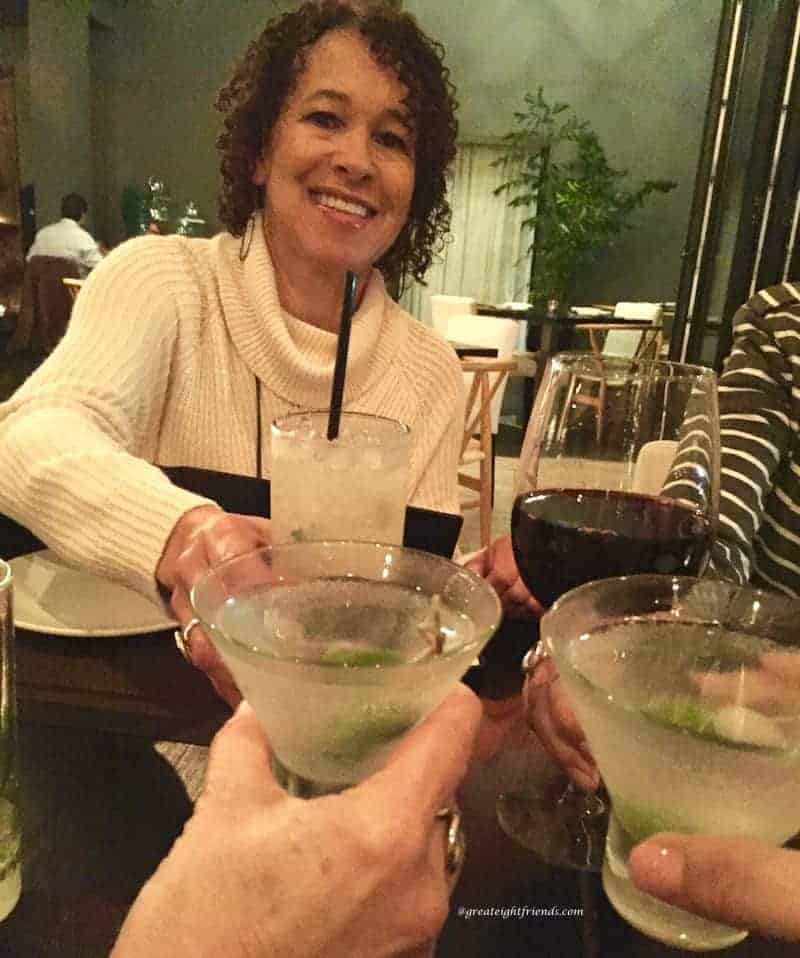 Anna and Jurga were in the mood for the classic martini and I, of course, had my glass of Cabernet. With our cocktails, the waitress brought each of us the most delicious twice cooked (steamed and then fried for extra crispness) bun with black sesame butter and sesame salt.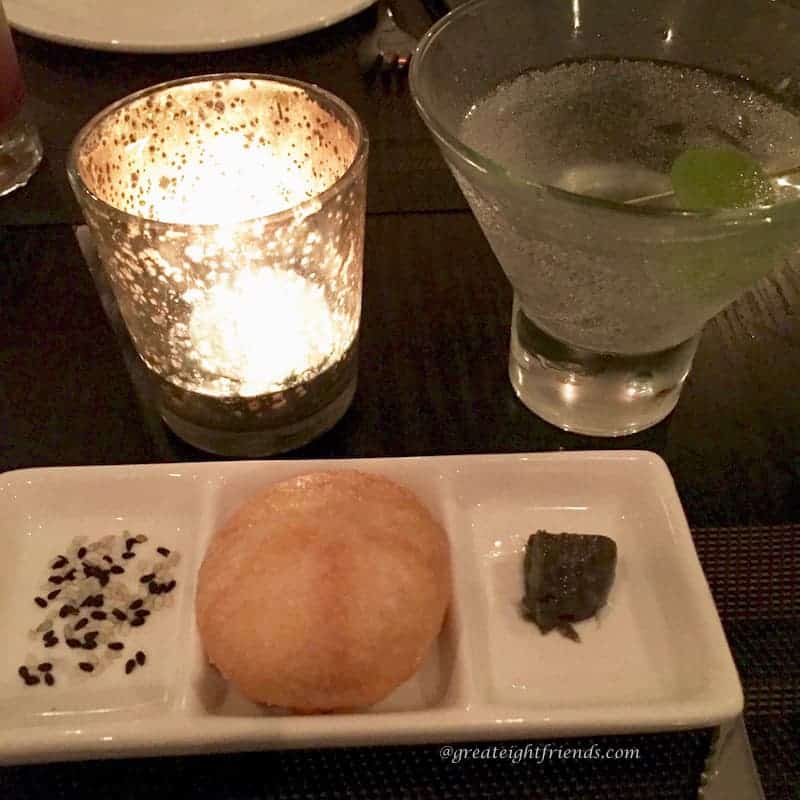 We all enjoy a restaurant where we have the choice of ordering small plates, so we can share the flavors with each other. Twenty Eight offers small plates and dinner plates to share. Decisions, Decisions! Everything we chose was a hit!
Debbie wanted to try a childhood favorite, "Pork Crackling," which are fried pork rinds with kafir lime salt and curry yogurt.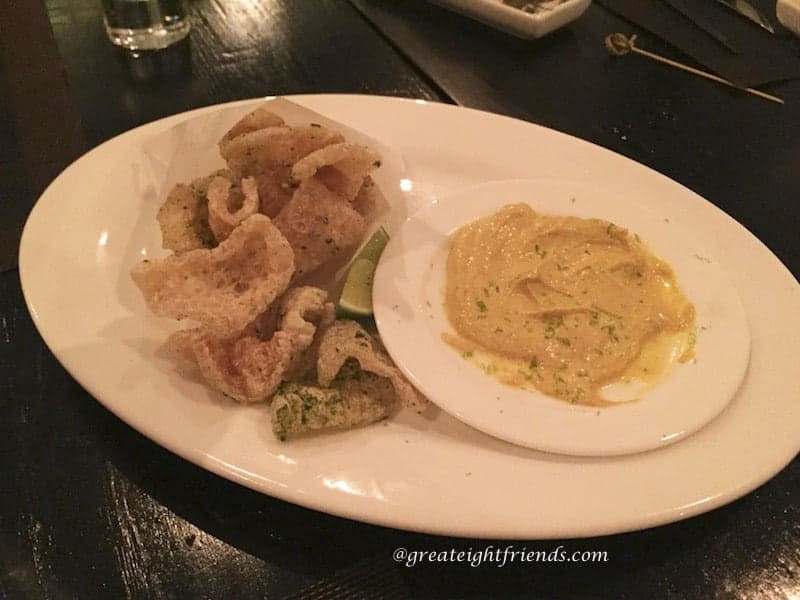 We couldn't pass up the "Better Than Your Ballpark Fries". And they were better! These fingerling potatoes were served with garlic parmesan and a spicy (very yummy) ketchup.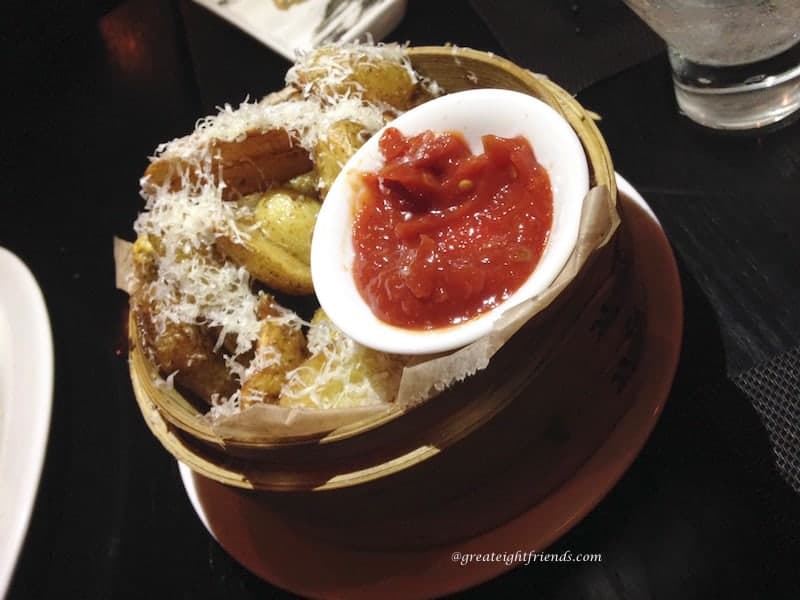 We loved all the flavors of the "Wok Tossed Fat Noodles". This was a simple but flavorful dish of hand rolled and hand cut wide noodles, fresh vegetables, garlic, chives and chili. We all agreed we would order this again!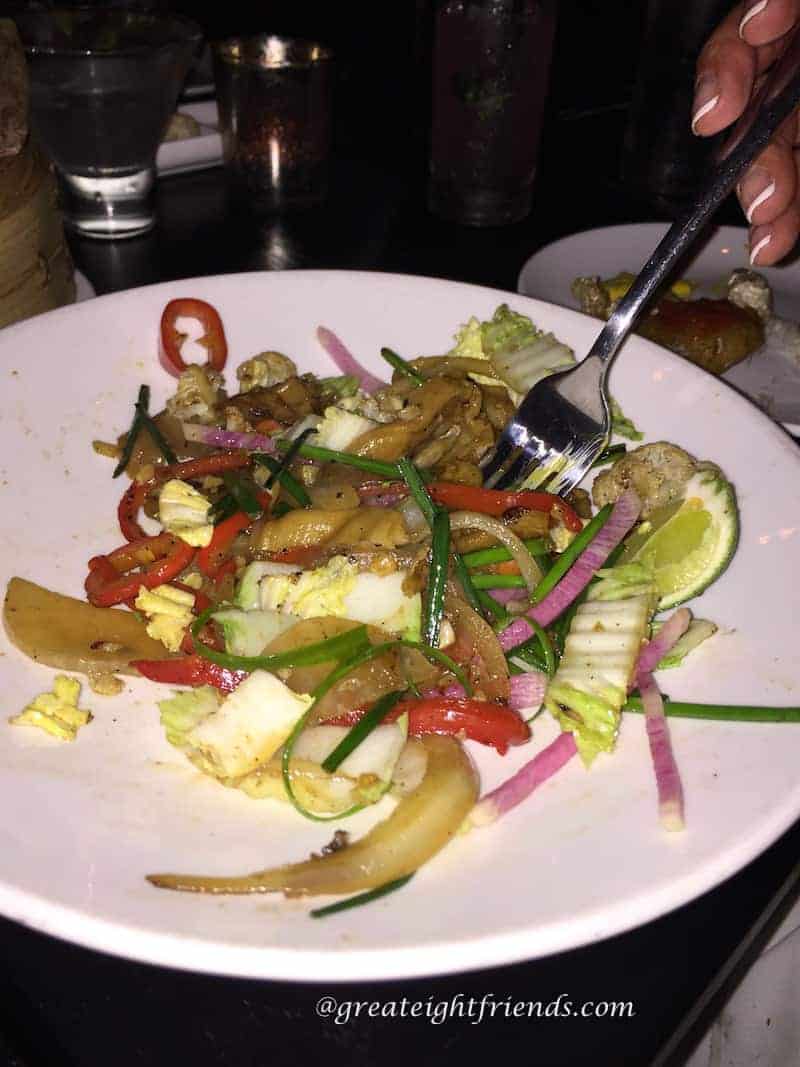 Next up was the delicious "Fire Phoenix." This was a tender and juicy jasmine tea smoked chicken breast served with sweet potato dumplings and a cranberry and chicken reduction.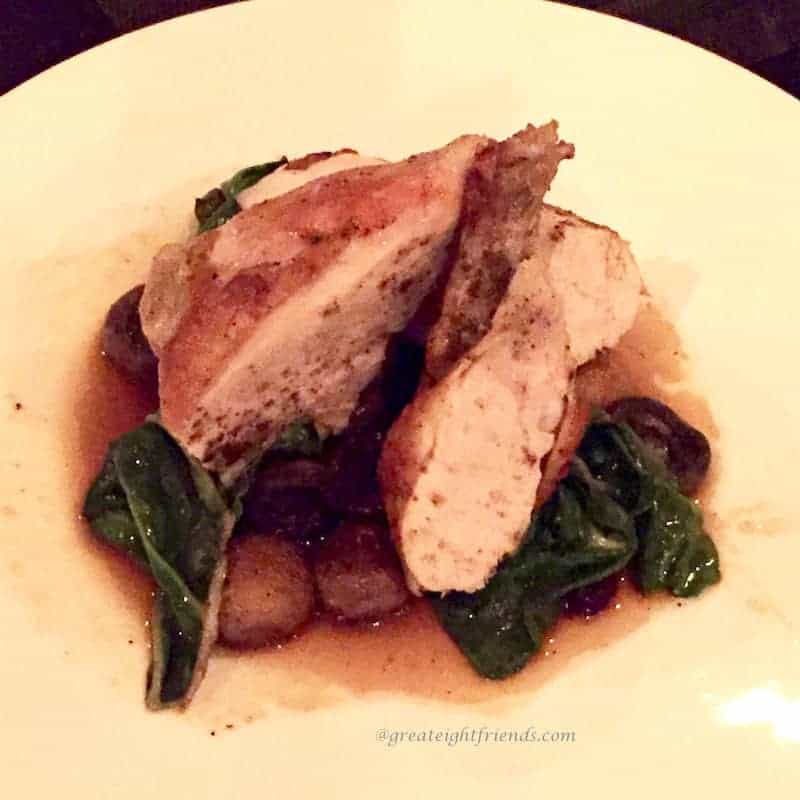 And the "Caramel Lace Prawns" was a beautiful presentation! This dish was gulf white prawns with sweet plum aioli, spiced toasted walnuts and spun sugar lace on top!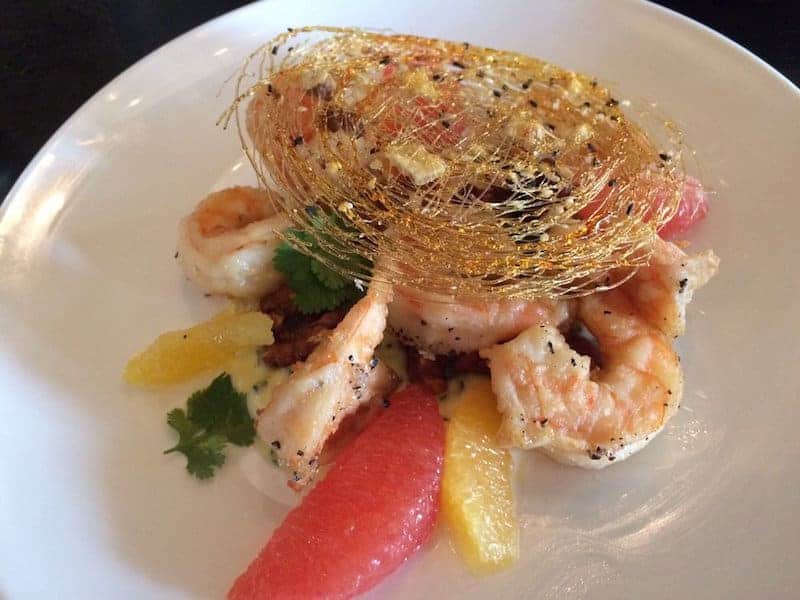 Did we still have room for dessert? Of course we did! We ordered the "Good Fortune" which was an amazing presentation. Inside this glass was dark chocolate mousse, coconut gelée, chocolate wafer, curry croquant, and our edible fortune, "Music Saves My Soul."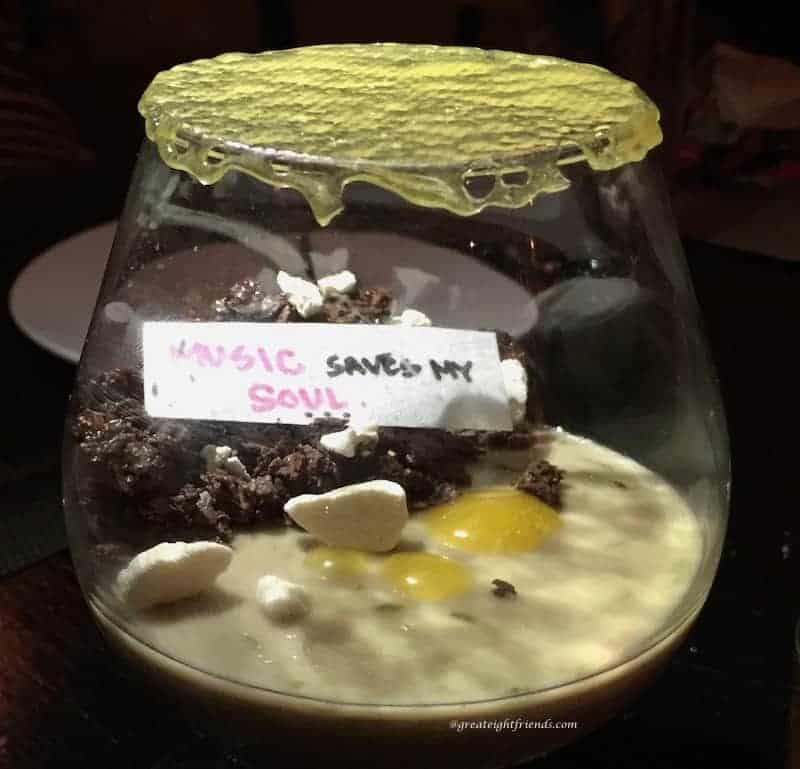 And we also had the "Almond + Pear" which included Asian pear, burnt almond curd, pastry flakes, and torched meringue.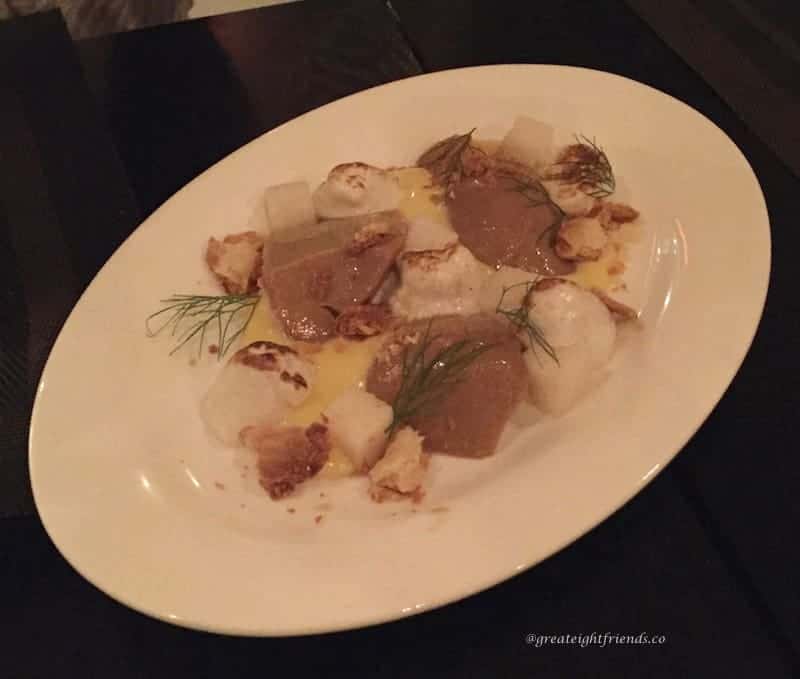 Both desserts were beautiful in presentation but just ok (in our opinion) as far as taste. What we loved, loved, loved, was the pear sorbet that was brought to Debbie from the restaurant for her birthday and it included an edible note from chef Shirley. When we return for another visit, we will surely order the house made sorbet of the day.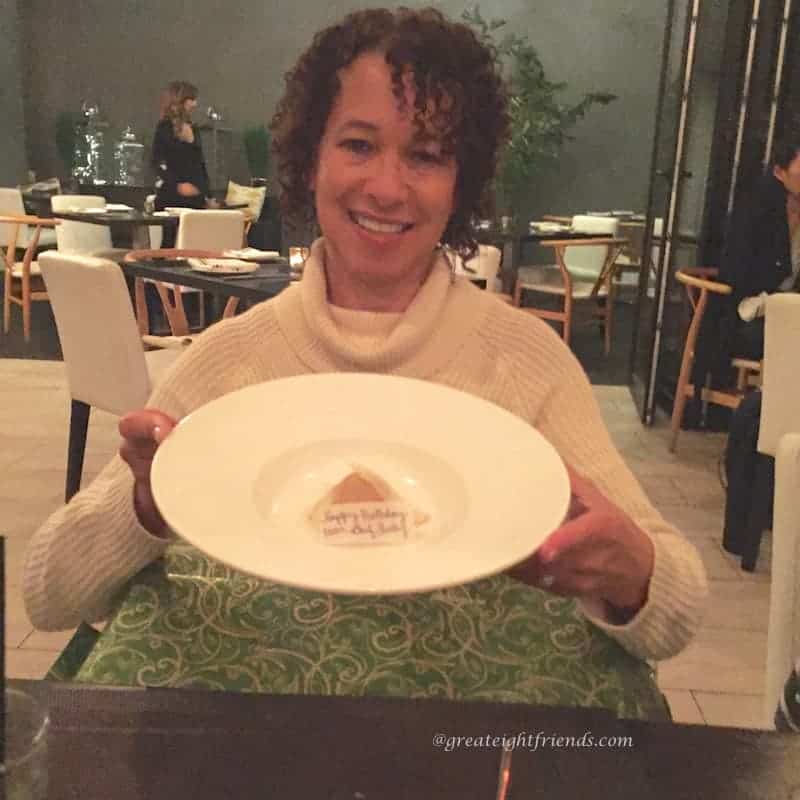 Another fun evening celebrating Gr8 Food, Gr8 Friends, and Gr8 Fun!
Twenty Eight — 19530 Jamboree Road — Irvine, CA 92612 — 949.852.2828