Julia Child's simple Omelette Roulée with a side salad makes a light and easy breakfast, lunch, or dinner. This is the French omelet method, where "roulée" just means "rolled up." These are simpler and lighter than American omelets. But oh, so delicious!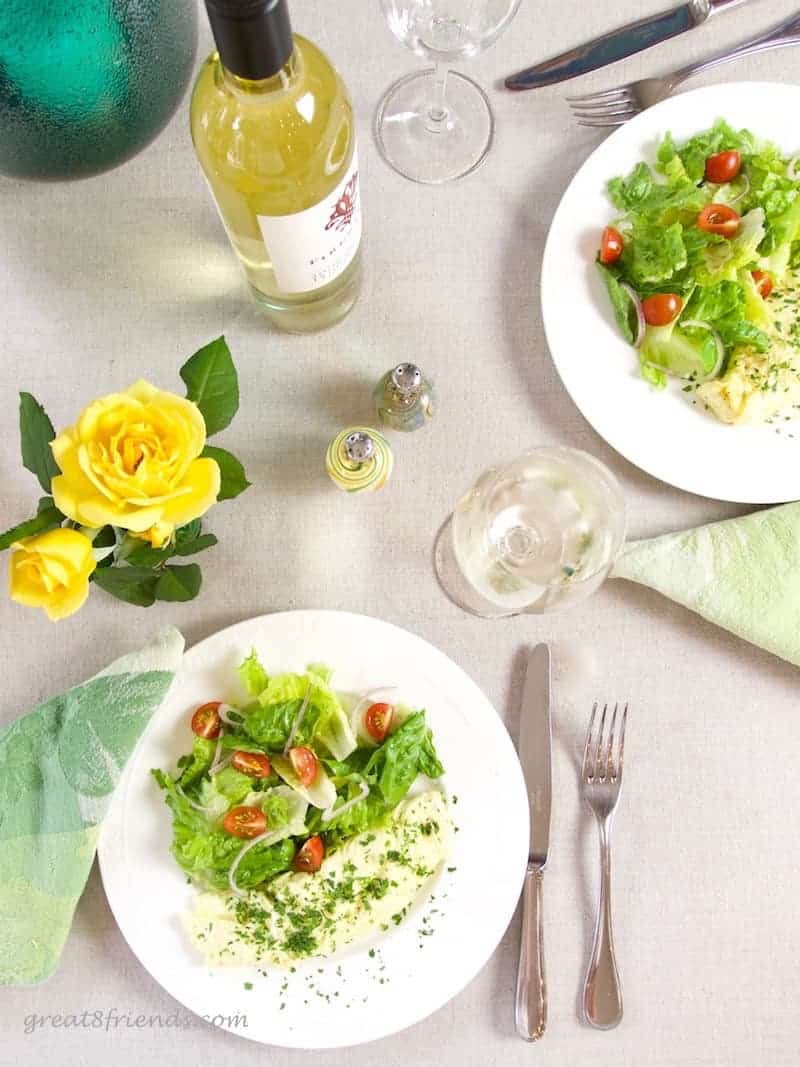 "If you can read, you can cook."

Julia Child, Mastering the Art of French Cooking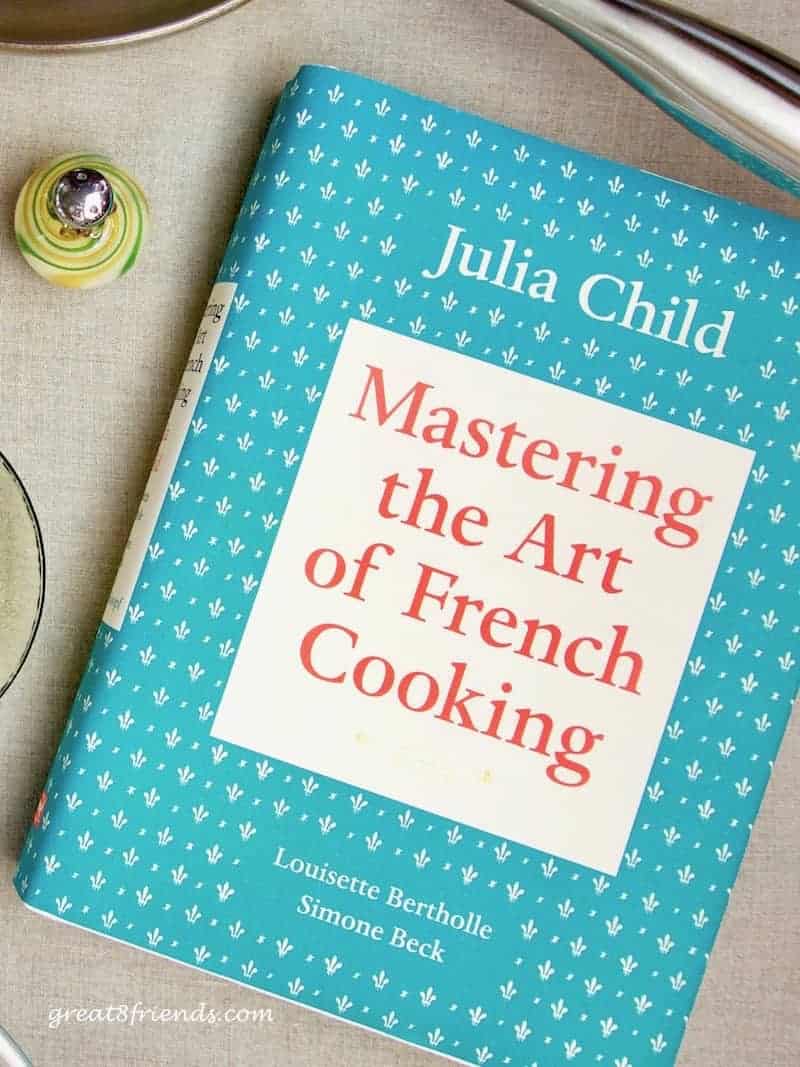 In the introduction to the 40th Anniversary edition of her iconic cookbook, Julia Child explains that her goal was to write the recipes so that anyone who could read would be able to make the dish and have it turn out exactly as expected.
Her directions are detailed and easy to follow; the omelette recipe is 8 pages long, with illustrations!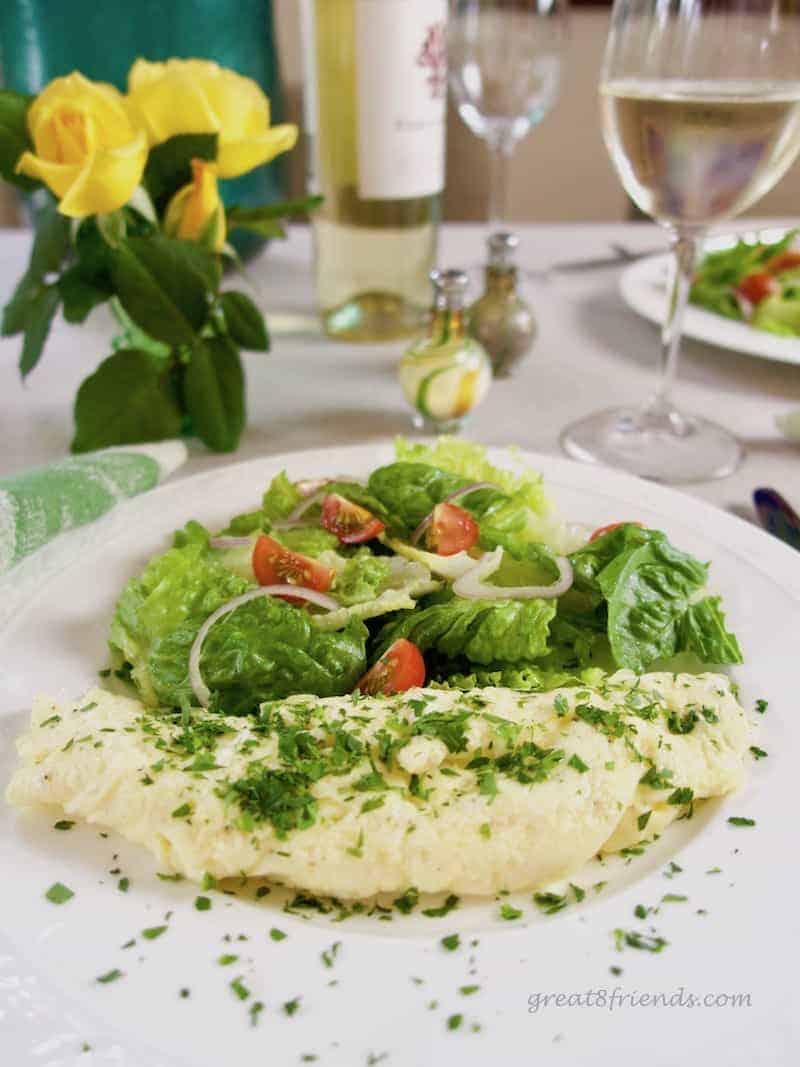 This book has been sitting on my shelf for several years and I've never really made anything from it.
So, with her birthday being on August 15, I thought it would be fun to actually try some of her recipes. And the omelette seemed like the best place to start.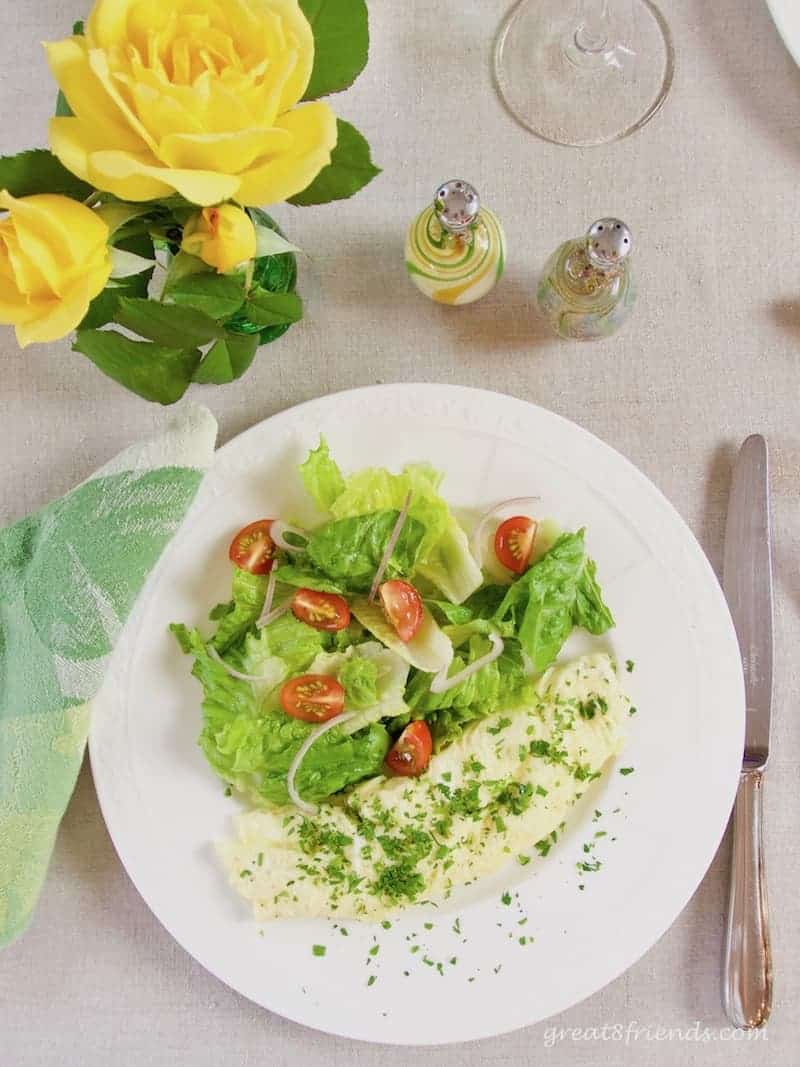 A French omelette is nothing like the omelets that we order in most breakfast restaurants that are stuffed with all kinds of meats, veggies and cheese.
As Julia says, they are more like a stuffed soufflé. A French omelette is a simple and beautiful "roulade" of eggs. And it's all about the technique and the pan.
In this video of Julia's "Omelette Show," she shows the technique, tells a couple jokes, and explains how to do omelettes for 300 people in 20 minutes!!!! She's just lovely!
I've been practicing my omelette game; the technique is a bit tricky but not too difficult. And the resulting product is oh so delicious!
The best part of all is that you get a sublimely silky and flavorful main course in under 30 seconds...that's right, 30 seconds! Serve this with a salad for an almost perfect meal.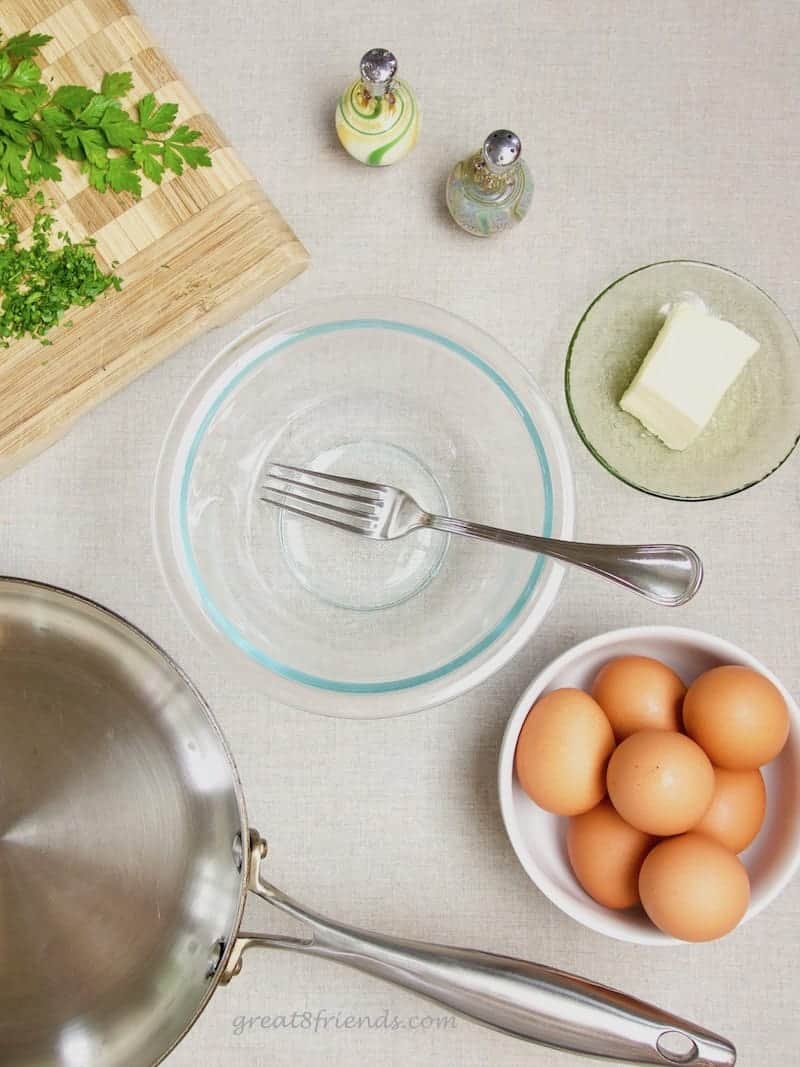 All you need is a pan, a fork, a bowl, butter, eggs, some salt and pepper, and a little parsley; really, that's all you need. Oh, and a stove, of course!
And whatever you do, don't skimp on the butter! It's critical to keeping the eggs from sticking.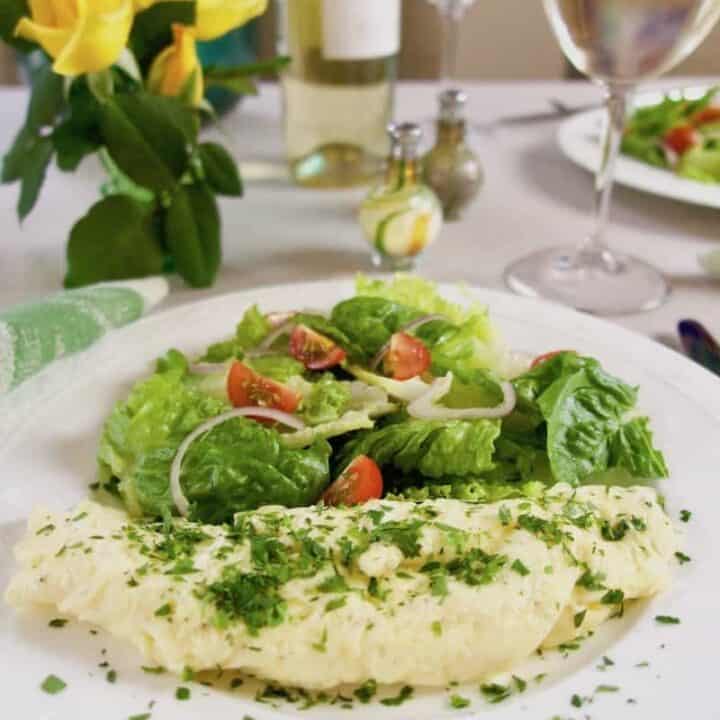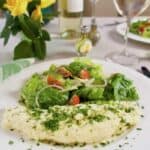 Print Recipe
Pin Recipe
Save this Recipe
Saved!
Please leave a rating!
Julia's Omelette
French omelettes cook in about 20 to 30 seconds. Dinner in under a minute!

Don't skimp on the butter, that's what keeps it from sticking and gives the omelette it's silky consistency.
Ingredients
2 to 3

eggs

1

Tablespoon

butter,

,

plus extra for the top

A pinch each

salt and pepper,

,

to taste

½

teaspoon

chopped herbs of your choosing,

,

parsley, tarragon, chives, chervil...
Equipment
Saute pan, with a bottom diameter of 7"

Fork

Mixing bowl
Instructions
Break the eggs into the mixing bowl and beat vigorously with the fork for about 20 to 30 seconds. You just want to get the white and yolks well mixed.

Heat the pan over high heat then add the Tablespoon of butter. As the butter melts, swirl the pan to completely coat the bottom and part way up the sides.

Once the butter is melted quickly give the eggs an extra stir and pour into the hot pan. Let the eggs settle for about 3 seconds. (You can see in the photo how the butter is part way up the sides of the pan.)

Then start shaking the pan back and forth and then jerk it toward you several times. Watch Julia's video to get the technique.

As the eggs cook increase the angle of the pan and continue jerking so the eggs fall into the far edge of the pan. After 20 seconds your omelette should be done, that's right, 20 seconds!

Hold a warm plate in your left hand and grasp the handle of the pan in your right hand with your thumb on top. With the lip of the pan against the plate, tip the pan up and roll the omelette onto the plate. It should be shaped almost like a rolled crepe. Use your fork (or fingers!) to push any stray pieces under.

Spread a little softened butter on top of the omelette. (This is optional, Julia does it, but I have done it both ways and it still tastes Gr8 without.)

Garnish with a generous amount of minced parsley (or herbs of your choice) and bon appetit!
Notes
Some tips for making a Gr8 omelette:
Choose a pan with a bottom that is 7" in diameter.
If you aren't using a non-stick pan, then make sure that your pan is scoured and spotlessly clean.
Use no more than 3 eggs per serving or the pan will be too small and the eggs won't cook properly. I've had the best luck with 2 extra large eggs.
Use the full tablespoon of butter (don't skimp!), this helps in the cooking and also in keeping the eggs from sticking.
Have everything ready to go, it's a quick process!