You too can have a fun dinner party with a casual theme in your backyard! Check out our Camp Boomer for easy decorations and a delicious campout menu.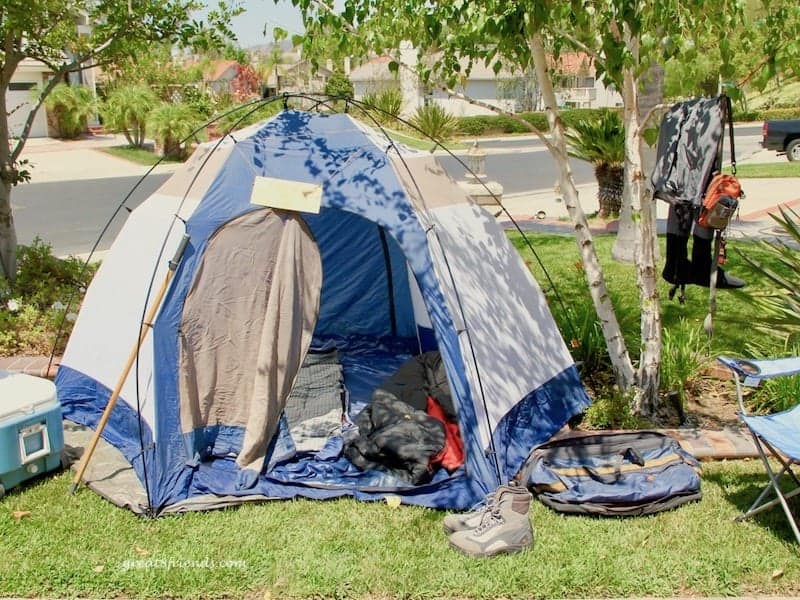 Tents, flashlights, and bug spray aren't your typical ingredients for a delicious dinner, but they were essential for the August 2012 Gr8 Dinner, 'Camp Boomer!'
One day in early June, my husband, Joel, was taking inventory of our camping and fly fishing supplies for the annual Van Boom guy's summer trip and came up with the Camp Boomer idea. I agreed immediately knowing that Joel would be a big contributor to the decorations!
The Invitations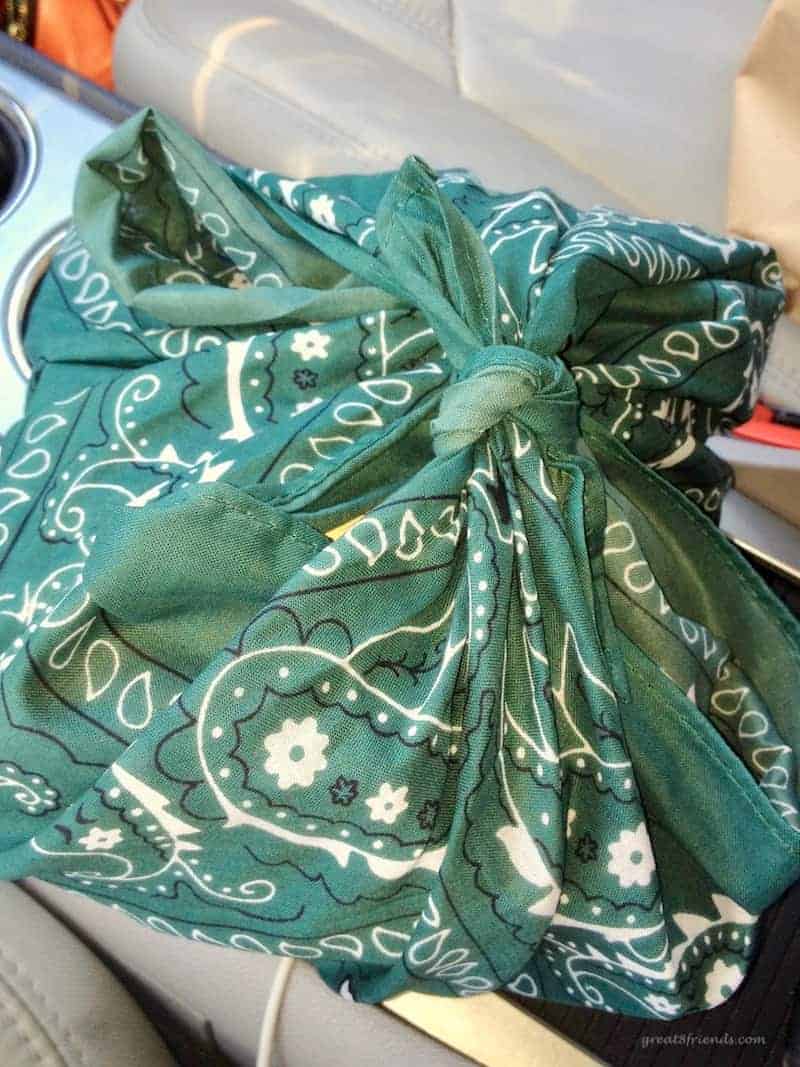 A week before the gathering we delivered invitations to each front door. Camping supplies wrapped in a green bandana with the invitation inside which read:
Gr8 needs to go camping, Stay in a tent for a night or two, Take a hike, go swimming, and enjoy the outdoors, There's a lot of nature to see and a lot to do.
So start planning for a fun-filled trip, You don't have to travel far, Check your calendar for 7:00pm next Saturday, And then jump in your car.
We'll pack up a good-sized cooler, Loaded with drinks and lots of ice, Plenty of lakeside munchies, Red ripe watermelon will taste nice.
We'll enjoy Jurga's camp side salad, While the charcoal burns real low, Grilling our freshwater catch, Which is better cooked very slow.
What goes with Brook Trout? Debbie will have an idea or two, Surprise us! Surprise us! I'm already getting hungry, how about you?
As the sun descends beyond the hills, Under the bright moonlight, We'll enjoy Anna's sweet ending, While sharing Gr8 stories with laughter and delight!
The Decorations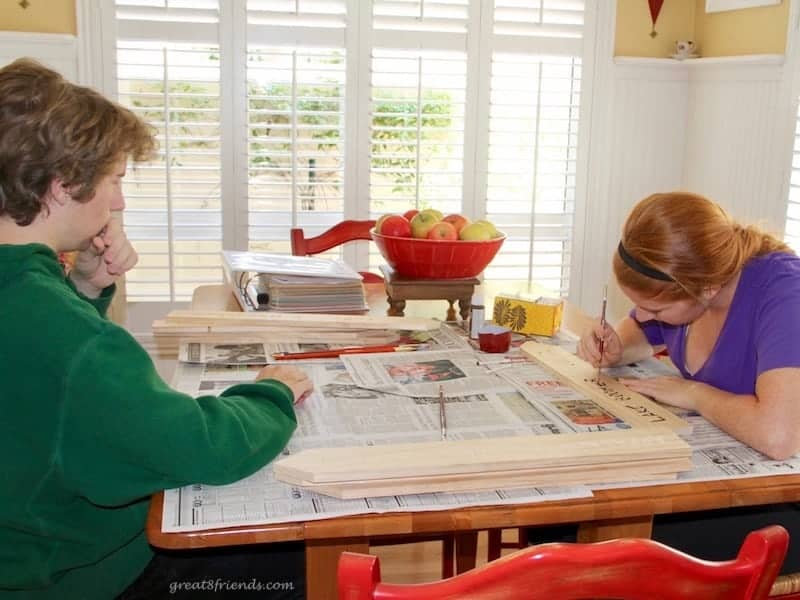 Preparing for the evening was fun because the whole family helped set up the tent, fishing and camping gear in the front yard so that our Gr8 friends would be greeted with the camping theme (yes, our neighbors think we are a bit crazy). The kids enjoyed helping Joel make signs.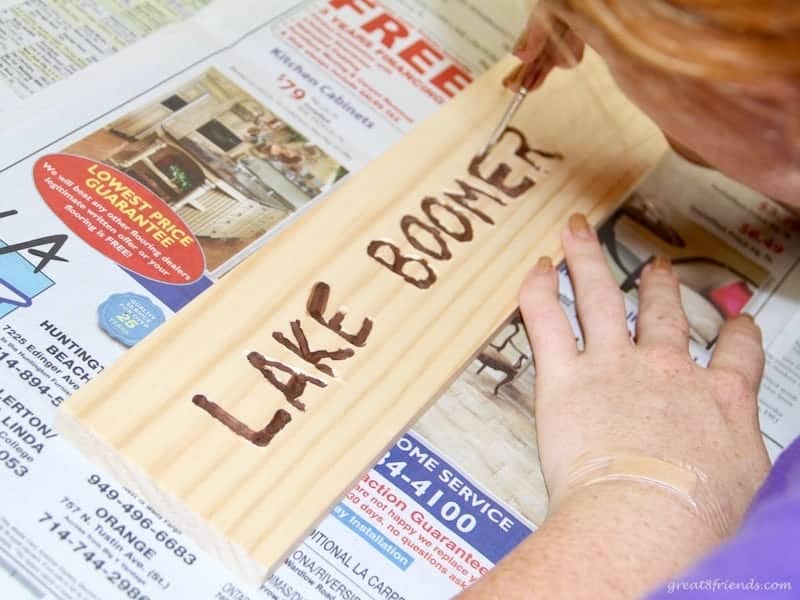 Which we displayed in the yards.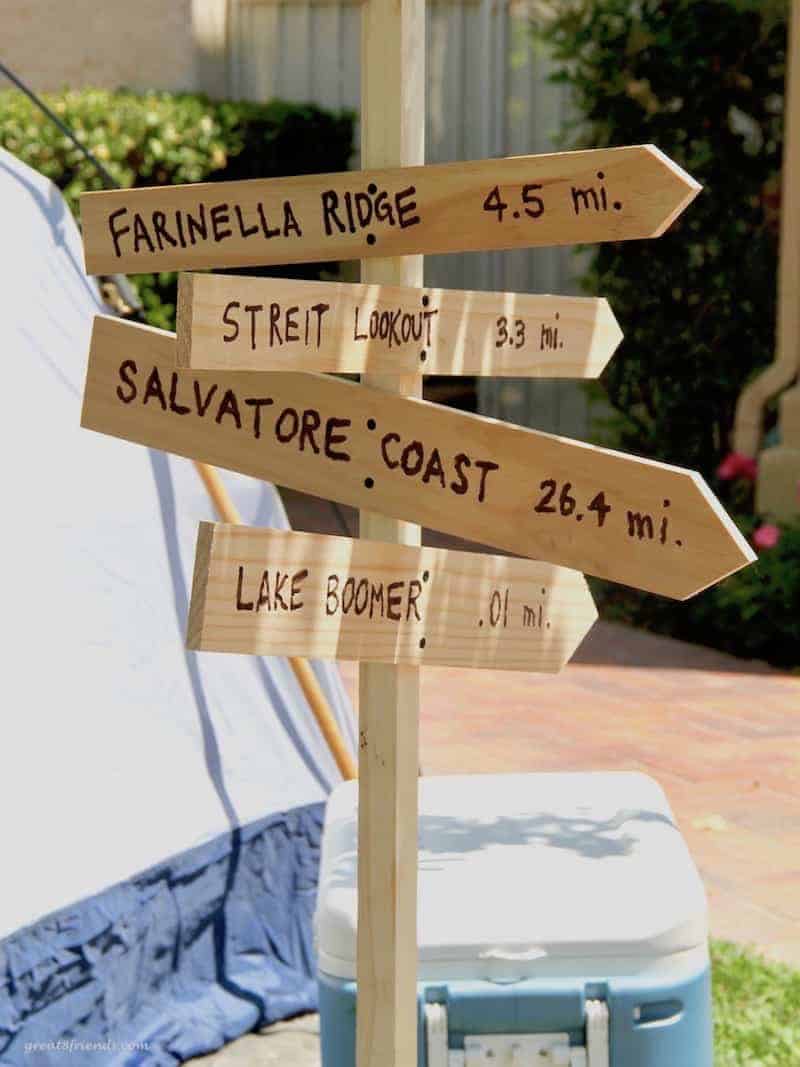 Drinks were served from a cooler and appetizers were served in tin cups and camping plates.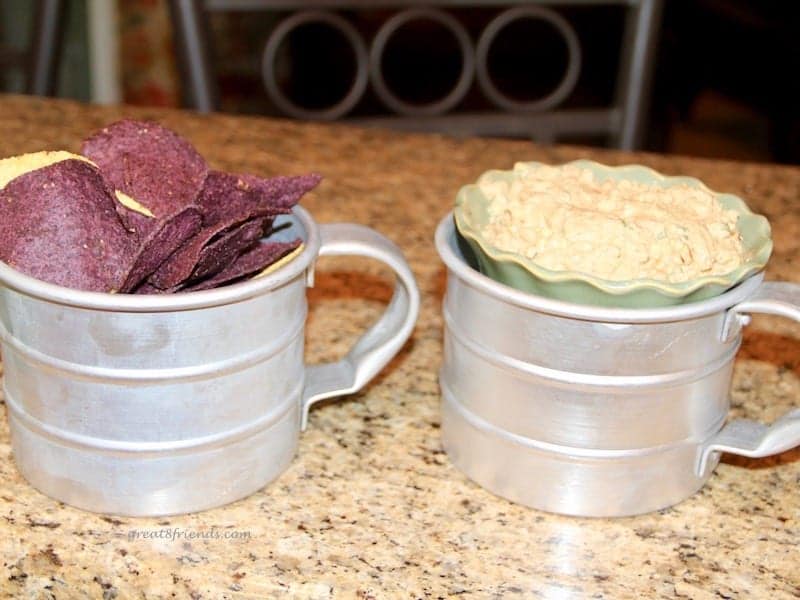 And of course every fishing trip needs worms!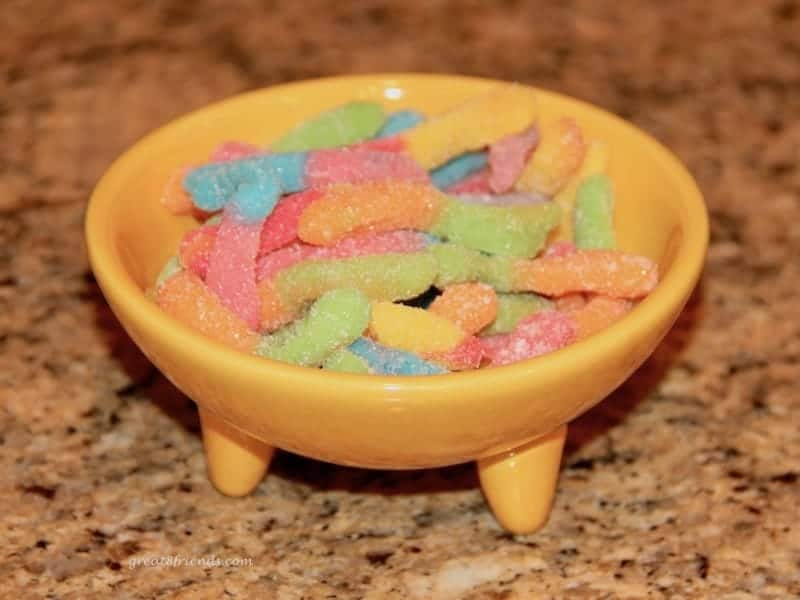 The Menu
Although at most camp-outs a bag of chips might be considered appropriate appetizers, Camp Boomer kicked it up a notch and served Grilled Watermelon, Sweet Potato Squares with Lemon-Garlic Mayonnaise and Corn dip.
While we enjoyed Jurga's Strawberry Summer Salad, Camp Director Joel put the main dish, Complete Fish Dinner, on the coals (well, let's say the gas grill). Alongside the fish we enjoyed grilled artichoke quarters and Debbie's Awfully Good Beans.
Happy and full we left plenty of room for Anna's sweet ending. What would a camp-out be without S'MORES!
And not your run of the mill cracker with a packaged marshmallow and Hershey's chocolate, we are talking HOMEMADE graham crackers, HOMEMADE marshmallows and gourmet chocolate.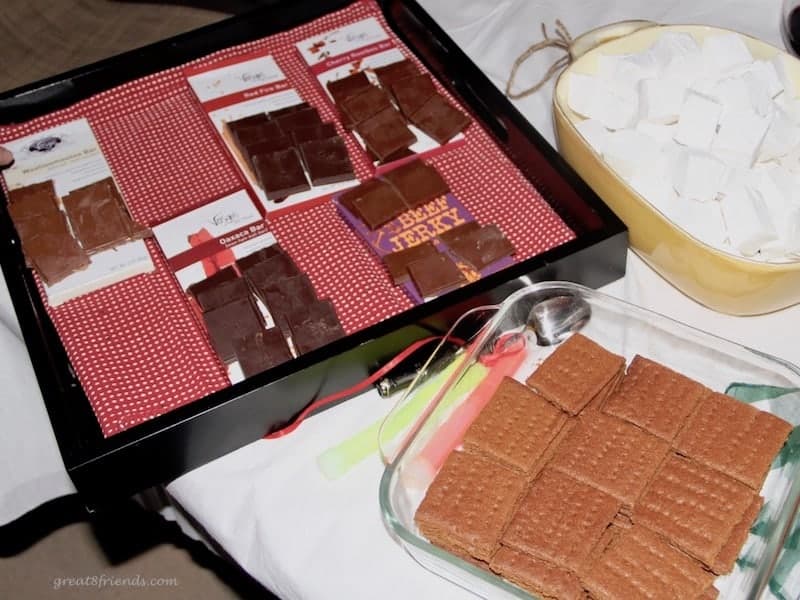 Like kids, we fought to get to the campfire first with our marshmallow at the end of our stick.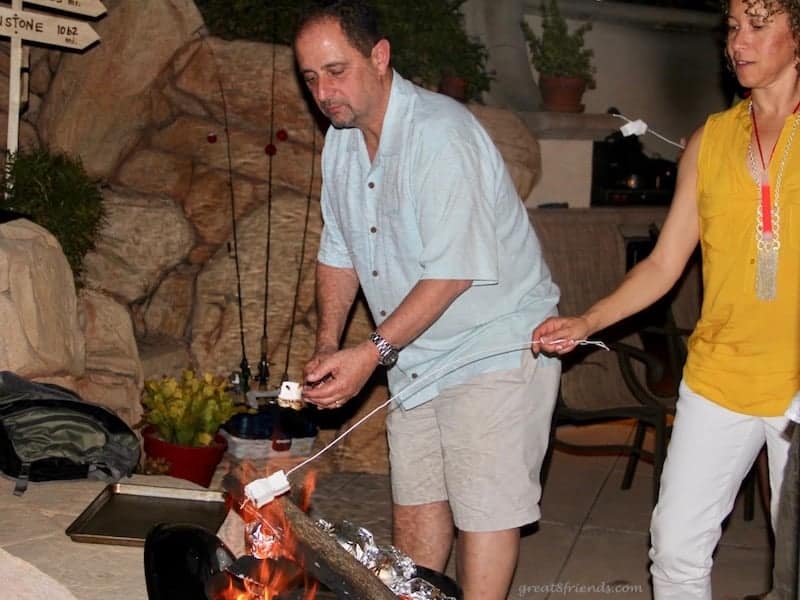 I won!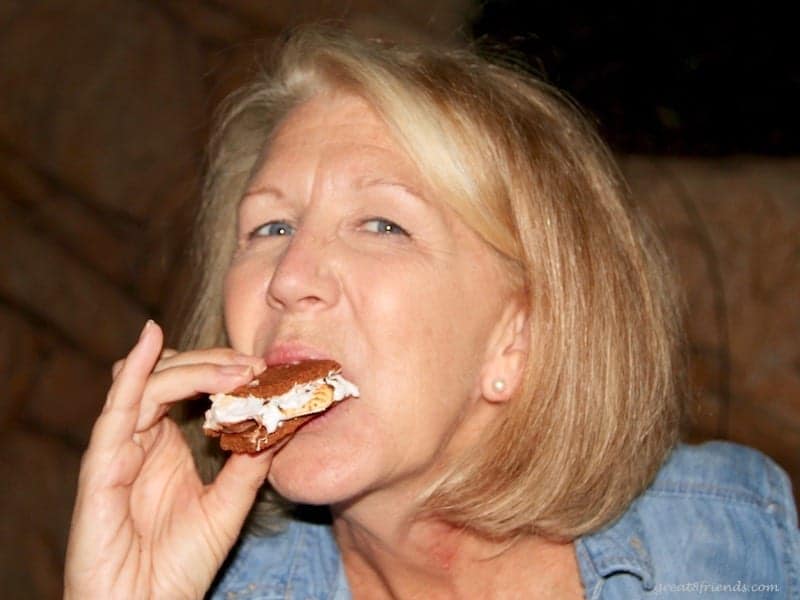 Party Favors!
One of the fun things the Great 8 does at each dinner is gift giving. While the ladies all exchange small gifts at each dinner (of course they do!), the guys agreed long ago that only the host would give gifts for the other men.
For this dinner, Joel had black short sleeve camping shirts embroidered with GR8 for all 4 men (he is wearing his in the photos of the evening) and he also gave them the book "A Walk in the Woods," by Bill Bryson
.
The book is  hysterically funny about a "non-camper" (the author) attempting to walk the Appalachian Trail with another misfit camper. It's a great read that keeps you laughing and also provides a lot of detail about the route - which starts in Maine and winds all the way south to Georgia.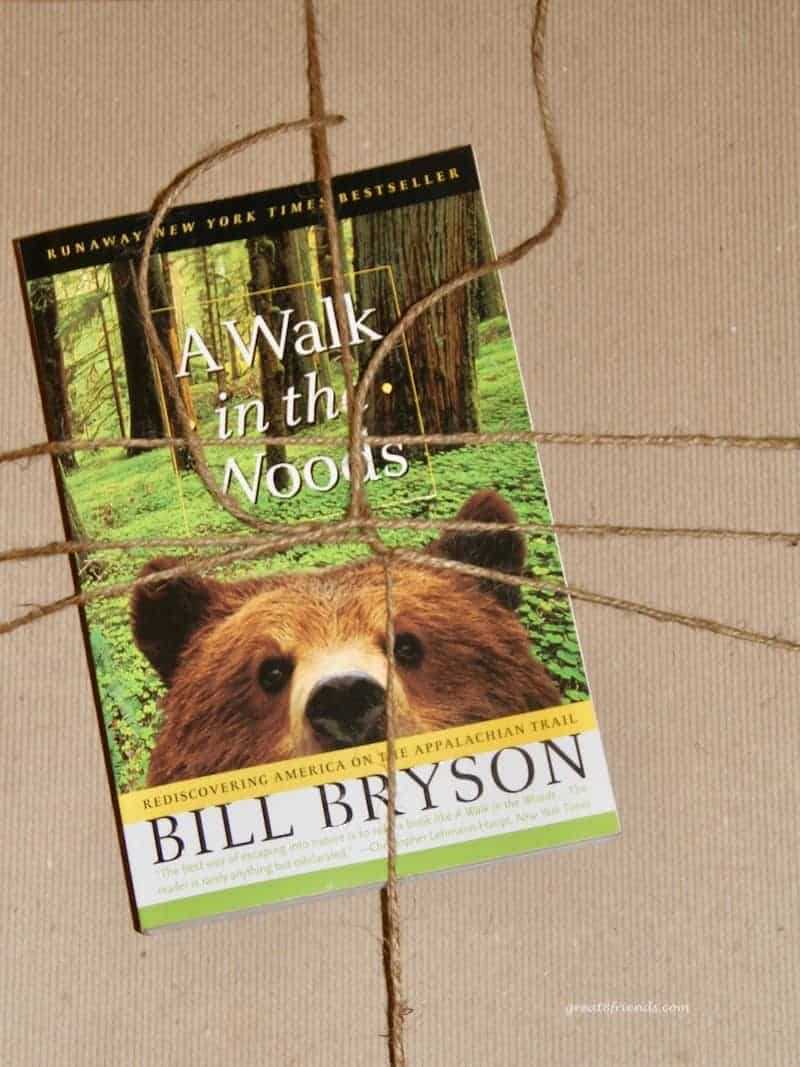 If you look closely at the Camp Boomer sign in the photo, you will see mileage markers for the Appalachian Trail and one of the most splendid sections along the trail – the Shenandoah Valley.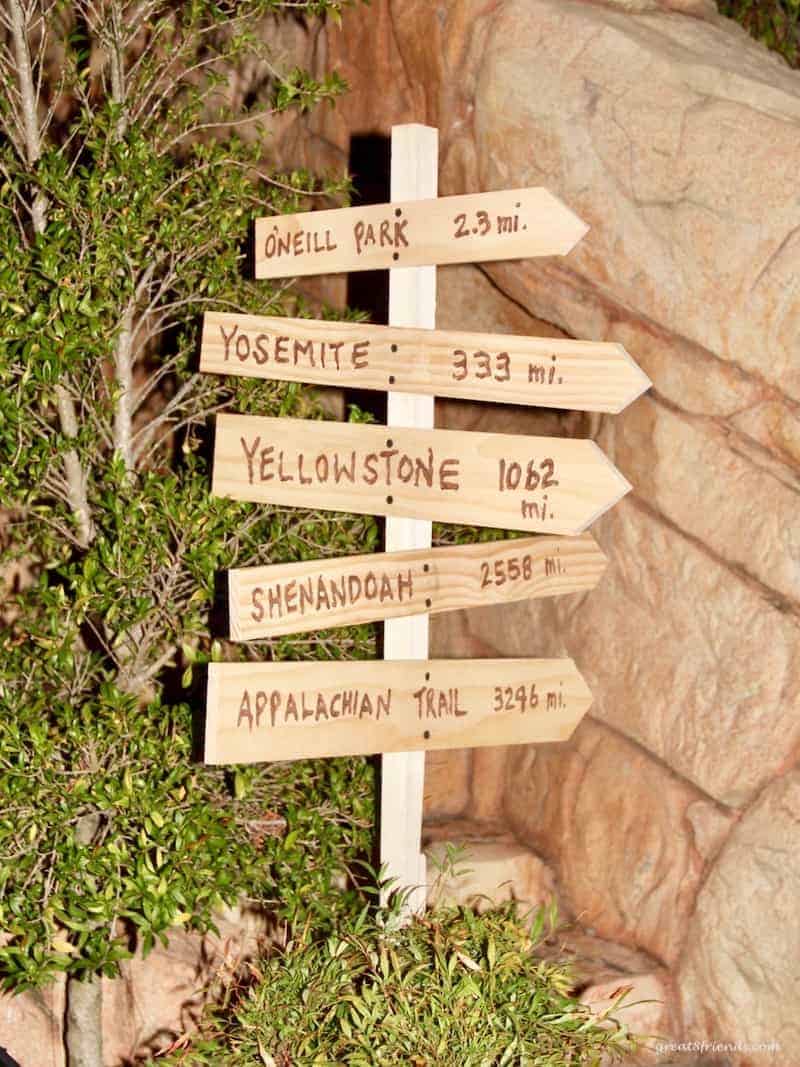 Like every Gr8 evening, we end with laughter!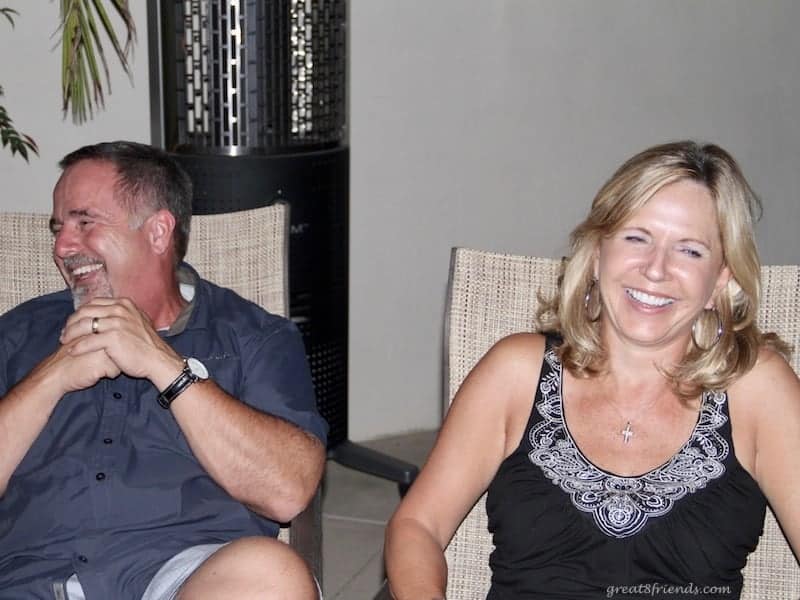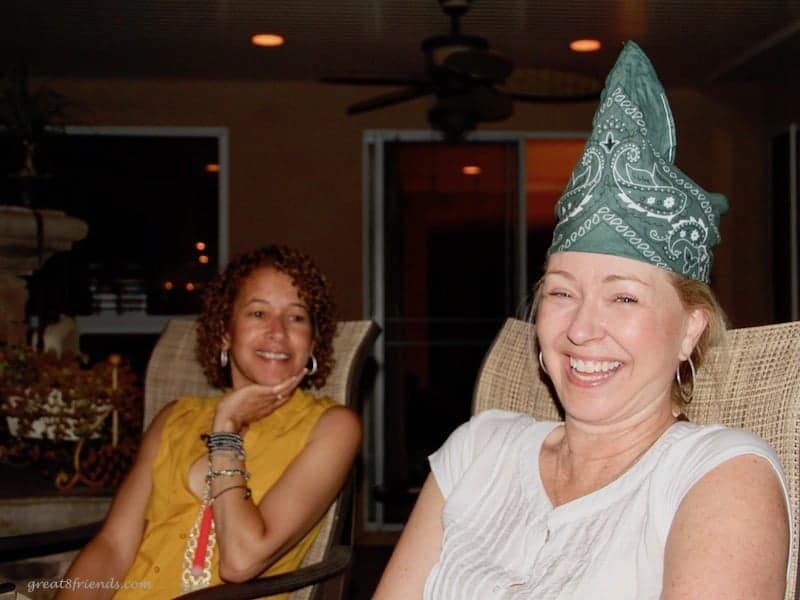 Another evening of ~
Gr8 Food, Gr8 Friends and Gr8 Fun!
Originally published August 20, 2015.