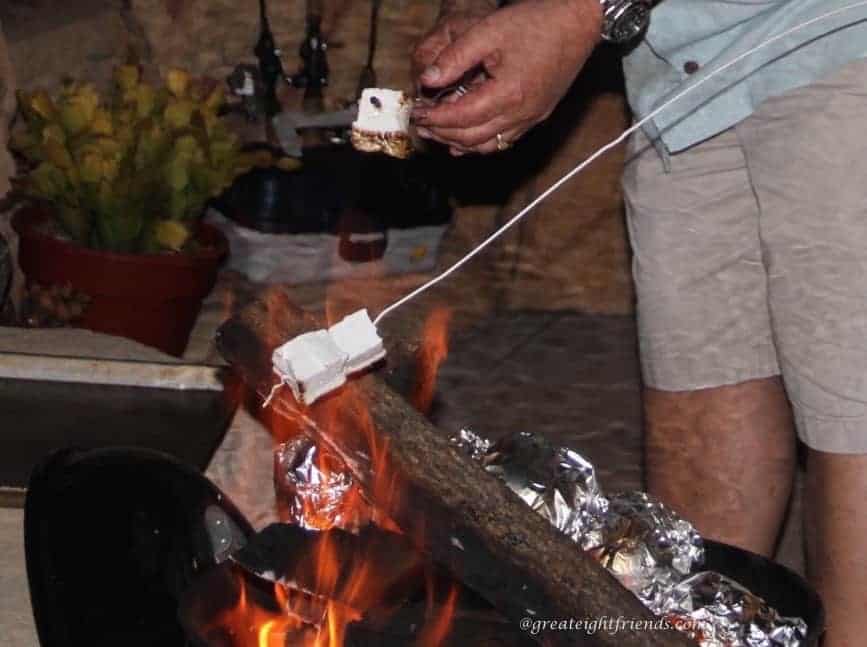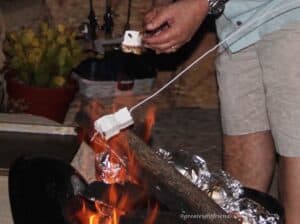 S'More Summer...Please!!! We love summer because the options for entertaining are endless, and most of them are outdoors...al fresco and casual. The all time favorite, classic dessert when entertaining outdoors for kids and grown-up kids is S'Mores; that yummy, warm, crispy, gooey, sweet amalgamation of three childhood favorites: graham crackers, marshmallows, and CHOCOLATE!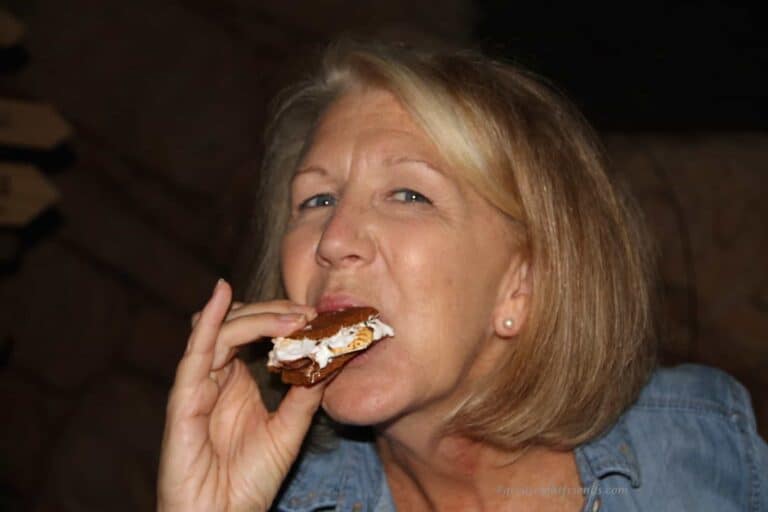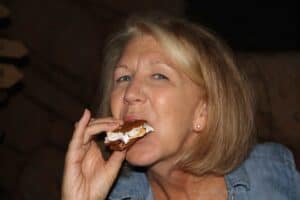 At one of our Great 8 Dinners I was assigned dessert. Sometimes the type of dessert is specified, and sometimes the hostess leaves the choice open. Since the theme was camping, what better dessert to provide? But I couldn't just go to the store and buy graham crackers and marshmallows...well, I could have, but what fun would that have been? I had never made marshmallows or graham crackers, but I love trying new things...and this was the perfect opportunity. And since both can be made a couple weeks ahead of time, there was no worry about a failure, plenty of time to change my mind!
Here's a secret...shhhh...marshmallows are EASY!!!!! If you have a candy thermometer, you can make these gooey pillows of sweetness. Impress your friends and family!
Making the graham crackers is as easy as making cookies, but you need to find graham flour. (I had to order mine from Amazon, link is below.)
Homemade Marshmallows
Marshmallow Ingredients:
3 packages unflavored gelatin
1 cup cold water, divided
1 ½ cups granulated sugar
1 cup light corn syrup
¼ teaspoon salt
1 teaspoon vanilla extract
⅓ cup confectioners' sugar
⅓ cup cornstarch
Marshmallow Directions:
Empty the envelopes of gelatin into the bottom of your stand mixer bowl and pour in ½ cup of the water.
Then attach the whisk attachment. (Don't turn it on yet!)
Combine the sugar, corn syrup, salt, and remaining ½ cup of water in a small saucepan.
Cover the saucepan and cook over medium-high heat for 4 minutes.
Remove the lid and, using a candy thermometer, cook the mixture until it reaches 240º F, the soft ball stage. This should take about 5 to 7 minutes. Leave the sugar mixture alone, don't stir it.
Once the sugar mixture is up to temperature, turn the mixer to low speed and slowly pour the hot liquid sugar down the side of the bowl into the gelatin. Be careful not to pour this over the whisk while it is running or you may get splattered with hot sugar!
When both mixtures are in one bowl, turn the mixer to high speed and whip for 13 to 15 minutes. The bottom of the bowl should feel lukewarm and the mixture will be very thick.
During the last minute of whipping, add the vanilla.
Prepare the pan while the marshmallows are whipping:
In a small bowl whisk together the powdered sugar and cornstarch.
Spray a 13x9-inch pan with cooking spray, then coat the bottom and sides of the pan with the cornstarch and sugar mixture. Any excess mix can be returned to the bowl.
Set this mixture aside as it will be used later after the marshmallows are cut.
Once the marshmallow mixture is complete, pour into the prepared pan.
Using an oiled spatula smooth out the top.
Dust the top with some of the remaining cornstarch/sugar mixture. Cover to use later.
Let the marshmallows rest, uncovered on a baking rack, for at least 4 hours and up to 24 hours.
Turn the pan upside down onto a cutting board to release the marshmallows.
Using an oiled knife, cut the marshmallows into whatever size squares you desire.
Then roll the squares in the cornstarch/sugar combination. This will coat the entire marshmallow to prevent them from sticking together.
Makes about 9 dozen marshmallows
Homemade Graham Crackers
Alton Brown uses ounces for measuring the ingredients. Measuring by weight is far more accurate than using cups and spoons. (
Here's why.
) If you don't have a kitchen scale, you can purchase one for under $20. For your convenience, there is a link at the end of this article.
Graham Cracker Ingredients:
8  ⅜ ounces graham flour, see below for ordering
1  ⅞ ounces all-purpose flour
3 ounces dark brown sugar
¾ teaspoon aluminum-free baking powder
½ teaspoon baking soda
½ teaspoon kosher salt
⅛ teaspoon ground cinnamon
3 ounces unsalted butter, cut into ¼-inch cubes and chilled
2  ¼ ounces molasses
1 ½ ounces whole milk
½ teaspoon vanilla extract
Graham Cracker Directions:
Put the two flours, the sugar, baking powder, baking soda, salt and cinnamon into the bowl of a food processor and pulse several times to combine.
Add the butter then pulse until the mixture is coarse crumbles.
Add the molasses, milk and vanilla extract and process until the dough forms a ball, about 1 minute.
Remove the dough from the processor and shape into a ½-inch thick disk. Wrap this in plastic wrap and refrigerate for at least 30 minutes.
Preheat the oven to 350º F and make sure the rack is in the center of the oven.
Unwrap the chilled dough and place between two large sheets of parchment paper.
Using a rolling pin, roll the dough between the parchment paper until it is ⅛-inch thick.
Slide the rolled dough and parchment paper onto a half sheet pan.
Remove the top sheet of parchment paper then cut the dough, using a floured pizza cutter or sharp knife, into 2-inch square pieces.
Poke holes all over the top of the dough with the tines of a fork.
Bake for 25 minutes or until the edges slightly darken.
Remove from the oven and set the pan on a cooling rack. Cool completely.
Once the crackers are cool, break into individual crackers and store in an airtight container for up to 2 weeks.
Makes about 25-30 crackers
S'Mores
Ingredients:
Graham Crackers
Marshmallows
Chocolate Candy Bars (your choice)
Directions:
Roast a marshmallow over an open fire. This can be a campfire or your outdoor grill. (I've heard of some people using their gas stove.)
Prepare the cracker by placing a piece of chocolate bar on one graham cracker square.
Place the golden brown marshmallow on top of the chocolate.
Sandwich with another graham cracker square. (The hot marshmallow should semi-melt the chocolate.)
Sink your teeth into this gooey, chocolate-y marshmallow goodness!
Gr8 Do-Ahead Tip:
Marshmallows can be stored in an airtight container for up to 4 weeks.
Graham Crackers can stored in an airtight container for up to 2 weeks.
So, if you are organized and prepared, (which really is the secret to Gr8 Entertaining*) you can wow your friends and family with this dessert.
*I am sometimes organized and prepared and sometimes flying by the seat of my pants!!! People just love to get together, it doesn't really matter what you serve. Whether you are organized and wow them or put some mixed nuts in a bowl and serve a drink, just getting together and enjoying life is the real secret.
As the Girl Scouts have been singing for years: "Make new friends, but keep the old, one is silver and the other gold."
Gr8 Gift Ideas:
Homemade Marshmallows make a Gr8 Gift, just wrap them up in a cellophane bag with a pretty ribbon or find a food safe gift box in the cake decorating section at your local craft or party store.
You can also put together the ingredients for individual S'Mores: 2 graham cracker squares, 1 marshmallow, and 1 chocolate square. Wrapped in individual bags, these make cute party favors.
Just to let you know, some of the links on this page may be affiliate links, which means that Great Eight Friends will earn a small commission from purchases made through these links (this does not change your cost). These earnings help to support the cost of running this website. Thank you so much for your Gr8 support!