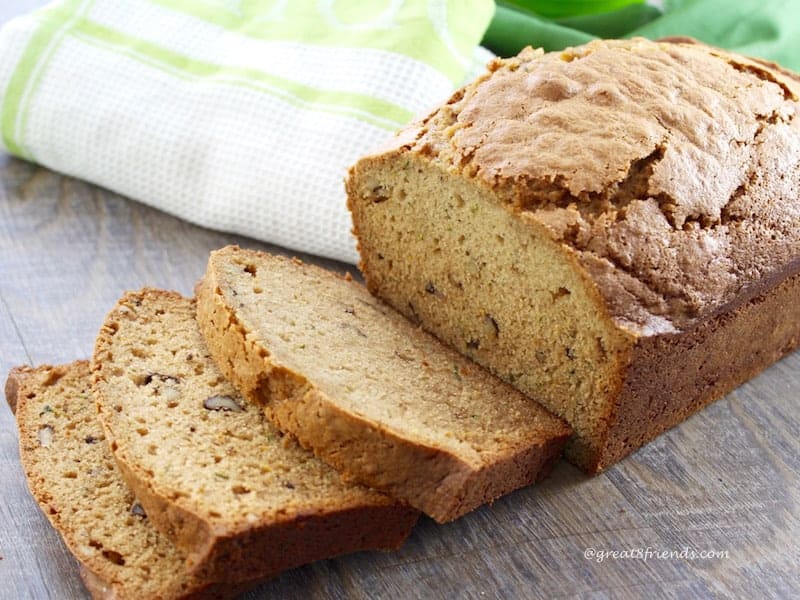 Banana bread. Carrot cake. Apple pie. There are many desserts, breads and cakes made with fruit or vegetables, but what about a low-calorie and delicious creation using zucchini? Satisfying Zucchini Bread!
Zucchini is usually served as a wholesome side dish to accompany a main meal. It contains many essential vitamins and minerals such as a significant quantity of potassium, essential iron and Vitamin A, and it is also high in anti-inflammatory properties. However, do your kids like zucchini? Not likely. This recipe for zucchini bread is an appealing way to get them to eat their fruits and vegetables!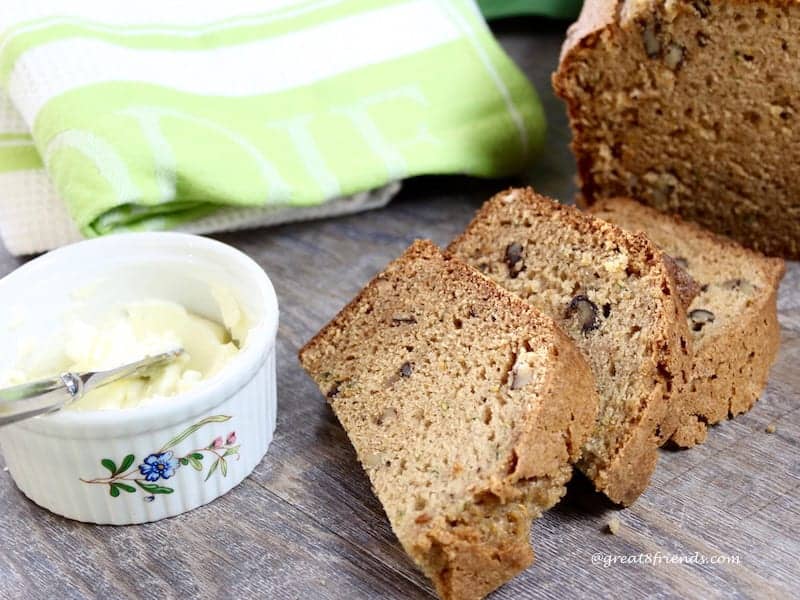 Unlike most desserts using fruits or vegetables, zucchini does not add flavor to the bread, so the spices and other ingredients provide the texture and the delicious taste. Therefore, this recipe is excellent for experimenting with your own preferences, all the while getting the benefit of the zucchini's healthful properties. My recipe is the result of finding a perfect blend of ingredients to produce a moist, flavorful and unique zucchini bread.
The best time for zucchini is from June to late August. Almost all the parts of zucchini are edible, including the seeds and even the skin.
Zucchini Bread
Enjoy your vegetables in this delicious and satisfying zucchini bread perfect for any breakfast, lunch, dinner or dessert! You are sure to love this!
Ingredients
2 1/2

cups

unbleached all-purpose flour

1

teaspoon

baking soda

1/4

teaspoon

baking powder

1

teaspoon

ground cinnamon

1/4

teaspoon

ground nutmeg

1

teaspoon

salt

3

eggs

,

room temperature

1 1/2

teaspoons

vanilla extract

1

cup

granulated sugar

1

cup

brown sugar

1/2

cup

vegetable oil

1/2

cup

olive oil,

light extra virgin

2

cups

finely shredded zucchini

1

cup

walnuts

,

chopped
Instructions
Preheat oven to 350ºF.

Butter and flour a 9 x 5-inch loaf pan.

Sift together the flour, baking soda, baking powder, ground cinnamon, ground nutmeg and salt and set aside.

Using a stand mixer or hand mixer, on medium speed, whip together the eggs, vanilla extract, granulated sugar, brown sugar and oils and beat until light and fluffy (about 5 minutes).

On low speed, very gently fold in the dry ingredients until moistened. DO NOT OVER MIX.




On low speed, add the zucchini and nuts.


Pour the batter into the greased loaf pan.

Bake for 1 hour and 15 minutes, or until a toothpick inserted in the middle comes out clean (oven temperatures vary so start checking bread after 65 minutes and at 5 minute increments thereafter).

Cool for 15 minutes before removing bread from the pan to cool on wire rack.
Notes
Gr8 Tip:
For variations, add 1 cup coconut, chocolate chips or dried cranberries.