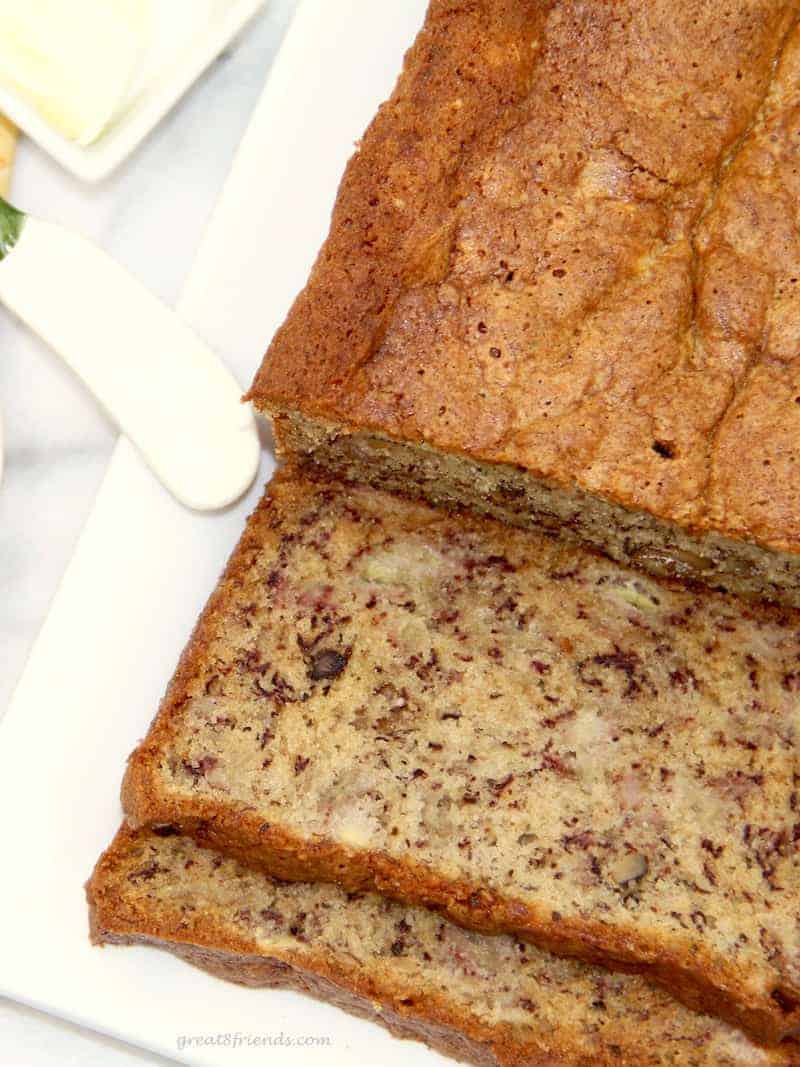 "Noooooooo! Don't throw me away!
I deserve another life in this delicious banana bread recipe!"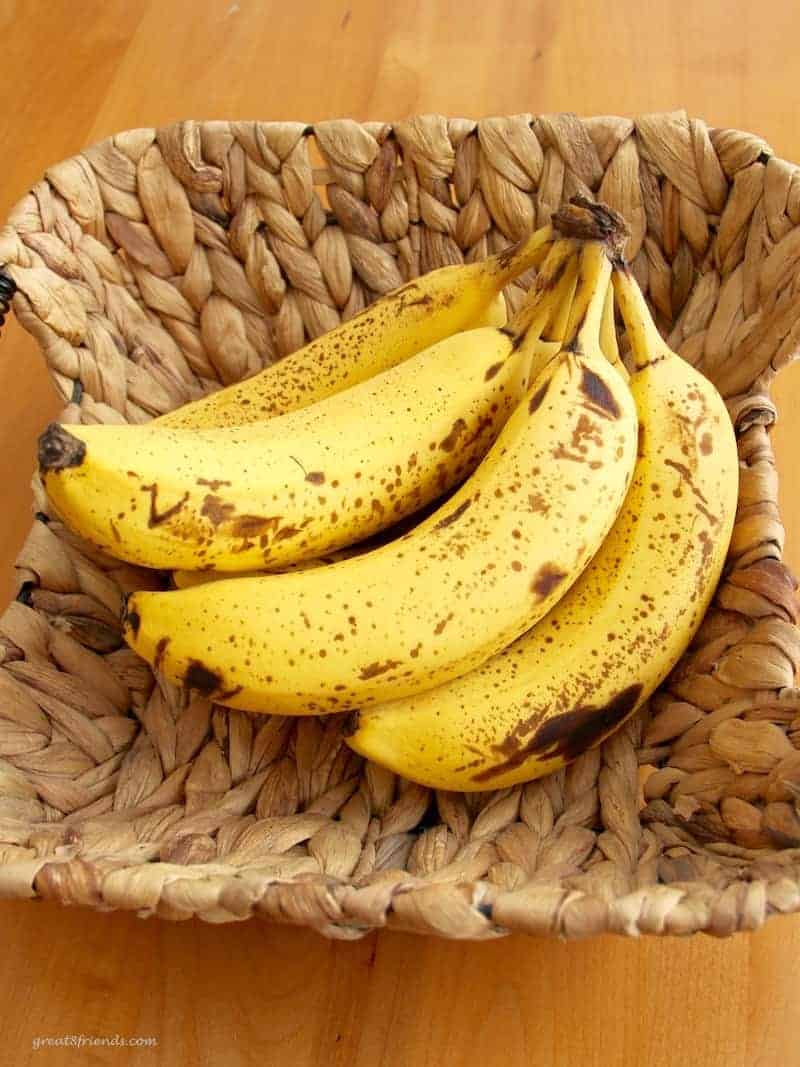 And we all have one, a banana bread recipe. If you think the recipe you have is just ok, well, here's one you will love. If you love the recipe you have, well, this one just might change your mind.
One of my favorite bakeries is Flour. Unfortunately, it is too far from my home in California to visit often. So………the only solution was to buy the "Flour" cookbook by Joanne Chang, owner and pastry chef of Flour Bakery + Café in Boston, Massachusetts. Although there are many wonderful recipes in the book, the banana bread is one of my favorites. I sometimes even find myself buying extra bananas just to make this delightful treat.
I'm pretty sure that the moistness of this bread comes from the amount of banana added,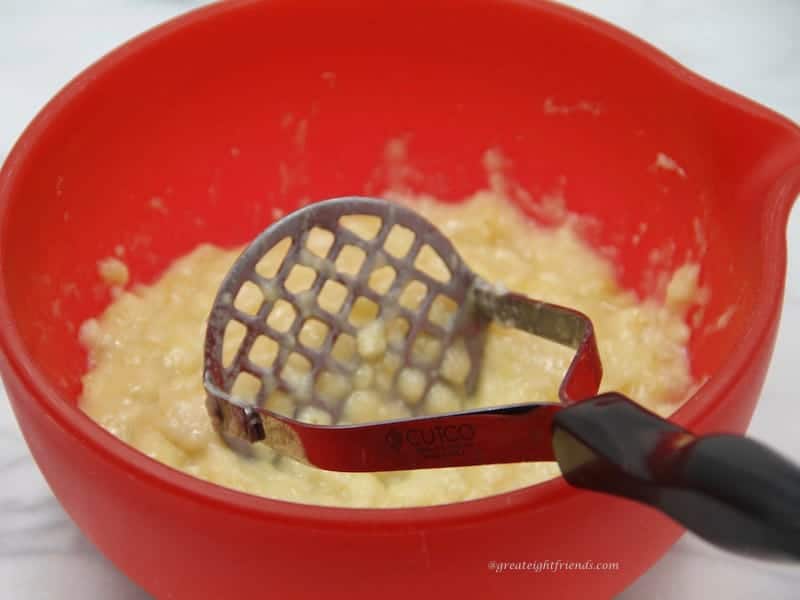 and the air beaten into the batter making it beautifully light and airy!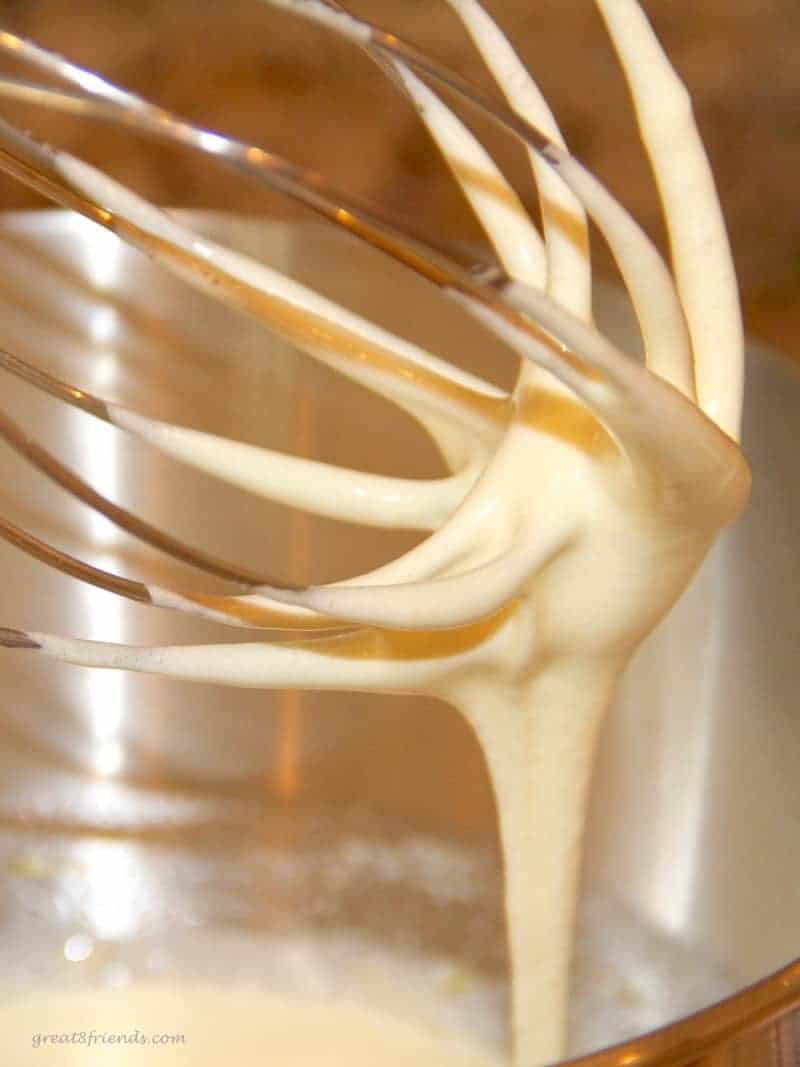 Enjoy!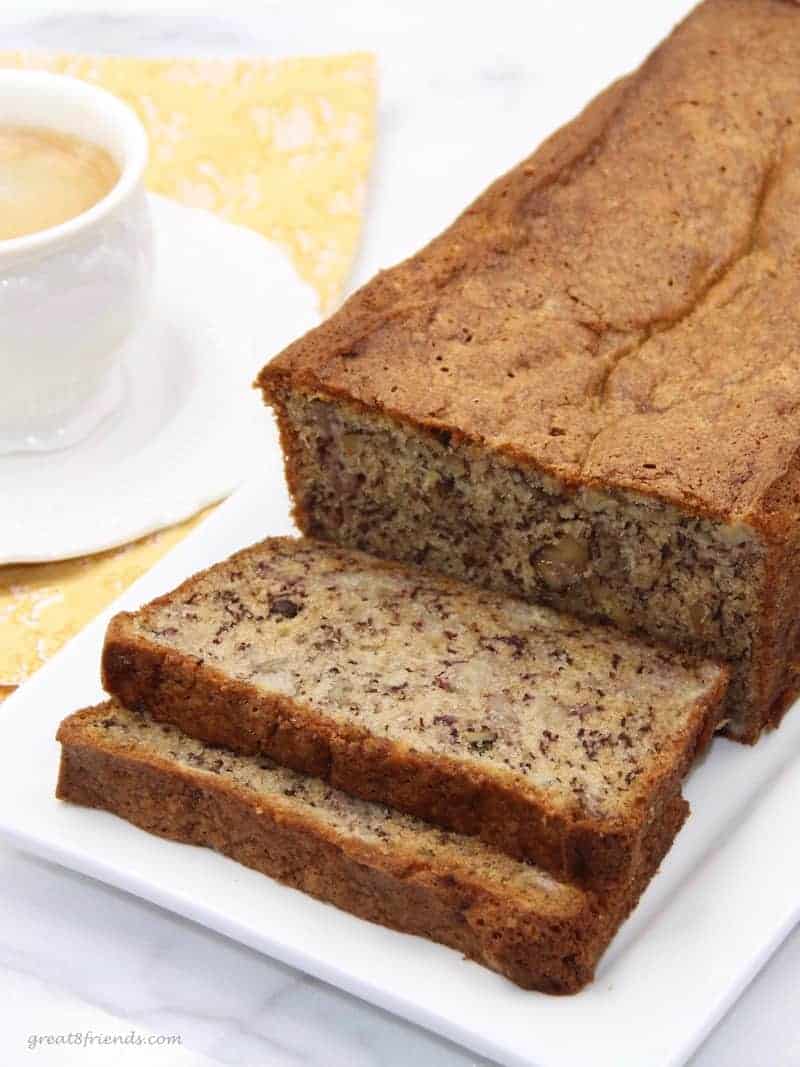 Just to let you know, some of the links on this page may be affiliate links, which means that Great Eight Friends will earn a small commission from purchases made through these links (this does not change your cost). These earnings help to support the cost of running this website. Thank you so much for your Gr8 support!
Flour's Banana Bread
Ingredients
1 2/3

cups

unbleached all-purpose flour

1

teaspoon

baking soda

1/4

teaspoon

ground cinnamon

1/2

teaspoon

salt

1

cup plus 2 Tablespoons

sugar

2

eggs

1/2

cup

canola oil

3 1/2

very ripe medium bananas

,

peeled and mashed (about 1 1/3 cups)

2

Tablespoons

crème fraîche or sour cream

1

teaspoon

vanilla extract

2/3

cup

walnut halves (optional)

,

toasted and chopped
Instructions
Position a rack in the center of the oven, and heat the oven to 325°F.

Butter a 9 x 5-inch loaf pan.

Sift together the flour, baking soda, cinnamon, and the salt. Set aside.

In your stand mixer using the whip attachment on medium speed, beat together the sugar and eggs (a hand mixer can also be used). Continue for about 5 minutes until light and fluffy. (This could take longer with a hand mixer.)

On a low speed, add the oil very slowly (drizzle). This should take about one minute.

On low speed, add the bananas, crème fraîche, and the vanilla.

Using a spatula add the flour mixture and nuts and gently stir just to combine.

Pour the batter into the prepared pan and smooth the top with the spatula to make even.

Bake for 1 to 1 1/4 hours until the top is golden brown. It is done when you gently press your finger in the middle and the bread springs back.
Notes
Gr8 Make-Ahead Tip:
To store the bread, wrap it in plastic wrap.  It will keep for up to 3 days at room temperature or can be frozen for 2 - 3 weeks.
Gr8 Tip:
If you happen to have more bananas than you need for the bread recipe, I like to cut them in 1 inch pieces and place them on a cookie sheet.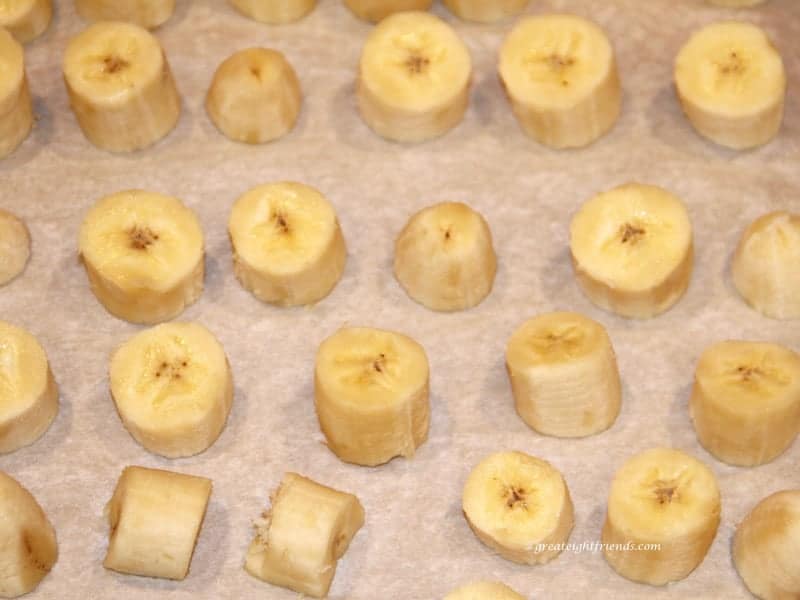 Cover the cookie sheet with plastic wrap and put into the freezer for an hour or until the bananas are frozen.  Once frozen, put them into a plastic bag and use as needed to add to your smoothie or eat them as a snack right out of the bag!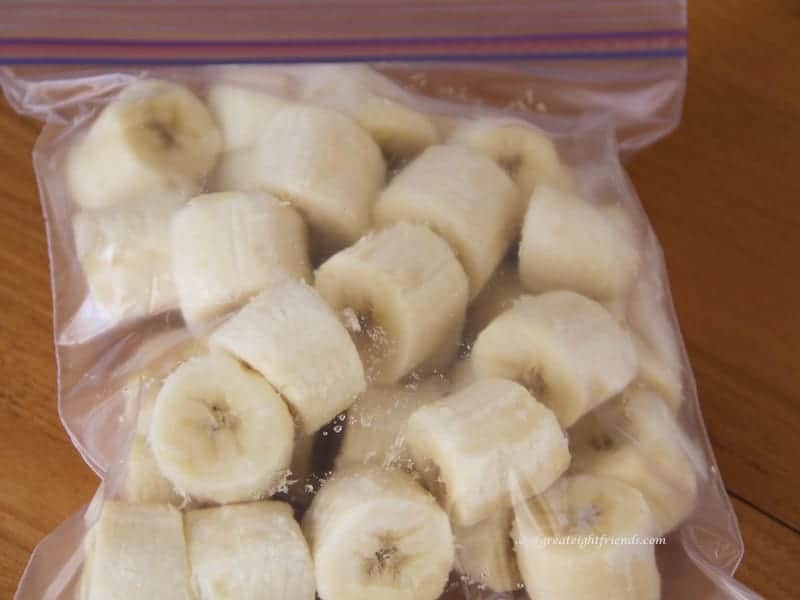 Joanne Chang's Flour Cookbook is available from Amazon.com.

SaveSave
SaveSave
SaveSave
SaveSave
SaveSave
SaveSave
SaveSave
SaveSave
SaveSave