YeeHaw! The Wild West became our Gr8 Dinner party theme when Vince and I realized that the Great 8 had never done a southwestern style barbecue (can you believe it?). We decided it was high time for a foot stompin' good time!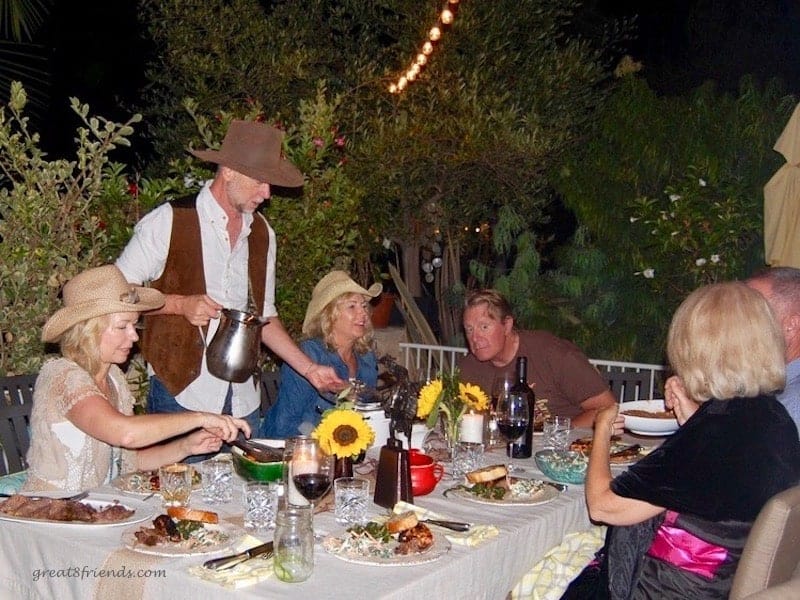 Now, don't get me wrong, at many of our gatherings the meat has been grilled on the barbecue, but I'm talking about a true barbecue.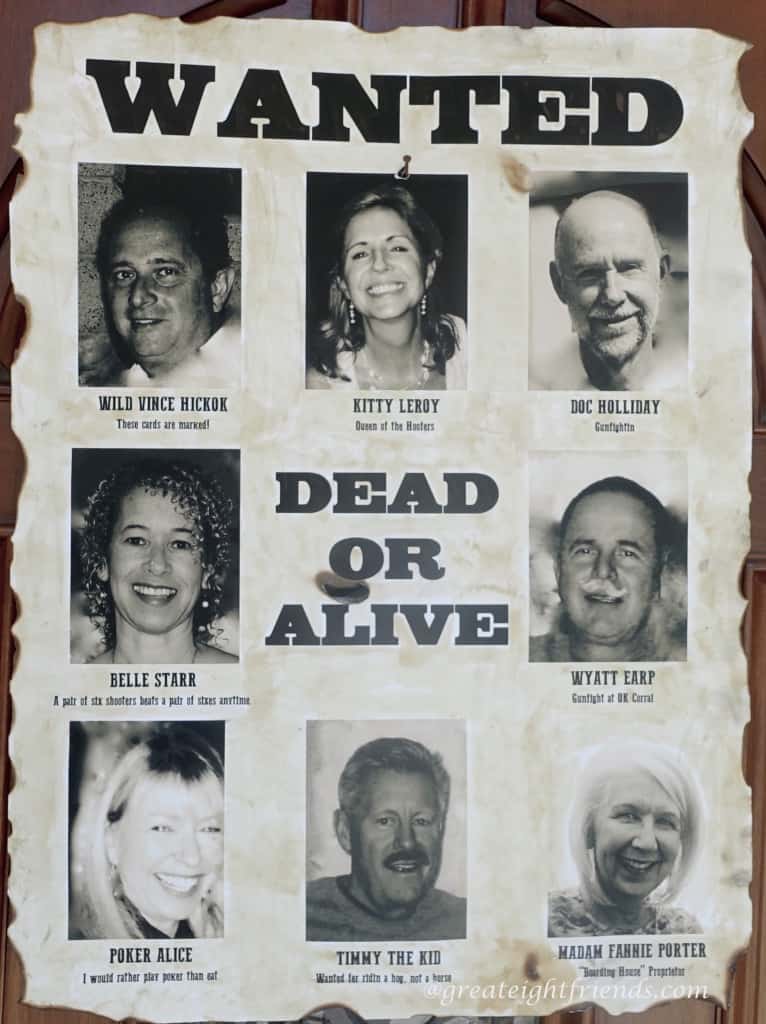 "Barbecue" is a big category, so our focus became Texas Barbecue. And what goes better with Texas barbecue than the Wild, Wild, West?
Everyone was given a character and a large WANTED poster was created, what fun it was figuring out who each of our friends was going to be and creating captions!
See below for the invitation "how-to."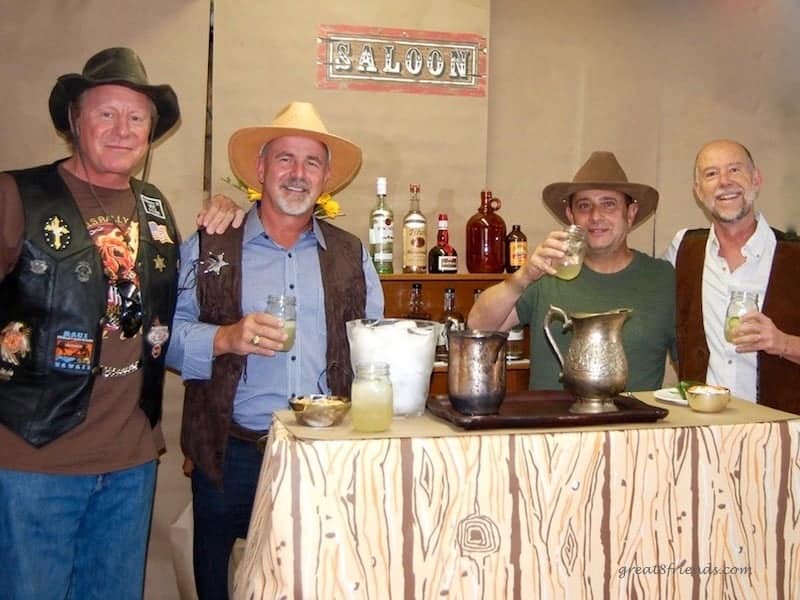 Wild West is a fun, easy theme. We turned our garage into the Saloon... And, as you can see, everyone came in character, which made the evening even more fun!
We started in the Saloon with a refreshing Texas Mule, basically a Moscow Mule with jalapeños.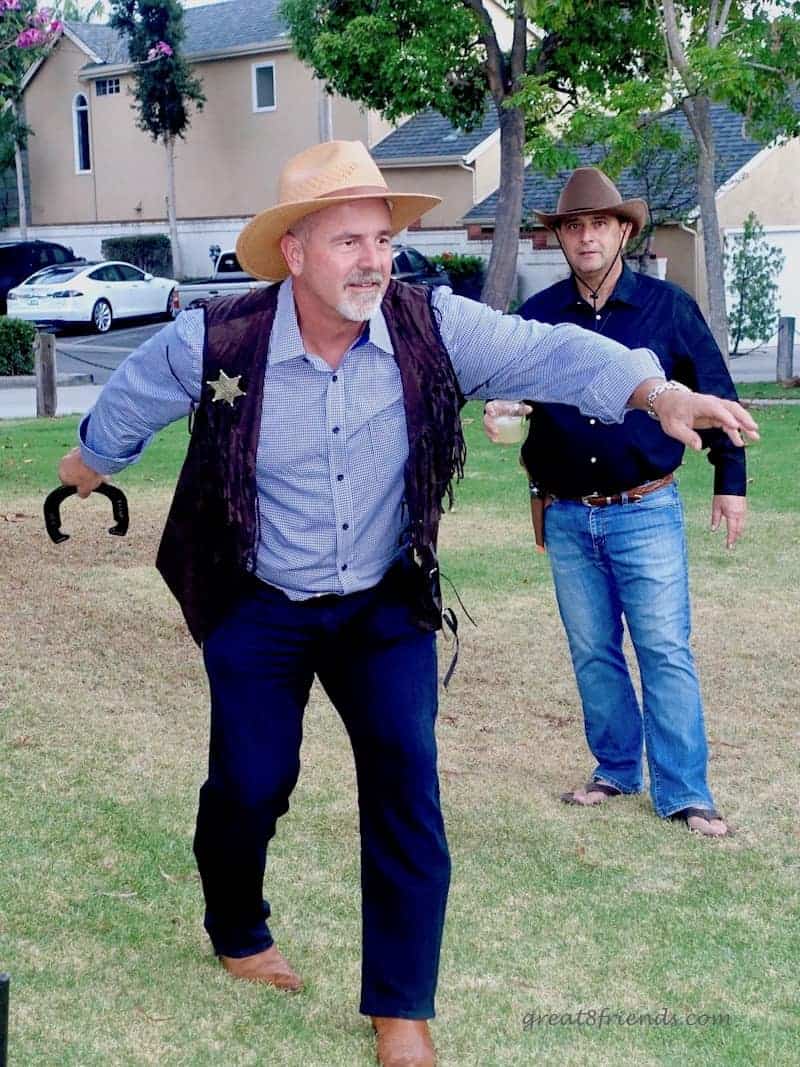 While the guys were battling it out on the horseshoe court...
The appetizers were being set up in the Saloon...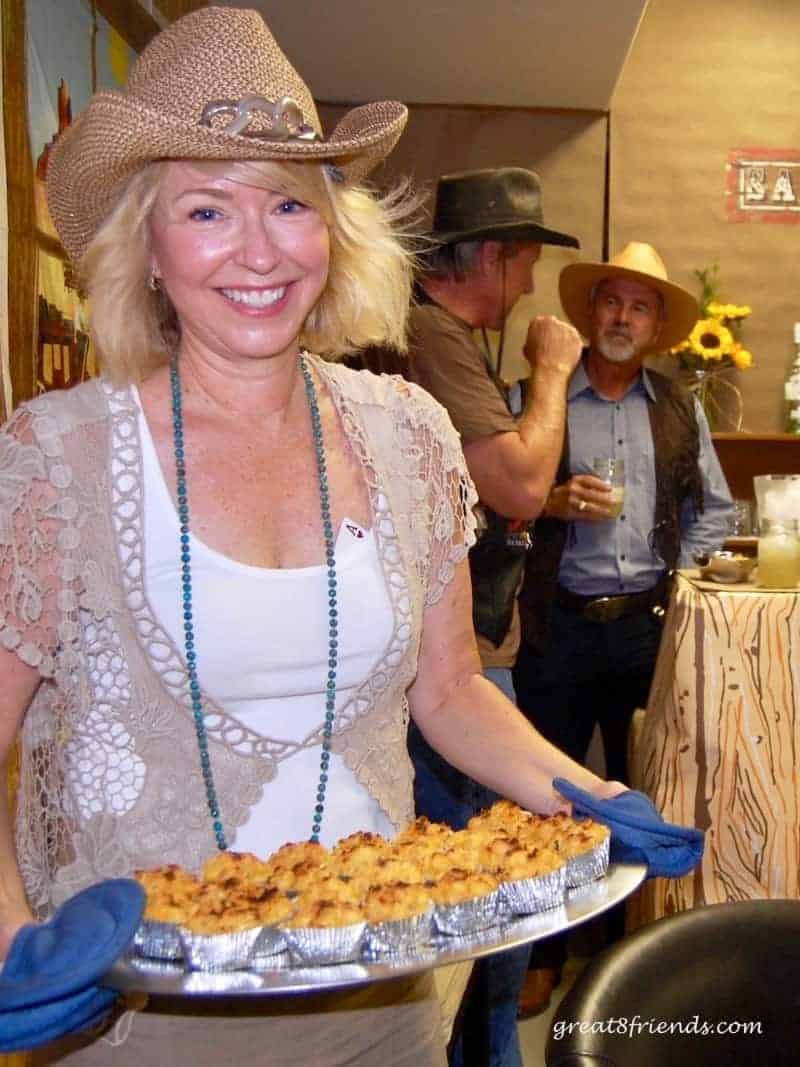 Mini Mac 'n Cheese Bites, Armadillo Eggs and Barbecued Ribs ...oh and some tortilla chips and pico de gallo.
Dinner was truly Texan. Did you know that barbecued beef brisket is the national dish of the Republic of Texas? Our main course was decided. Then it was easy to figure out the rest of the menu.
The Menu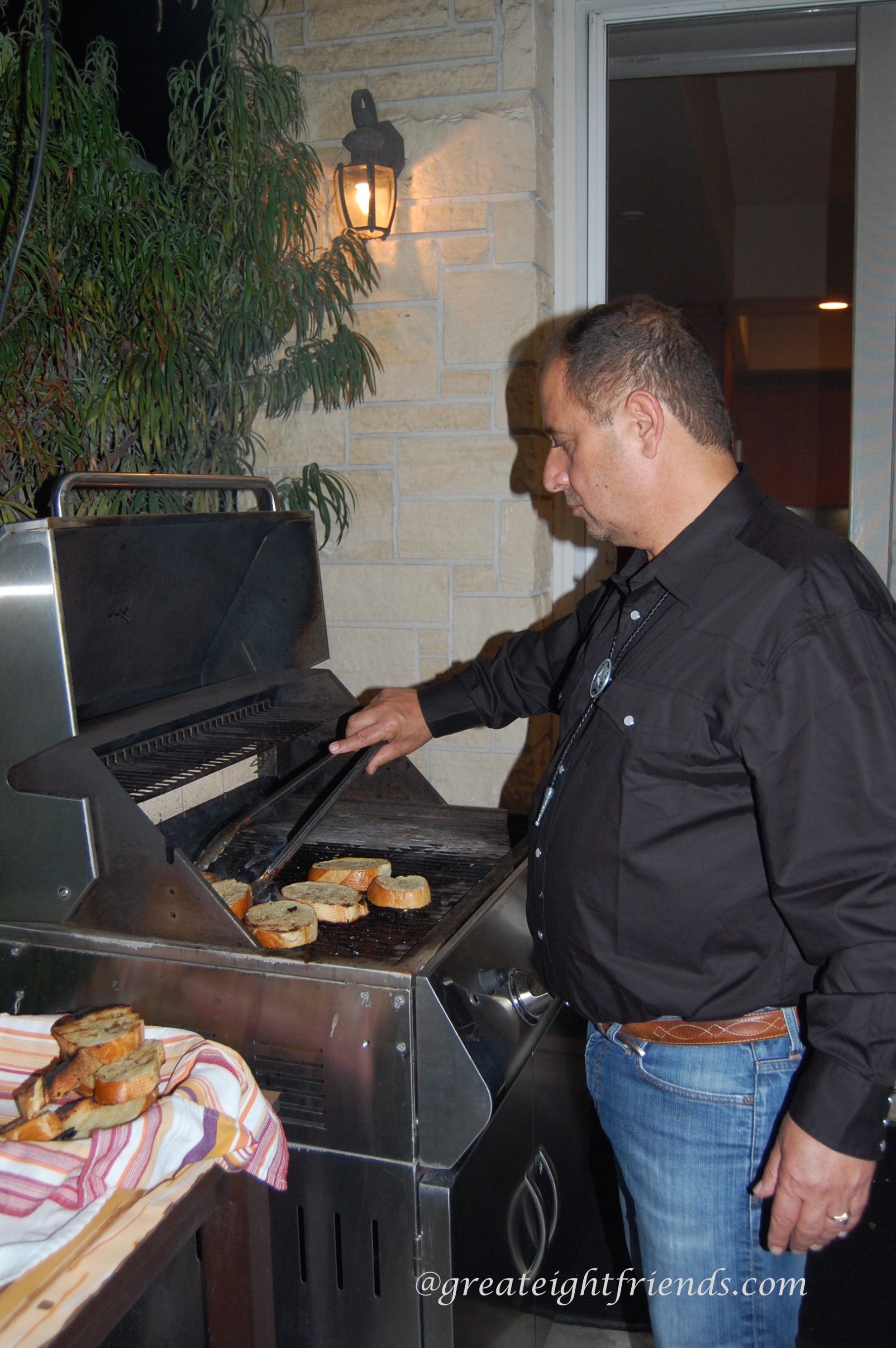 After we were finished with appetizers in the Saloon and playing horseshoes on the lawn, Vince grilled the chicken and the Texas Toast.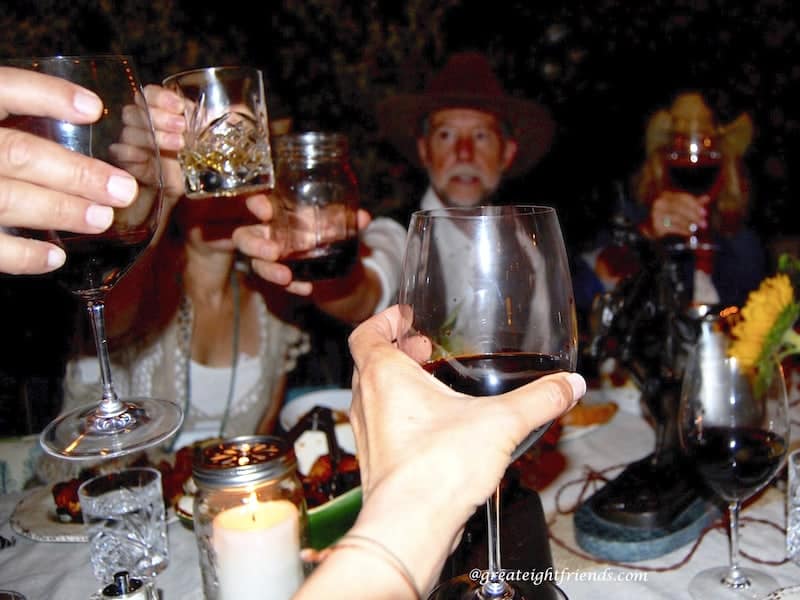 Then we had a another kind of toast...and dug in to the delicious food...The smoked brisket, cooked all day following instructions from Bon Appétit; BBQ Chicken; Texas Toast; "Fannie's" Braised Greens; and "Kitty's" Texas Beans.
Oh, and "Fannie" surprised us and also brought her famous Kale Slaw!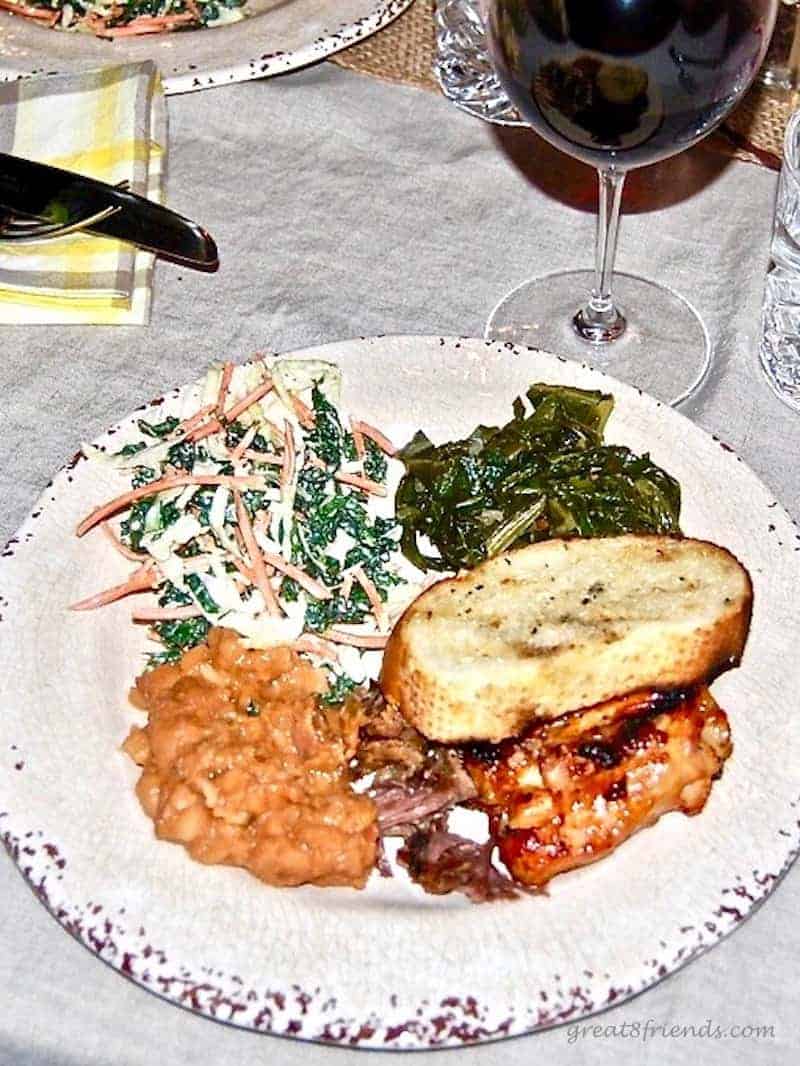 As usual, the food was amazing, but the company of good friends is even better. Our group is fun because everyone gets into the spirit of the evening.
"Fannie" (aka Kyle) really went all out as the proprietor of the "Boarding House." Now THAT's a GR8 Friend!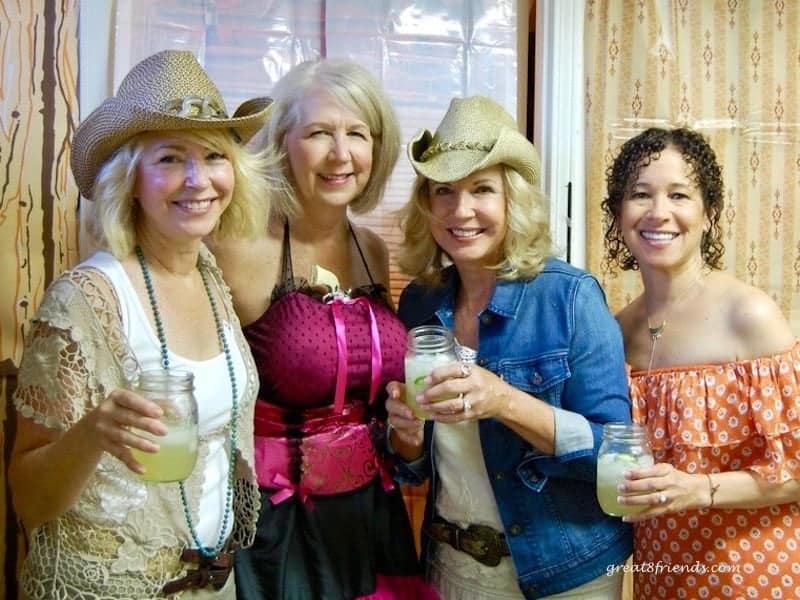 After dinner was the course I had been anticipating since I first created the invitations, Belle's Texas Sheet Cake!
A humble dessert, but oh so delicious. And Debbie went the extra mile and brought homemade vanilla bean ice cream! What a way to top off the meal!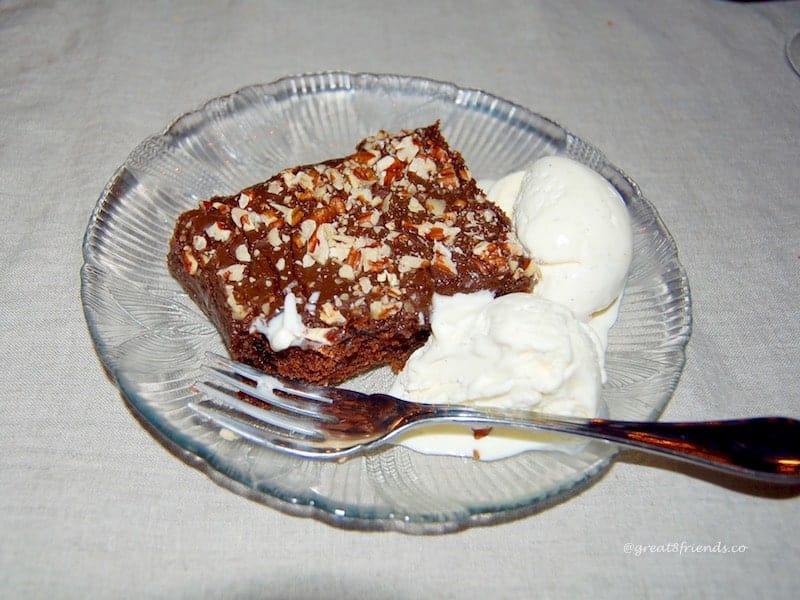 The Table Setting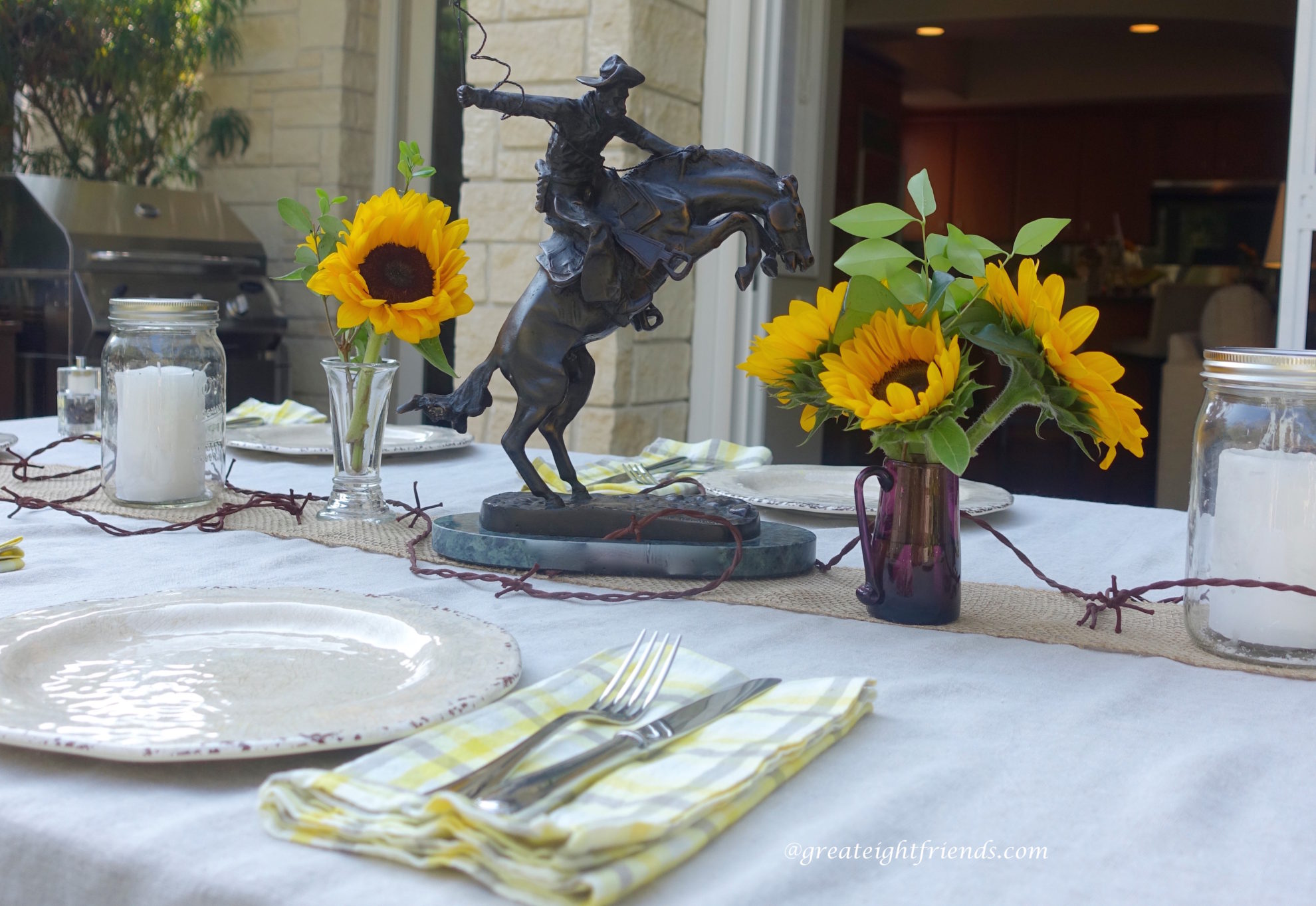 This post contains affiliate links, which means we may make a commission at no extra cost to you should you click on the link and make a purchase. As an Amazon Associate we earn from qualifying purchases.
I set the table with my natural colored linen tablecloth (I'm tellin' you, it's perfect for a lot of different occasions! You should get one!); sunflowers were the perfect choice for the fresh flowers.
I borrowed Kyle's plates; used plaid dishtowels for the "napkins"; and the centerpiece was a trophy my husband won which just happens to be a beautiful bronze of a cowboy, how perfect was that?!?!
As Debbie says, you probably have a lot of stuff around your house which will work for whatever you are doing, and you can borrow the rest!
There's no need to spend a lot of money. (Note: the vases are mismatched and the candles are in mason jars!)
When we finished filling our tummies we moseyed back into the Saloon for a game of darts... Guess who won?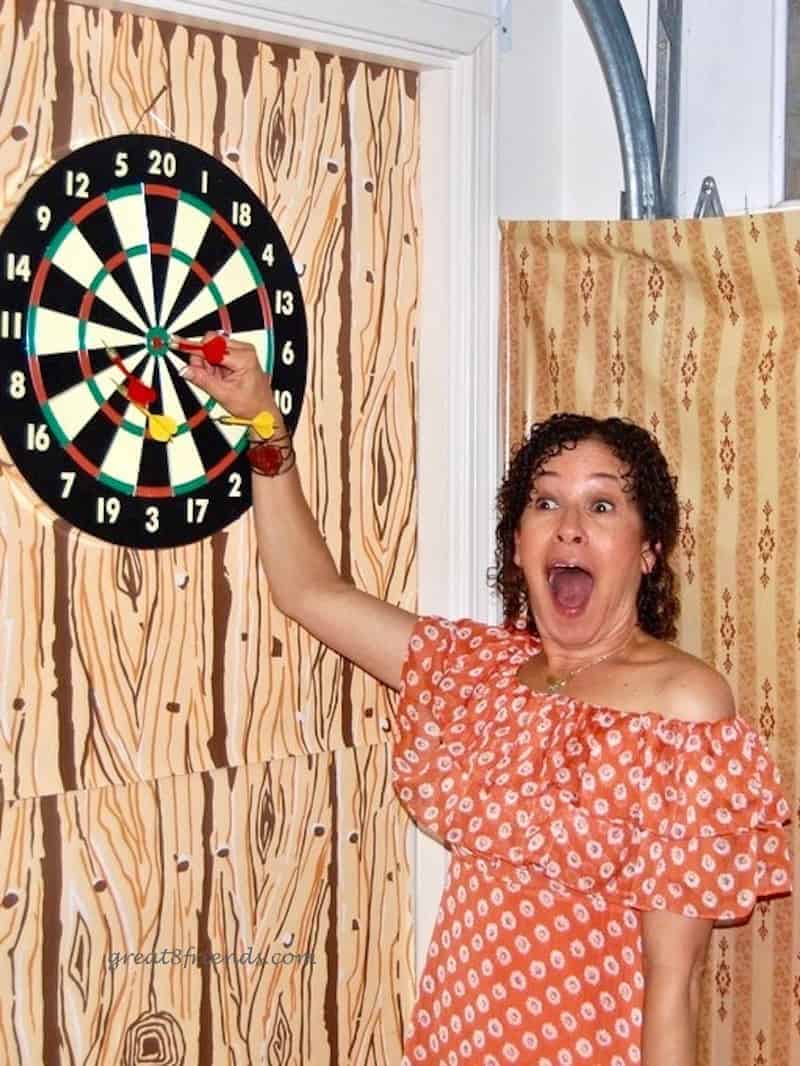 Another wonderful evening filled with Great Food, Great Friends, and Great Fun!
The Wild West Invitation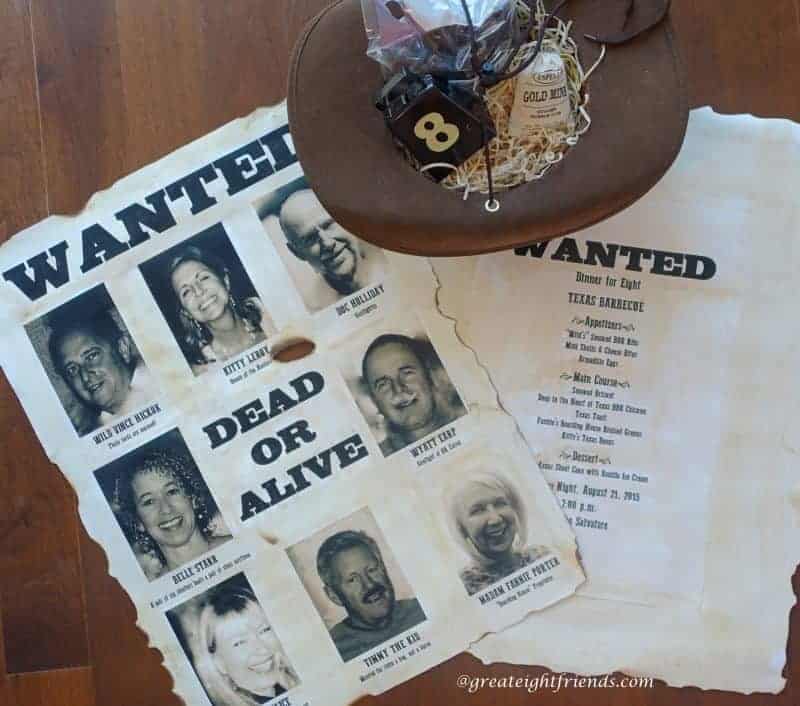 I found a photo of each of us that would work, cropped them and turned them black and white.
The posters were printed at our local FedEx store. After having the posters printed, I used brewed tea bags to stain them, then burnt the edges. (I felt like I was in middle school again!)
The menu and invitation details were on the back of the poster. An inexpensive cowboy hat was filled with Texas beef jerky (from Texas A&M); a small cow bell and that old fashioned gold nugget gum, just to get everyone in the mood.
The Gr8 Decorations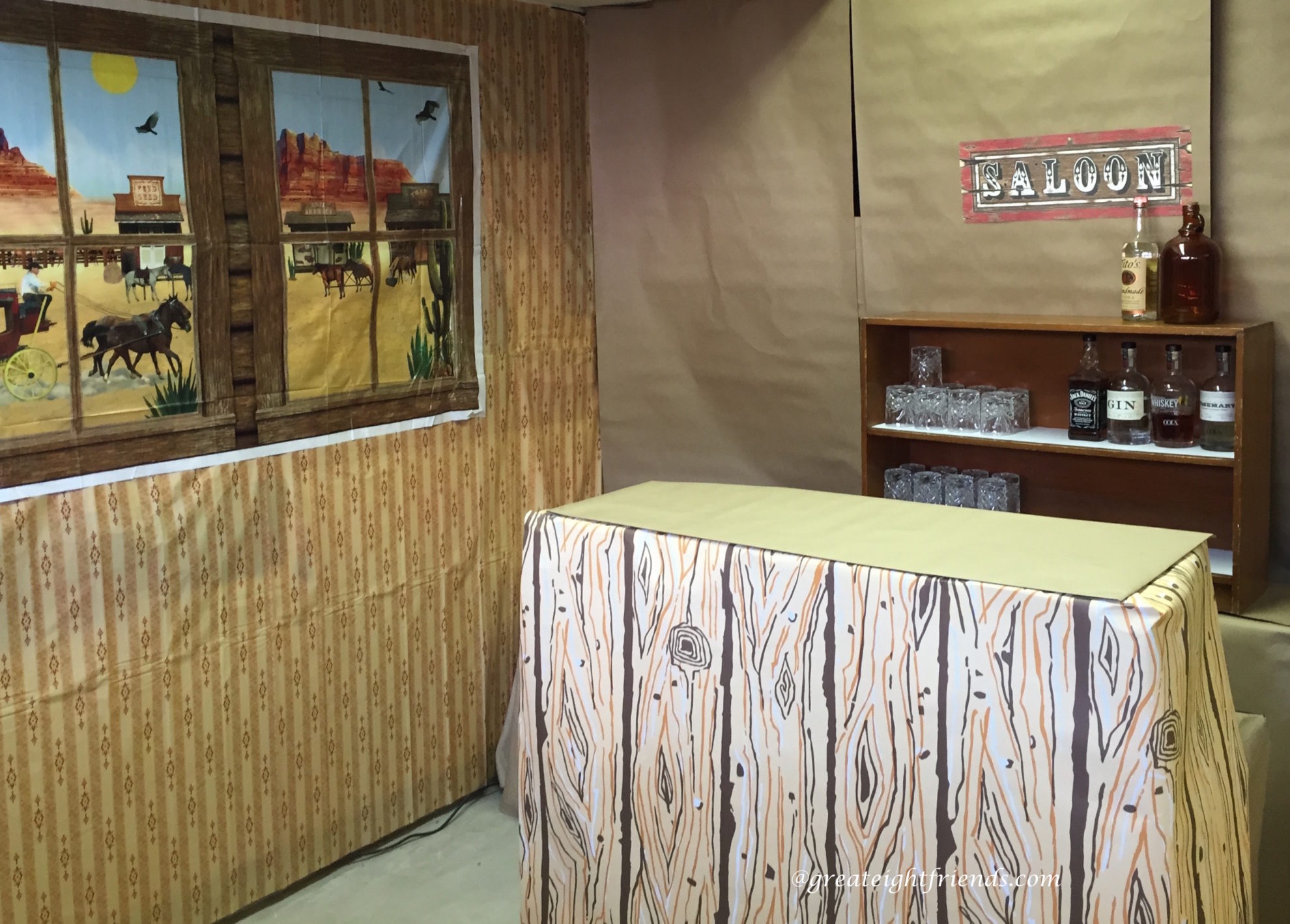 The "bar" is a small table with a tool box and cooler on top covered with "wood" grain party backdrop paper ordered online. Be sure it is sturdy enough to lean on!
The "wall" behind is just brown masking paper, less than $12 for a very large roll, I had lots left over. The other walls were covered with a party backdrop "wallpaper".
And the "windows" were also ordered online, they are just plastic. It went together fairly quickly, and definitely gave us the vibe we wanted.
SaveSave