This Smoked Brisket is the perfect meat to have cooking all day over a low fire. The melt in your mouth deliciousness makes it a Gr8 meal.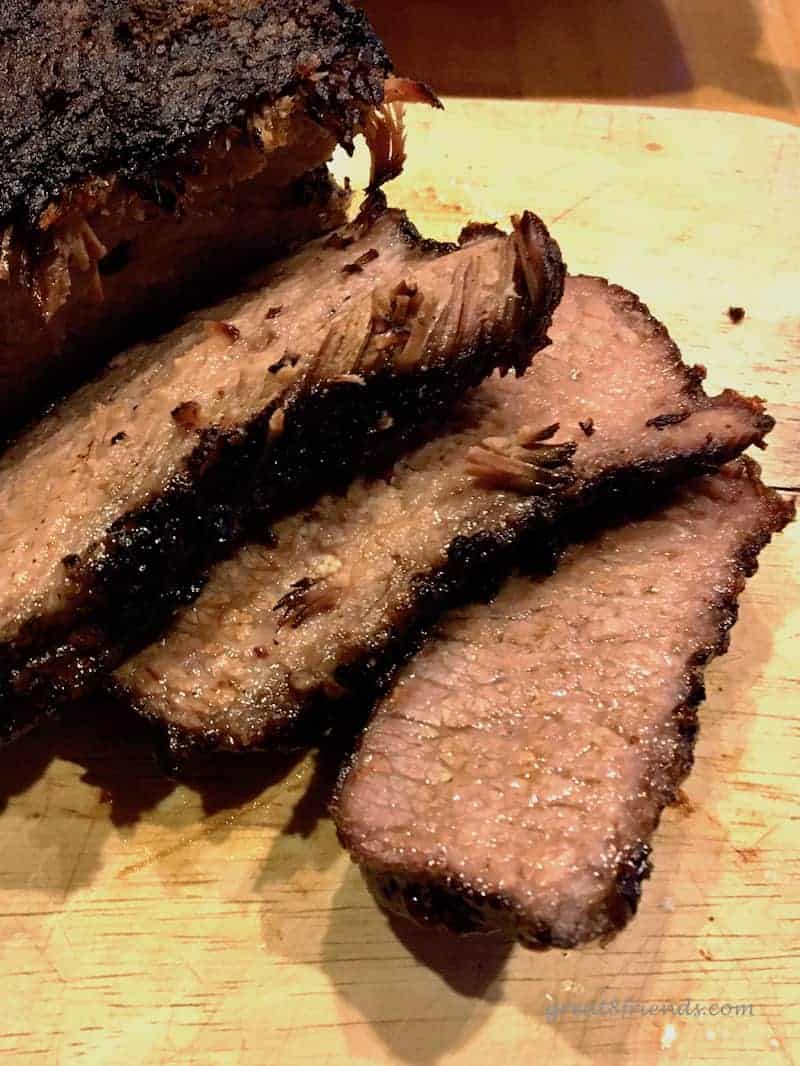 The only time when "Smoking" is a good thing is in a recipe!
If you've got the time, some things actually taste better with that woodsy flavor, and smoked brisket is definitely on that list!
Choosing the main course for our March Madness themed Great 8 dinner, we needed something to represent the southeast. Tennessee is known for barbecue, and wanting to serve something meaty and different instead of ribs, Phil's Smoked Brisket was an easy choice.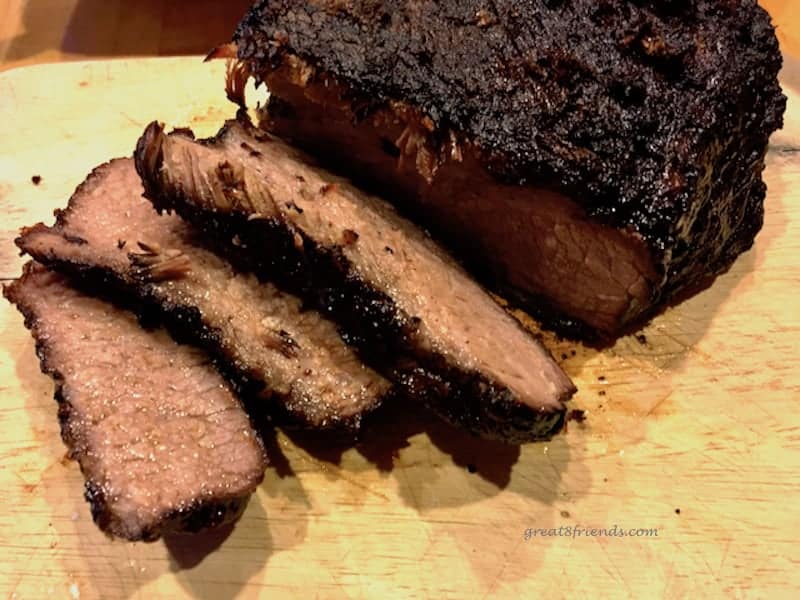 Phil discovered a tasty new talent of smoking meats on the grill. He was excited to have this one on the menu for the Great 8 gang!
Being one of those recipes slow smoking for a full day, the aromas wafted down the street! Surely mouths were watering next door!
While the wood chips are soaking, Phil works his magic with his favorite Barbecue brand, "Stubbs."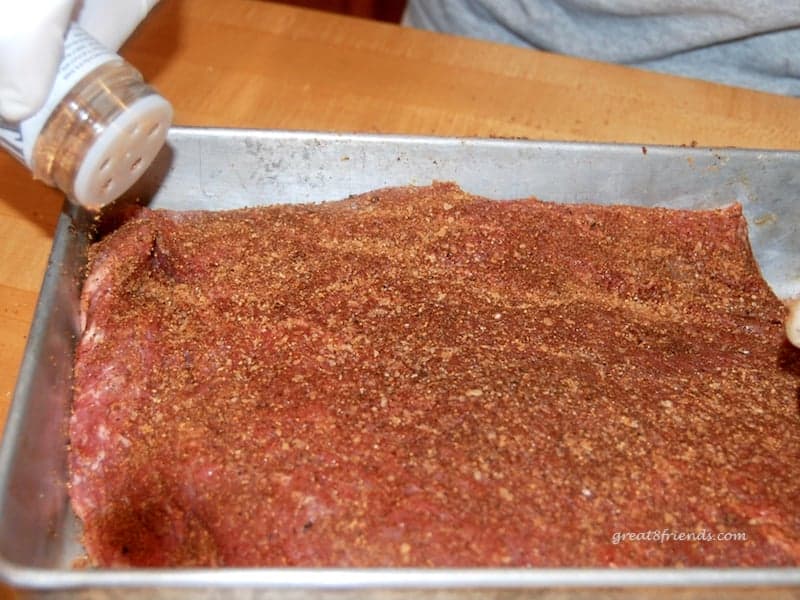 Mr. Stubbs makes it all cohesive! The Spice Rub and the Barbecue Sauce are all his brand, bringing it all together in delicious smoky goodness.
Once Phil finds his favorite, he's set! Stubbs makes it easy. Doesn't get any better than that! Sure do wish Mr. Stubbs still made his Smoking Wood Chips! But any brand will work just fine. Phil just likes to make it easy! One brand shopping! But he's easy, any chip will do the trick!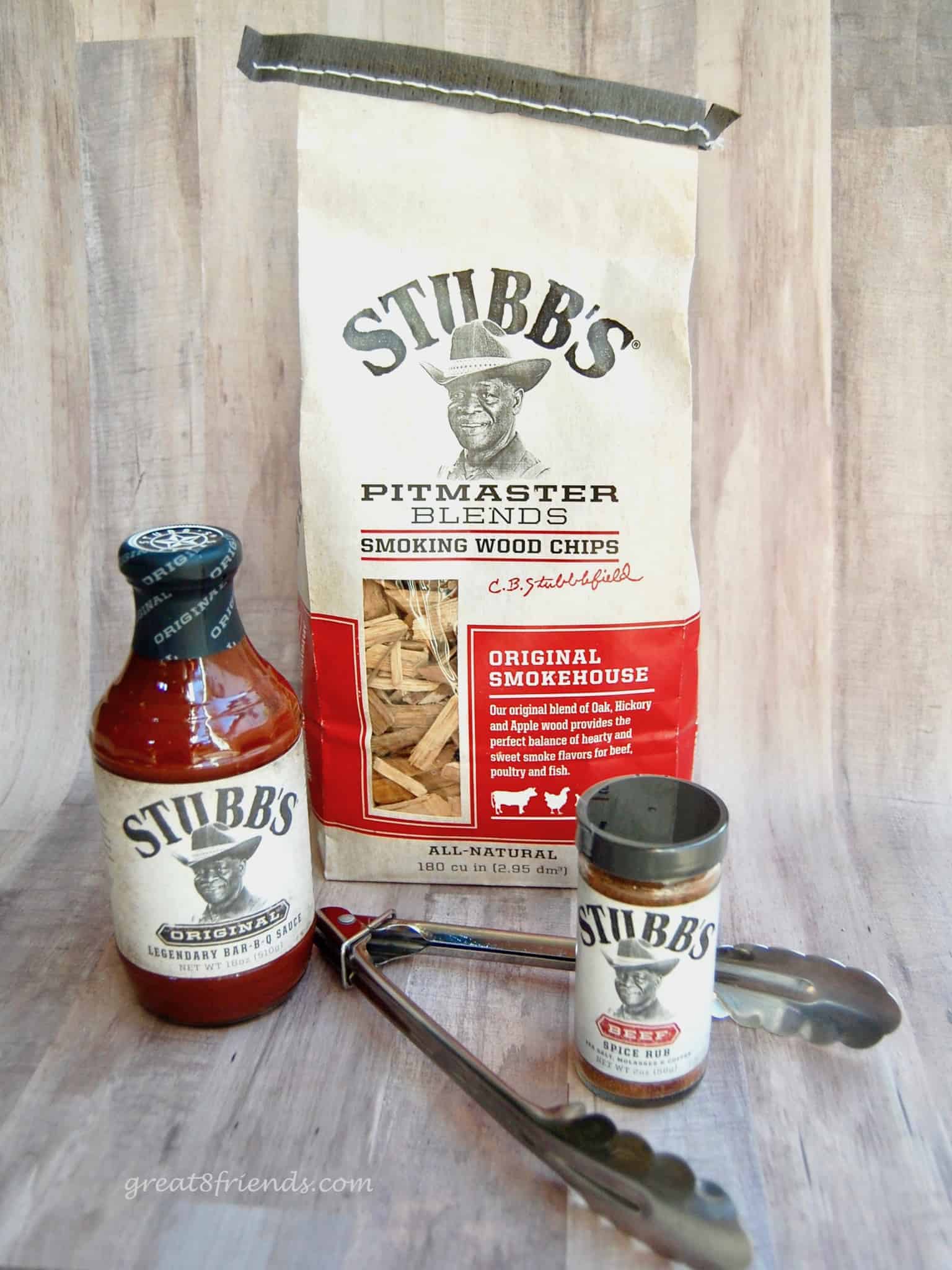 Once you find your favorite wood chips, the crispy bark exterior and edges lock in the juicy tenderness of the meat, making it literally melt in your mouth.
With the added technique of the pre-soaked chips, it gives the meat a smoky, sweet, strong bacon flavor. You can practically smell it thought the screen here, right?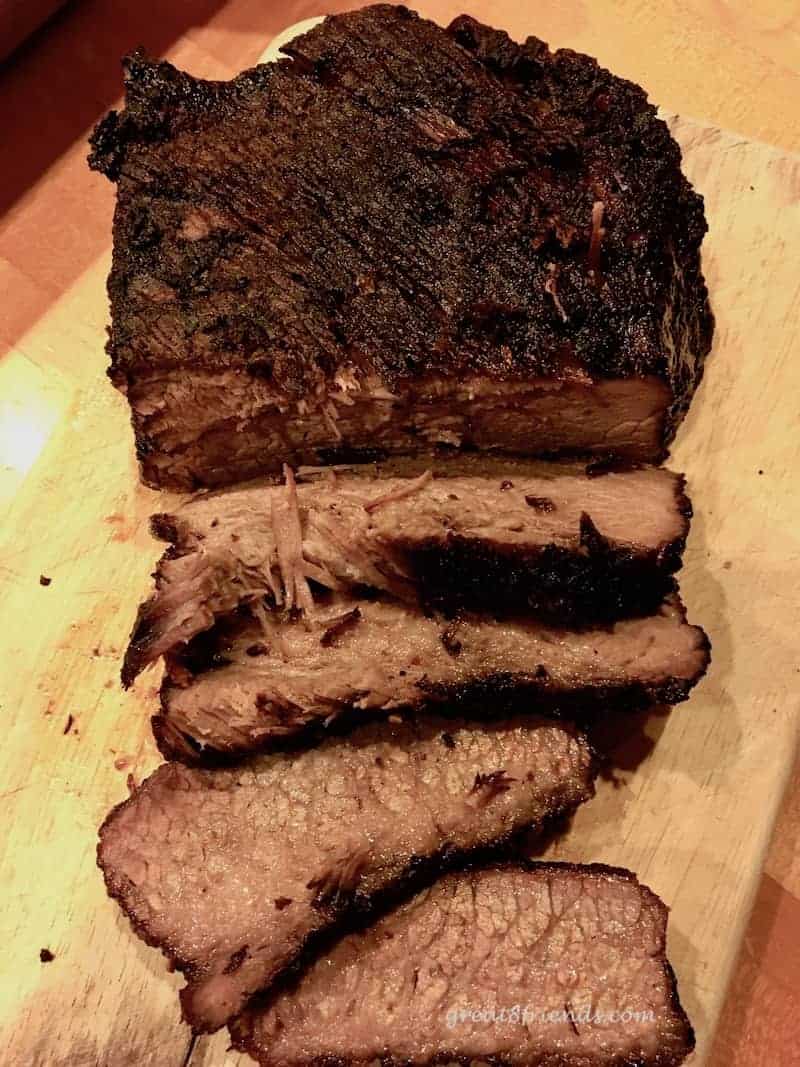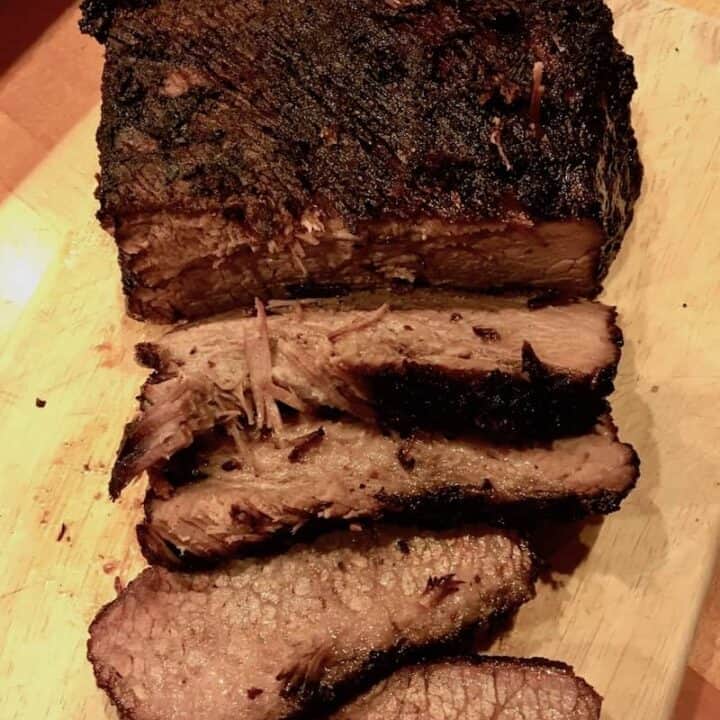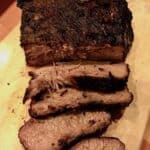 Print Recipe
Pin Recipe
Save this Recipe
Saved!
Please leave a rating!
Phil's Smoked Brisket
Serves: 4-6 BE SURE TO START THIS EARLY IN THE MORNING! Trust me...it's worth every minute of it!
Ingredients
Any dry meat rub,

,

I use Stubb's

5

pound

beef brisket,

,

bring to room temperature

Hickory and cherry wood smoking chips
Instructions
Preparing the Brisket
Rub both sides of brisket with seasoning. Let rest while preparing the chips and the grill.
Preparing the Wood Chips
Fill a disposable aluminum tray with 2 handfuls of hickory wood smoking chips and 2 handfuls of cherry wood smoking chips.

Add water and cover to soak for 20-30 minutes.

Drain water, keeping the wood chips then return the chips to the aluminum pan.

Cover pan with foil and with a BBQ fork, liberally poke holes to vent (about 40 holes).
Preparing the Grill
Lighting all burners, preheat the grill (we use a 3 burner gas grill) to 500°F.

Once grill is preheated, turn off all burners except the far left one.

Adjust the left burner to the lowest setting.

With heat resistant mitts, take grate off grill and set covered aluminum tray of wood chips on top of lit burner.

Return grate back on top of aluminum tray.
Smoking the Brisket
Place seasoned brisket on the grate above the tray of wood chips.

You want the grill temperature to settle between 225°-250°F. Try not to open the grill cover, the wood chips will begin to smoke within ½ hour.

Slow smoke/grill for 8-10 hours, flipping ½ way through cooking, after about 4-½ hrs.

Meat is done when the internal temperature is a minimum of 185°F. Well done.

Remove brisket and wrap in foil for ½ hour to let the juices/meat set.

Slice against the grain.
Notes
Gr8 Note:
The reason for cooking the brisket well done is because you want to break down all the fat and collagen fibers in the meat. This is not the cut of meat to cook to rare or medium; brisket is most often cooked well done for maximum tenderness and flavor.