These outrageously delicious Slow Cooker Barbecued Pork Ribs start with the simple method of brining and finish in the slow cooker and the grill. If you love fall off the bone ribs, then this is the recipe for you!
Today I am sharing with you a simple and easy barbecued ribs recipe. I brine the ribs the night before and then cook them in a slow cooker the following day (they can also be covered and baked on low in the oven for 4 hours).
These ribs are ALWAYS a hit and the recipe has been shared by all of us over the years. This barbecue sauce is simple to make and better than any bottled sauce out there!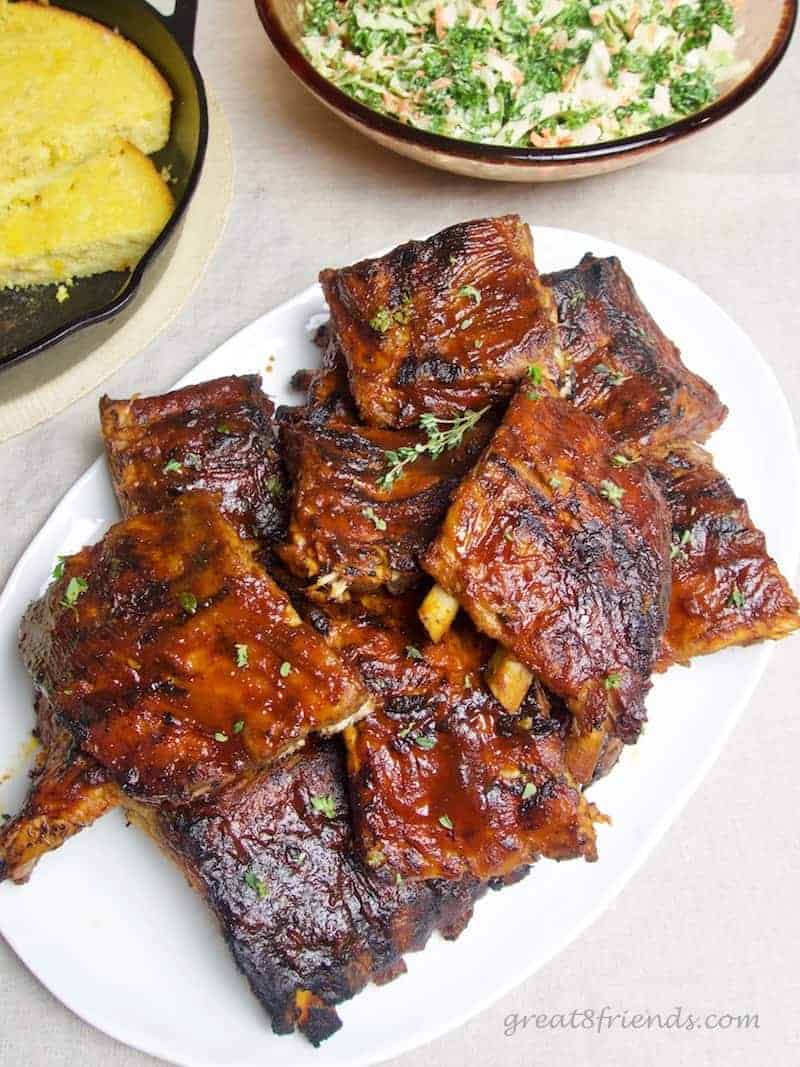 What is brining?
Brining is a mixture of kosher salt and water used to add moisture and flavor to meat. I use the brining method for turkey, pork and chicken.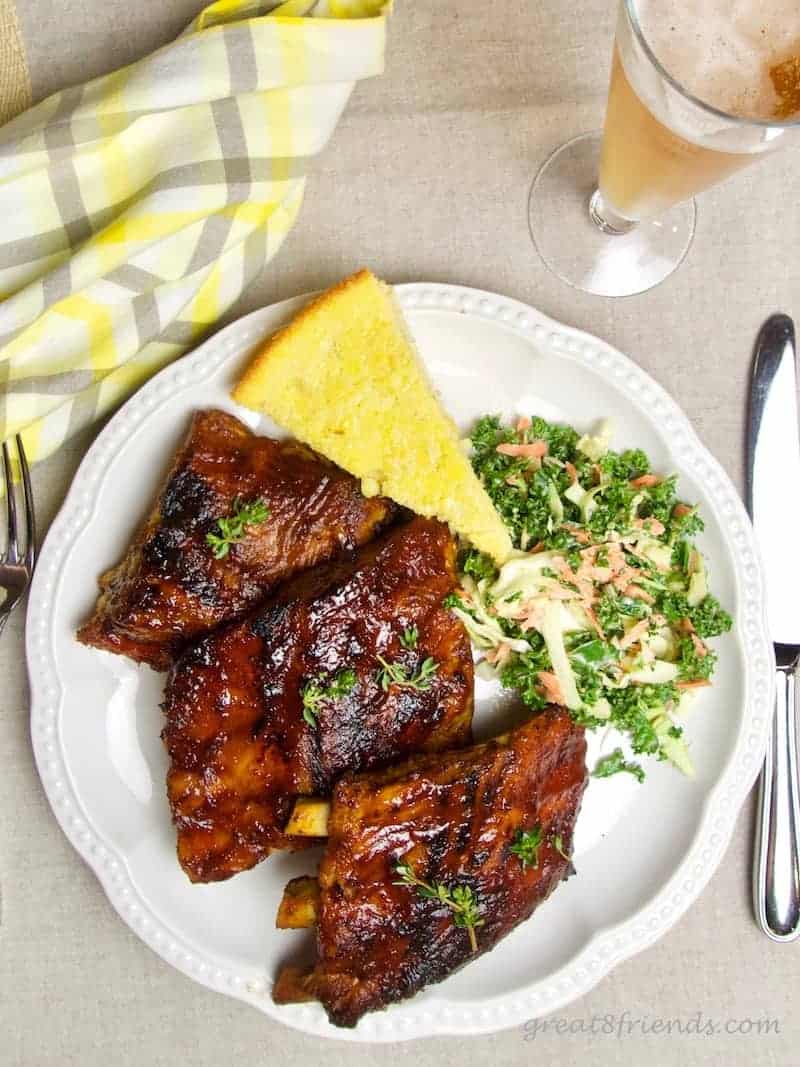 Brining and refrigerating the ribs the night before will extract much of the fat from the meat. This allows the fat to rise to the top of the water and makes it easy to remove the fat for cleaner and less fattening ribs.
Check out this article for more information on brining.
These Slow Cooker Barbecue Pork Ribs are perfect to serve as an appetizer or as a main course. To serve for dinner, cut them every third rib, and as an appetizer, cut each rib individually.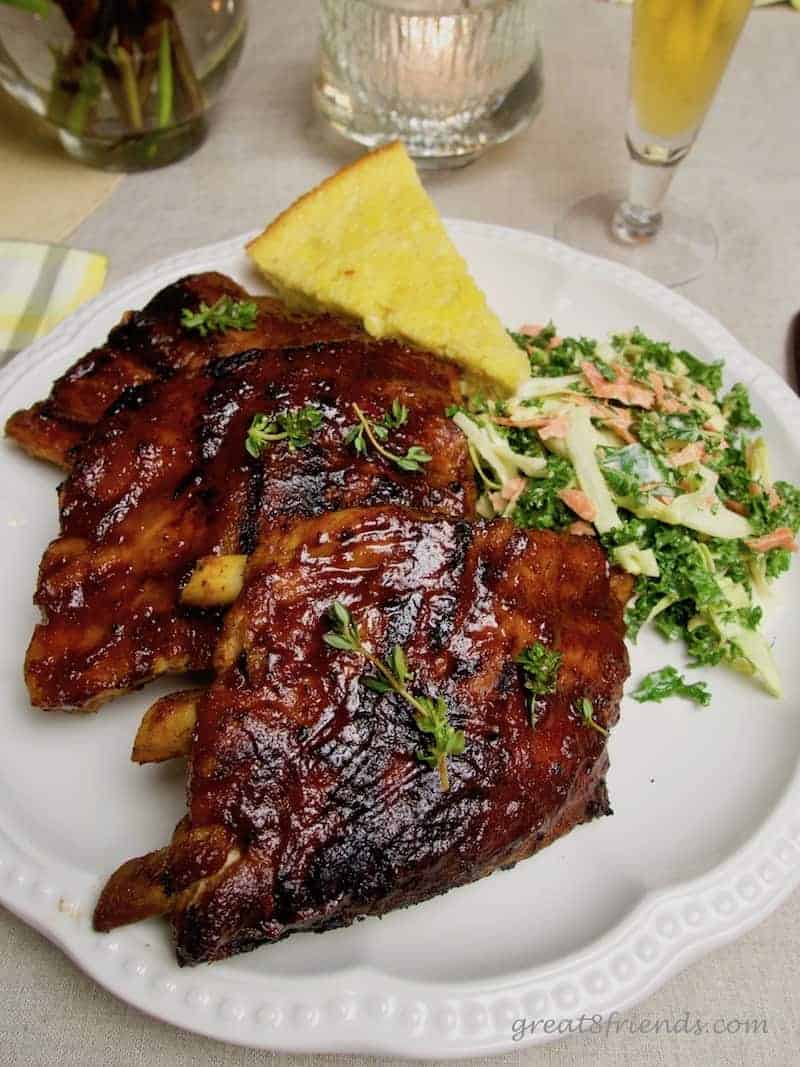 Other Gr8 recipes to serve with your ribs:
This post contains affiliate links which means Great Eight Friends may earn a small commission if you click on the link. There is no additional cost to you. As an Amazon Associate we earn from qualifying purchases.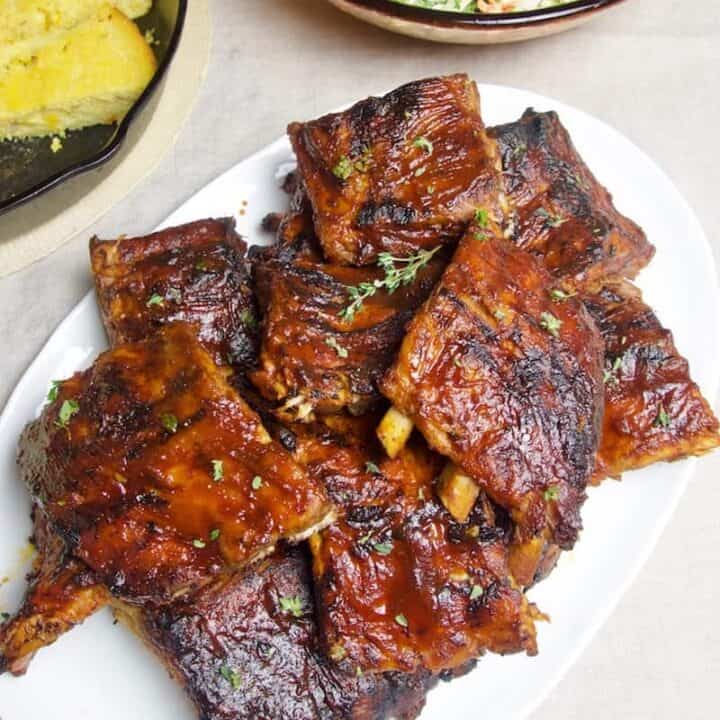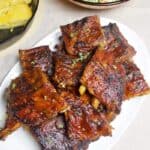 Print Recipe
Pin Recipe
Save this Recipe
Saved!
Please leave a rating!
Barbecued Pork Ribs
Start this recipe the day before so you can brine the ribs overnight.
Ingredients
Ribs Ingredients:
5

pounds

baby back pork ribs

,

I like to use Costco ribs, cut into pieces of 3 ribs each (*See Gr8 Appetizer Tip below.)

water to cover

½

cup

kosher salt

paprika

,

to taste

barbecue sauce,

recipe below
Barbecue Sauce Ingredients
3

cups

ketchup

2

cups

dark brown sugar

1

Tablespoon

liquid smoke

1 

Tablespoon

red wine vinegar

1 

Tablespoon

Worcestershire sauce

1 

Tablespoon

Tabasco sauce
Instructions
Directions for the Ribs:
Cut ribs into 3 rib pieces and place in a large pot and cover with water and kosher salt.

Turn heat on high and bring ribs to a slow, rolling boil.

Once the ribs start to boil, immediately remove from heat and cool completely.

Place entire pot in the refrigerator overnight.

The next day remove the thick layer of fat from the pot of water and discard properly. (You will be shocked at how much "gunk" has been released from the meat.)

Remove the rib pieces and rinse under fresh, running water.

Pat dry with paper towels and season with a light dusting of paprika.

Place them in a slow cooker (I usually baste the ribs with a layer of sauce).

Cook on low for a minimum of 6 hours. Or cook in a 225º F oven for 4 hours.

Ribs can then be either broiled with a layer of sauce or placed on a grill and basted with sauce for extra crispiness. (Be careful when barbecuing on the grill, the high sugar content of the sauce can burn easily.)
Directions for the Barbecue Sauce:
In a small saucepan mix all ingredients together.

Cook over medium heat and stir until the sugar is fully dissolved.

The sauce is now ready to use.
Notes
Gr8 Do-Ahead Tip:
Make the sauce up to 3 days ahead of time and store in the refrigerator in a covered container.
Gr8 Appetizer Tip:
If you are serving these as an appetizer, be sure to cut them into individual rib pieces so guests can grab one at a time.