Here's our great recipe for a classic gin martini which is probably one of the most famous and well known cocktails.
Who mixed the first Martini?
You could come up with a few different origins. One prevalent theory involves a prospector in Martinez, CA during the gold rush days.
He struck it rich and wanted Champagne, which the bartender didn't have. Instead he concocted a drink with gin, sweet vermouth, bitters and maraschino liqueur. And the "Martinez Special" was born.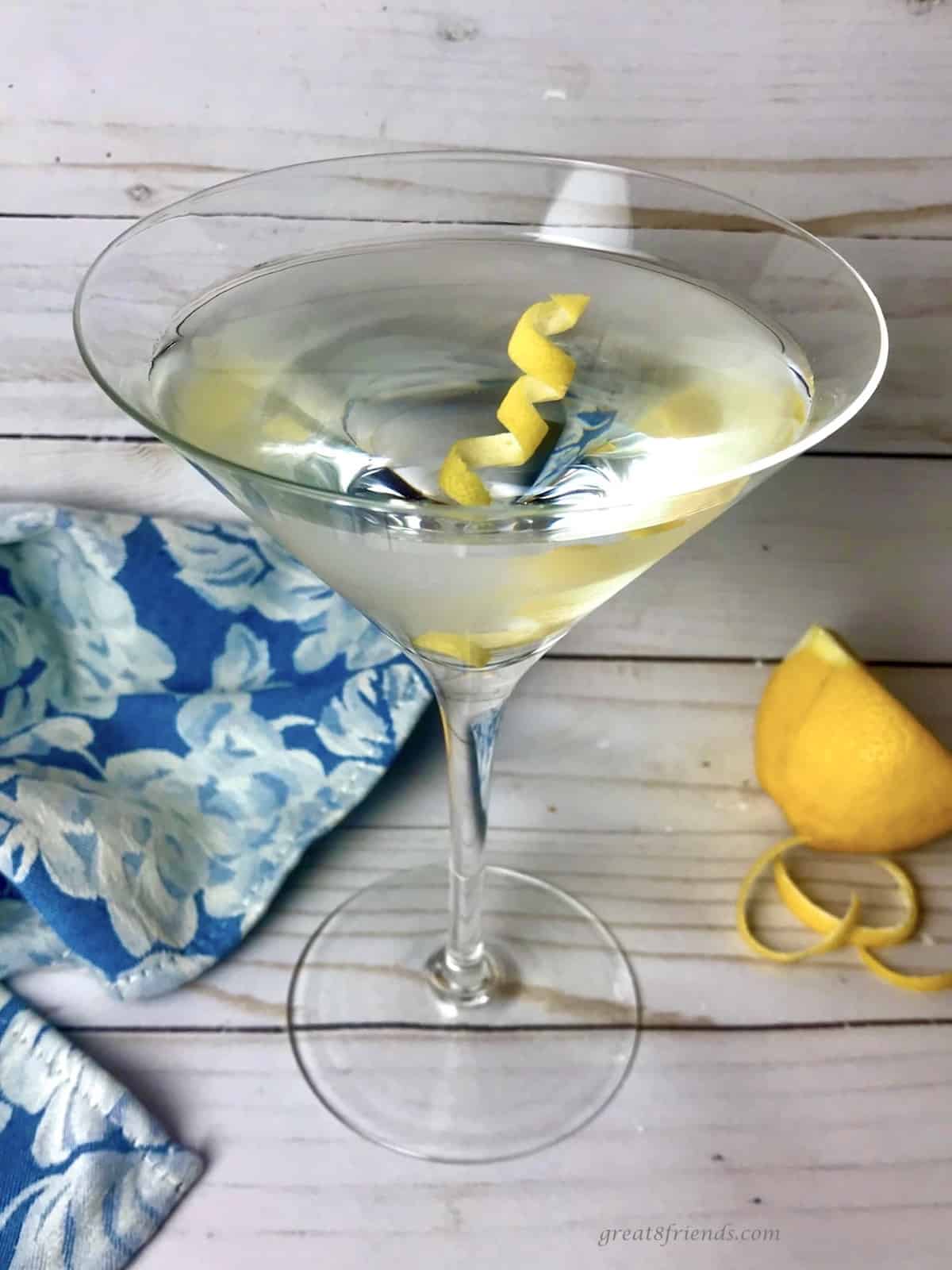 There are also assertions that it started at the Knickerbocker Hotel in NYC as well as a bar in San Francisco. Lastly, some say it was named after "Martini and Rossi" vermouth which was created in the mid 1800's.
The Martinez became the prototype for the Martini and evolved from the original sweeter version to a dryer one substituting dry vermouth.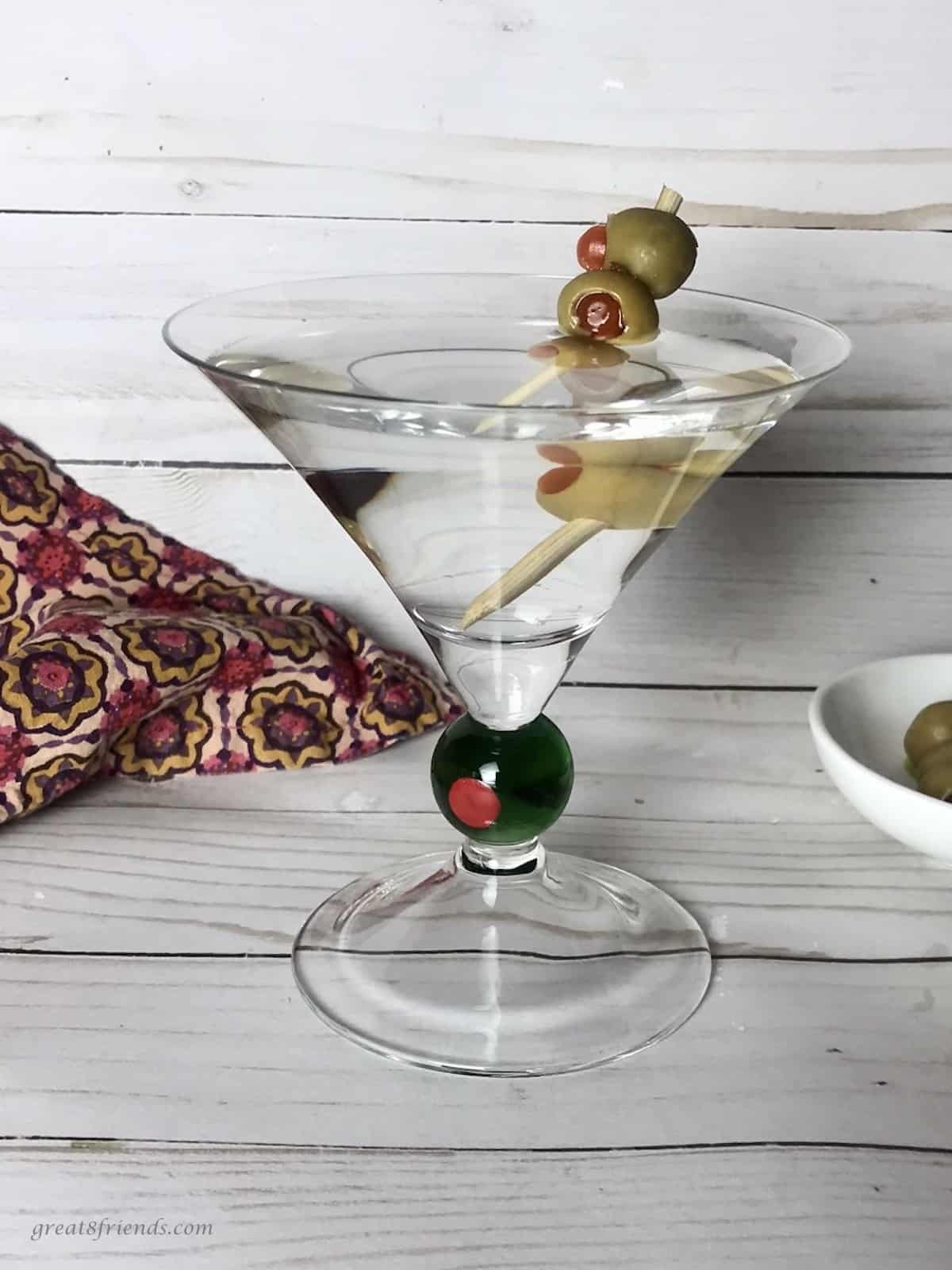 How to make a Gin Martini
The classic gin martini is a simple cocktail to mix….. gin, dry vermouth and orange bitters with an olive or lemon peel for the garnish. Most importantly, it should be stirred and never shaken. Shaking it over dilutes the ingredients and clouds the final pour.
The ratio of gin to vermouth has changed as well, leading to a dryer version with less and less vermouth. The "Perfect Martini" is actually half gin and half dry vermouth, much too "wet" for my taste.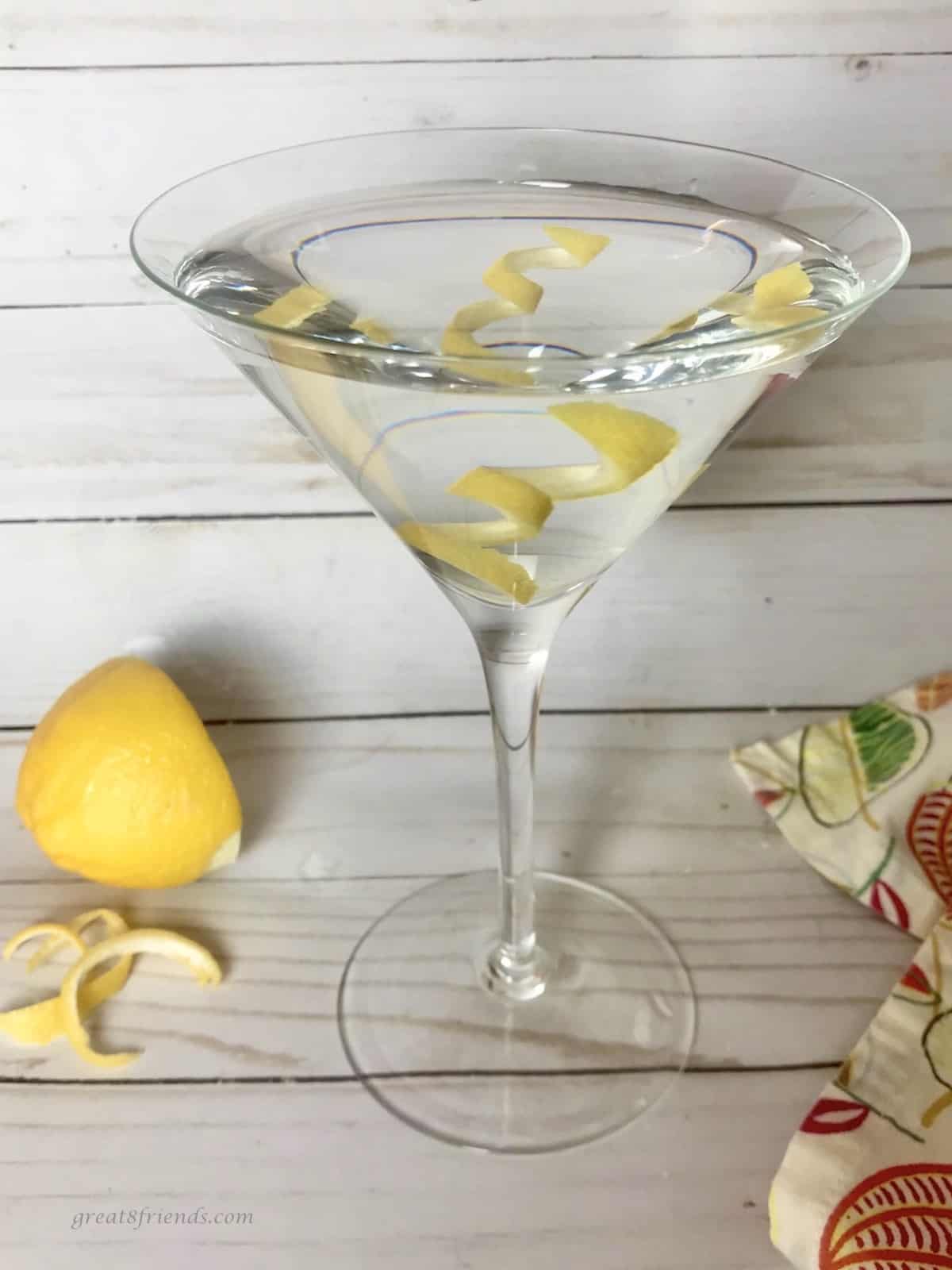 The Vesper
My favorite martini variation is the Vesper, also known as the "James Bond" or "007".
It was invented by Bond author Ian Fleming, and appeared in his book "Casino Royale," published in 1953.
Vesper was a double agent. Hence the double liquor, see recipe.
Ernest Hemingway said in A Farewell to Arms, "I've never tasted anything so cool and clean…..They make me feel civilized." I couldn't have said it any better.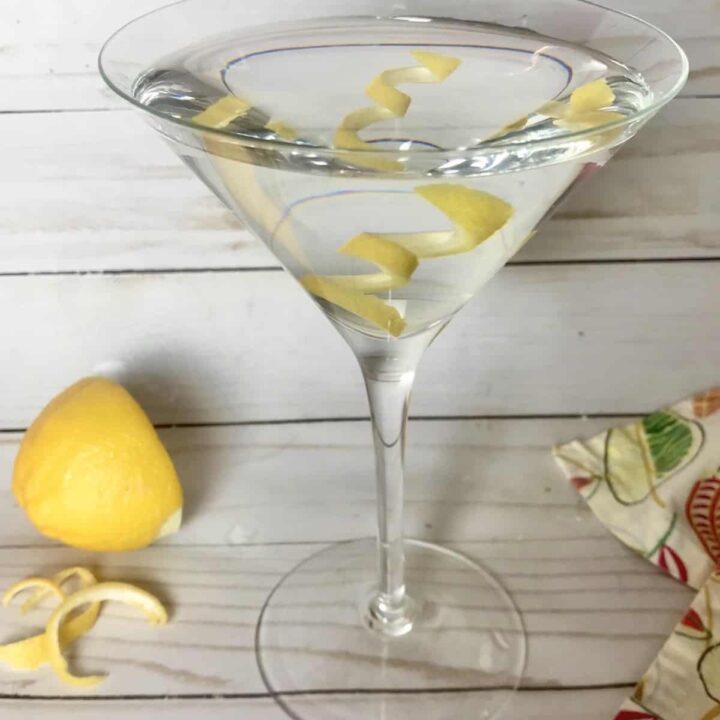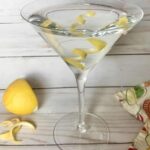 Print Recipe
Pin Recipe
Save this Recipe
Saved!
Please leave a rating!
The Classic Gin Martini
We also include the instructions for The Vesper, James Bond's martini. As known as a "James Bond" or "007."
Ingredients
The Classic Martini
2 ½

ounces

gin

,

*see Gr8 Note

½

ounce

dry vermouth

,

*see Gr8 Note

1

dash

orange bitters

Lemon peel or stuffed olive

,

as garnish
OR, The Vesper
2

ounces

gin

1

ounce

vodka

¼

ounce

Lillet Blanc
OR, The Dirty Martini
2 ½

ounces

gin or vodka

,

your preference!

½

ounce

dry vermouth

¼ to ½

ounce

olive brine or juice, to taste

,

the brand I prefer is Dirty Sue, though you can just use the juice from the olives you choose.

Olives on a toothpick

,

for garnish and a snack!
Instructions
The Classic Martini
Combine all ingredients in a mixing glass with ice and stir vigorously for 20-30 seconds.

Strain into a chilled martini glass and add preferred garnish.
The Vesper
Stirred, not shaken, sorry James.
The Dirty Martini
Same directions, different ingredients.
Notes
GR8 Notes:
*The above 5:1 ratio is considered too 'wet' for some. Many prefer a dryer 10:1 ratio and some even less vermouth. I like 15:1.
Today many people prefer vodka instead of gin in their martini.
Anna's Gr8 Note:
I never liked a gin martini until I tried a couple of different gins. They each have a distinct flavor, so don't dismiss this beautiful, classic cocktail until you've experimented a bit. My fave is Boodles.
More Gr8 Adult Beverages!