This ultimate Sidecar cocktail is smooth and mellow with a hint of tangy citrus evenly balanced with a bit of sweetness. Even though this is a Cognac based cocktail, the citrus notes make it a light and bright choice for Happy Hour!
My mom didn't often have a cocktail, but when she did it was a Sidecar. So I was excited to delve a little deeper into this classic cocktail and find out how to make the best drink.
This is a really a very simple concoction. There's no muddling, no simple syrup to be made, and no obscure flavored liquors that you may or may not have lounging in your bar. It's three straightforward ingredients, Cognac, Cointreau, and lemon juice.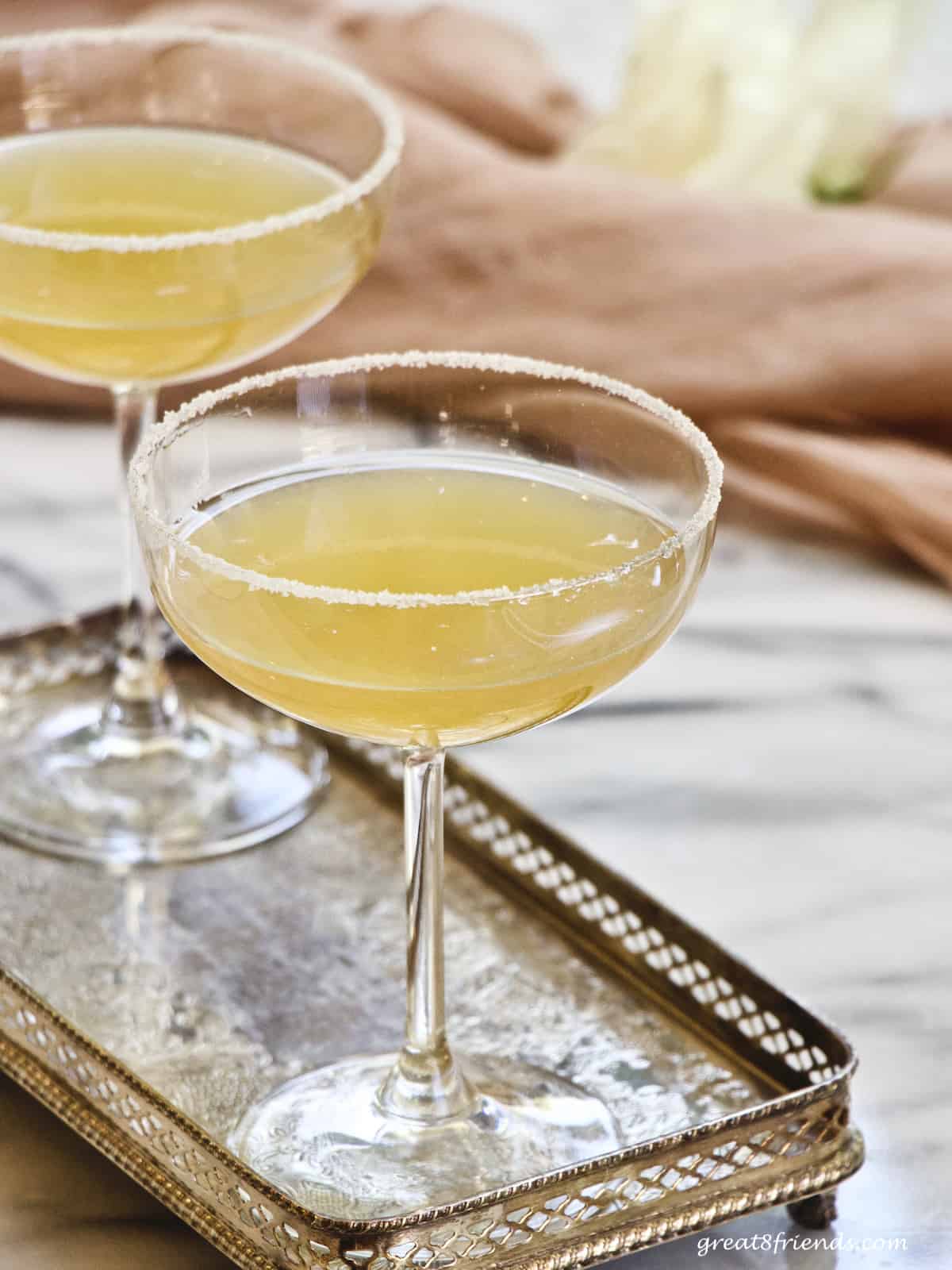 How to Make a Classic Sidecar
There are many different versions of Sidecars out there. The classic recipe is equal parts of each, 1:1:1. That is rarely seen any more, with modern liquors, it doesn't come across well.
In the interest of ensuring a yummy drink for our Gr8 Friends, (those over 21) I spent an afternoon testing various ratios. And, Eureka! I believe I've found the perfect recipe! (hic!)
Begin by choosing your glass. This is classically served in a coupe, however, if you prefer a martini glass, that will work, too.
Fill your cocktail shaker with ice, add two parts Cognac, one part Cointreau, and one part freshly squeezed lemon juice. I like to let it sit for a few beats to let the ice just start to marinate. This is always a good idea with a liquor heavy cocktail that will be served up. Then shake it baby!
While the shaker is sitting, put some sugar on a saucer so you can rim your glass. Run a sliced lemon around the edge of your glass, then invert it onto the sugar so you have a nice sugar rim.
Pour your chilled and shaken cocktail into the beautiful glass, garnish with a slice of lemon and Cheers!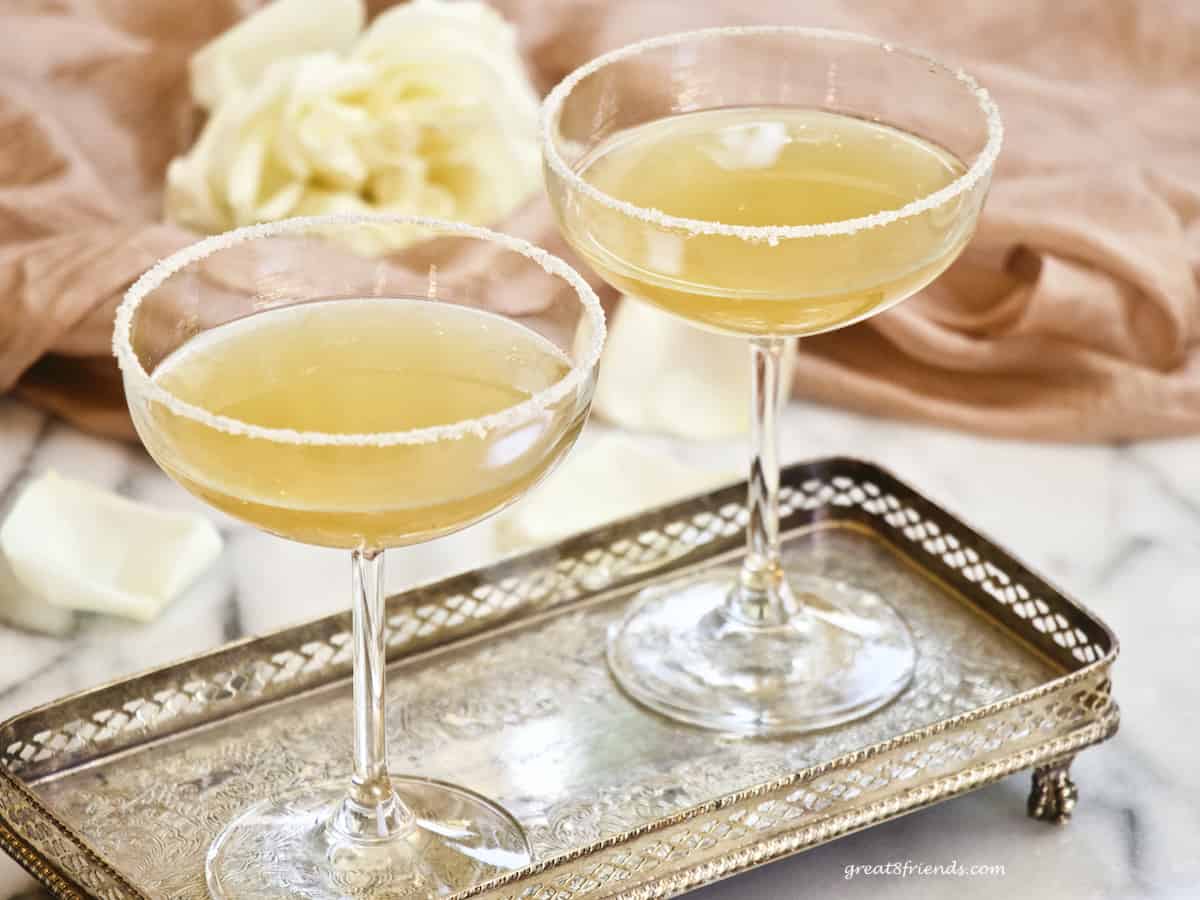 Make a Batch for a Party!
If you've chosen the Sidecar as a signature cocktail for a party, it's easy to make pitcher. Decide how many drinks you ultimately need, then use the same ratios, but in larger quantities.
Basically, if you want to make 8 drinks, use 12 ounces Cognac and 6 ounces each of Cointreau and lemon juice. Then just mix all ingredients in a pitcher and refrigerate.
At party time, have your pitcher, a cocktail shaker, and a bucket of ice. As your guests arrive you can shake up one or two at a time and serve. So easy and delicious!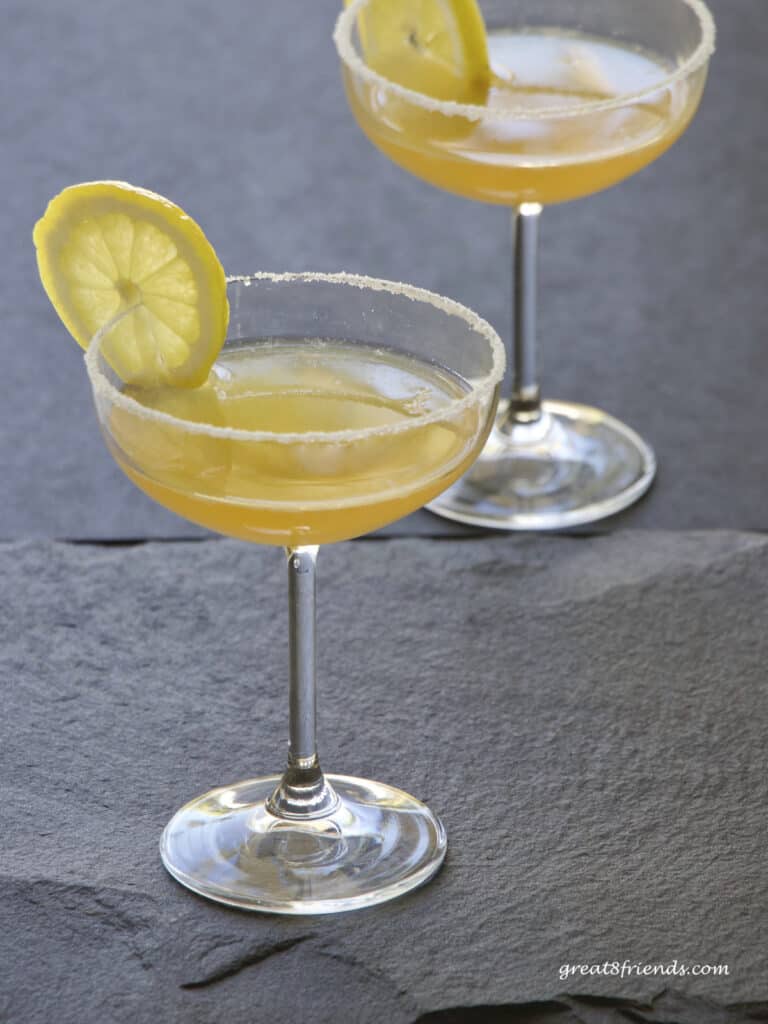 Some Substitutions
A classic is a classic so we won't be getting into the different flavors of this beverage. However, there are some choices you have in the alcohol you can use.
Cognac is like Champagne, it's a brandy made with specific white grapes from the Cognac region of France. So, it follows that you can substitute a brandy, however, know that the flavor of the drink will vary depending on the brandy used.
Cointreau is an orange flavored liqueur also made in France. You can sub Triple Sec or Grand Marnier. Since Cointreau is simply a higher quality Triple Sec, this is a good option, but always taste and adjust. Grand Marnier is a bit more intense and sweet than Cointreau, so start with a smidge less than the required ratio.
The lemon juice is best if it's freshly squeezed. Yes, you can use bottled juice if you must; but it will not give you the best taste possible.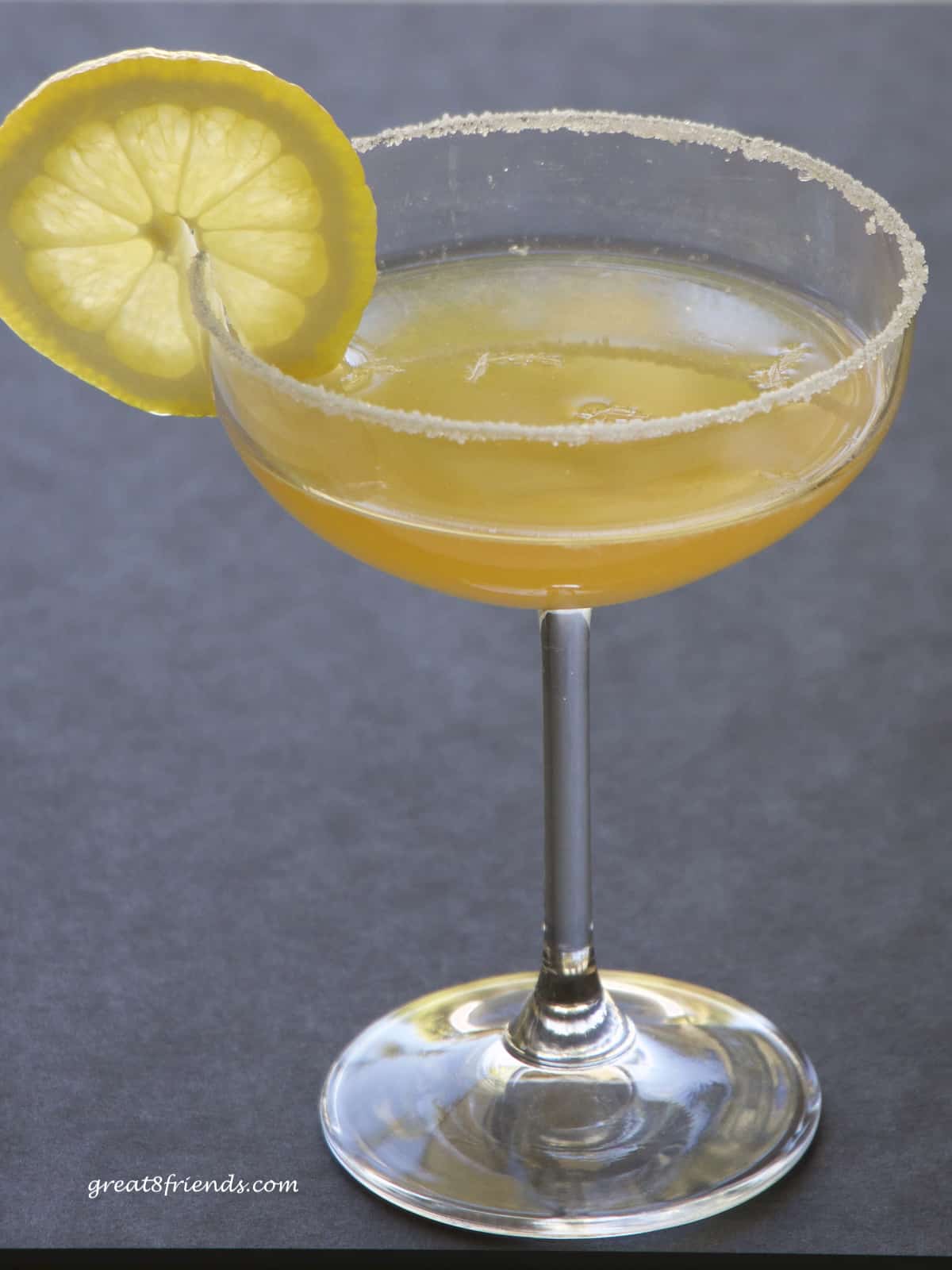 Always remember, when mixing a cocktail, make it how you like it. If you love the tangy citrus and don't want it so sweet, then go a little heavier on the lemon and maybe only cover half the rim in sugar.
If you enjoy a sweeter tipple, then rim the whole edge with sugar and up the Cointreau a smidge while pulling back on the lemon. No one is going to tell you you're doing it wrong! It's YOUR cocktail hour!
Nowadays I rarely see a Sidecar on a cocktail menu, maybe it's time this Prohibition era drink makes a comeback!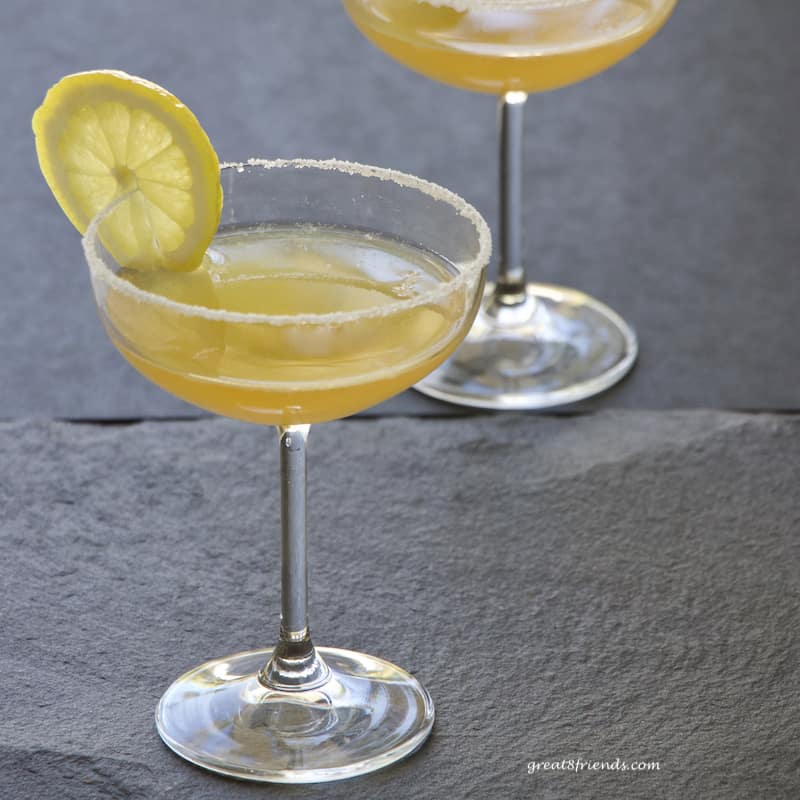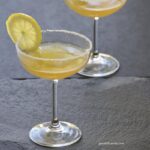 Print Recipe
Pin Recipe
Save this Recipe
Saved!
Please leave a rating!
Sidecar Cocktail Recipe
This easy to make classic cocktail is light and bright and citrusy. Perfect for happy hour! For a group, mix up a pitcher ahead of time and shake each drink as needed.
Special Equipment
Coupe shaped cocktail glass or martini glass

Cocktail Shaker
Ingredients
2

parts

Cognac

1

part

Cointreau

,

or Triple Sec or Grand Marnier

1

part

fresh squeezed lemon juice

Sugar

,

to rim the glass

1

lemon slice

,

for garnish, optional
Instructions
Fill your shaker with ice, then add the Cognac, Cointreau, and lemon juice. Let sit for a moment.

Rub a slice of lemon on the rim of your glass then invert the glass in a saucer of sugar to coat the rim.

Shake the drink well several times, then strain into the prepared glass.

With a sharp knife cut from the middle to the edge of the lemon slice. Then slide that onto the rim of the glass.
Notes
This nutritional information is only an estimate. We do not guarantee the accuracy of the nutritional information for any recipe on this site.
Nutrition Information
Serving:
3
ounces
|
Calories:
153
kcal
|
Carbohydrates:
2.5
g
|
Protein:
0.2
g
|
Fat:
0.2
g
|
Saturated Fat:
0.2
g
|
Sodium:
4
mg
|
Potassium:
26
mg
|
Fiber:
0.1
g
|
Sugar:
2.5
g
|
Calcium:
2
mg
Other Gr8 Cocktails You May Enjoy!