This slow cooker mulled red wine recipe is super easy to put together! It is the perfect warm drink for a chilly night or festive party!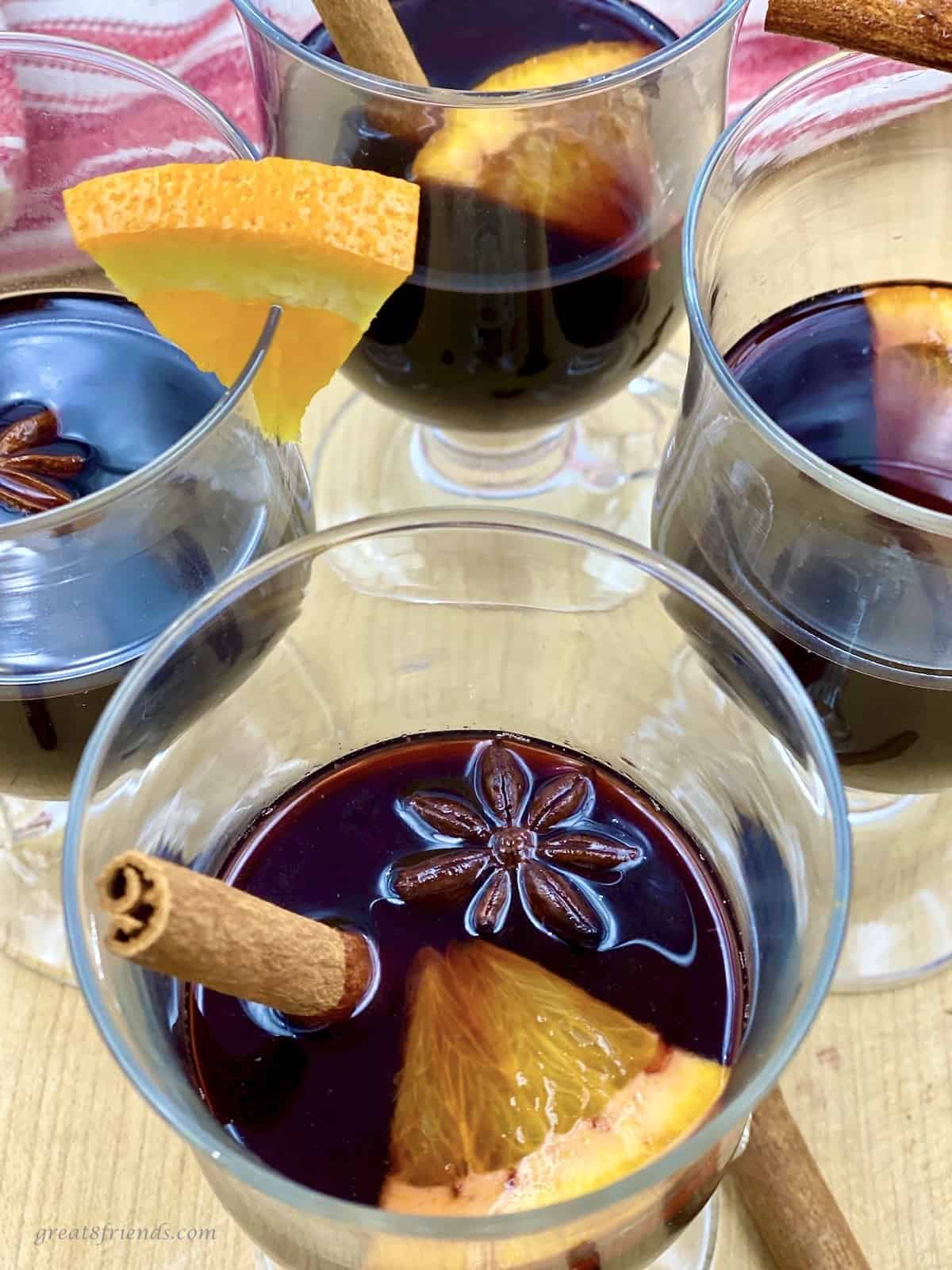 How does wine become mulled?
To make mulled wine you add heat, a sweetener and spices. It is a popular alcoholic wine drink to serve during the holidays. And, this is a concoction that has been around forever!
This post contains affiliate links, which means we may make a commission at no extra cost to you should you click on the link and make a purchase. As an Amazon Associate we earn from qualifying purchases.
When to serve hot spiced wine?
Our family serves Crock-pot® mulled wine on Christmas Day, a delicious beverage for your holiday gatherings and parties. Any fall or winter gathering would be the perfect opportunity to add this cozy warm drink.
But Christmas time is not the only opportunity to serve hot spiced wine. Anna and Vince served it at their festive Halloween Haunt Gr8 Dinner. It was perfect "Dragon Blood!"
Serving it in a slow cooker keeps it warm for the life of the party and folks can serve themselves.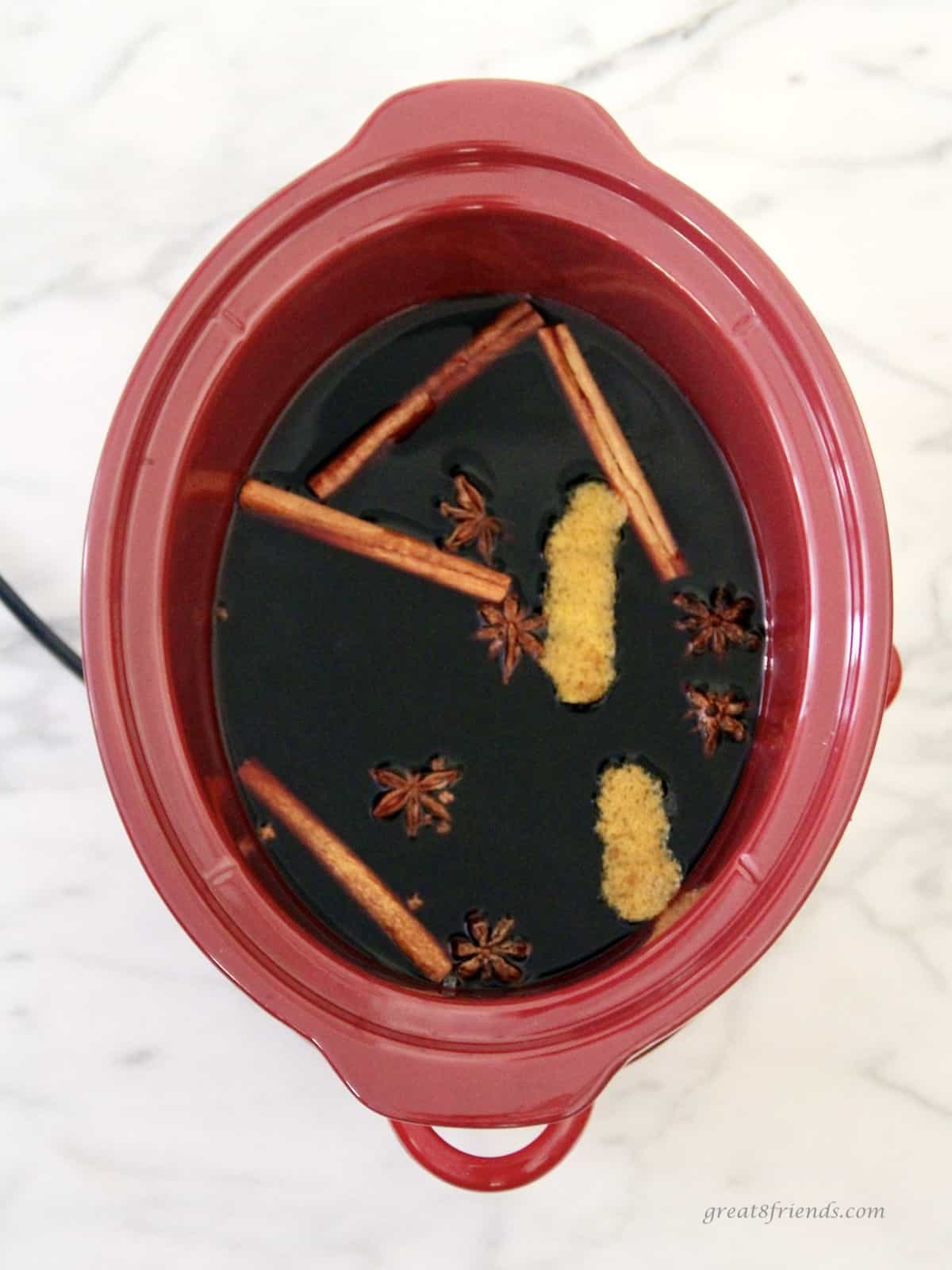 What ingredients are needed to make mulled wine?
Don't use your expensive red wine! This wine drink will be heated, sweetened and spiced so save your money and purchase less expensive dry red wine. Suggestions would be a Cabernet Sauvignon, Merlot, Pinot Noir, Shiraz/Syrah, Zinfandel, Sangiovese, and Cabernet Franc.
Brandy! Why not spike the wine! 😆
Buy enough spices - cinnamon sticks, anise stars, and whole cloves - for the recipe and if you want, extra for serving.
An orange for the zest to add to the mulling wine and to cut in small triangles to add to the cup of wine.
Honey is added to sweeten the mulled wine. I usually serve raw sugar cubes on the side for those that might want their serving a bit sweeter.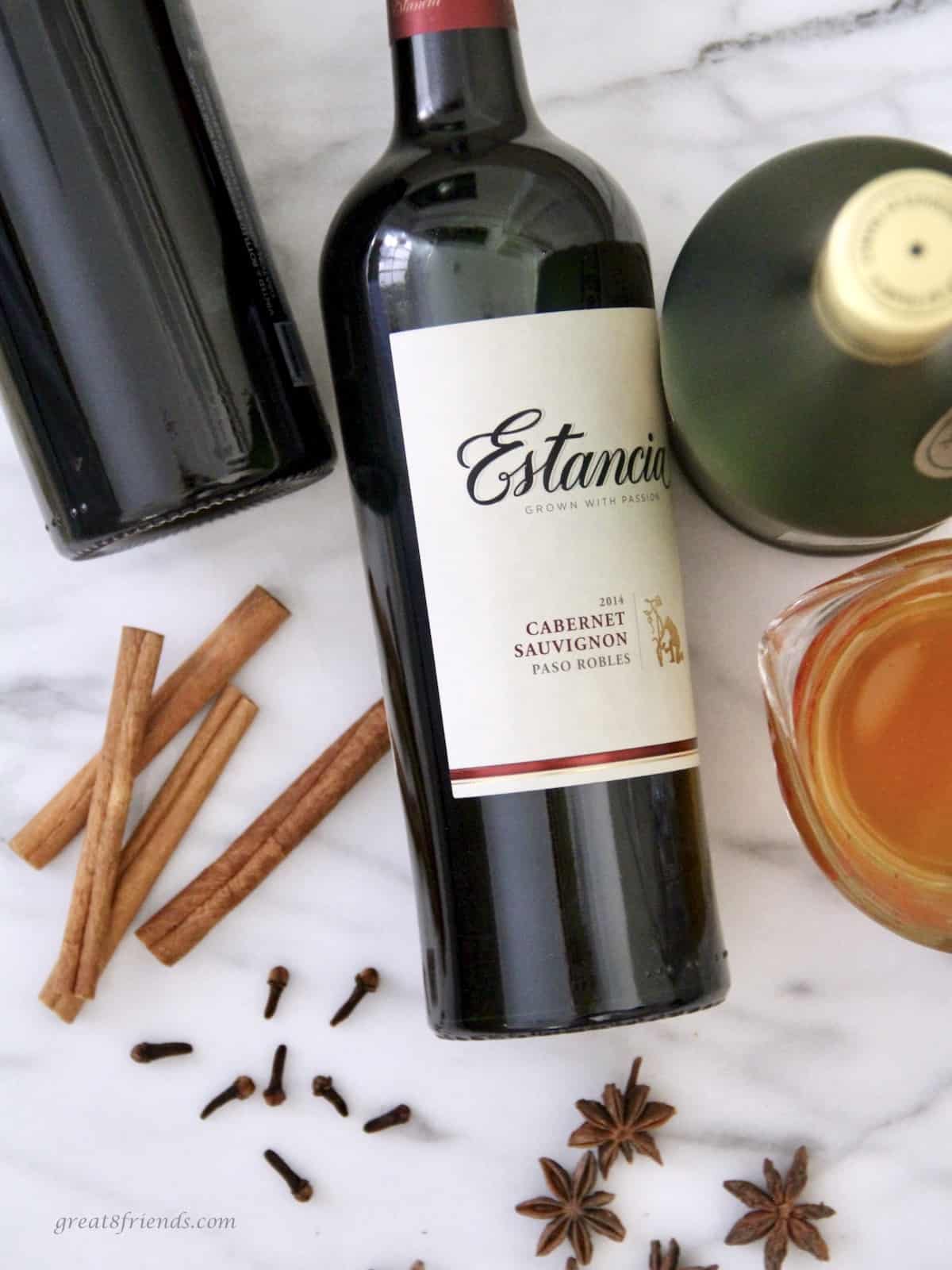 Serving Slow Cooker Mulled Wine
I like to set mugs out along with extra garnishes so that folks can help themselves.
On a tray I set out a small ladle on a dark towel, and small bowls filled with more whole cloves, star anise, cinnamon sticks, raw sugar cubes (in case someone wants a bit more sweetness), and orange slices.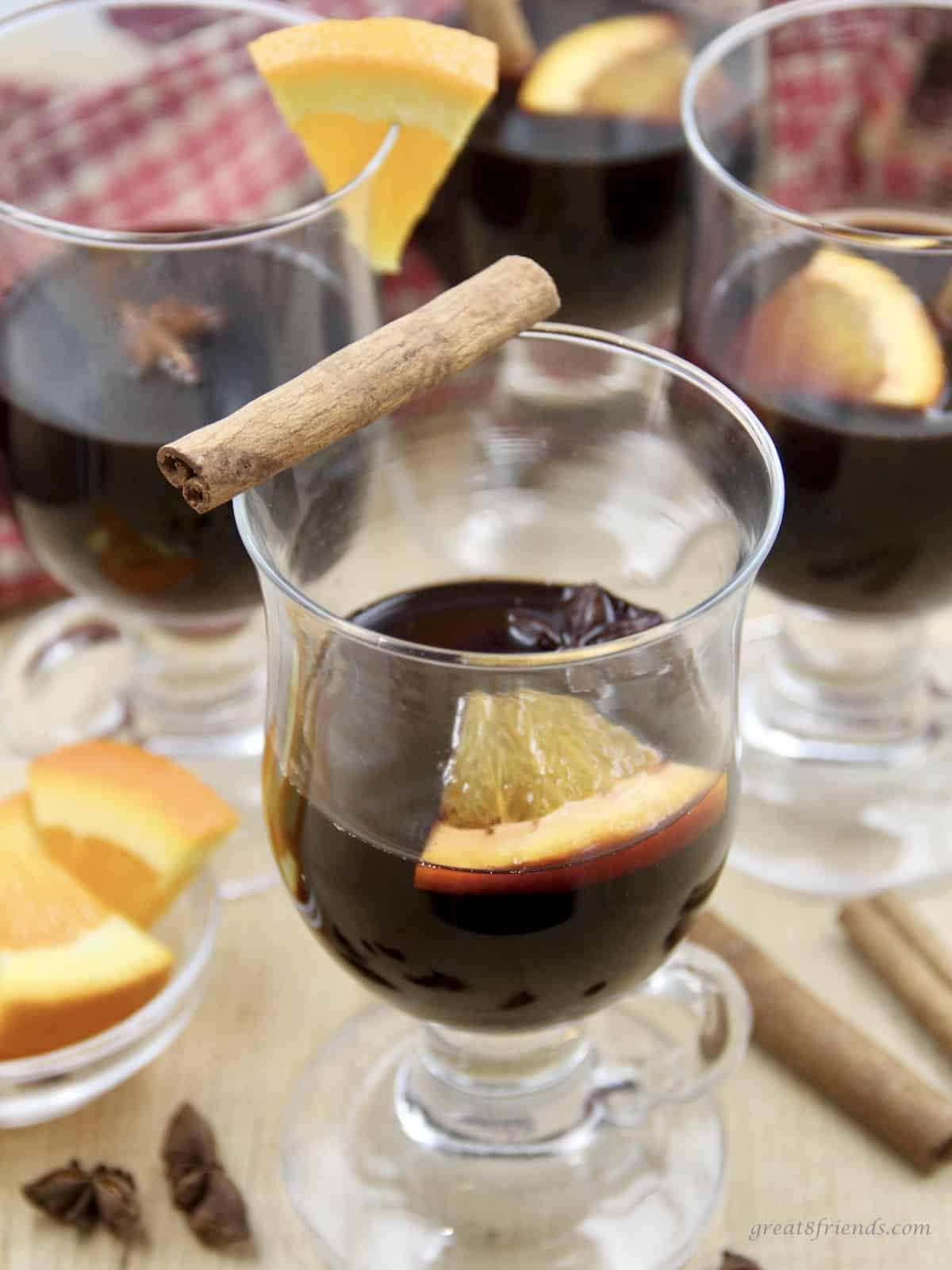 So, add this easy drink to all your fall and winter menus! You will be surprised with how many people will enjoy a warm drink especially on those chilly nights!
Super easy to throw together and have ready!
We have more festive adult beverages!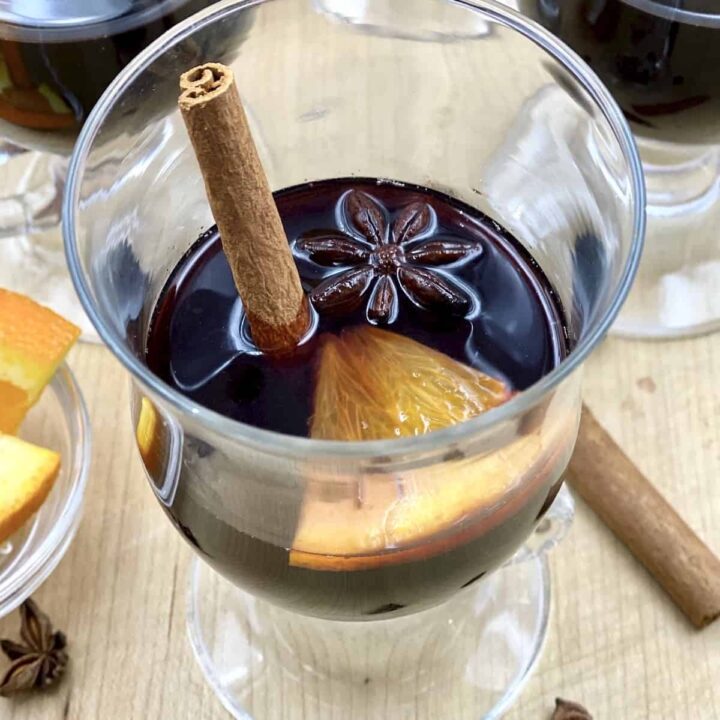 Print Recipe
Pin Recipe
Save this Recipe
Saved!
Please leave a rating!
Slow Cooker Mulled Red Wine
This slow cooker mulled red wine recipe takes about 10 minutes to throw together! It is the perfect hot toddy for a chilly night or festive party!
Ingredients
2

bottles

red wine

½

cup

brandy

½

cup

honey

8

whole cloves

,

(optional -extra for serving)

6

star anise

,

(optional- extra for serving)

4

cinnamon sticks

,

(optional- extra for serving)

1

orange

,

cut 3-4 large zest strips (peel only - not the white pith)

raw sugar cubes

,

(optional for serving)
Instructions
Combine both bottles of wine, brandy, honey, cloves, star anise, cinnamon sticks and orange zest strips into the slow cooker.

Stir the ingredients to combine and turn the cooker onto "high" heat. Cook the wine for ½ hour. Turn the heat to "low" and heat for another ½ hour. After the full hour of heating, keep the mulled wine on the "warm" setting while serving.

Before serving, use a mesh strainer or slotted spoon to remove the cloves, star anise, cinnamon sticks, and the orange zest.
Notes
Gr8 Tips:
The recipe can be easily be doubled for a crowd. 
If you have leftover wine, cool it, remove all spices and store covered in the refrigerator for up to 3 days.
If you do not want to serve the wine from your slow cooker, pour it into a pot and keep it on the stove on the lowest heat. You do not need to keep the lid on the pan.