Oh boy! I could not wait to make this Eggplant Caponata during our Cooking with Nonna Anna day! Anything with an eggplant, I can't turn down. As an appetizer, or even a side dish, count me in...please!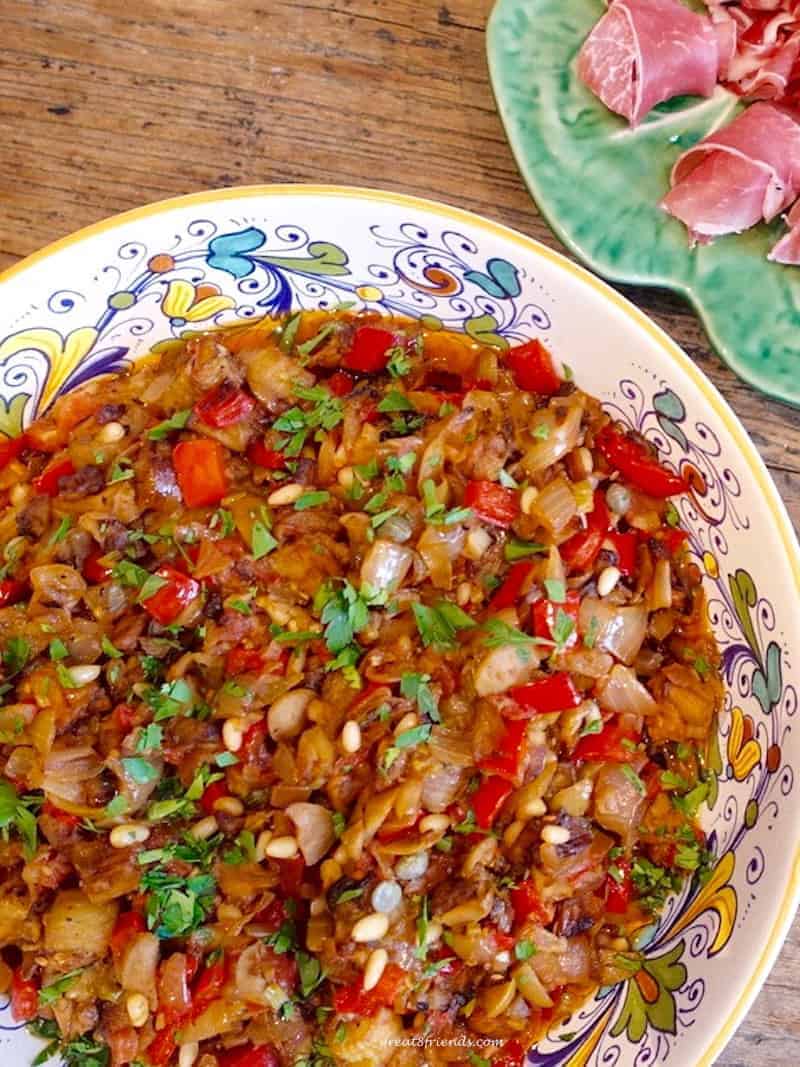 Eggplant Caponata is a Sicilian dish that is a delicious medley of vegetables. Simple ingredients, all easy to come by; spiked with the tartness of capers and olives. This would also be amazing at a brunch buffet!
Make it the day of or the night before, because when sealed up in a container, and placed in the refrigerator, the caponata only gets better. This might just be one of your next go to recipes...easy, healthy and delicious!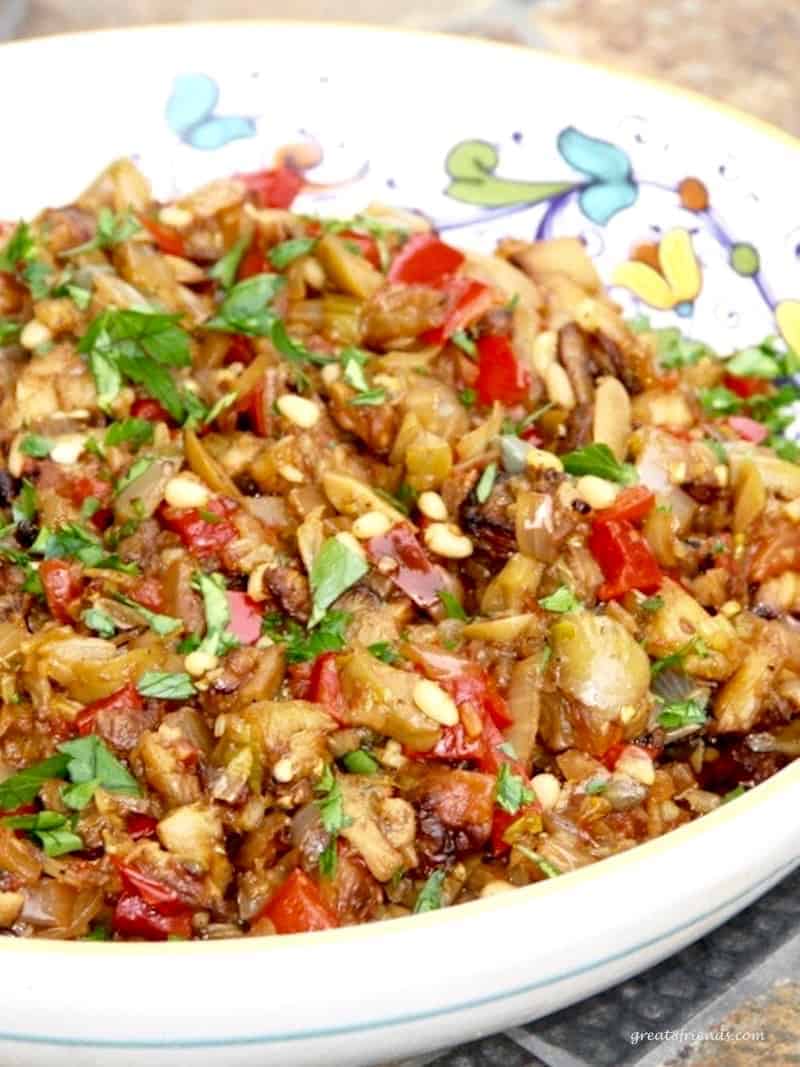 Eggplant Caponata
This is a Gr8 side dish to any meal...and the leftovers are even better! If you have any! See our Gr8 Serving Tips to make it an appetizer.
Ingredients
1

pound

eggplant

,

peeled

2

red bell peppers

,

seeded, ribs removed, and cut in 2/3-inch pieces

1

medium

onion

,

divided-1/4 finely chopped, 3/4 cut into 2/3-inch pieces

2

tender celery stalks

,

leaves included, finely chopped

1

Tablespoon

capers

,

rinsed well and drained

6

pitted green olives

,

cut into a few pieces

2

Tablespoons

red wine vinegar

3/4

teaspoon

sugar

6

medium

canned peeled tomatoes

,

seeded and finely chopped

1/4

teaspoon

salt

3

Tablespoons

pignolis (pine nuts)

,

lightly toasted

1 1/2

Tablespoons

chopped Italian flat-leaf parsley
Instructions
Cut eggplant into 3/4-inch cubes.

Deep fry the eggplant in 2/3-inch layer of oil, over high heat, until dark gold. With a slotted spoon, remove eggplant cubes from pan, drain on paper towels and set aside.

Transfer 3 Tablespoons of the frying oil to a large skillet. Set aside the remaining oil.

Heat the oil then add peppers, large pieces of onion and celery.

Cook over moderate heat, stirring, for a couple of minutes.

Reduce heat to low, cover and cook for 8 minutes.

Uncover, increase heat to high and cook, stirring, until vegetables start browning.

Add capers, olives, vinegar and sugar; then turn off heat.

Add eggplant and mix very gently.

Heat 2 Tablespoons of the oil used to cook the eggplant in a small pan and sauté the finely chopped onion. Add the tomatoes.

Cook over high heat until they sizzle.

Stir in salt and add to the vegetable mixture.

Add pine nuts to the mixture.

Stir gently until all the pieces are evenly distributed.

Put into your favorite serving bowl and sprinkle with chopped parsley.

Serve at room temperature.
Notes
Gr8 Serving Ideas:
Serve on sliced baguette that has been brushed with extra-virgin olive oil and lightly toasted in the oven.
Or serve with crackers or fresh celery for dipping.
Gr8 Do-Ahead Appetizer:
Make this dish in the morning and refrigerate. Be sure to remove from the refrigerator at least 1 1/2 hours before serving so it can come to room temperature.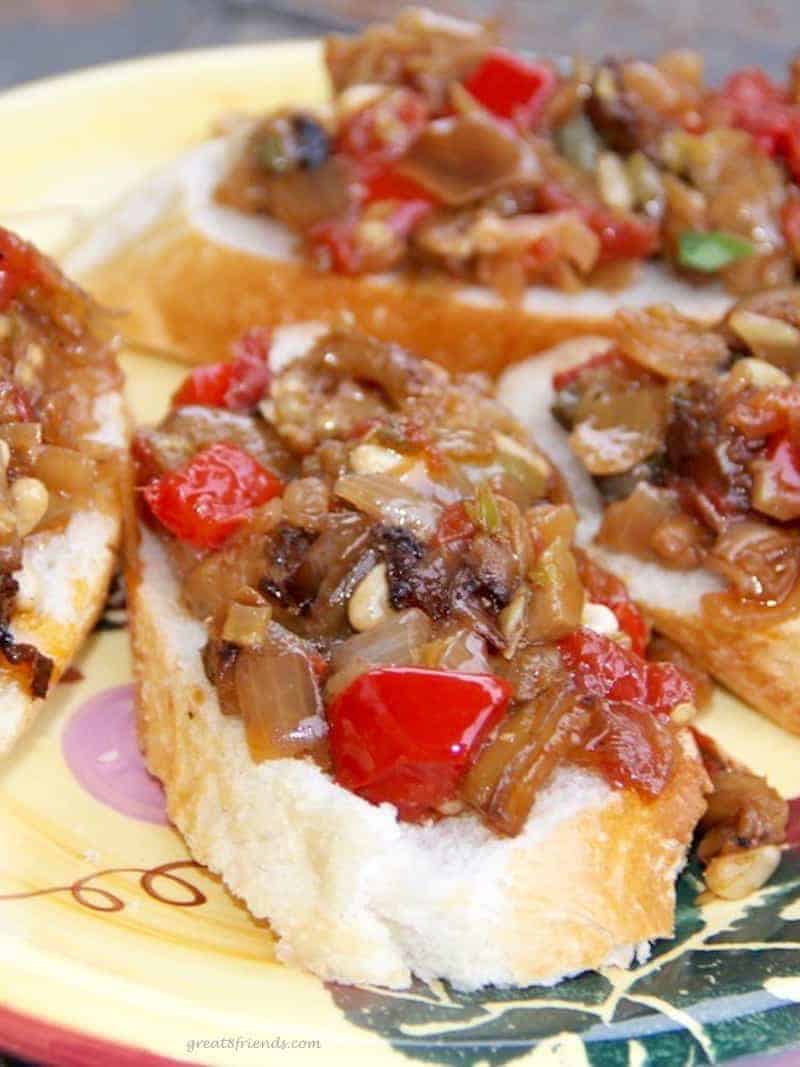 Last published on April 24, 2016.
SaveSave
SaveSave
SaveSave
SaveSave
SaveSave
SaveSave
SaveSave
SaveSave