Matzo balls are traditionally served in chicken soup and are a staple food on the Jewish holiday of Passover. Here at Great 8 Friends, we love Matzo Ball Soup anytime!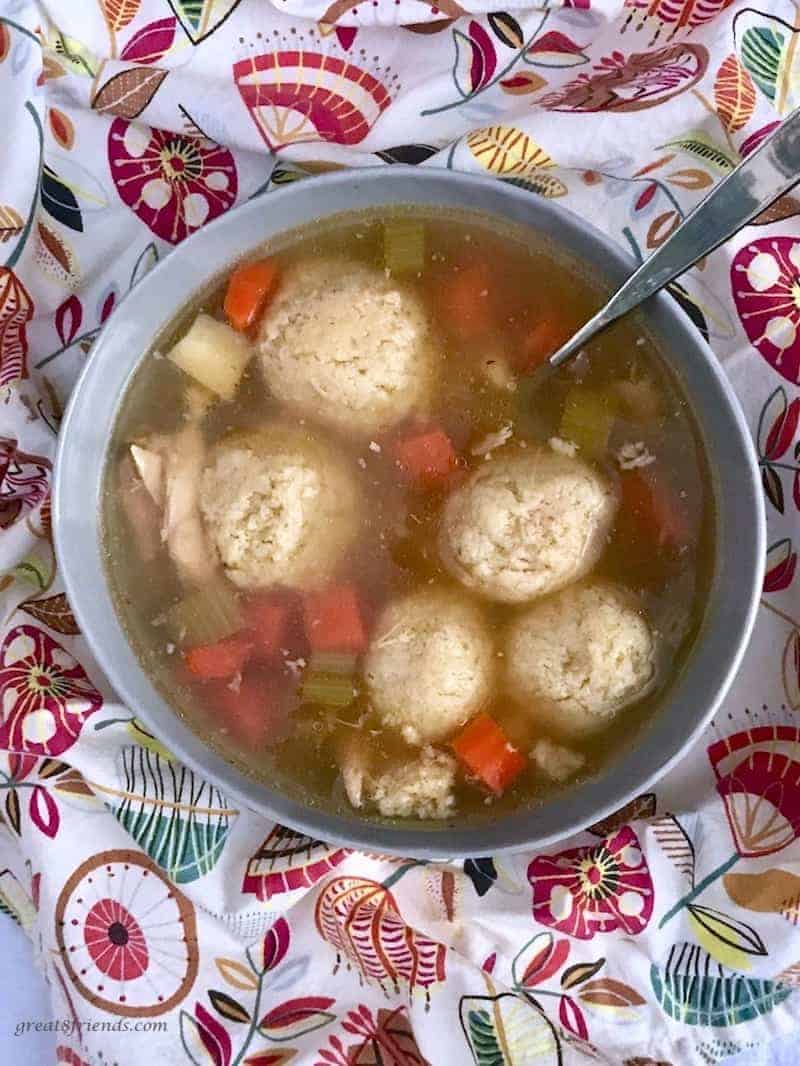 I have been hooked on Matzo Ball Soup since elementary school. It's one of my favorites. The dumplings are fluffy and light, with a simple broth that makes a hearty soup...perfect for all seasons.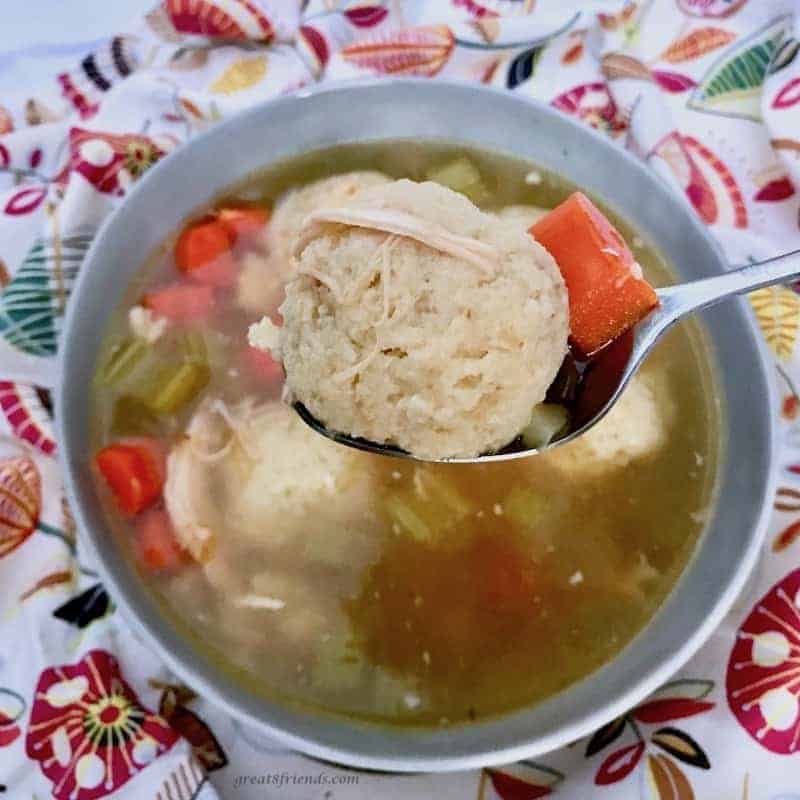 The Best Memories
Spending many overnighters at my friend Lisa Zusman's house, her mom, Marcha would be in the kitchen making her family recipe just as her dad Stanley was coming through the door.
When I knew she was making a batch (and trying not to invite myself!) living just a couple minutes away, I'd be there just as that ladle started pouring it's goodness!
Another time I knew I could count on a dose of this centuries old soup, was at the home of our close family friend's, the Kussin's. This is where my sister's and I learned a few Hebrew prayers and where Sandra, Larry and their four kids invited us to their home every year to celebrate Hanukkah.
I remember their traditions so well, and wish I had spent more time paying attention to Sandra in the kitchen!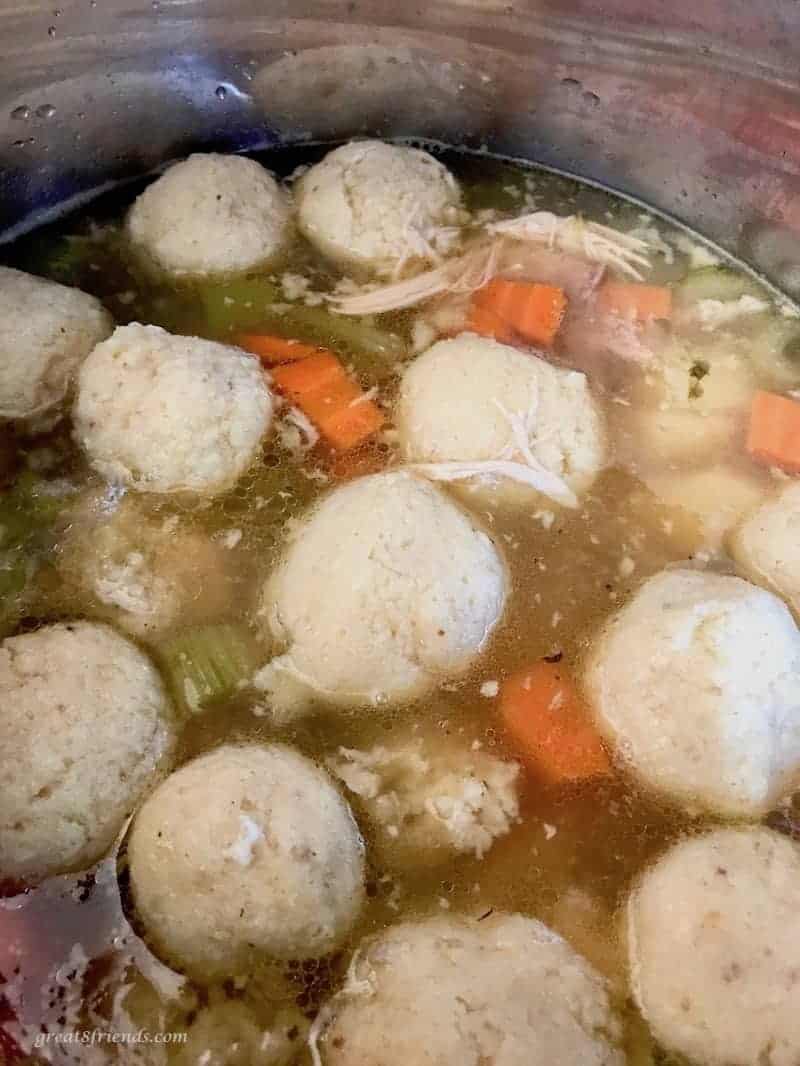 A Delicious Cure
I know what you're thinking, "did this child ever eat at home"....yes I did! I just couldn't resist every opportunity to enjoy this delicious soup that simmered in their kitchens all day! Perfect for what ails you, too!
A late dear friend of ours, Hank Sobel, once made a large batch for me when I had a bad cold...he called it his "penicillin"! He even had it handwritten on the container! On the days where I don't have a whole lot of time on my hands, Anna's Instant Pot Chicken Broth does the trick and is velvety rich and oh so delicious! Gotta love the convenience of the Instant Pot, right?!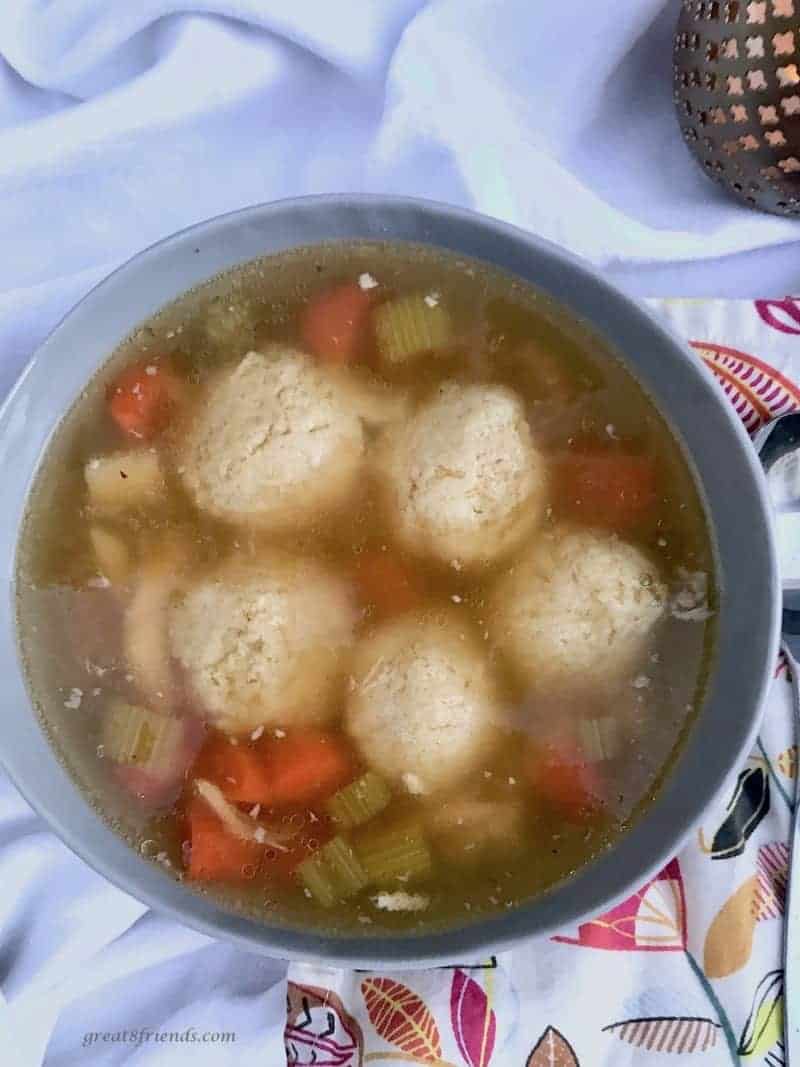 My daughters, all in their 20s, also share my love for Matzo Ball Soup. I happily make it when I know they'll be home. It makes a pretty big pot of soup, so you're sure to have some leftovers.
Don't count on the leftovers sitting around for too long...the light fluffy matzo balls soak up the rich flavor of the broth. And just like most soups, it's even better the next day!
To the Kussins, the Zusmans and sweet Hank in heaven...thank you for the memories! They are some of my favorites! xoxo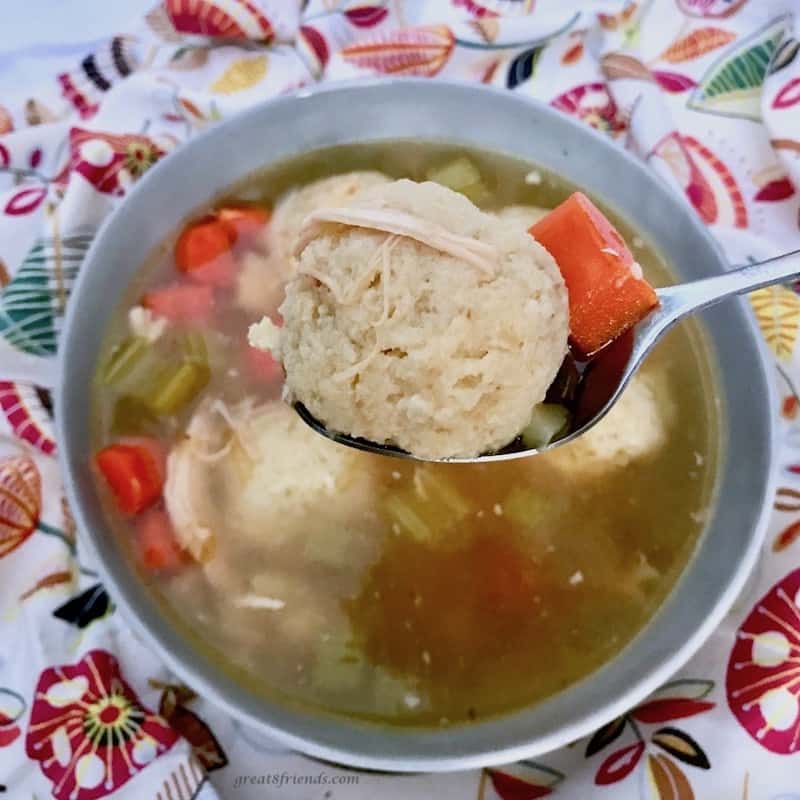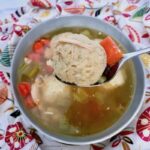 Print Recipe
Pin Recipe
Save this Recipe
Saved!
Please leave a rating!
Matzo Ball Soup
When you need that homemade soup to soothe your ailments and comfort your soul, this will be the recipe that'll do both. Full of flavor with fluffy light matzo balls, it will be even more delicious during the days that follow!
Ingredients
1

6-pound

whole chicken

,

(reserve the fat inside of chicken cavity and cut into small pieces)

8

carrots

,

unpeeled, (about 1 pound), divided

7

medium

parsnips

,

unpeeled, (about 1 pound), divided

2

stalks

celery

,

cut into 2" pieces

1

large

yellow onion

,

coarsley chopped

1

head

garlic

,

outer skin removed, with cloves kept intact. Cut in half crosswise

1

bunch

parsley

,

tied together

2

cubes

chicken bouillon

6

whole

black peppercorns

1

bay leaf

¼

cup

chopped fresh dill, or less depending on personal preference

,

it's one of my favorite flavors in the recipe!

1

teaspoon

lemon zest

1

teaspoon

kosher salt

½

teaspoon

freshly ground black pepper
Ingredients for the Matzo Balls:
Reserved chicken fat from above

vegetable oil

½

cup

selzer water or club soda

,

divided, (seltzer water is preferred)

2 ½

cubes

chicken bouillon

,

divided

4

large

eggs

1 ¼

teaspoons

kosher salt

¼

teaspoon

freshly ground black pepper

1

cup

matzo meal

,

available in the kosher display aisle at most grocery stores
Instructions
Matzo Ball Soup:
Place chicken in a large soup or stock pot over high heat. Add water, enough to cover chicken by 1". Bring water to a boil, skimming top as needed, reduce to medium-low.

While chicken is cooking, cut 4 of the carrots and 3-½ of the parsnips into 2" pieces. Halve the remaining carrots and parsnips lengthwise, then cut them into ½" pieces, set aside.

Add celery, onion, garlic and the reserved larger cut carrots and parsnip pieces to the soup pot.

Continue to simmer for 1 hour, skimming off top foam as needed.

Add the next 4 ingredients (parsley through bay leaf).

Simmer for an additional 30 minutes.

Strain through a fine mesh sieve, reserving the broth and chicken.

Remove the skin from chicken. Discard skin. Shred chicken and set aside.

Return broth to the pot and keep warm over medium heat. Add the remaining 2" pieces of carrots and parsnips. Simmer until all vegetables are almost tender, about 10 minutes.

Add shredded chicken. Heat for 5 minutes.

Add the dill, lemon zest, salt and pepper to the pot.

Cover and remove from heat.

Don't you just love the aromas at this point!? The dill!!! Yum!
Directions for the Matzo Balls:
Meanwhile, in a large skillet over low heat, cook reserved chicken fat, stirring from time to time until melted and begins to brown...about 30 minutes.

Strain fat, and reserve the melted "fat". Discard the solids.

Measure melted fat. I barely had enough so I added enough vegetable oil to equal ⅓ cup. Place in a small pot.

Add ¼ cup seltzer water (or club soda) to the pot with the fat and place over medium heat.

Add 2 bouillon cubes and cook until dissolved, mashing as it softens about 1-2 minutes. Cool for 5 minutes.

Meanwhile in a medium bowl, combine eggs, salt, black pepper, the ¼ cup of remaining seltzer water(or club soda) and the fat.

Add the cooled seltzer mixture and matzo meal, stir thoroughly (be careful not to overdo it...you don't want them heavy and dense!) Cover and refrigerate for at least 30 minutes.

Fill a large skillet with water, mid way up. Add the remaining bouillon cubes. Bring to a boil over high heat. As soon as it comes to a boil, reduce heat to medium.

Keeping hands moistened with water, shape matzo mixture into tablespoon size balls (they'll puff and fluff to a larger size as they cook).

Gently lower them all into the simmering bouillon water mixture.

Cover and simmer for 20-25 minutes until matzo balls are cooked through, and enlarged.

Using a slotted spoon, transfer matzo balls carefully to the soup pot.

Let stand for 10-15 minutes, allowing matzo balls to absorb the soup's flavors.

If made ahead, reheat covered. Serve while hot.
For your Gr8 Shopping Convenience: