Irish Beef Stew is a recipe that cooks all day to deliver a delicious, warm and comforting meal in the evening. The perfect meal to unwind with.
When we think of the foods of Ireland, potatoes come to mind. And I love potatoes! When I was a kid and my mom would make stew all I would eat is the potatoes. Once those cubes had cooked in the gravy for hours they were soaked with all the flavors of the meat and veggies.
This Slow Cooker Irish Beef Stew hits all those yummy notes and textures. It's perfect for St. Patrick's Day or ANY day!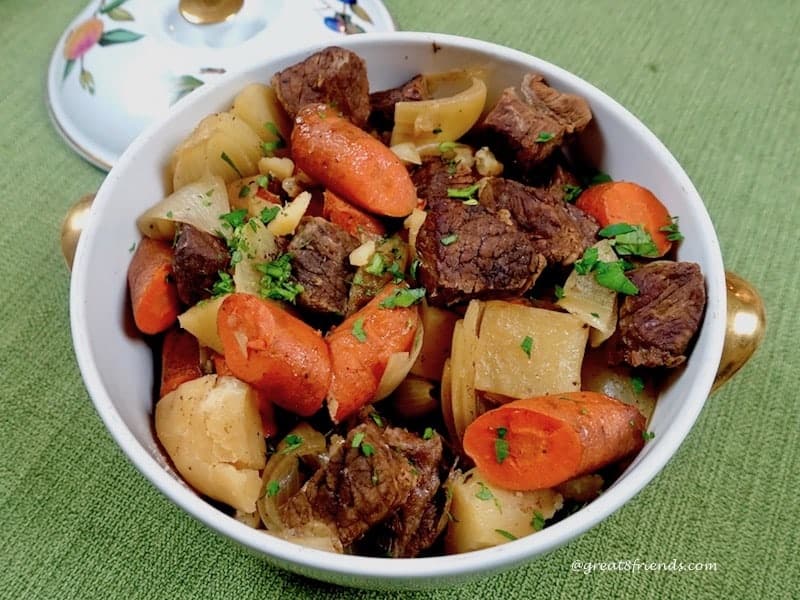 Stews are kind of like snowflakes, no two are alike. Okay, that might be a stretch, but you get the idea! Everyone has their own take and I don't think there is any WRONG way to make a stew.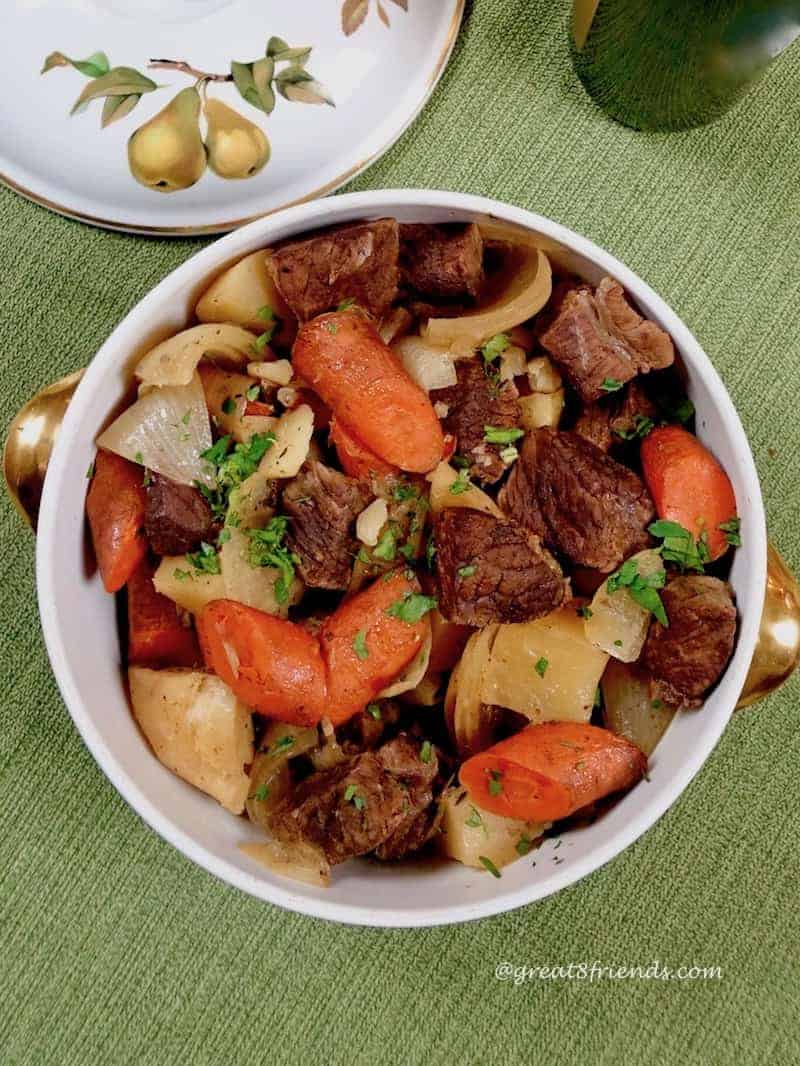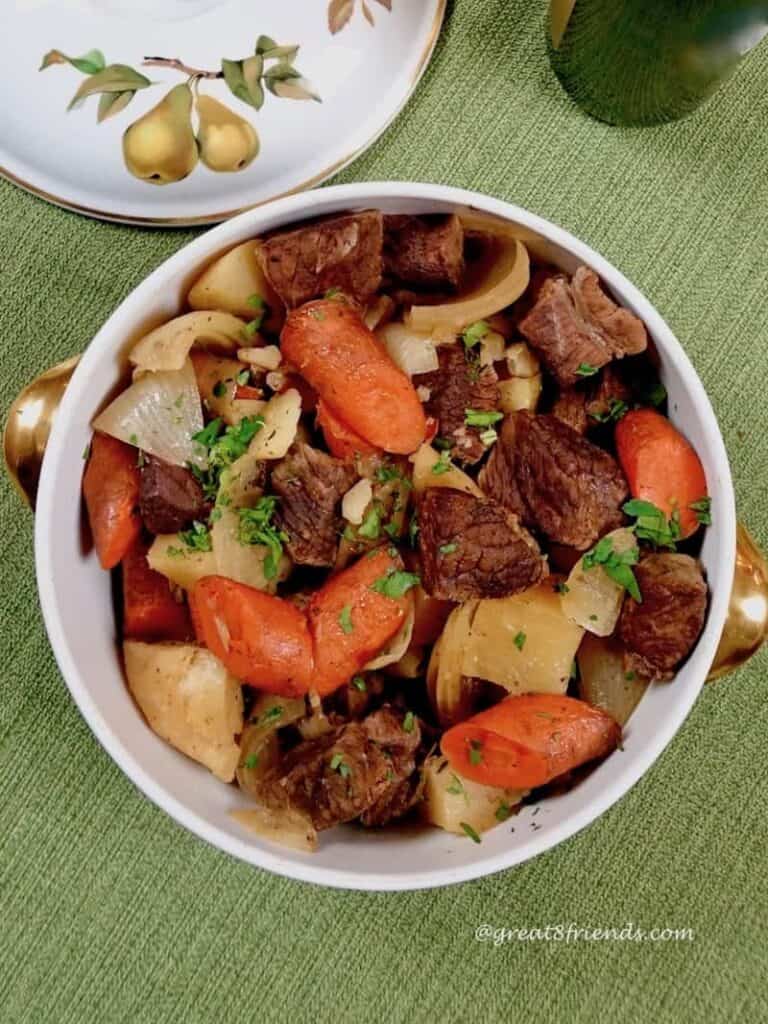 In 19th century Ireland, when food was scarce and meat was even scarcer, people would put their vegetables, usually potatoes and onions into a large cauldron with a small amount of liquid, usually water, and cook over an open fire.
If they were lucky enough to have some meat, it was usually small amounts of tough meat from older animals, they would add that to the pot and cook it for hours until tender. This made a hearty meal that would warm and fill many bellies.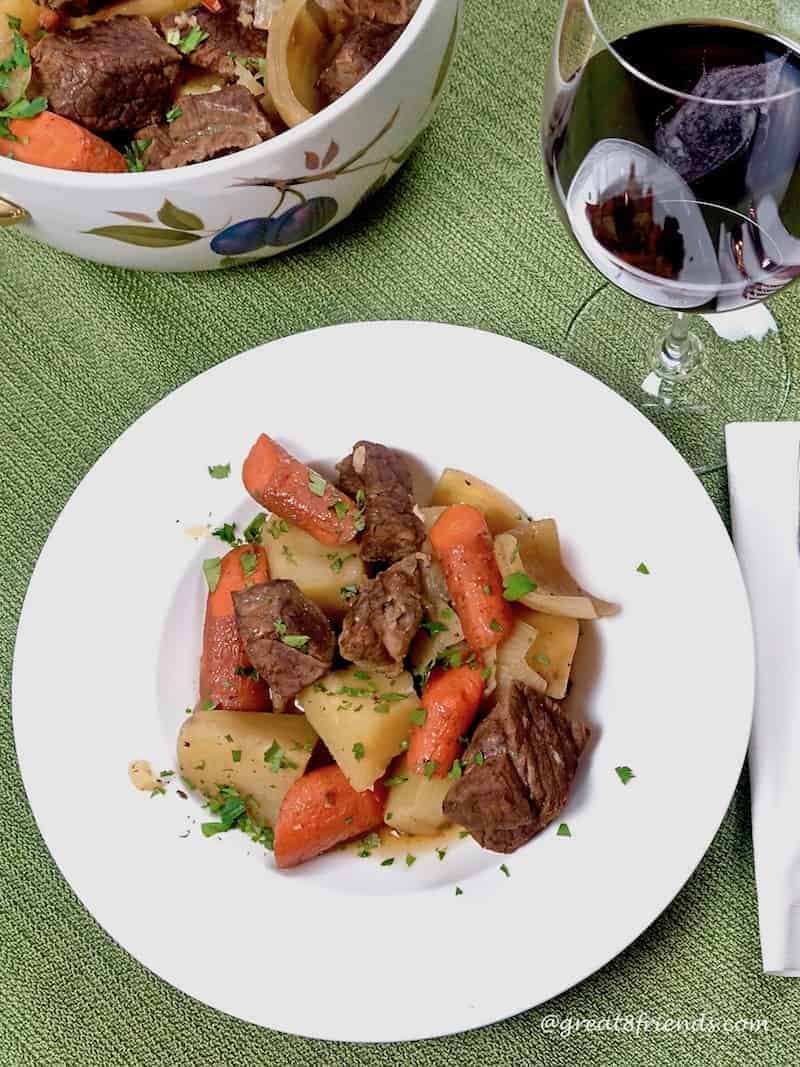 My mom always used her pressure cooker to make stew, it tenderizes and cooks the meat in a very short amount of time. I like to use my slow cooker. Because I can prepare the stew in the morning, forget about it, and have a Gr8 meal that evening.
This post contains affiliate links, which means we may make a commission at no extra cost to you should you click on the link and make a purchase. As an Amazon Associate we earn from qualifying purchases.
Now many people use the Instant Pot. I don't have one yet, but that is my next big kitchen purchase. So whatever method you use, enjoy an Irish Stew, easy enough for a weekday, delicious enough for company!
This Slow Cooker Irish Beef Stew is a peasant meal, nothing fancy; sometimes simple comfort food is the way to go.
Serve this with our easy Irish Soda Bread.
Slow Cooker Irish Beef Stew
This is a simple peasant meal that cooks all day in the slow cooker. Some people add peas at the end for color and flavor. I like a sprinkle of parsley for the fresh flavor it gives to a dish that has cooked all day.

Ingredients
2

pounds

russet potatoes

,

peeled and cut into 1 ½" cubes

1

pound

carrots, about 6 medium

,

cut into 1 ½" to 2" pieces

1

large onion

,

cut in 8 wedges

2

Tablespoons

butter

,

divided

2

Tablespoons

olive oil,

divided

2

pounds

stew beef

,

fat trimmed and cut into 1 ½" cubes

1 ½

cups

beef stock

1

12-ounce can

Guinness beer

1

Tablespoon

balsamic vinegar

2

teaspoons

dried thyme

1

bay leaf

2

teaspoons

salt

1

teaspoon

freshly ground pepper

2

garlic cloves

2

Tablespoons

corn starch,

,

if needed

3

Tablespoons

chopped parsley,

,

to finish the dish
Instructions
Put the potatoes, carrots, and onions into the bottom of a large slow-cooker.


Heat a 12-inch skillet over medium-high heat. (I find my cast-iron skillet works best for browning meat.)


Add 1 Tablespoon each of the butter and olive oil and heat until butter is melted.


Put 1-pound of the beef into the pan and cook until browned and slightly caramelized, this will give your stew and lovely, deep flavor.


Remove the browned beef from the pan with a slotted spoon and put on top of the vegetables in the slow cooker.


Then add the remaining butter and olive oil to the pan and repeat the browning process with the rest of the meat. When this 2nd batch is finished browning, put the beef into the slow cooker and pour the drippings in on top.


Add the stock, beer, vinegar, thyme, bay leaf, salt and pepper to the slow cooker.


With the side of a wide knife or mallet, smash the garlic cloves and throw them into the mixture.


Cook on high for 5 hours or low for 8 to 9 hours.


When the beef is tender, if the gravy hasn't thickened to your liking, remove the meat and veggies to a bowl. Turn the slow cooker to high and whisk the corn starch into the gravy. Whisk occasionally, until thickened.


Liberally sprinkle the fresh chopped parsley over the top just before serving. This adds a gr8 fresh taste to the stew that has been cooking all day.

Notes
Gr8 Do Ahead Tips:
This dish can be made the day before and reheated on your stove-top or in the microwave.
I have frozen mine in a freezer bag. It reheats okay, but the potatoes are a little mealy. This stew is definitely better before being frozen.