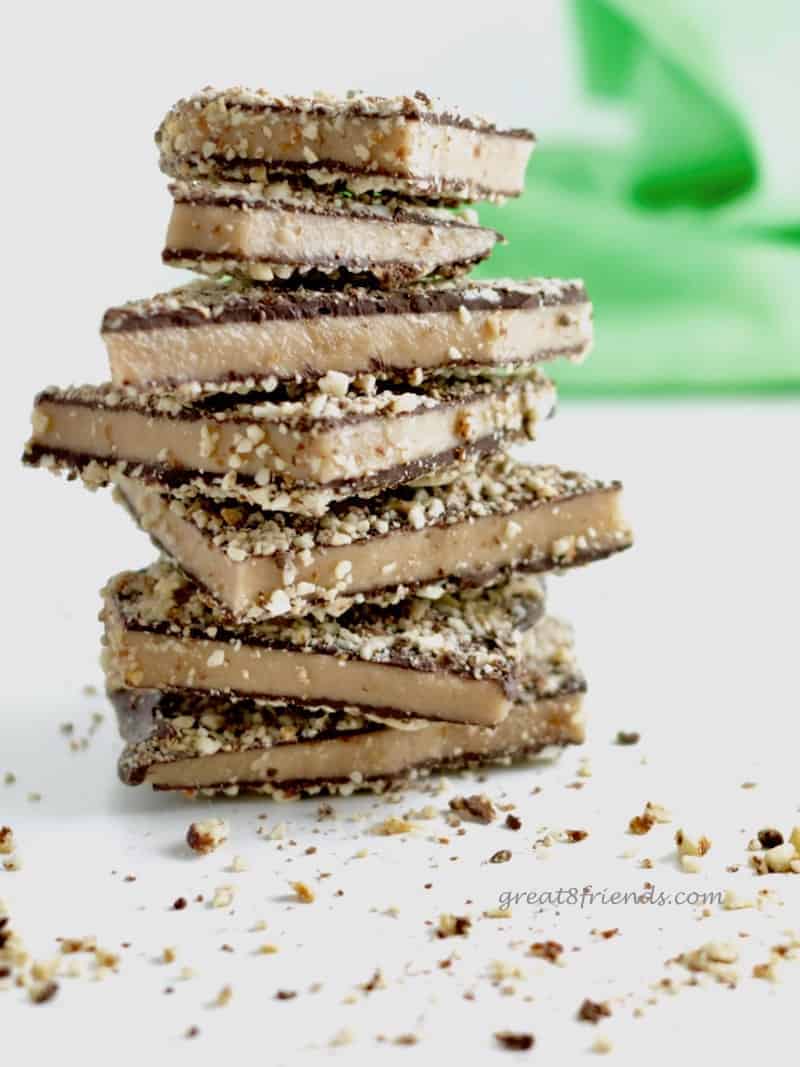 Every Christmas season I make pounds and pounds of this toffee for my family, friends and neighbors. The recipe is quite easy and delicious! The only tricky part can be the caramelization process.
Many toffee recipes don't require the use of a candy thermometer, but I wouldn't dream of making mine without one. It comes out perfectly every time! I use a digital candy thermometer
. The key is to keep the heat at the same temperature while continually stirring the toffee.
Sugar, butter and chocolate! Who needs anything more??
English Toffee
Delicious, crunchy, chocolatey, English Toffee with Toasted Almonds. Wow your friends and family with this easy to make treat!
Ingredients
Special Equipment
2

15"x10"x1" baking pans

candy thermometer

long wooden spoon
Ingredients
3

sticks

salted butter

1 1/2

cups

granulated sugar

2

cups

semi-sweet chocolate, grated

,

or milk and semi-sweet chocolate chips, finely chopped and divided (I like to use a mix of milk and semi-sweet chocolate.)

2

cups

chopped or sliced almonds,

,

toasted and divided

Finishing salt

,

(I used Maldon Sea Salt)
Instructions
Have all your ingredients measured and set out before you start the recipe.

In a heavy 2-quart saucepan, add sugar and butter.

Place the candy thermometer in the pan.

Melt the butter and sugar over medium-high heat, stirring constantly. Do not adjust the heat.

Stir mixture until the caramel turns an almond brown color and thermometer reaches 300ºF (hard-crack stage), about 20-25 minutes.

Immediately pour toffee mixture into one baking pan spreading an even layer to the desired thickness.

Sprinkle one cup of the grated chocolate over the toffee.

Allow the chocolate to sit for a minute or two; it will soften from the heat of the candy. Then, using a small spatula, spread over the toffee into a thin layer.

Sprinkle the nuts over the chocolate, as thick or as light as you desire. With your fingers, press lightly on the nuts to make sure they stick into the chocolate. Either greasing your hands or using a plastic bag as a "glove" will make this step easier.

Sprinkle lightly with the sea salt.

Place the baking pan in the refrigerator until set.

When set, remove the baking pan from the refrigerator and let it sit out until it reaches room temperature.

Place the other baking pan over the toffee pan and holding pans together firmly, flip the tray over. You are now ready to spread another layer of chocolate and nuts on that side.

Wipe the surface of the candy with a paper towel and allow to dry.

In a microwave, melt the remaining chocolate on 50% power for 2-3 minutes. Stir until all chocolate is completely melted. Time will vary depending on your microwave. Do not overcook.

Spread the melted chocolate onto the firm toffee and add the remaining nuts and salt, as in Step 9.

Refrigerate toffee until firm.

Remove the pan and then break the toffee into bite-size pieces.

Store in an airtight container in the refrigerator.
Notes
Gr8 Tip:
If your toffee separates during cooking, carefully and slowly add 1/4 cup HOT water, 1 Tablespoon at a time. Stir constantly until mixture goes back together.
Gr8 Do Ahead Tip:
Homemade toffee should keep for at least 3 months in the refrigerator if stored in an airtight container. However, there is an argument here for keeping it longer.
Gr8 Gift Idea:
This toffee makes one of the best gifts! Just wrap it up in a cute container or cellophane bag ... your friends will always ask for more!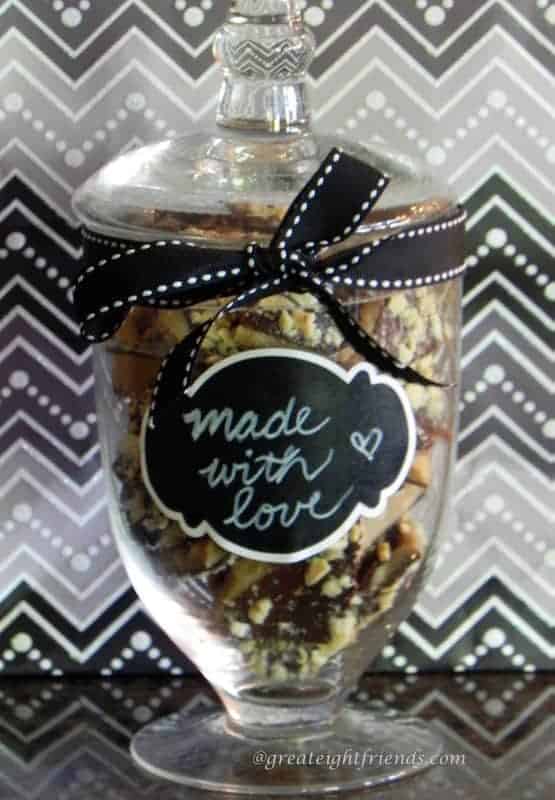 sm 12/10/18