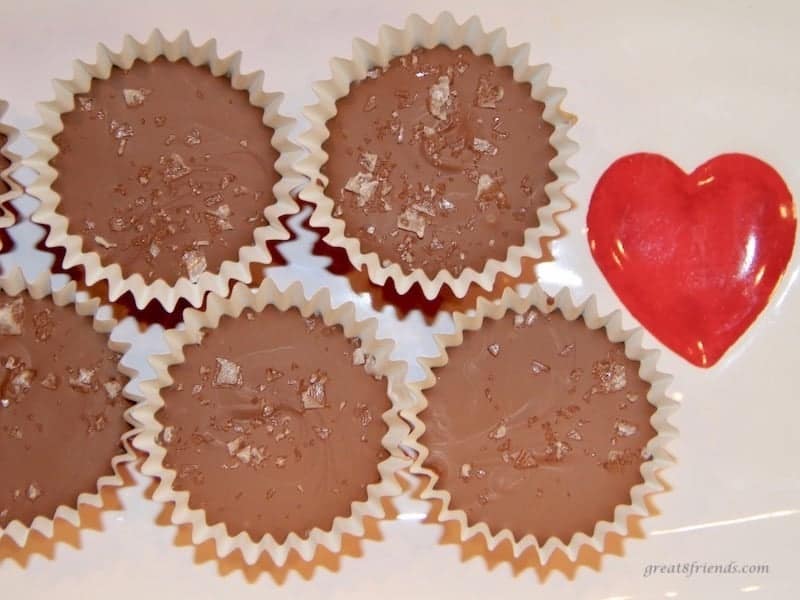 These homemade chocolate peanut butter cups are an easy, no-fuss candy to make and one that we are all so familiar with. Customize them in a way you like best.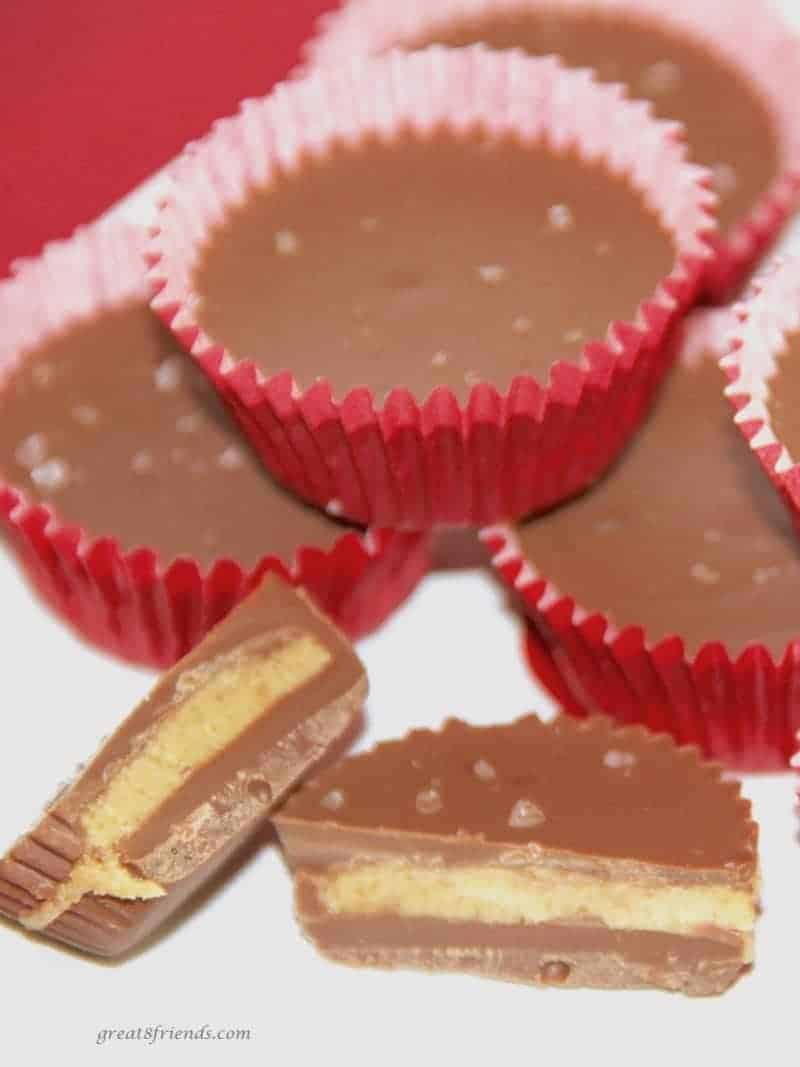 I like to use a natural peanut butter and milk chocolate (my favorite), or dark chocolate, or even white chocolate. Sprinkle the top of the peanut butter cup with sea salt or colorful sprinkles.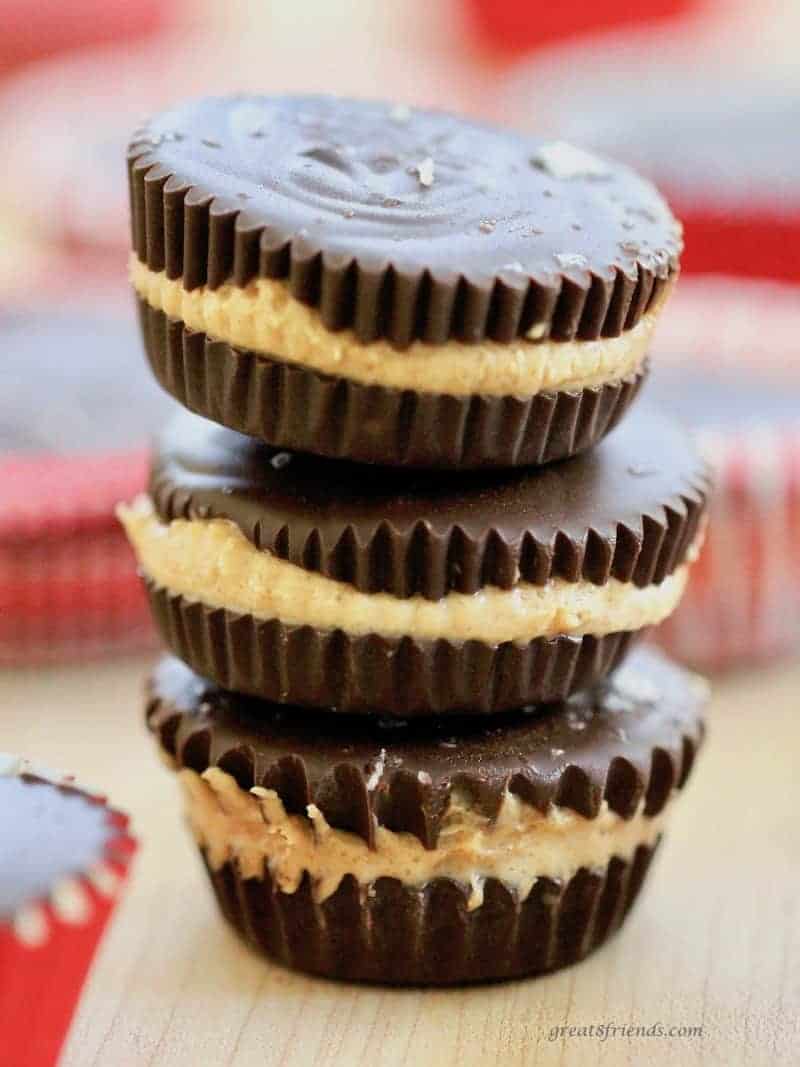 These would be a Gr8 sweet for your sweet on Valentine's Day or any day and can be made up to two weeks ahead of time. Enjoy!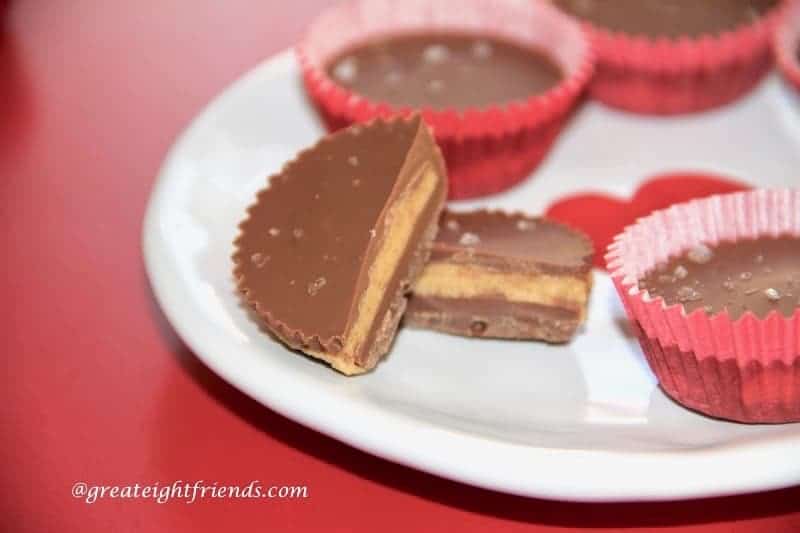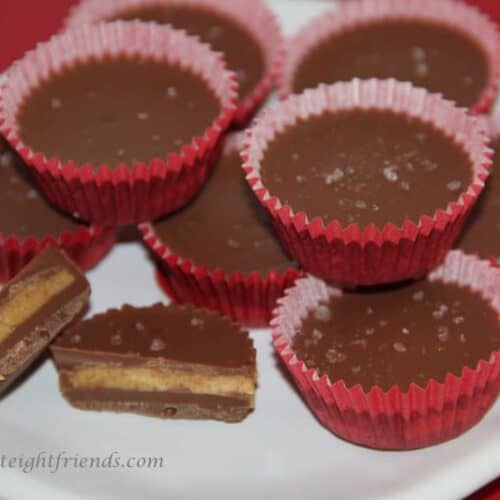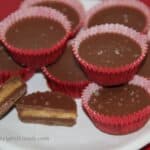 Print Recipe
Pin Recipe
Save this Recipe
Saved!
Please leave a rating!
Homemade Chocolate Peanut Butter Cups
With only a few ingredients, you can make homemade peanut butter cups from scratch! Combine peanut butter and chocolate you can enjoy this sweet treat!
Ingredients
1

cup

creamy peanut butter

,

(if you use unsalted peanut butter then add ½ teaspoon of coarse sea salt to the peanut butter mixture)

4

Tablespoons

unsalted butter

,

softened

⅓

cup

light brown sugar

¾

cup

powdered sugar

32

ounces

chocolate

Coarse sea salt for sprinkling

mini-muffin wrappers
Instructions
Mix together peanut butter, butter, and sugars in a bowl.

Roughly chop chocolate.

Melt chocolate in a heavy bottomed saucepan over low heat on the stovetop or melt in the microwave in 30-second increments, stirring in between.

Line a mini-muffin tin with paper liners or arrange the wrappers on a baking sheet.

Transfer half of the chocolate to a heatproof measuring cup with a pour spout. I used this nifty candy funnel found on Amazon (see below).

Pour just enough chocolate into each wrapper to fill the bottom about ⅛ inch.

When all of the cups are filled, gently lift and drop the tray a few times to flatten out the chocolate.

Place in the refrigerator to chill for about 10 minutes.

While the chocolate is chilling, transfer the peanut butter mixture into a piping bag or plastic bag with a small bit of the corner cut off.

Remove the chilled chocolate from the fridge.

Squeeze about a teaspoon of the peanut butter mixture in the center of each chocolate candy.

Using the tip of your finger, press the peanut butter mixture down to flatten a bit. You can press it all the way to the edge of the wrapper or leave a small space between the mixture and the wrapper that will fill with chocolate. (Moisten your finger with water so that it doesn't stick to the peanut butter.)

Transfer the rest of the chocolate into a heatproof measuring cup with a spout or a candy funnel. (If the chocolate is not as warm/pourable as you would like, reheat it for a moment or two on the stove top, or for 10-15 seconds in the microwave).

Pour the chocolate into the cupcake wrappers until the peanut butter is just covered.

Once all are covered with chocolate, gently lift and drop the tray several times to even out the chocolate.

Sprinkle the tops with course sea salt.

Chill for 30 minutes.

Serve straight from the fridge or let them soften for 5 minutes before serving.
Notes
Gr8 Tip:
Peanut Butter Cups can be stored in an air tight container in the refrigerator for 2 weeks or in the freezer for 1 month.  Bring to room temperature before serving.
Gr8 Gift Idea:
These would make a wonderful gift for anyone young or old!