Spaghetti and Meatballs is a classic Italian dish perfect as a make ahead meal for company or family! These meatballs are tender, juicy and oh so tasty!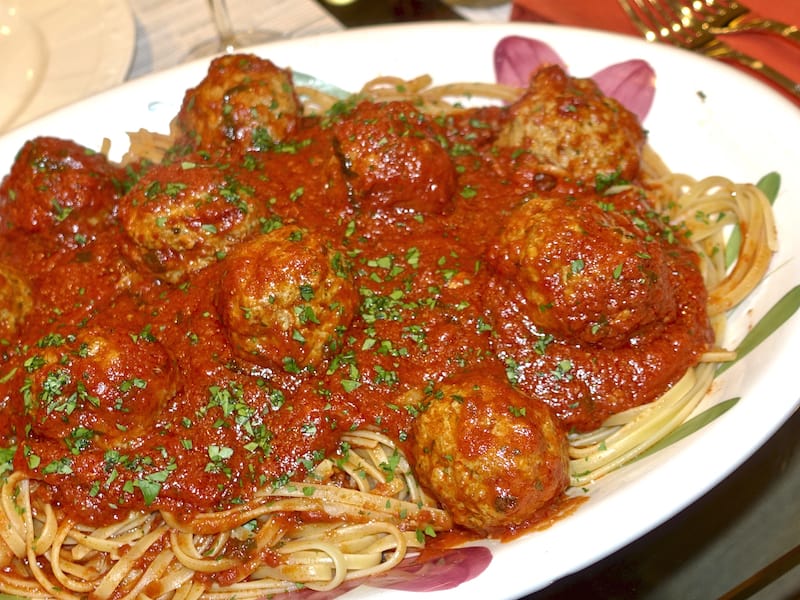 There is nothing like homemade meatballs. In Italian homes store-bought meatballs are almost sacrilegious. This recipe is from my Italian mother-in-law, (Also named Anna) she is really Italian, born in Naples...you can't get much more authentic than that!
The beautiful thing about Spaghetti and Meatballs is that you can make a large quantity of these delicious orbs of meaty goodness and freeze some for future use. It is very easy to double this recipe.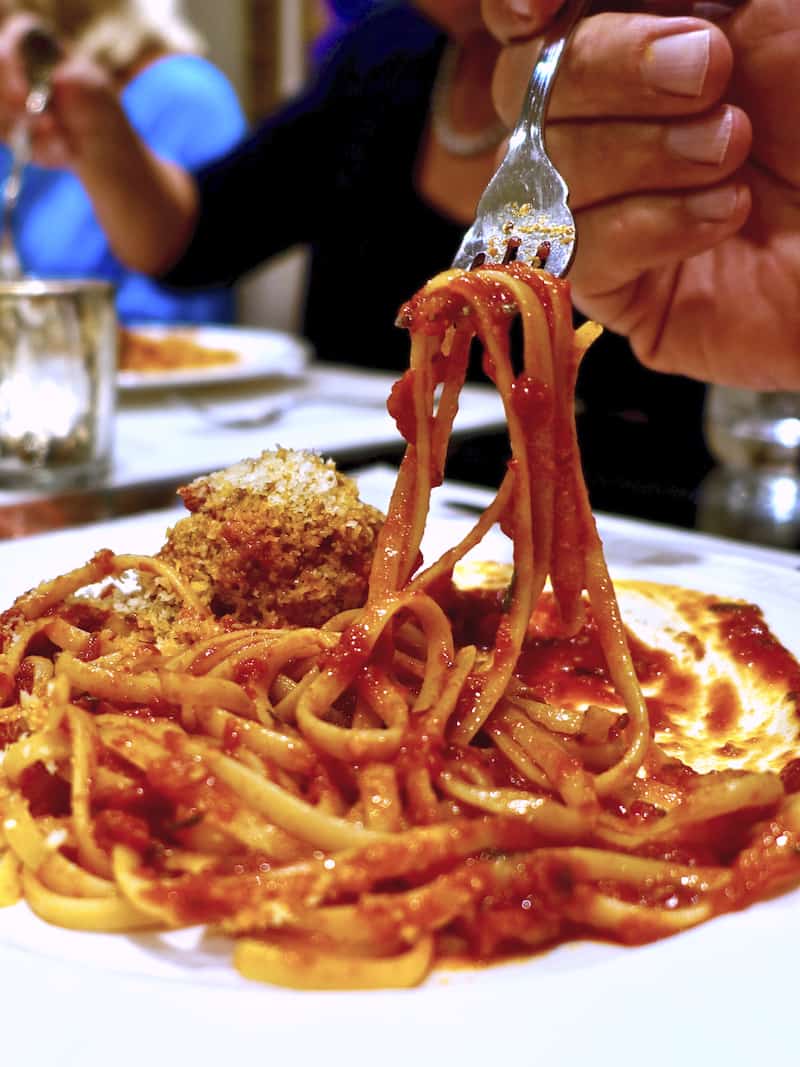 Also, if you don't eat beef, you can substitute just about any ground meat or sausage that you prefer. The flavors will be different, but you will still have a delicious meatball!
What Kind of Meat is Used in Meatballs?
The classic meat mixture is equal parts of ground beef, pork, and veal. However, I have made turkey meatballs, using equal parts of ground turkey and turkey Italian sausage, removed from the casings.
If using turkey, try to use turkey meat that is mixed, not just ground turkey breast. Otherwise, you will need to add more oil since turkey breast has very little fat. You could also add pork to this mixture.
Feel free to experiment with different meats. You could also use ground chicken and chicken sausage.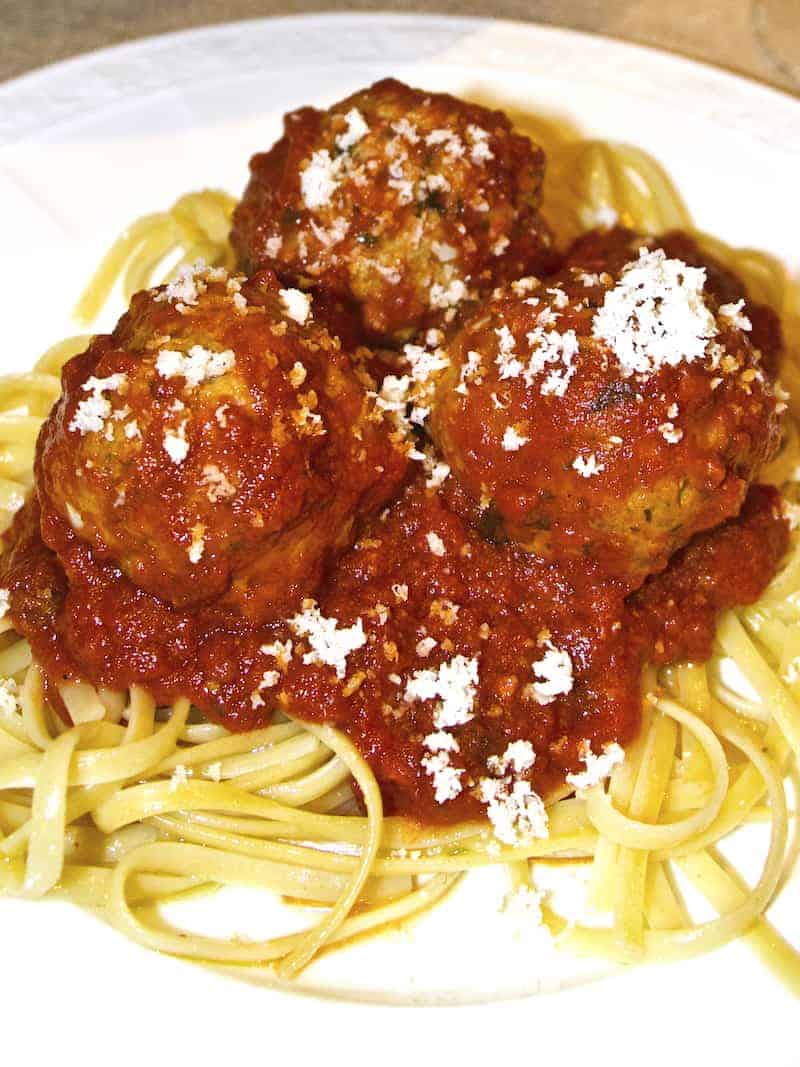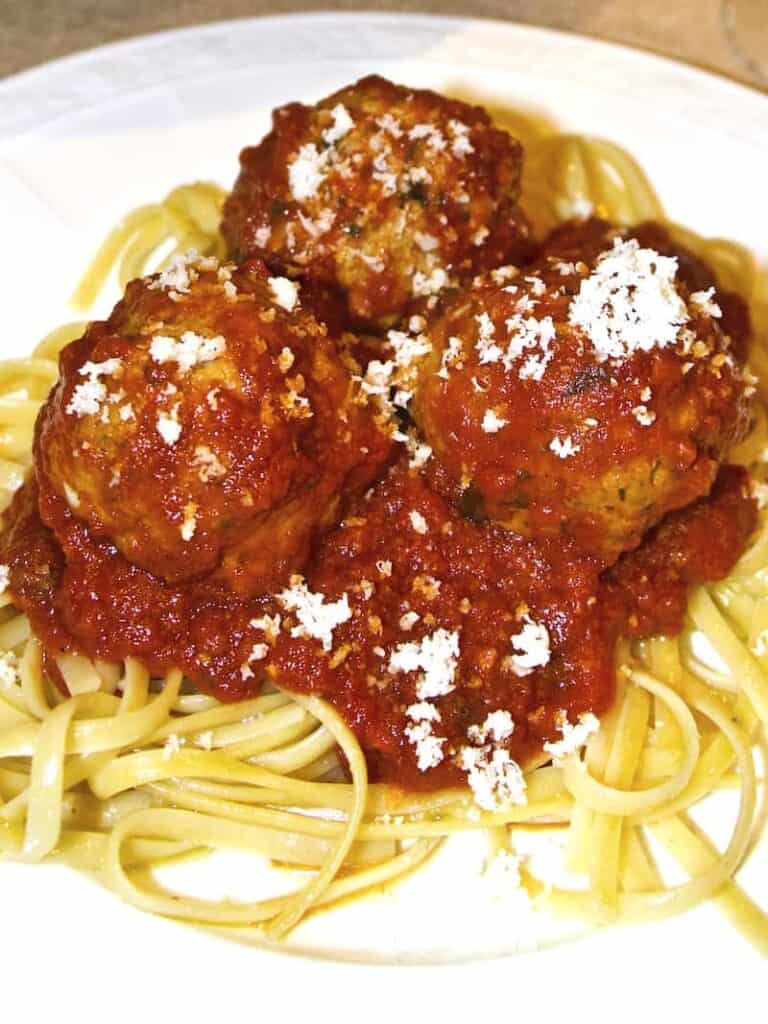 How to Make Spaghetti & Meatballs
Take the ground meats out of the refrigerator when you start assembling the ingredients and grating the cheese, etc., otherwise they are REALLY cold when you start mixing.
Put the meats, garlic, parsley, cheese, bread crumbs, salt, pepper, and egg into a large bowl and mix well. Some people do this with a wooden spoon, I like to use my hands to really get all the ingredients squished together and well mixed.
Once everything is well incorporated, add ¼ cup of water and mix well. Continue adding water, a couple tablespoons at a time, until the texture of the mixture is tender. It should be as tender as you would like when you bite into the meatballs.
Roll the mixture into 16 meatballs. They will be about 2" in diameter each.
Before I start cooking the meatballs, I always cook just one. Then I taste it and decide if it needs more cheese or more garlic or salt or pepper, or.... If it's perfect, the whole lot gets cooked. If something needs to be added, I add it, then cook another and taste that one. This way you get a perfect batch every time.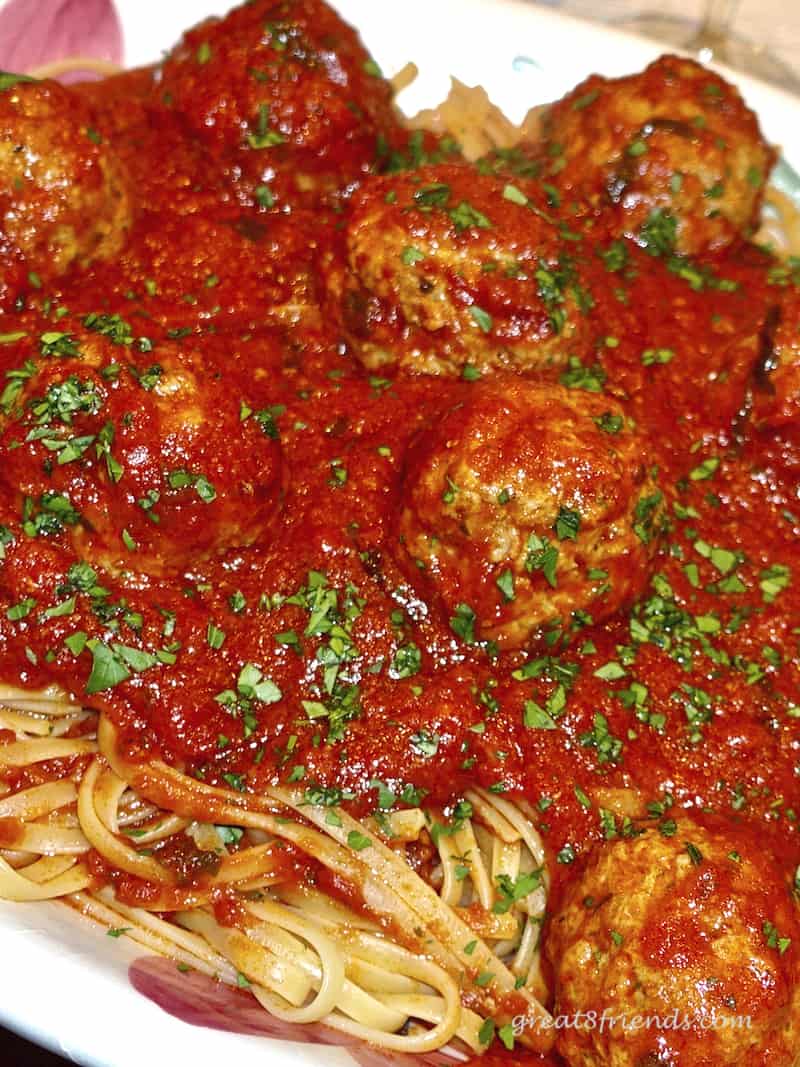 How to Cook Meatballs
There are three FOUR acceptable ways to cook meatballs -- frying, roasting, or in the sauce, or in the air fryer.
Frying Meatballs
This is the classic method. Heat a large frying pan (12" to 14", we prefer cast iron) over medium-high heat, add oil and heat until it shimmers. Add meatballs to the pan, keeping about an inch and a half apart, don't crowd them.
Fry the meatballs slowly so that they brown and cook through at the same time. You may need to adjust your heat under the pan occasionally.
If you prefer, you can just brown the meatballs and then put them in the red sauce as it cooks to finish them. This gives the sauce a wonderful deep flavor.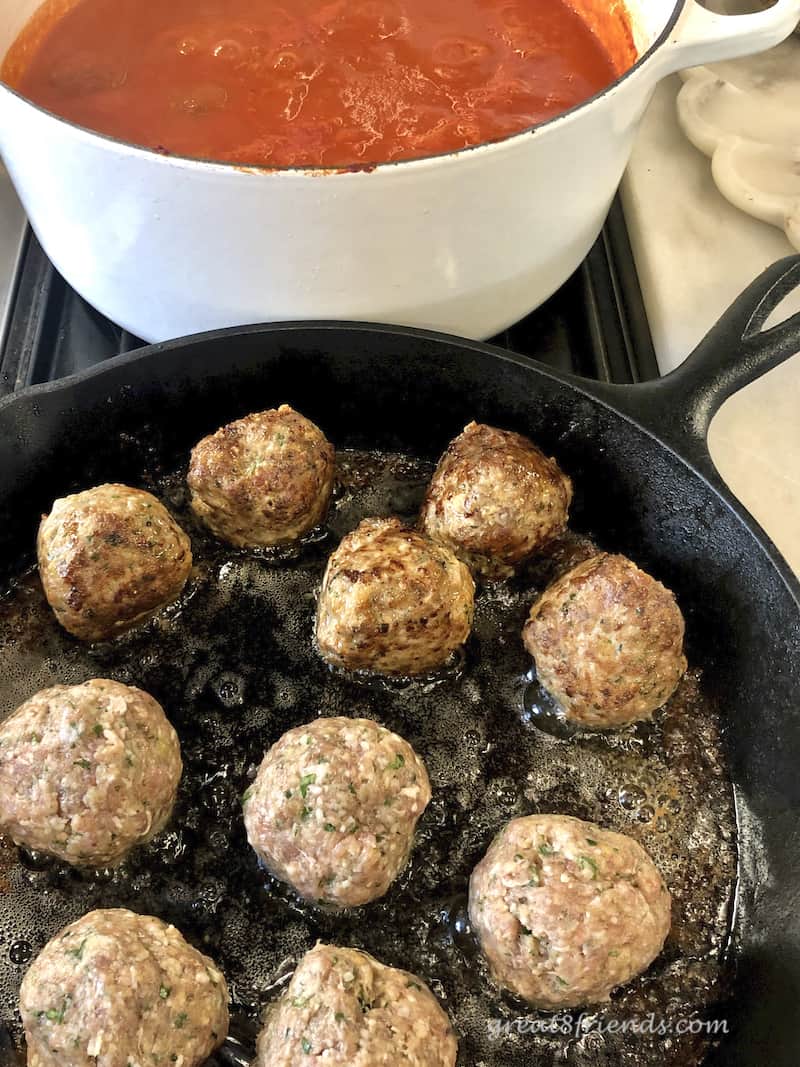 Roasting Meatballs
Heat the oven to 400º F. Oil a baking sheet and place the meatballs about 2" apart. Bake for 25 to 30 minutes turning halfway through cooking. Remove from the oven when they are cooked through.
Cooking Meatballs in the Sauce
This is the easiest way to cook the meatballs. It's also is the best way to give the sauce a wonderful depth of flavor. Just drop the raw meatballs directly into the simmering sauce, they should be cooked through within about 20 minutes.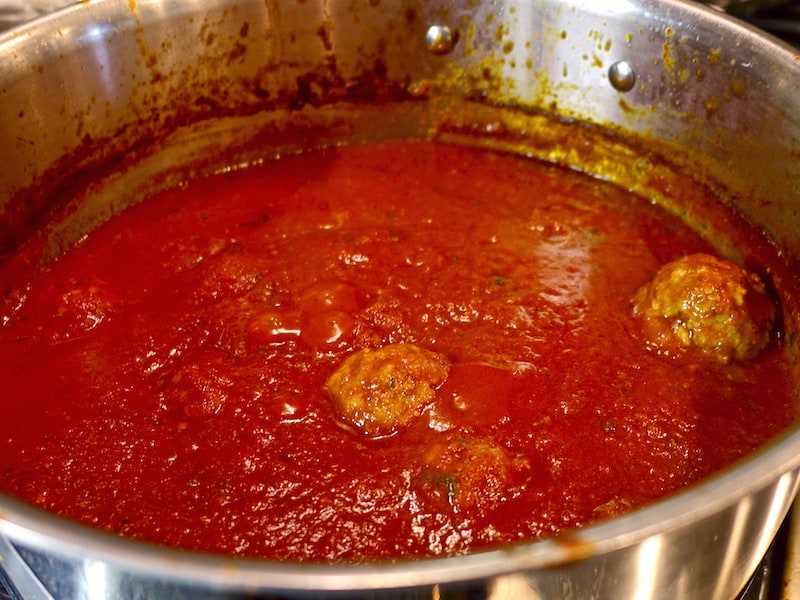 Whichever way you decide to cook these orbs of deliciousness, always break one open to ensure that the meat has cooked through.
Air Frying
This is a game changer! My husband gets the same texture as if the meatballs are fried in the classical way, but without the added oil.
Simply place the meatballs in the air fryer basket at least 1" apart. Then air fry at 400ºF for 8 minutes. Turn the meatballs over and cook an additional 3 - 4 minutes or until cooked through.
My air fryer is a function on my Cuisinart Toaster Oven. It's possible that other air fryers act differently. So, you may have to experiment a bit with timing and temperature.
I still like to cook some of the meatballs in the sauce, just to impart some of that nice rich meaty flavor.
How to Make Homemade Pasta
If you want to make your own pasta, you can find out how Nonna Anna does it here!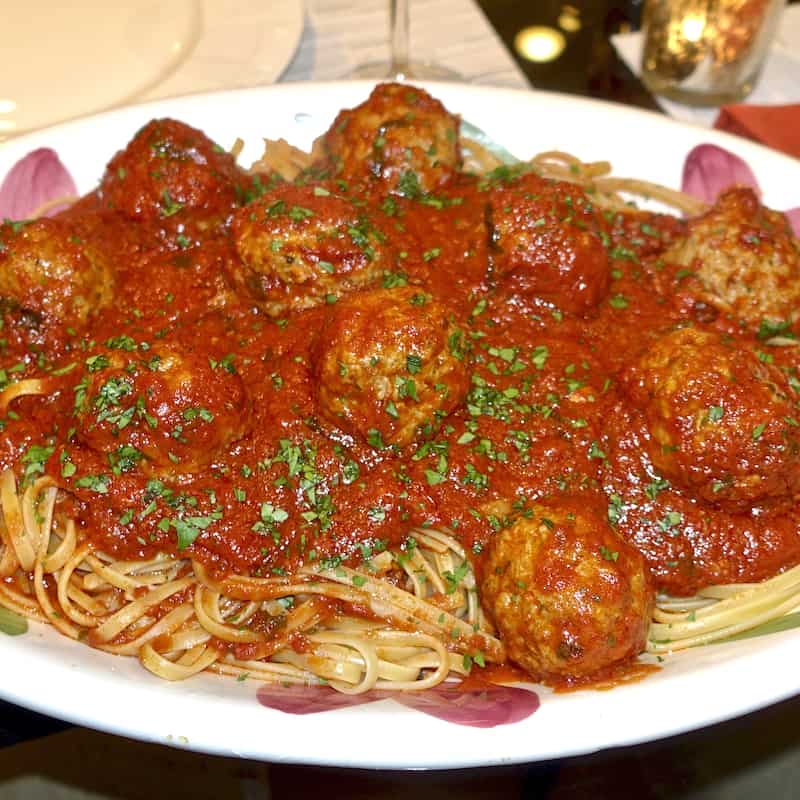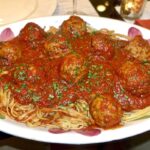 Print Recipe
Pin Recipe
Save this Recipe
Saved!
Please leave a rating!
Spaghetti and Meatballs
This recipe makes a good, basic tomato sauce. You can add other things if you like, such as mushrooms, hot pepper flakes, red wine, etc.
Don't be put off by the length of the recipe. It is long because I have included 3 different ways of cooking the meatballs. Mangia!
Ingredients
Sauce:
3

Tablespoons

extra-virgin olive oil,

Nonna Anna's Rule of Thumb: Use 1 Tablespoon olive oil per can of tomatoes

4

large

cloves garlic

,

crushed

3

28-ounce cans

whole peeled tomatoes

8

large

basil leaves

Salt and freshly ground pepper to taste

2 - 3

Tablespoons

sliced basil

,

for garnish
Meatballs:
1-½

pounds

meat - ½# lean ground beef, ½# ground pork, ½# ground veal

,

(you can substitute Italian sausage, casings removed; ground turkey, ground chicken, etc. depending on your desire)

4

cloves

garlic

,

minced

½

cup

minced parsley

2-3

ounces

finely grated Parmesan cheese

,

about ½ cup

¾

cup

bread crumbs

2

teaspoons

salt

¾

teaspoon

freshly ground pepper

1

egg

½ to 1

cup

Water
Instructions
Directions for Sauce:
Put the tomatoes through a food mill or purée in a blender.

Heat oil in dutch oven over medium heat.

Add garlic and cook, do not brown, about 4 minutes, until fragrant.

Add the tomatoes to the garlic and oil.

Tear up the 8 basil leaves into small pieces and drop them in the sauce.

Turn the heat to medium-high and bring to a boil.

Reduce heat to low and simmer for 1 ½ to 2 hours until thickened. Stir occasionally.

If cooking the meatballs in the sauce, you can start once the sauce has cooked for about 30 minutes.

Taste and add salt and pepper as desired.

Serve over pasta and garnish with sliced basil leaves.
Meatballs:
In a large bowl mix the meats, garlic, parsley, cheese, bread crumbs, salt, pepper and egg. I prefer to use my hands, you can use a wooden spoon, but it will take longer. Make sure everything is well incorporated.

Start adding water, about ¼ cup at a time and mix after each addition. Once the meat mixture is the texture you want your meatballs to be when you bite into them, stop adding the water.

Make one meatball, 2", about 2 ounces of meat.

Cook this first meatball by your preferred method (below).

Once fully cooked, TASTE - this is the most IMPORTANT part of making these little nuggets of tender goodness!

Is there enough salt? Pepper? Cheese? Any flavor that needs to be amped up can be added to your meat mixture at this time. Also make sure they are tender enough, there's time to add a bit more water to the mix!

After the seasonings are adjusted to your liking, roll the remainder of the meat into 2" balls.

Then cook, using your preferred method.
Cook in the Sauce, this yields a tender meatball AND gives the sauce a deeper flavor AND it is easier to keep the meatballs round. (My preference)
Drop half the meatballs into the simmering sauce. (About 8 meatballs)

Occasionally stir gently.

They should be fully cooked in about 15 minutes.

Remove the first batch and then cook the 2nd batch.
Frying (Vince's preference)
Heat about 2 Tablespoons oil in a medium size frying pan

Place 8 meatballs in the pan and turn occasionally until browned and cooked all the way through.

Be sure not to crowd them in the pan or they will steam instead of brown.

Remove to paper towels to drain then fry the second batch.

If desired, add cooked meatballs to the sauce.
Bake in Oven (A good and healthy alternative to cook a large quantity at once.)
Spray a baking sheet with olive oil or non-stick cooking spray.

Place the meatballs on the prepared baking sheet with about 2" inches between each meatball.

Bake for 25-30 minutes until cooked through.

If desired, add cooked meatballs to the sauce.
Air Fry!! I've started using my air fryer to cook the meatballs! You get the same crispy exterior without the added oil.
Place in the air fryer basket keeping meatballs at least 1" apart.

Cook at 400ºF for 8 minutes. Then turn the meatballs and cook for an additional 3 - 4 minutes. Check to ensure they are cooked through. I'm not sure how different appliances act. My air fryer is a feature of my Cuisinart Toaster Oven.
Notes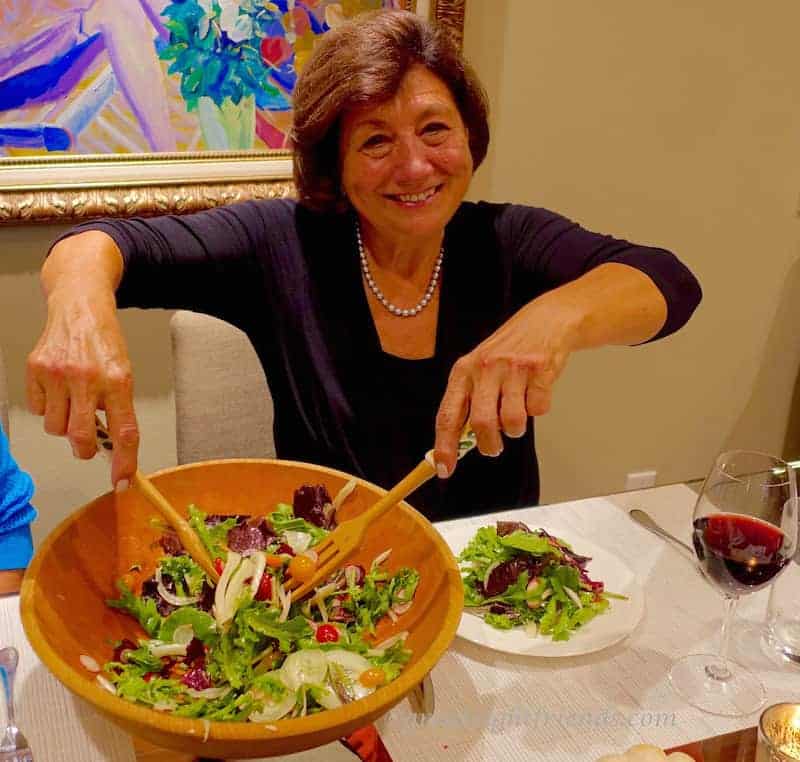 Boil up some spaghetti or linguine noodles, make a big green salad, serve a delicious Italian red wine, and light a couple candles...you may think you are in Italy!
Gr8 Do-Ahead Tips:
After cooking the meatballs:
If refrigerating, you can make them 2 days ahead, seal in a container separate from the sauce, then re-warm in the sauce.
If freezing, meatballs will keep in an airtight container for 3 months. Defrost in the refrigerator overnight, then warm up in the sauce.
Sauce:
Completely cool the sauce down and pour into airtight containers.
Sauce can be frozen, separate from the meatballs, for up to 4 months.
You can defrost in the refrigerator or just put it in a pan and defrost over low heat, stirring occasionally so as not to scorch the bottom.