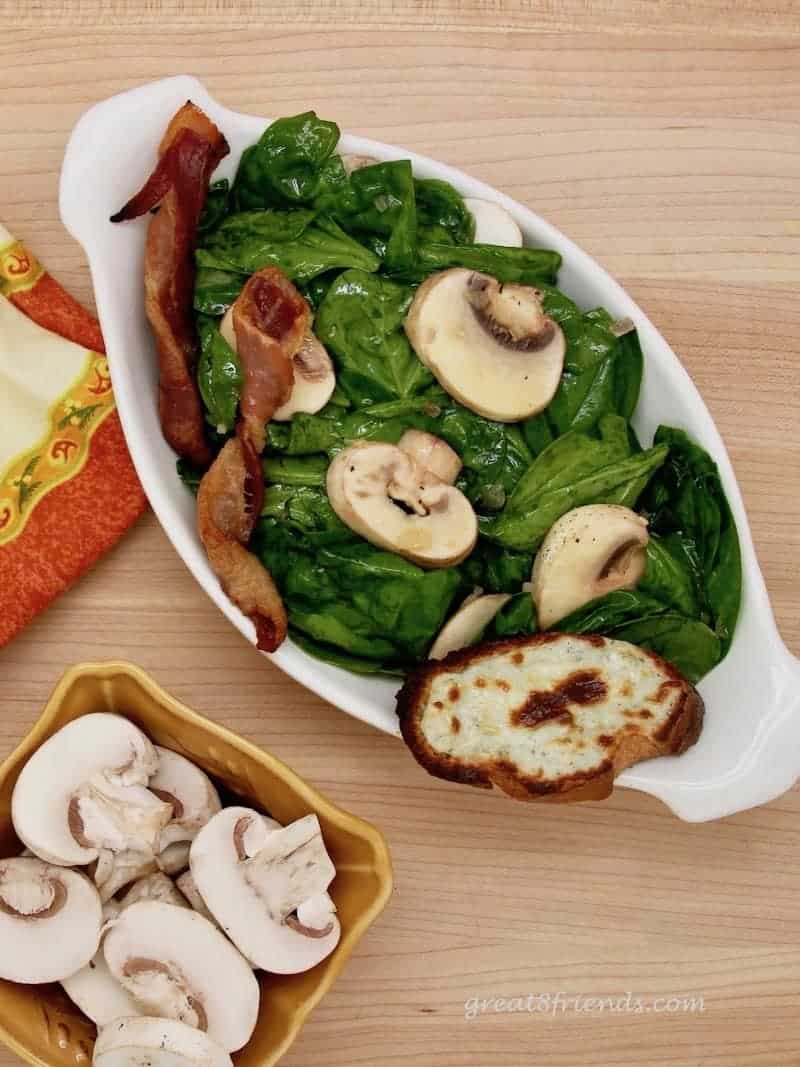 This Bacon Twists in Spinach Salad harkens back to the "Olden Days" (the 50s and 60s) when the most popular way to serve a spinach salad was with a hot dressing. This wilted the leaves and "cooked" them a little. Spinach was served this way because generally any fresh spinach that was available in were the larger tougher leaves. Now that we can get high quality spinach leaves and delicious baby spinach leaves that are wonderful to eat raw, we've gotten away from the hot dressing idea.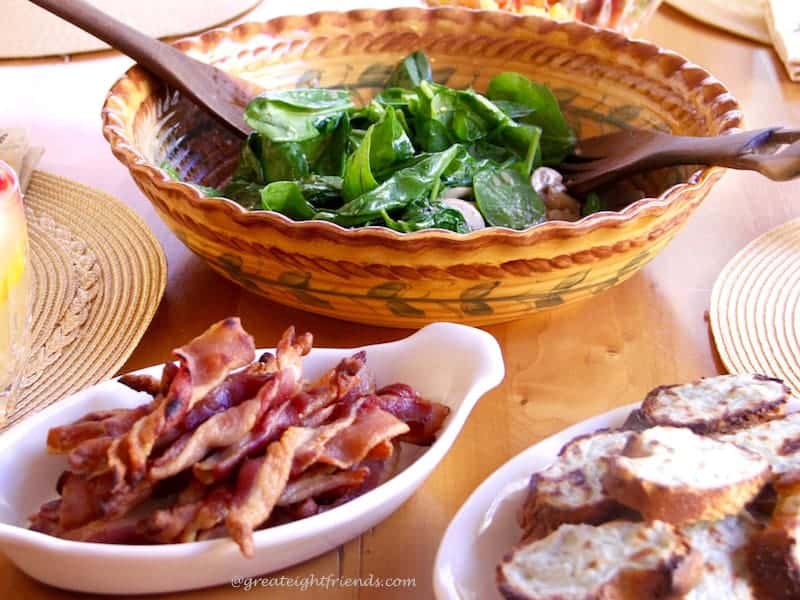 But, if you have never tried a spinach salad with a hot dressing, you are missing out. This recipe is an elegant starter for a meal or it is the perfect luncheon salad; with the bacon twists and gorgonzola croutons starring as the proteins.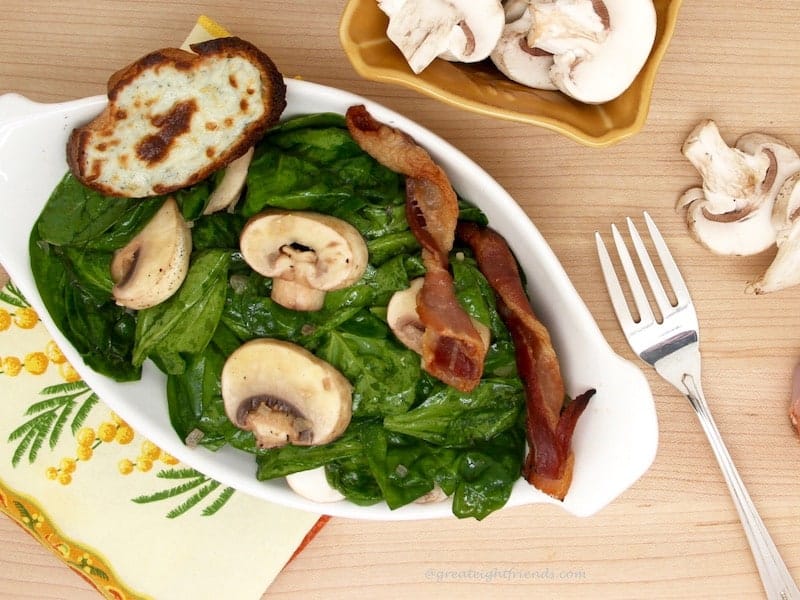 The Gr8 News is that several of the steps for this Bacon Twists in Spinach Salad can be done the day before serving.
Bacon Twists in Spinach Salad with Gorgonzola Croutons
Serves 8 as a salad course
Ingredients
Ingredients for Bacon Twists
8

slices

bacon,

,

not the thick sliced, cut in half crosswise to make 16 piece
Ingredients for Gorgonzola Croutons
16

1/4" thick slices of French baguette

2

Tablespoons

extra-virgin olive oil

4

ounces

Gorgonzola cheese

4

ounces

Neufchâtel cheese or light cream cheese
Ingredients for the Salad and Dressing
1

pound

spinach leaves

1/2

pound

thinly sliced mushrooms

4

Tablespoons

bacon fat,

,

reserved from cooking the bacon

1 - 2

Tablespoons

extra-virgin olive oil,,

if necessary

4

Tablespoons

minced shallot

2

garlic cloves,

,

minced

1/2

cup

cider vinegar

1/4

cup

water

2

teaspoons

brown sugar

1/4

teaspoon

freshly ground black pepper

1

teaspoon

Dijon mustard

16

Gorgonzola Croutons,

,

see below

16

Bacon Twists
Instructions
Directions for Bacon Twists
Preheat oven to 400ºF.

Place a rack on a baking sheet that has sides (to catch the drippings).

Hold the ends of each piece of bacon and twist until it is twisted as much as you like then lay the bacon on the rack. Repeat until all 16 pieces are twisted. Be careful not to let pieces touch each other.

Bake for 10-15 minutes, turn the bacon if necessary, then bake until the bacon is as crispy as you like.

Remove bacon to a paper towel and reserve the fat for the salad dressing.
Directions for the Gorgonzola Croutons
Preheat oven to 400ºF.

Brush olive oil onto one side of each slice of baguette.

Lay bread slices on a cookie sheet and toast for 8-10 minutes until crisp.

Mix together the two cheeses.

When the bread slices are crisp, remove from oven and spread with the cheese mixture.

Cook under the broiler for about 2 minutes. Be Careful! The cheese can burn quickly.
Directions for Salad
Mix the spinach and mushrooms in a salad bowl.

Measure out 4 Tablespoons of bacon fat. If there isn't enough add olive oil to total 4 Tablespoons.

Mix together the cider vinegar, water, brown sugar, pepper and mustard. Set aside.

In a small skillet heat the bacon fat/olive oil mixture over medium heat.

Add the shallots and cook for 4 minutes, then add the garlic and cook just until the fragrance of the garlic releases.

Add the vinegar mixture to the skillet and bring to a boil.

Cook until the mixture reduces by half.

Remove from heat and pour the dressing over the spinach/mushroom mixture. (I like to start with about 1/3 of the dressing and add more as needed.

Serve the salad with the Bacon Twists and the Gorgonzola Croutons.

Notes
Gr8 Do-Ahead Tips:
The Bacon Twists can be made a day ahead of time and stored in the refrigerator. Reheat it in a 325º oven.
The Gorgonzola Croutons can be made through Step 3. Let cool, then store in a tightly sealed plastic bag or container. Proceed with Step 4 when ready to serve.
The dressing can be made up to 2 hours ahead of time. Just reheat when ready to serve the salad.
If you love bacon, here are some of our favorite bacon recipes:
sm 3/26/19