Enjoy this Health-Ade Kombucha Whiskey Sour Cocktail with rye or bourbon. A delicious adult beverage.
As I was growing up, my parents occasionally made a traditional Lithuanian drink called "gira." I remember it as a sour, vinegar-like taste, not exactly appealing to young taste buds.
However, our parents told us that "gira" was a very healthy drink that would not only give us lots of energy but would also help us grow taller and stronger!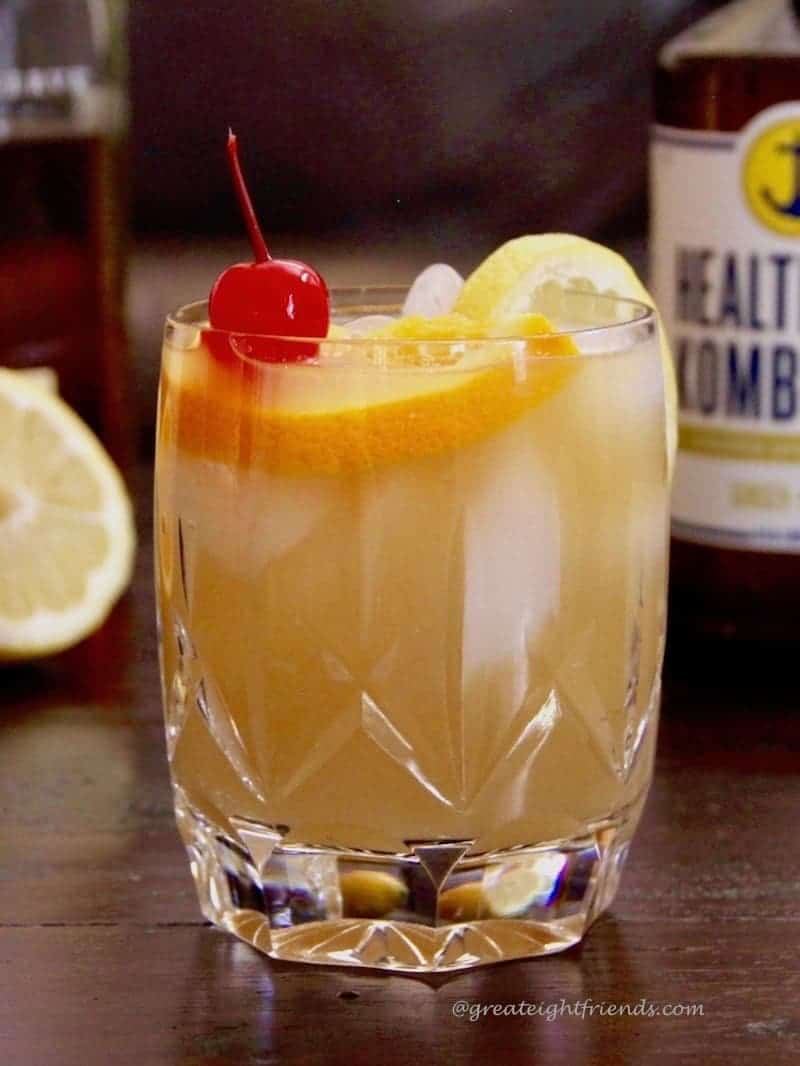 As the shortest of all my classmates, I dreamed of one day towering over my peers, so I listened to my parents and I drank it up!
To this day, I do believe that all those years of imbibing this "health elixir" have made me stronger and more resistant to health issues that afflict many people.
Kombucha (kom-boo-cha) has currently taken the healthy drink industry by storm. While it is similar to "gira" in nutrition and health benefits, it is definitely tastier. Kombucha is not new; it is believed to have originated in China over 2000 years ago.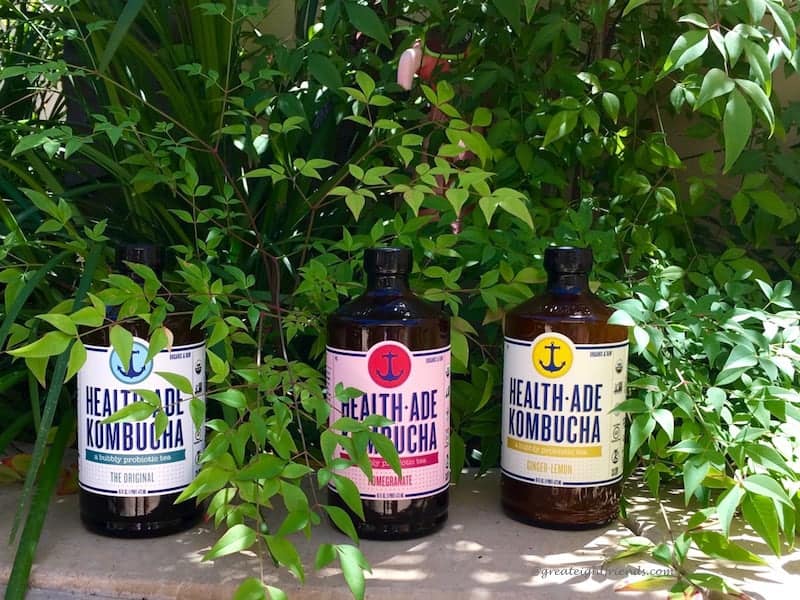 What is Kombucha?
If you are not familiar with this drink, you will be, as this drink is experiencing a major revival and exploding in popularity world-wide.
A fermented drink made with tea, sugar, live bacteria and yeast, Kombucha is said to create healthy bacterial acids as well as B vitamins, probiotics and antioxidants.
It has a fizzy, tangy, yet vinegar-like taste with a touch of sweetness. And is often sought after for its noticeable health benefits. Kombucha is also rich in enzymes that enhance digestion. For soda drinkers, Kombucha may be a healthier alternative.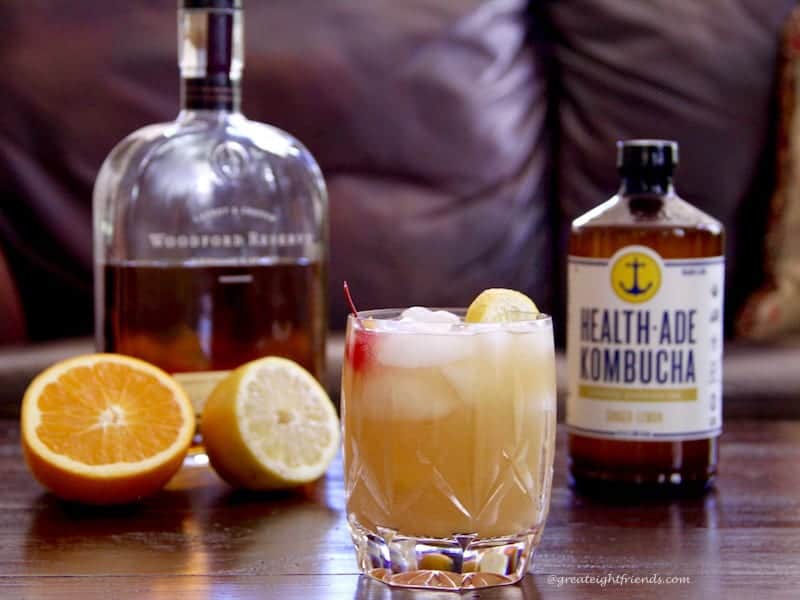 As a creative endeavor, I recently experimented with Kombucha and fashioned this simple cocktail using my favorite brand, Health-Ade®. This is my preferred brand because only organic, whole ingredients are used, and the drinks are sold in dark glass bottles to protect the beverage from light.
Health-Ade® Kombucha comes in a variety of wonderful flavors (pink lady apple, plum, pomegranate to name a few) and it makes an excellent mixer and a delicious cocktail.
A cocktail rich in antioxidants can only be good for you, so I am excited to introduce this simple Kombucha Whiskey Sour recipe that is flavorful and refreshing and will make you feel good about sipping it!
So let's toast to your health when it's time for that cocktail at happy hour!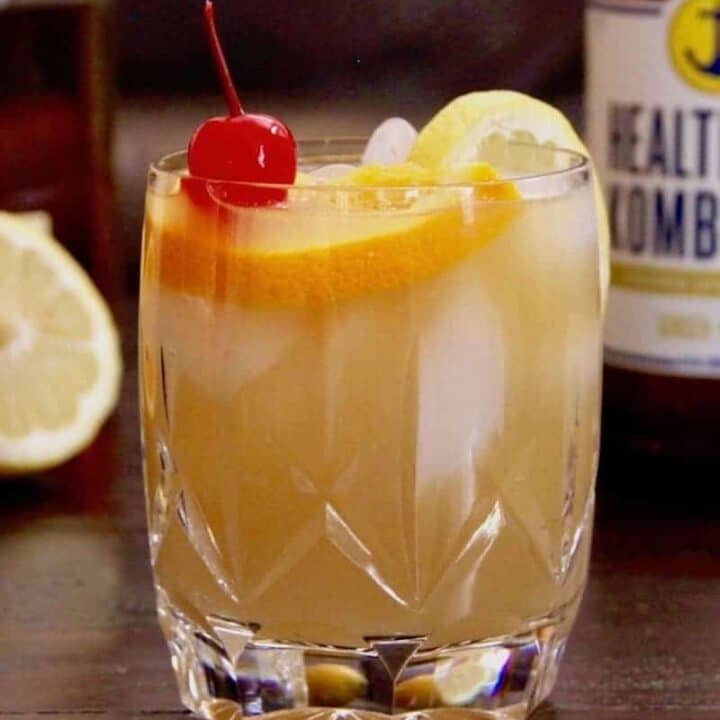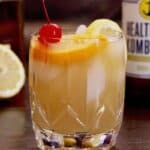 Print Recipe
Pin Recipe
Save this Recipe
Saved!
Please leave a rating!
Kombucha Whiskey Sour Cocktail
Enjoy this Health-Ade Kombucha Whiskey Sour Cocktail with rye or bourbon.
Ingredients
2

ounces

rye

,

or bourbon

3-4

ounces

Ginger Lemon Health-Ade® Kombucha

Few drops

Angostura aromatic bitters

Slice

fresh orange

Maraschino cherry

,

for garnish
Instructions
Chill the rye and the Ginger Lemon Kombucha.

Pour over ice into a 10-ounce Old-Fashioned glass.

Add 2-3 drops Angostura aromatic bitters (or to taste).

Stir.

Garnish with sliced orange and maraschino cherry.
Originally published on September 16, 2016.