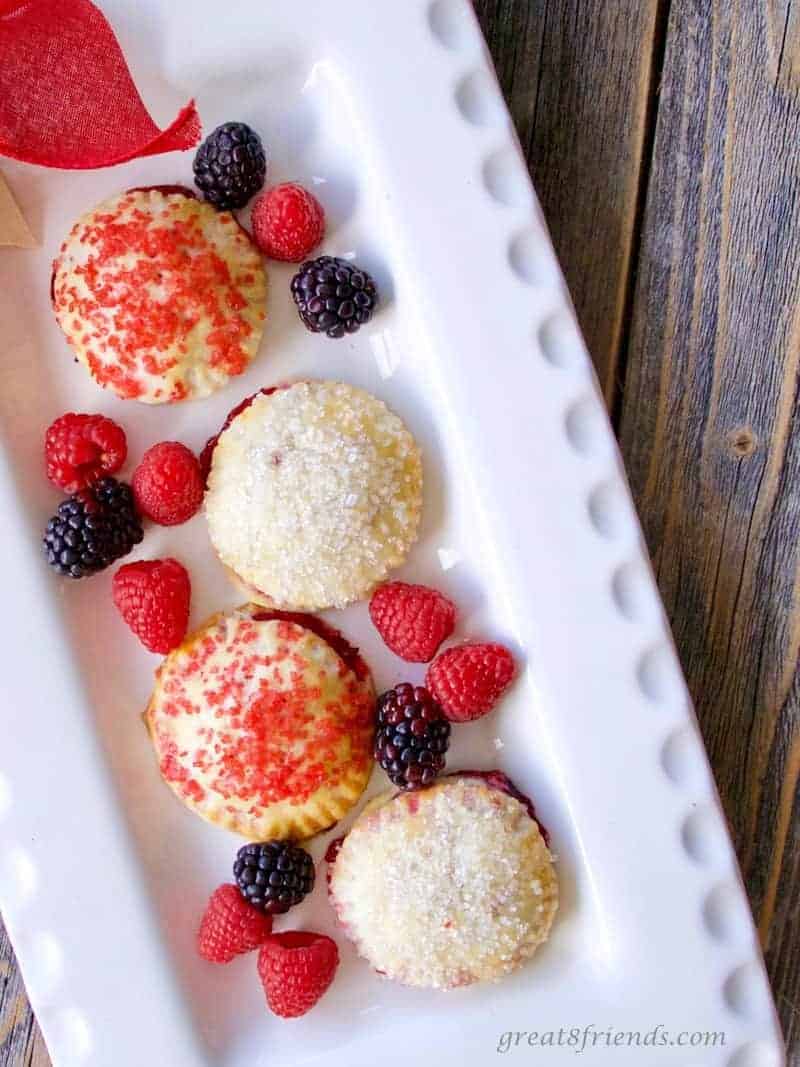 For Debbie and Phil's Great 8 Renaissance Faire themed dinner last year, Lord and Lady Van Boom were asked to bring fruit hand pies with vanilla ice cream. I thought I would challenge myself and make two different fruit pies. So, using two different shapes, we made mini berry pies and mini apple hand pies.
Although I think the pie crust recipe already posted on our blog is one of the best, I decided to try a different recipe for the hand pies. Either recipe would work just Gr8!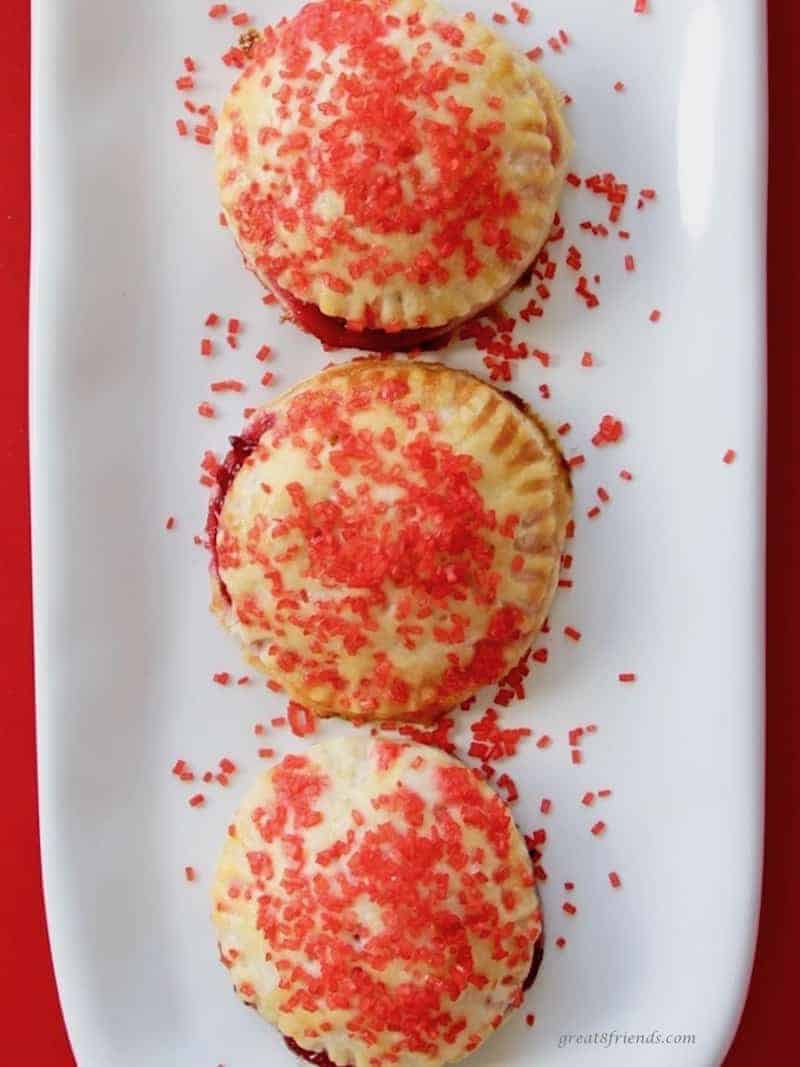 The sugar sprinkles really add color a some sweetness. These red mini fruit hand pies would be the perfect dessert for Christmas or Valentine's Day!
These Apple Hand Pies are the perfect dessert! Add a cup of coffee or a tall glass of milk and that is all you need to end a meal!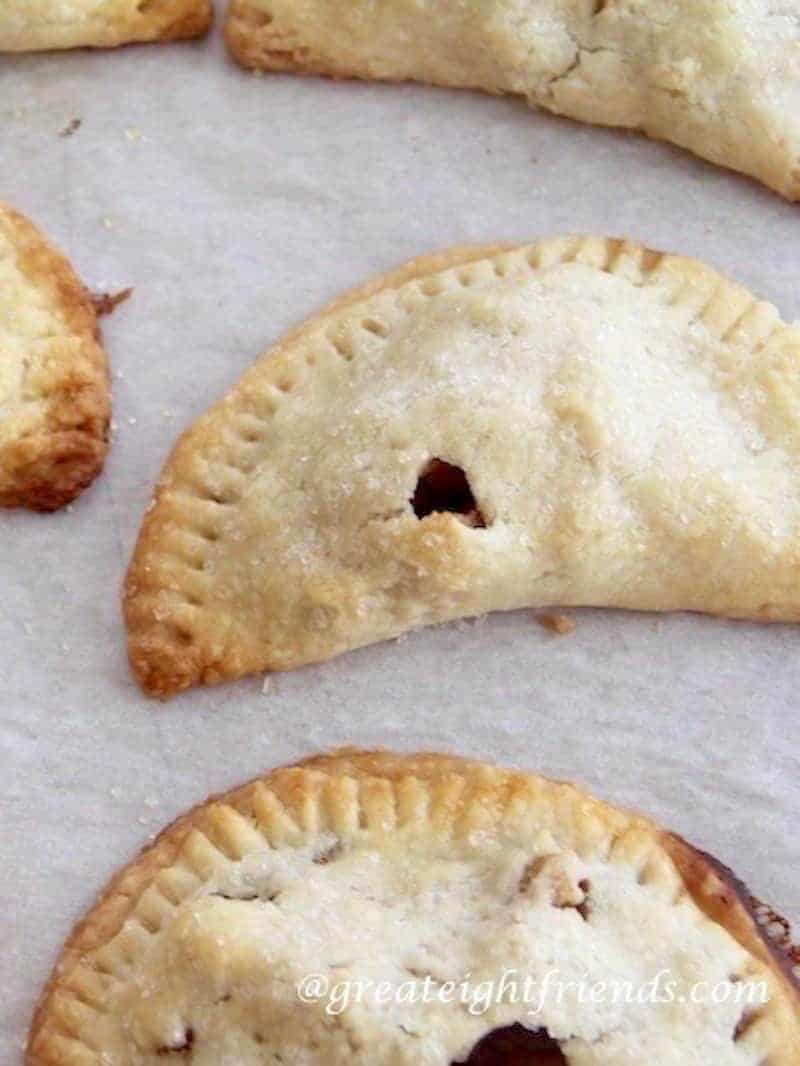 And yes, why not eat dessert with your hands!  Enjoy!
Edited since the last publication on January 10, 2016.
Fruit Hand Pies
Start the recipe early enough to refrigerate the dough for an hour before rolling out.
Ingredients
Hand Pie Crust (makes enough for 12-14 mini hand pies)
1

Tablespoon

sour cream

1

Tablespoon

fresh lemon juice

2

Tablespoons

ice water

,

plus more if needed

1 ¼

cups

all-purpose flour

,

plus more for rolling

¼

teaspoon

coarse sea salt

1

teaspoon

granulated sugar

1

stick

cold unsalted butter

,

cut into small pieces
Berry Hand Pies (makes enough for 12 - 14 mini hand pies)
¾

cup

fresh blackberries

¾

cup

fresh raspberries

4 ½

teaspoons

cornstarch

⅓

cup

sugar

¼

teaspoon

salt

1

large

egg

,

lightly beaten

1

Tablespoon

water

decorative sugar for sprinkling

,

optional
Apple Hand Pies (makes enough for 12 - 14 mini hand pies)
2

cups

Granny Smith apples

,

peeled, cored, and diced small

2

teaspoons

fresh lemon juice

½

teaspoon

cinnamon

¼

cup

sugar

2

teaspoons

all-purpose flour

1

large

egg

,

lightly beaten

1

Tablespoon

water

decorative sugar for sprinkling

,

optional
Instructions
Hand Pie Crust Directions:
In a large mixing bowl of a food processor fitted with a metal blade, combine the flour, salt, and sugar.

Add the butter pieces and pulse with the food processor on low until the mixture resembles coarse meal with a few clumps of butter remaining.

In a small measuring cup with a spout for pouring, combine the sour cream, lemon juice and ice water.

Gradually add the sour cream mixture to the food processor and process just until combined.

The mixture will be crumbly. Test by pinching a small amount of dough together to see if it holds. If it does not hold together, add more water 1 teaspoon at a time.

Divide the dough in half into two disks and wrap each disk in plastic wrap.

Refrigerate the disks for 1 hour.
Berry Hand Pie Directions:
Preheat oven to 375°F.

While the pie dough is chilling, combine the berries, sugar, cornstarch, and salt in medium bowl. Gently fold together until combined.

Remove the dough from the refrigerator and allow it to rest for 5 minutes.

On a floured surface, roll out pie dough to ⅛ inch thickness

Cut out circles using any size cookie or biscuit cutter. (I use a 2 ¾" round biscuit cutter. For the apple hand pies, I cut around the edge of a bowl to get a larger circle.)

Place the bottom circle of dough onto a baking pan covered with parchment paper or Silpat pad.

Fill the center of this dough circle with the berry filling (~2 Tablespoons). The amount you can fit inside will depend on the size of your dough circle and the size of your berries (sometimes the berries need to be cut in half if too large). Be sure to leave a border around the filling. If using a large circle, place the fruit on one side of the dough leaving the other side available to fold over.

Prepare your egg wash by whisking together the egg with the tablespoon of water.

Brush egg wash on the edges of the dough circles.

Place the second dough circle atop each filled circle or if using a large circle shape, fold over the filling.

Use a fork to crimp the edges together, sealing each pie.

Re-roll the scraps and continue cutting out the circles until you run out of dough.

Brush the tops of the pies with remaining egg wash.

Sprinkle with sugar.

Cut a small slit in the top of each pie.

Bake 13 – 15 minutes until the pies are just beginning to turn golden brown.

Remove the pies from the oven and allow them to rest for 10 minutes before serving.

Store in airtight container at room temperature.
Apple Hand Pie Directions:
In a small bowl, combine the apples, lemon juice, cinnamon, sugar and flour. Stir until thoroughly mixed.

Follow Berry Hand Pie Directions above, #2 through #18.
Just to let you know, some of the links on this page are affiliate links. Great Eight Friends may earn a small commission when items are purchased through these links. Thank you for your Gr8 support!
 For your Gr8 Shopping Convenience:
sm 12/1/18