Impress your family and friends and make sushi rolls at home! With sticky rice, veggies and fresh fish, you can have your own sushi bar!
We love sushi soy much! Phil and I make it homemade every Valentine's Day.
It's a fun tradition we have and a delicious way to avoid the busy restaurants on the holiday of Love!
One of our first dates many years ago, was hitting a very hip and trendy (back then!) sushi restaurant on Sunset Boulevard. Very "cleverly" named "Sushi on Sunset"!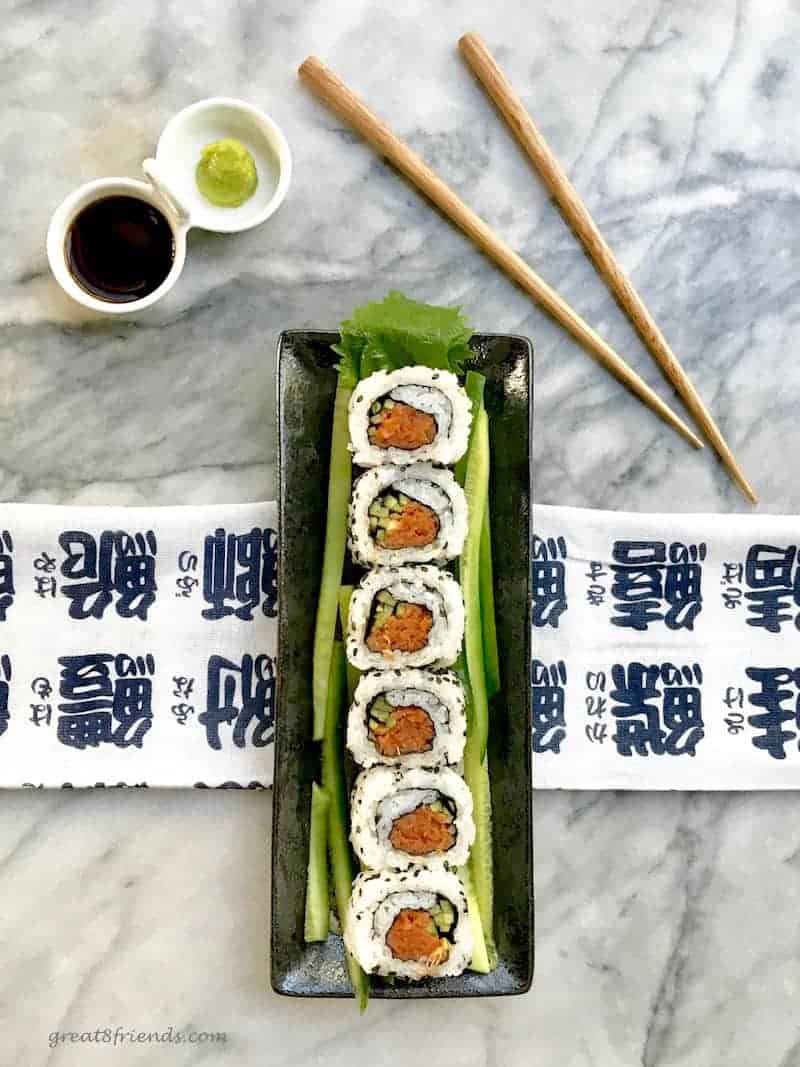 Those were the early days when sushi was hitting the scene and sushi restaurants (and later Sushi Bars) were popping up around town. L.A. has always been quite the happening city…known for Music, Food and Entertainment.
Phil, being a lover of all of those and a huge music buff, how thrilled were we when not only was the Streit Rock Cafe the theme for Jurga and Tim's Great 8 Dinner, but also given the task of making Sushi!
Never have we ever made it, but we were ready! Time to get our hands rolling the seaweed and our tastebuds ready for wasabi!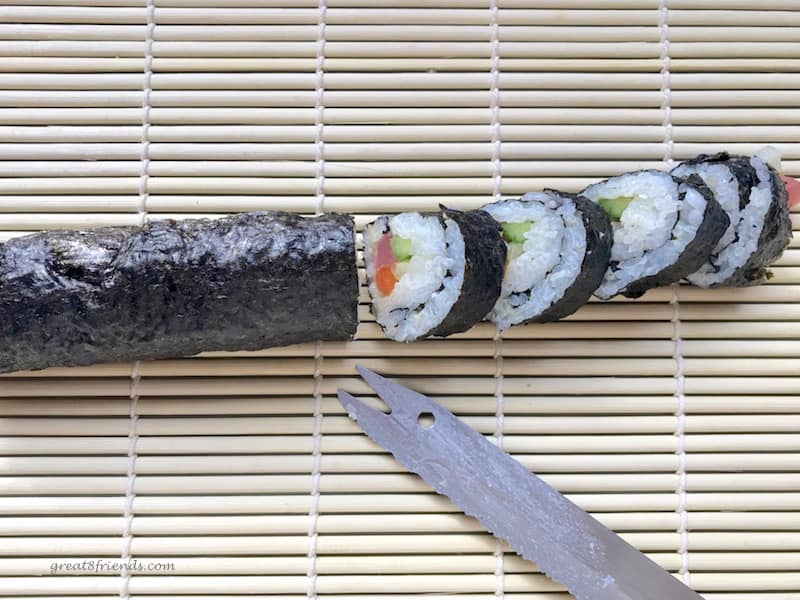 So with list in hand, I've got some shopping to do! Daiso Japan (A Japanese "Dollar Store"!) and Mitsuwa Japanese Market, here I come!
The sticky rice used in sushi is a tough one to master. If you have a rice cooker, you're set. If not, there's a little time and technique needed. (See Gr8 tip below)
I cheated, sorry! Mitsuwa makes it so easy for the Beginner Sushi Chefs, like me! They have ready for sushi, cooked sticky rice available…$2! Can't beat that, right? And you know it'll be perfect!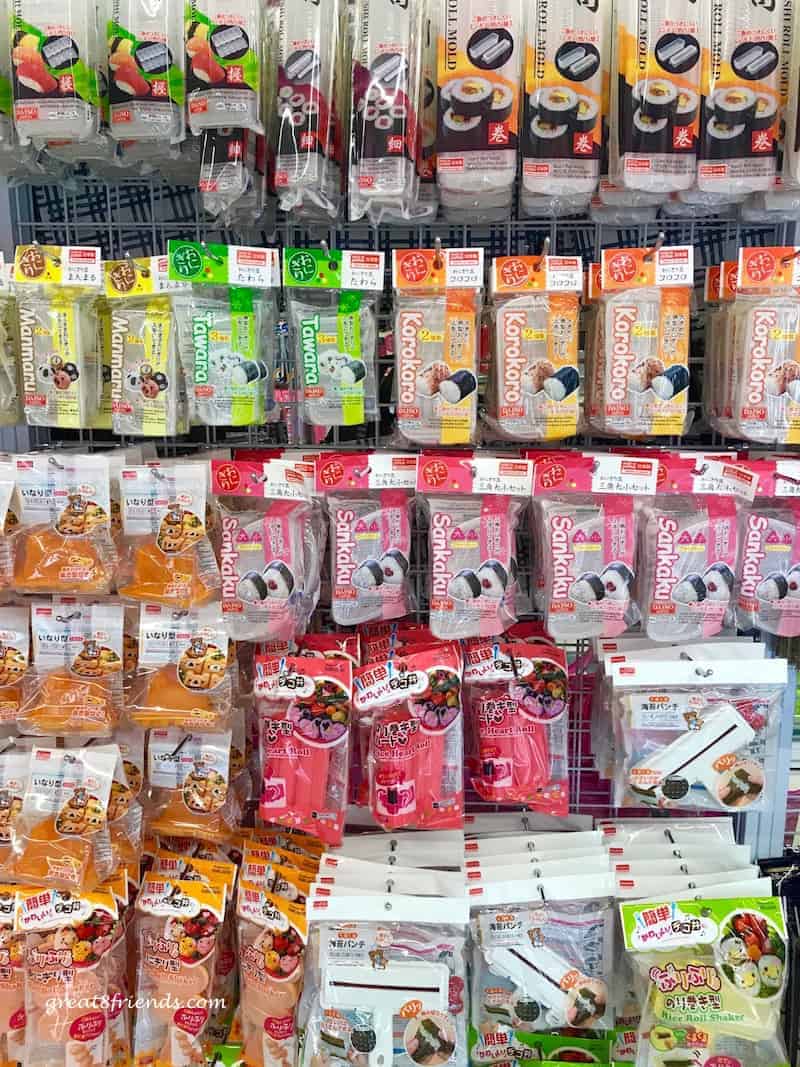 Mitsuwa's seafood section has perfectly sliced raw sashimi all packaged and ready for your own little Sushi bar at home! Hamachi, ahi, octopus, unagi (for all of you "Friends" fans…doesn't that still make you laugh?) salmon, etc.
You name it, they've got it…so of course I wanted to bring a little of each to the Streit Rock Cafe!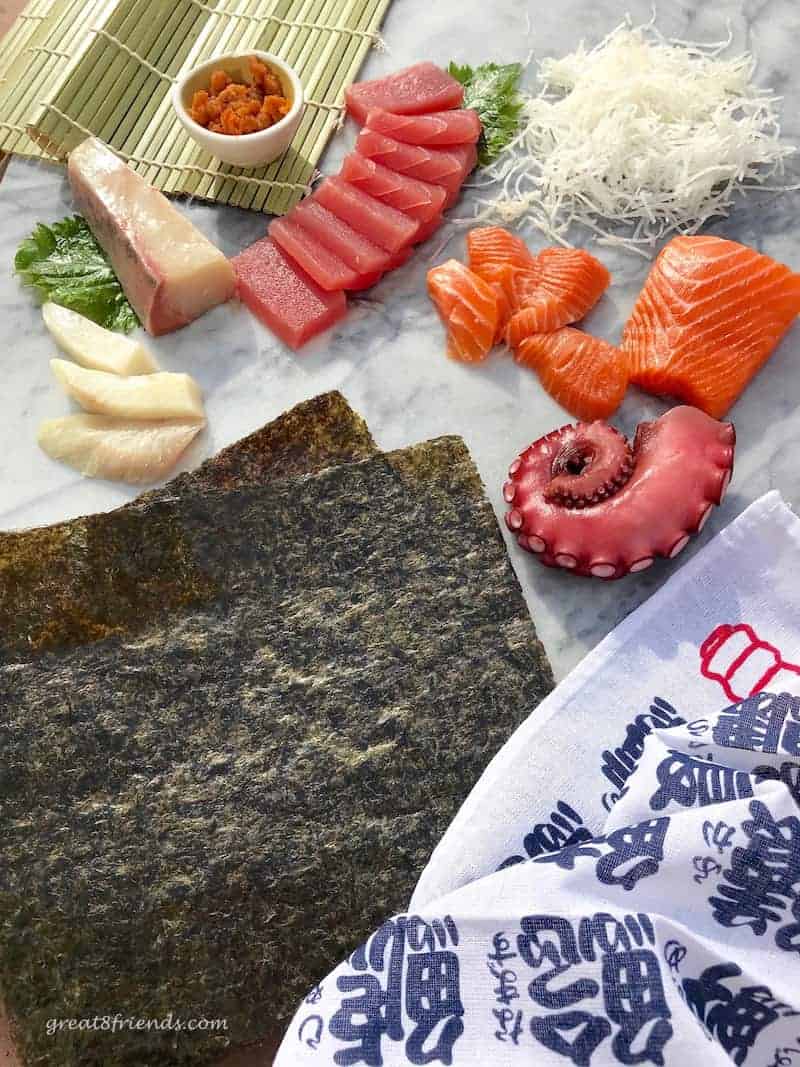 I always love a little vegetable goodness in my handrolls, julienned cucumber, daikon radish and Yamagobo (pickled burdock), a pickled-like skinny carrot looking root just to name a few.
They especially lighten up those pieces of fish that might be a little rich, but you don't want so much that it takes away from the fresh flavor of the fish. It's kind of like making a pizza, adding all of your favorite "toppings"!
Making sure not to fill up everyone, and loving all things mini, I made little mini versions of handrolls. Sitting alongside the cut rolls, made for a cute little presentation.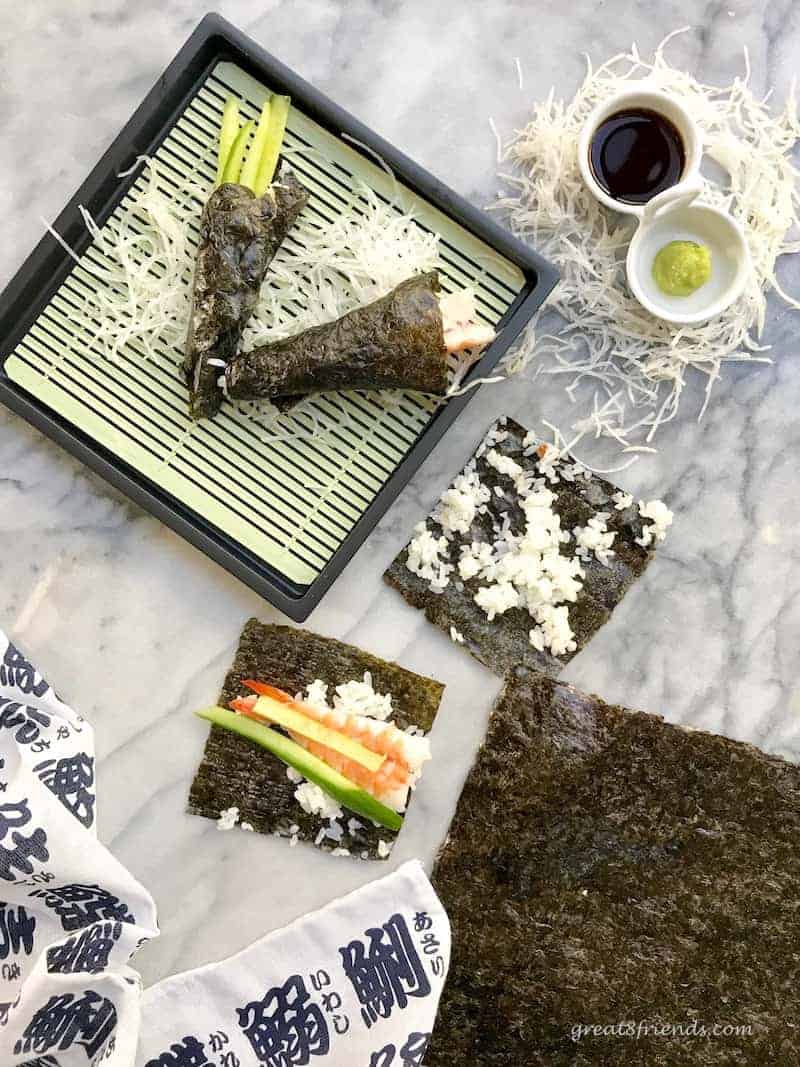 Making sushi at home is a lot easier than you think. The next time you grab 2 seats at your favorite sushi bar, you will appreciate the time and talent that goes into each piece.
Time to practice your chopsticks dexterity! First lesson: Spicy Tuna! Come along Friends, grab a few sheets of seaweed….we've got some rolling to do because we love sushi!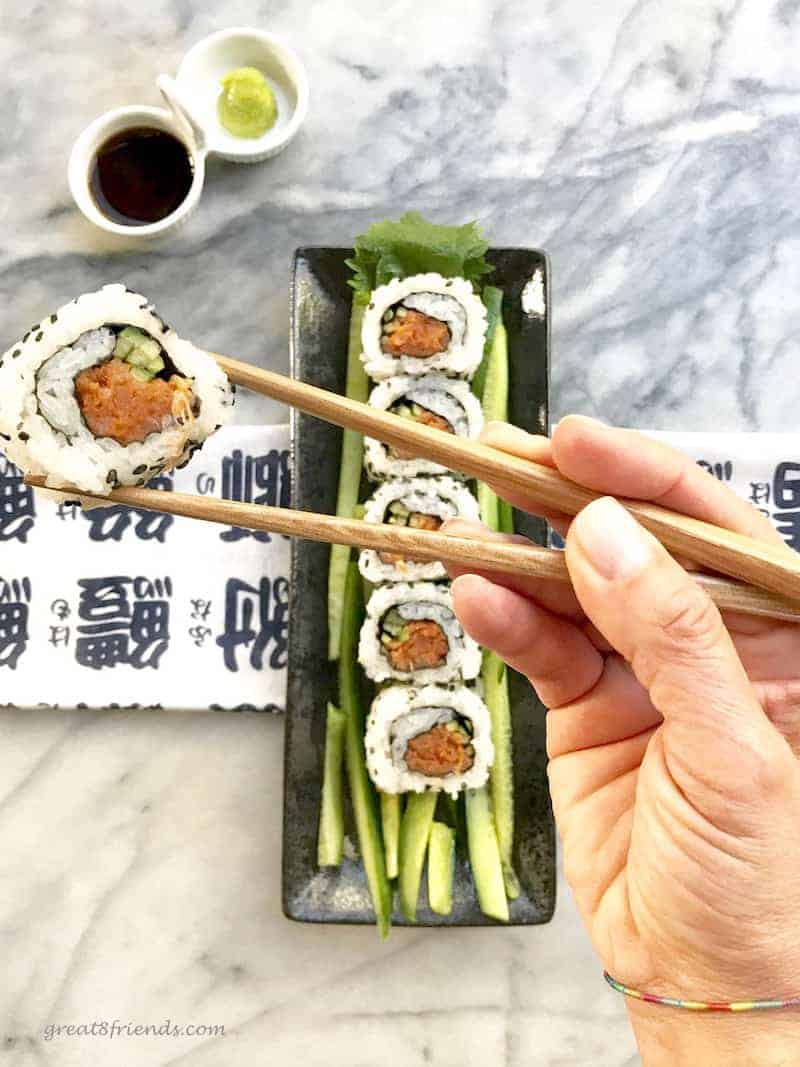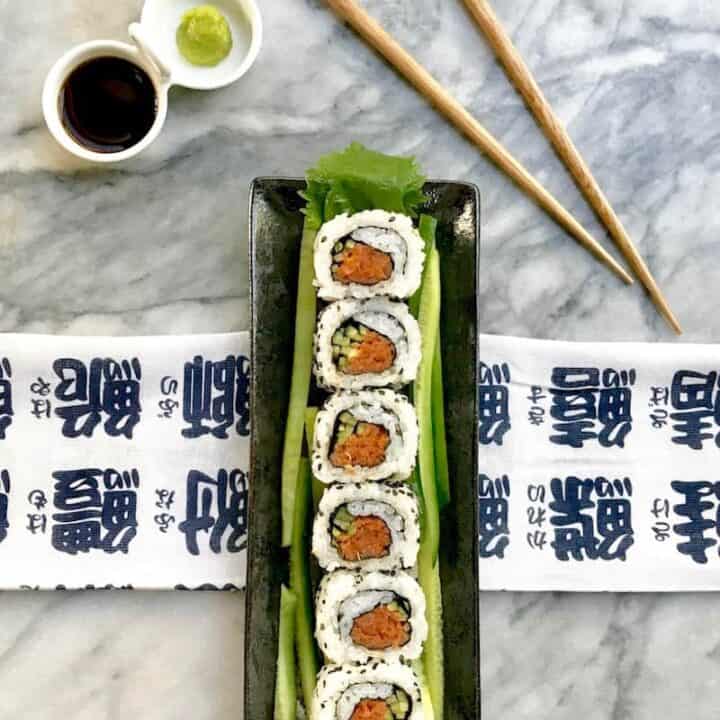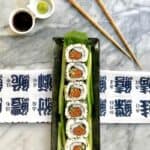 Print Recipe
Pin Recipe
Save this Recipe
Saved!
Please leave a rating!
How to Make Sushi
It's always fun to try something new at home! Homemade sushi is one of those! Go ahead, be creative in your own kitchen!
Ingredients
Dry seaweed sheets

Sticky rice

Assorted sashimi

,

ahi tuna, hamachi, octopus, shrimp, salmon

Wasabi

,

horseradish paste, optional depending on your heat tolerance

persian cucumbers

,

julienned, used in cut rolls and handrolls

daikon radishes

,

julienned, used in cut rolls and handrolls

avocado

,

diced, used in cut rolls and handrolls

toasted sesame seeds

,

used in cut rolls and handrolls

mayonnaise

chili oil or Sriracha chili sauce

soy sauce

ponzu sauce

,

a citrus sauce available at Asian markets and in most Asian sections at the supermarket
Instructions
Spicy Tuna:
With a sharp knife, chop ahi into small pieces, almost minced. To your own personal taste, add chili oil and mayonnaise. Add to your sushi rolls in Step 4 below.
Cut Rolls:
On a flat surface, lay one full piece of seaweed.

Press one even thin layer of sticky rice over seaweed.

Thinly spread a small amount of wasabi. (Optional)

Layer all of your favorite ingredients on one side of the rice.

If your seaweed is a rectangle, start rolling with the long side nearest to you.

Roll tightly. If you have a bamboo mat, use it to further press the roll once finished.

With a very sharp knife, cut into about  1" pieces.

Enjoy with soy sauce on the side mixed with a tad bit of wasabi (optional).
Handrolls:
Same as above, but with the short end's corner in front of you. Starting at that corner, roll into a cone shape. Finishing with ingredients exposed at the wider open end.
Notes
Gr8 Tip:
Sticky Rice:
If you don't have time to make your own sticky rice, or don't have an Asian market nearby, check with your local Japanese restaurant. You can order a couple of bowls to go. If neither of those options are available, this link could help you make sticky rice at home. 
If you don't have an Asian market nearby, ask the butcher at the seafood counter at your supermarket, to cut your fish of choice thin for sushi/sashimi.