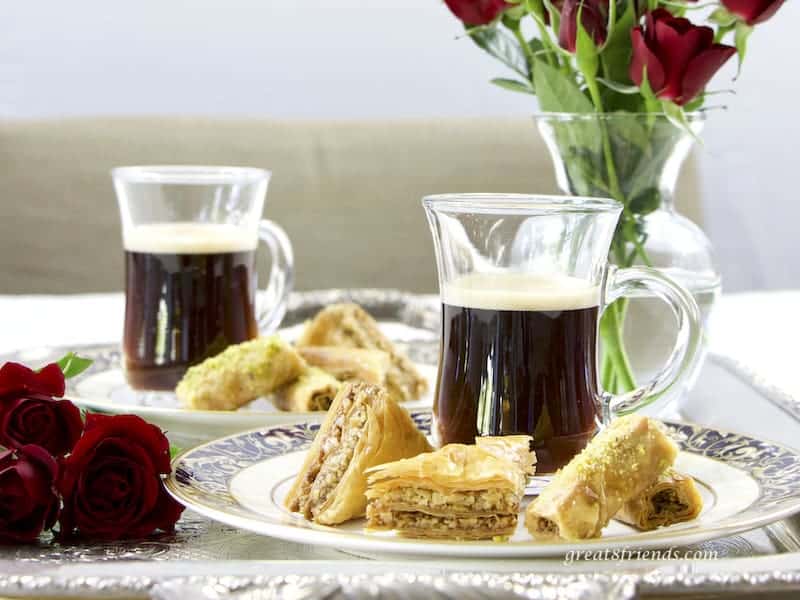 We've had several Gr8 Dinners where Baklava would be the perfect dessert. It's about time we post the recipe, especially since Debbie and Phil recently hosted a Middle East Feast and asked me to bring it!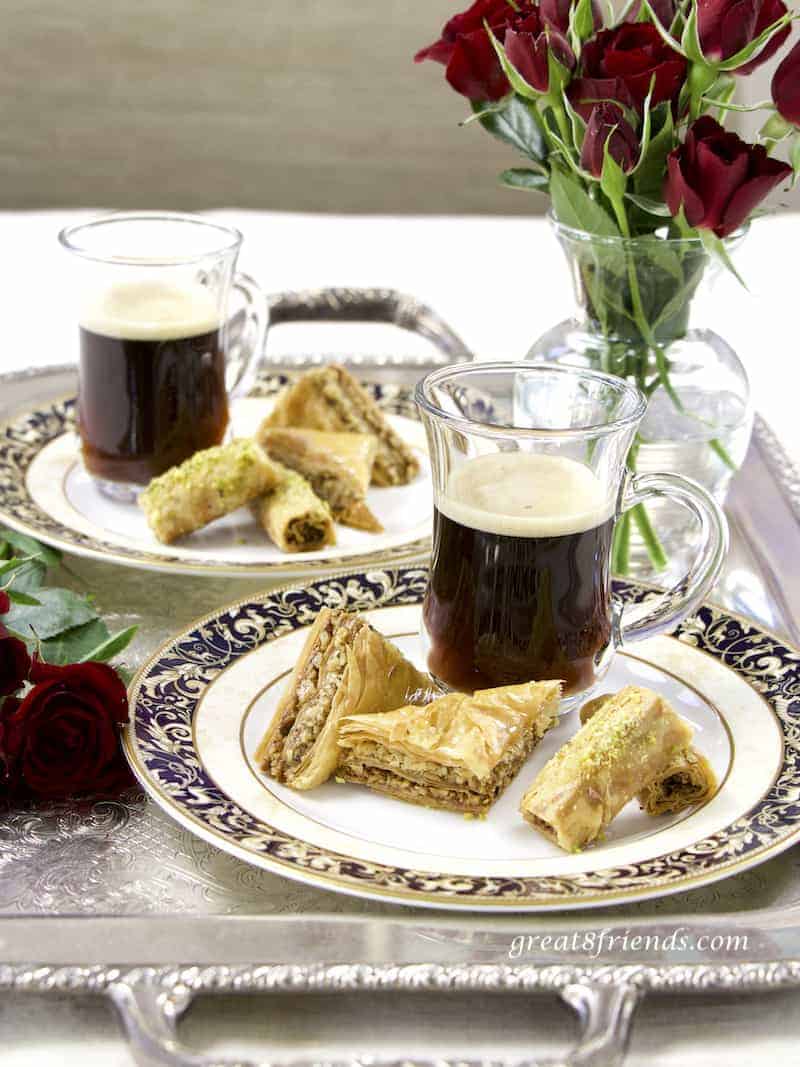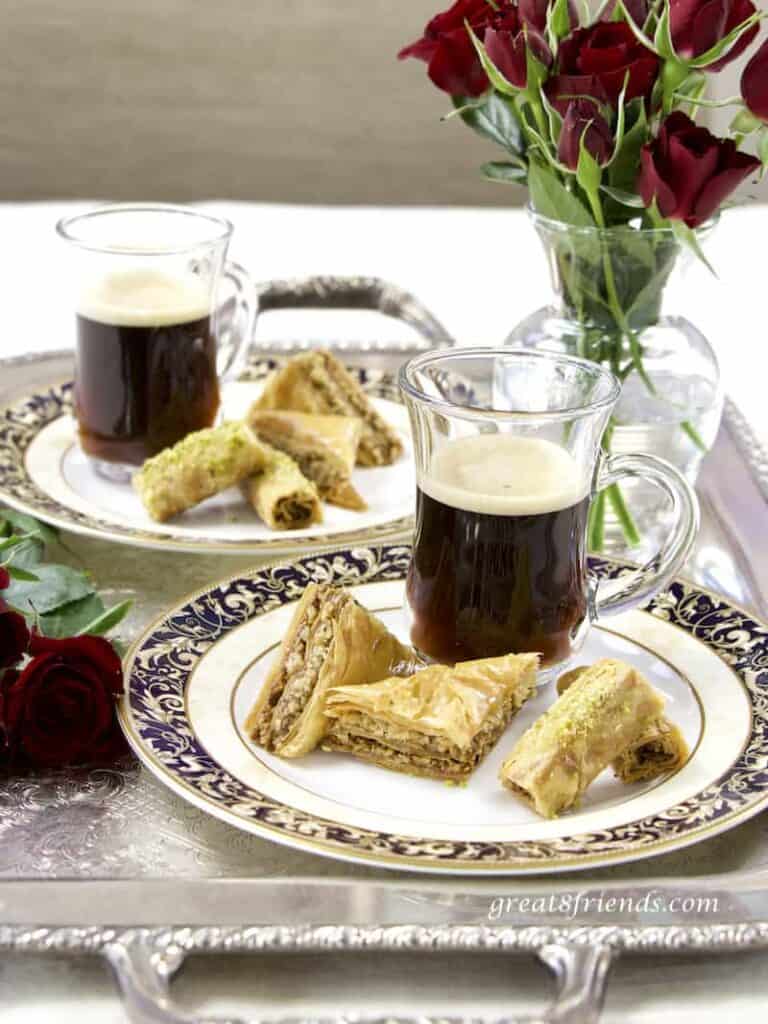 One of our good friends is from Lebanon so I decided to go with the Lebanese style of Baklava rather than the Greek style. I figured I'd be able to get an honest critique from our friend (and some tips) since he grew up eating this delicacy.
When I asked him for tips (and his mom's recipe) he said, "Why would you make it, when you can buy it?" And I said, "Because that's what we do here at Great 8 Friends"!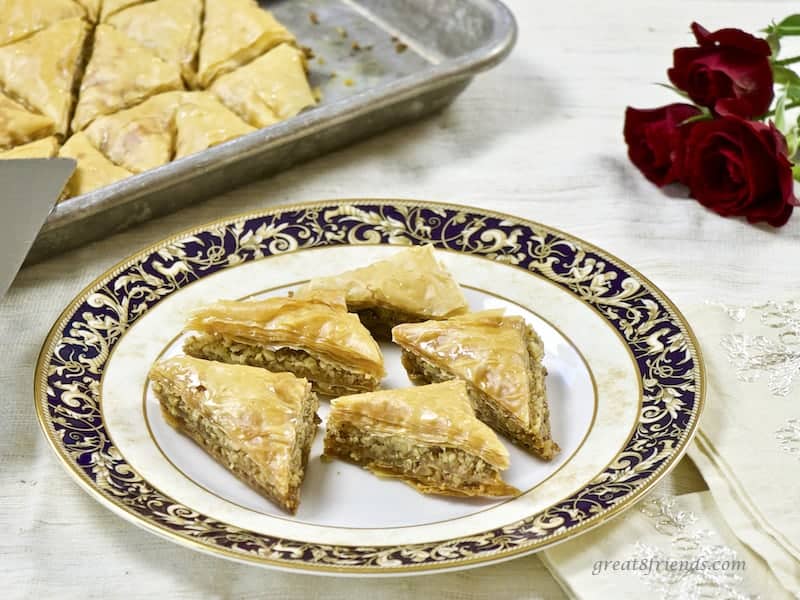 The main difference is that Greek baklava uses honey whereas the Lebanese style uses a sugar syrup; a YUMMY sugar syrup if I might say! So here you go, homemade, flaky, sweet and tasty Baklava!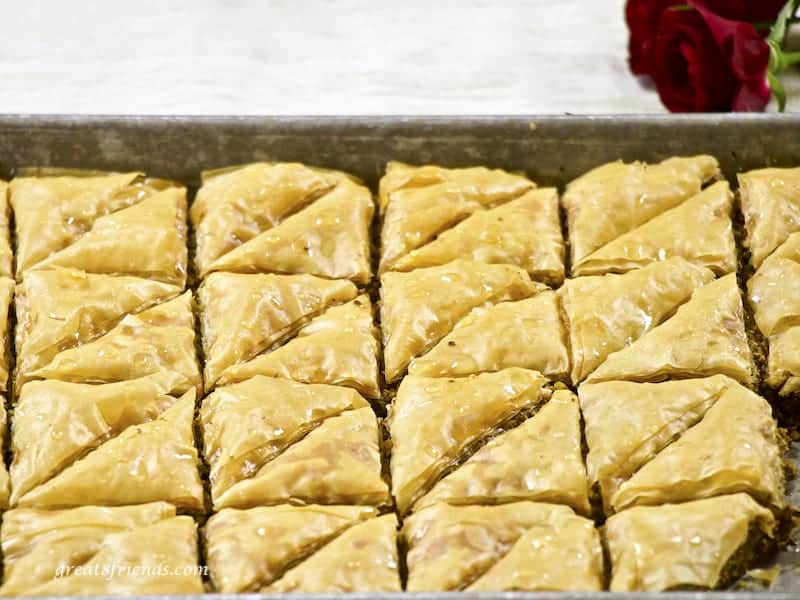 Lebanese Baklava or Baklawa
A homemade flaky, sweet and tasty treat!
Be sure to put the phyllo in the refrigerator the day before to defrost.
Ingredients
1

pound

shelled unsalted pistachios

1/2

cup

sugar

1

teaspoon

rose water

1

pound

box of phyllo sheets

,

aka fillo

8

ounces

ghee, melted,

or clarified butter
Sugar Syrup
1 1/4

cups

sugar

3/4

cup

water

2

teaspoons

fresh lemon juice

2

teaspoons

rose water
Instructions
Baklava
Put the phyllo in the refrigerator 24 hours ahead of time to defrost.

Put the pistachios and sugar in the bowl of your food processor and pulse.

After about 5 pulses, sprinkle 1 teaspoon rose water over the pistachios then continue pulsing until finely ground. Be careful with your pulsing so you don't end up with pistachio butter!

Using a pastry brush, brush ghee over the surface of a rimmed sheet pan, including the sides.

Unroll your defrosted phyllo sheets on a smooth surface and have a piece of waxed paper or slightly damp towel ready to keep the unused pieces covered.

Peel off one piece of phyllo and carefully lay it flat on the bottom of the buttered pan. If it tears, it's okay, just put it back together like a puzzle.

Brush some ghee over to cover the surface. You can hold the phyllo sheet down with your fingertips to prevent it from moving.

Lay another sheet of phyllo over the first and brush with ghee. Continue with the phyllo and ghee until you have 8 sheets stacked up.

Spread half of the nut mixture over the 8 sheets of phyllo.

Lay a sheet of phyllo on top of the nuts and brush with ghee. Continue stacking the phyllo until 5 sheets are stacked.

Spread the remaining nuts over the phyllo.

Lay another sheet of phyllo on top of the nuts, brush with ghee and continue with phyllo and ghee until all the sheets are used. (There should be 5 to 6 sheets in this layer.)

Using a sharp knife cut the Baklava into diamonds or triangles.

Bake for 45 to 55 minutes until light brown.

While the pastry is baking make the Sugar Syrup.
Rose Sugar Syrup
Put the sugar, water and lemon juice in a small saucepan and bring to a boil. Boil for 5 minutes, the sugar should be completely dissolved.

Remove from heat and stir in the rose water.
Completing the Baklava
As soon as the pastry is removed from the oven, slowly pour the Rose Sugar Syrup over to completely cover. And listen to the satisfying sizzle.

Let cool and serve with ice cream. In Lebanon they serve Baklava with Turkish coffee, yum!
Notes
Gr8 Do Ahead Tips:
The Sugar Syrup can be made up to 2 weeks ahead of time. Refrigerate until ready to use.
Baklava can be made up to 2 weeks ahead of time and will keep at room temperature in an airtight container. 
Gr8 Tips:
You can substitute walnuts and use orange blossom water instead of rose water, if you prefer.