This delicious Middle Eastern recipe of Lemon Yogurt Chicken skewers is packed with flavor! The creamy and tangy marinade results in a tender chicken dish. Fire up the grill!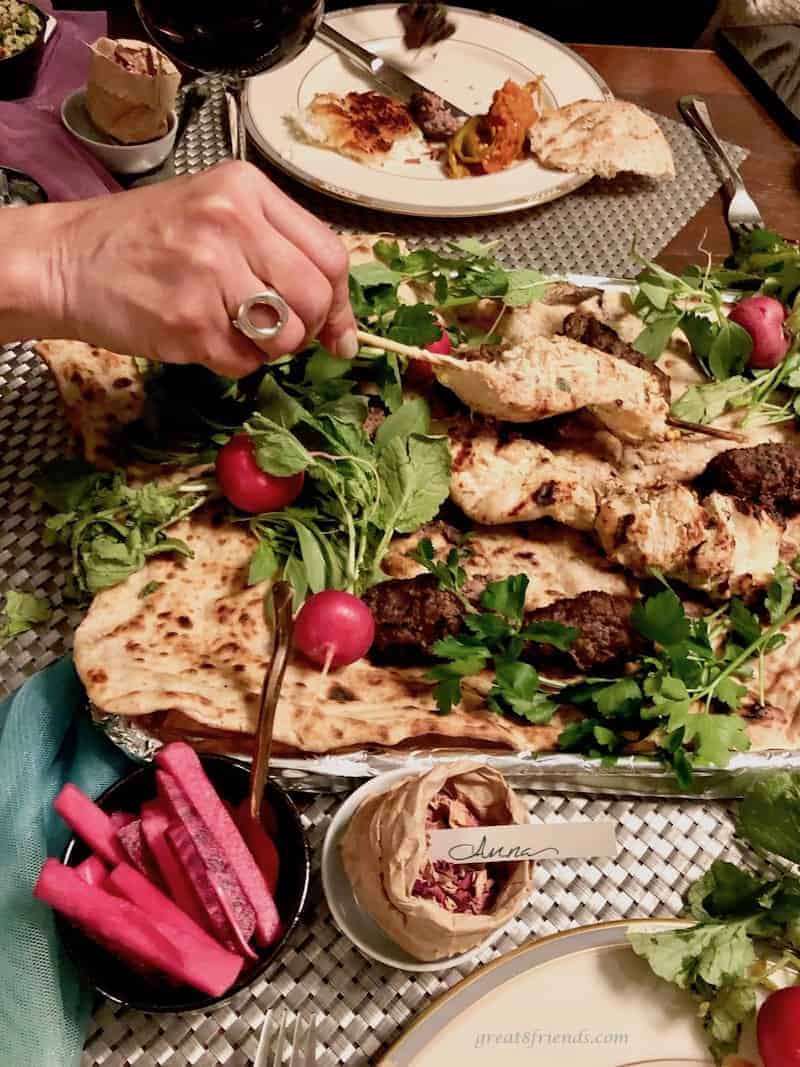 Do you ever taste something and the flavors take you back to a time in your life? Hopefully a good time in your life!
As soon as I tasted the marinade for these Lemon Yogurt Chicken Skewers, my mind went straight to my freshman year of college and my roommate, Sousan. Sousan was Persian and boy could she cook!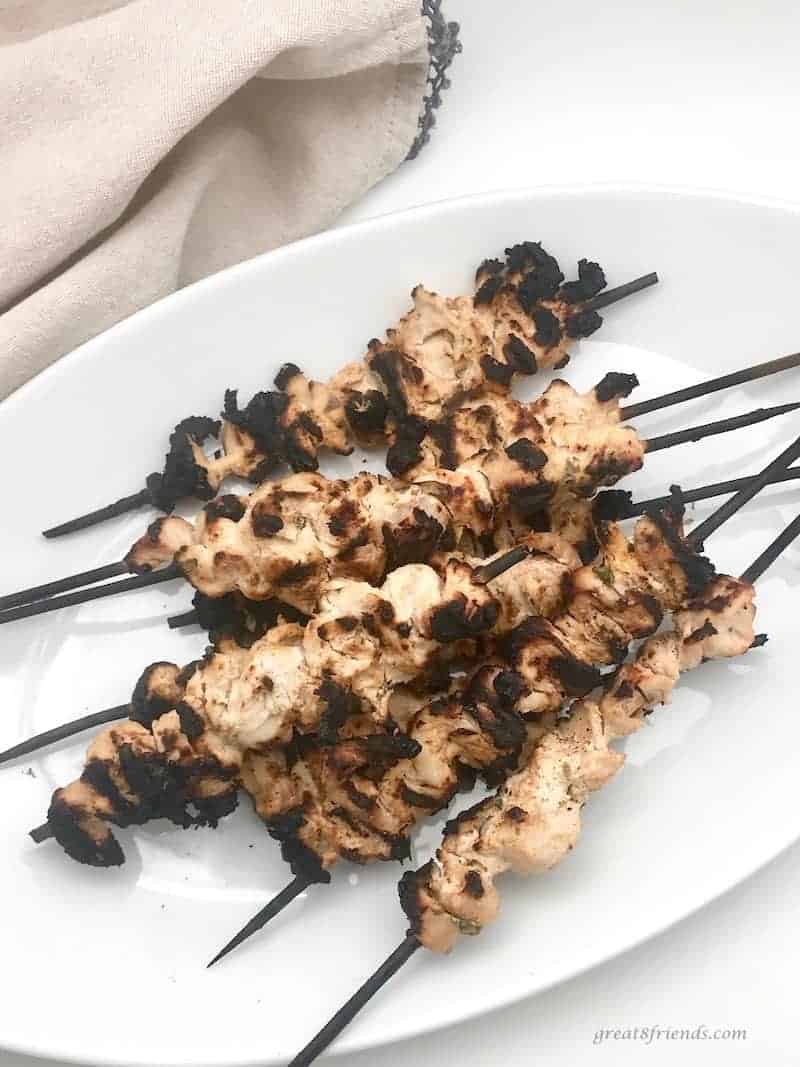 So, imagine being a college freshman and coming home from class hungry and tired. As you walk in, you get a whiff of deliciousness coming from the kitchen!
So whether it was rice, beef and/or chicken, once I came through the door...oh my! Little did I know that 40 years later (hey...are you doing the math to figure out my age?!) that I would be wishing I had those recipes! Especially for the chicken!
Because we enjoy tasting the flavors of other countries, my husband and I love going to restaurants with ethnic cuisines.
Frequenting a variety of Middle Eastern spots lately, it was an easy choice for our Great 8 dinner theme.
Since I enjoy playing with recipes at home, I try and jot down the ingredients that describe my favorite dishes on the menu. I'm always hoping one day, to come across a chicken dish similar to what Sousan used all those years ago. I've come pretty darn close here, I think!
We live in close proximity of a couple of Middle Eastern markets, Mission Ranch Market and Crown Valley Market.
As a result of this, I have an amazing selection of fresh ingredients to choose from. No worries if you don't.
The best thing about this Lemon Yogurt Chicken recipe is, you don't have to have a Middle Eastern market in your neighborhood!
All of the ingredients you need are available at your favorite nearby grocery store.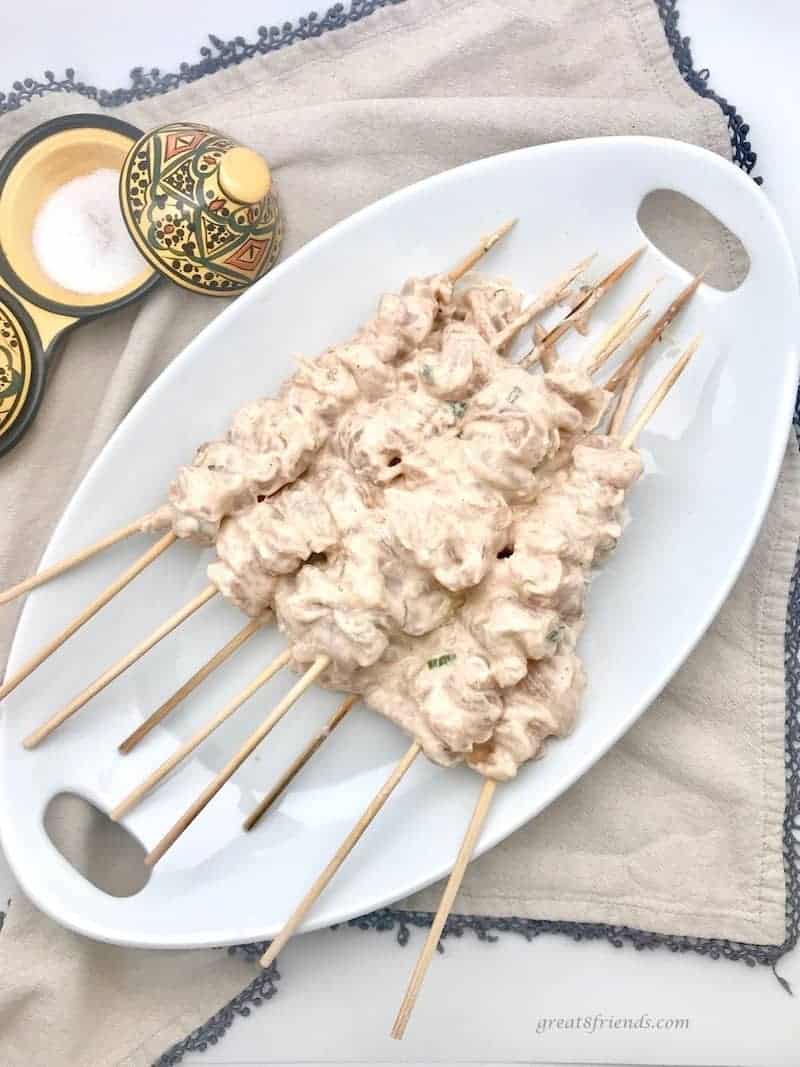 Because of the marinating time, this recipe is one that you will want to start the night before or early on the day of serving.
Pair these Lemon Yogurt Chicken Skewers with my Zesty Lemon Rice and Anna's Minted Cucumber Tomato Salad. Or for a simple meal, an arugula salad would be perfect.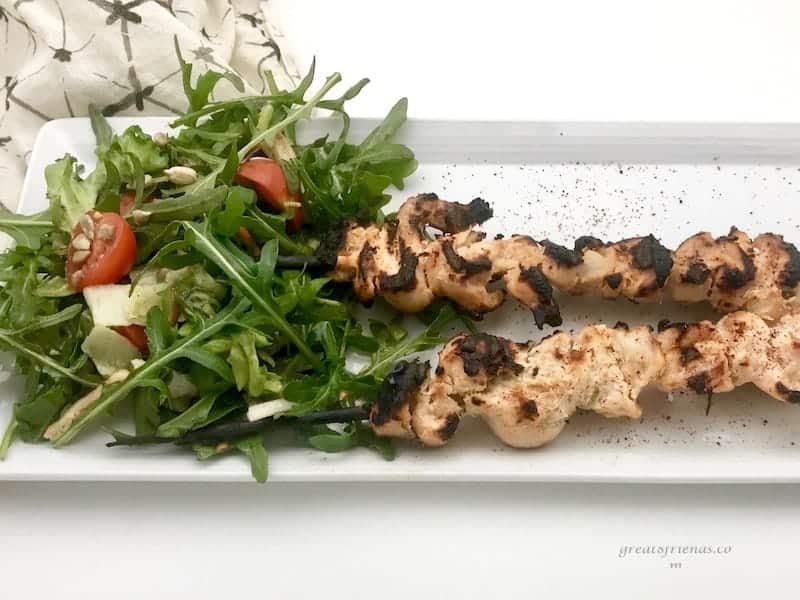 These days, with the internet and social media, I'm surprised I haven't been able to track down Sousan. I would love to see what she thinks of my Lemon Yogurt Chicken Skewers, and how close I've come to her recipe.
She may be back home in Tehran enjoying more of her mom's home cooking! Boy, would I love to be jotting a few things down in that kitchen!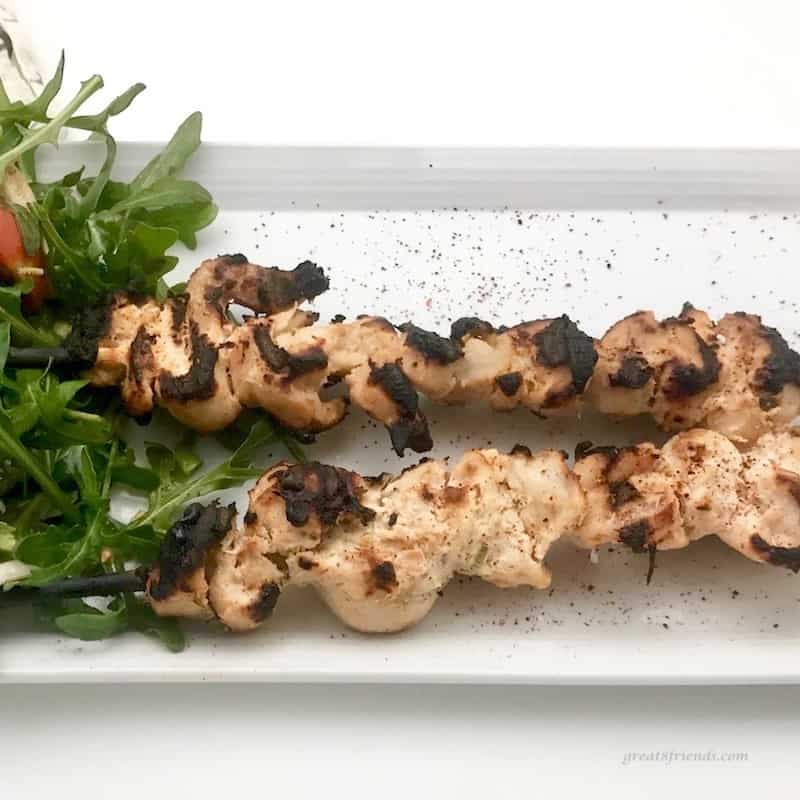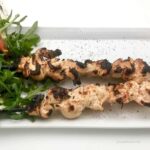 Print Recipe
Pin Recipe
Save this Recipe
Saved!
Please leave a rating!
Lemon Yogurt Chicken Skewers of the Middle East
This is a perfect chicken dish that's packed full of amazing flavor. The overnight yogurt marinade with its creamy, tangy combination keeps the moisture in. It's a delicious dish any time of the year! Get the grill fired up!
Ingredients
1 ½

cups

plain Greek yogurt

zest of one lemon

½

lemon

,

juiced

1 ½

Tablespoon

extra virgin olive oil

1

Tablespoon

paprika

3

large

garlic cloves

,

minced

¼

cup

chopped onion

¼

cup

chopped fresh mint

2

teaspoons

ground cumin

1

teaspoon

ground coriander

1

teaspoon

red pepper flakes

,

more or less, depending on your heat tolerance

1

teaspoon

freshly ground black pepper

1

teaspoon

kosher salt

2

pounds

chicken tenders

,

or boneless breast cut into strips

20

wooden skewers
Instructions
In a large glass or ceramic bowl, place all of the ingredients, except for the chicken tenders.

With a whisk, thoroughly combine the ingredients.

Add the chicken tenders to the mixture.

With a heavy spoon, thoroughly coat the chicken with the marinade.

Using two gallon-sized zip closure plastic bags, divide half of the the chicken and yogurt mixture and place into each bag. Zip closed and mix around one more time.

Lay flat and refrigerate for at least 4 hours or preferably overnight.

Soak the wooden skewers in water for at least 30 minutes.

Remove the chicken from the bags and discard the marinade left in the bags.

While grill is heating up, thread marinated strips of chicken onto the skewers.

Grill chicken for a total of 20 minutes, 10 minutes per side.
Notes
Gr8 idea:
For an added sauce on the side, make a little extra of the marinade. It would be a delicious accompaniment in a little dish on the side.