For the past 20 years, we've "traveled" around the world in our Great 8 kitchens and have celebrated the cuisines of all of our "destinations"!
Although we have been fortunate to visit many, clearly there are still so many we haven't checked off of our lists yet! The Middle East being one of them. So that was an easy choice for Phil and me for our Great 8 Dinner theme: A Middle Eastern Feast!
And boy what a feast it was! Literally everything at our finger tips!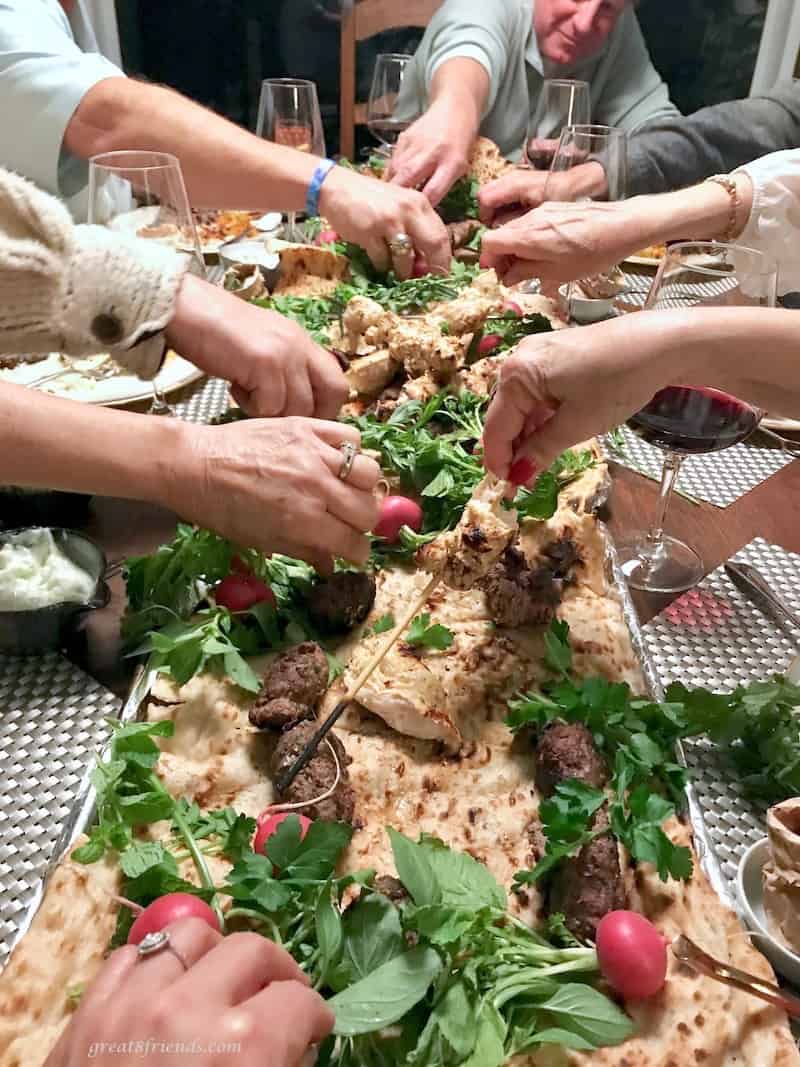 As you may have figured from many of my posts, my husband Phil and I have very adventurous palates. Never afraid to try the food of other countries...their spices, herbs, vegetables, fruits, fish or meats...raw or cooked!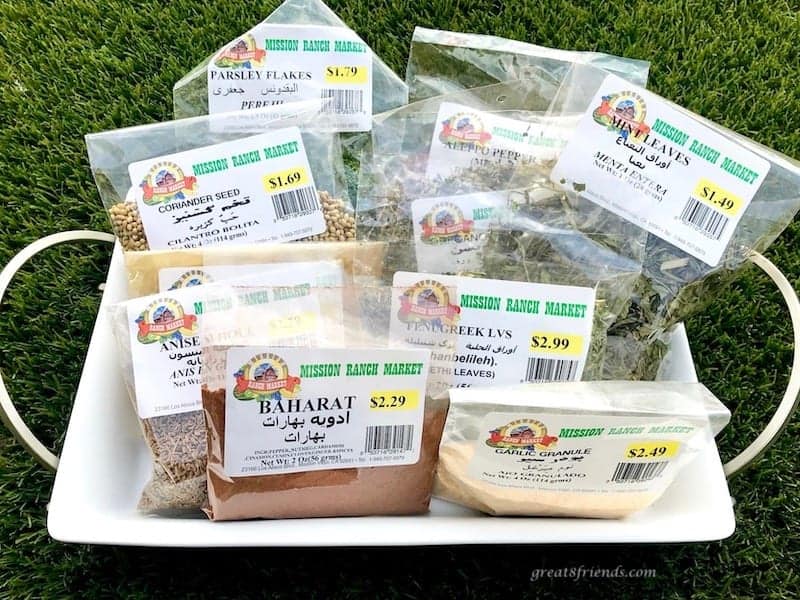 Once the Middle East was decided as the theme, you know me and my love for the crafty side of the planning...off to the craft stores I go! Michaels, JoAnn and Hobby Lobby just happen to be all in the same shopping center here! How great is that?!
What came to mind for me right away when thinking of Middle Eastern foods is the marketplace. Big bags of colorful spices and herbs all out in the open air. That's it! But hmmm...how can I pull it all together?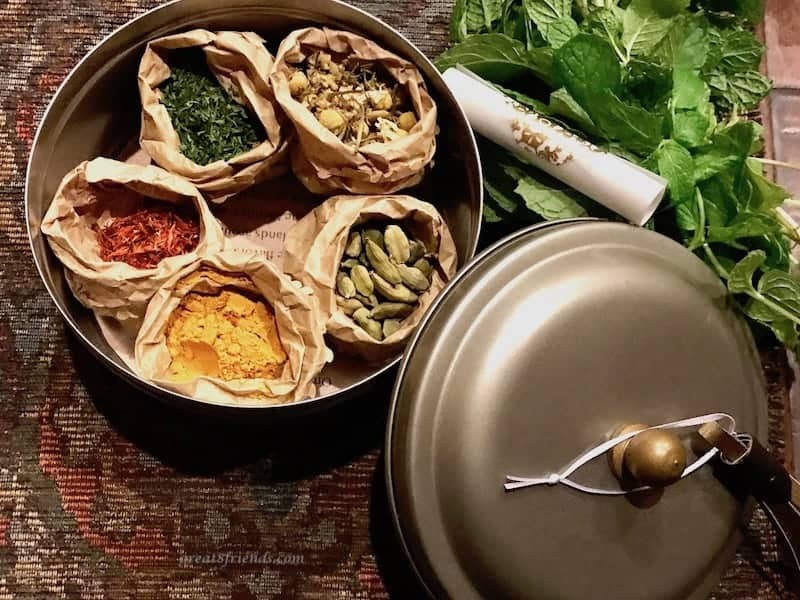 I found the PERFECT metal canister and with a Tim Holtz Sizzix Embosslit® border and a Sizzix tassel die, I had so much fun bringing together the look I had in mind...well, most of it!
Finding some super mini sized paper bags, and filling them with the typical Middle Eastern herbs and spices, I had them all set to add to the canisters with the invitation specifics at the bottom. Rolled up alongside was the menu, a nice bunch of fresh mint and a small cut of "Persian Rug" fabric. Let's load up the car Phil! Time to go out for delivery!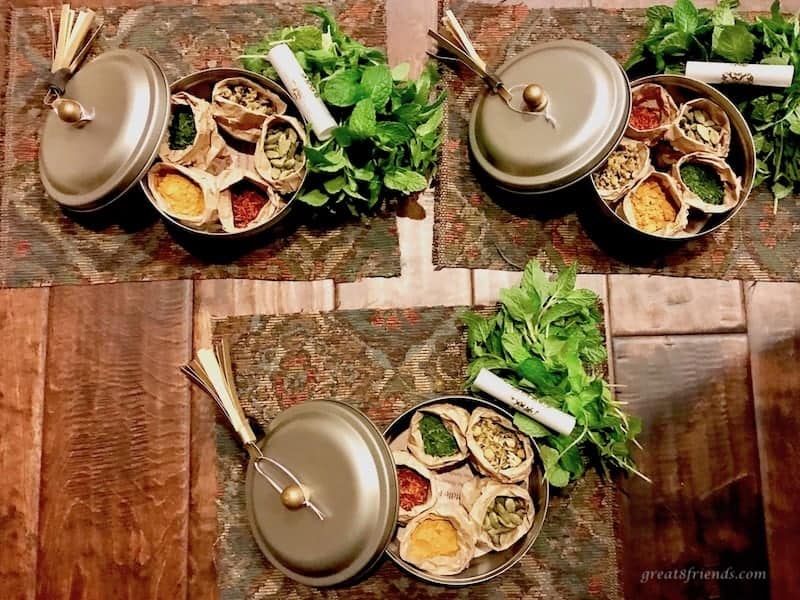 The menu was decided and the list of who brings what was set. How lucky are we to have two Middle Eastern markets right here in our own city. Mission Ranch Market and Bahar Restaurant and Crown Valley Market make it easy for us to find all of the authentic ingredients we needed for our recipes
The array of appetizers that night were not only delicious, but also a beautiful display full of color. I always think there's not going to be enough! We could've totally feasted on those and made it a meal! Trust me, that was what I did the next few days!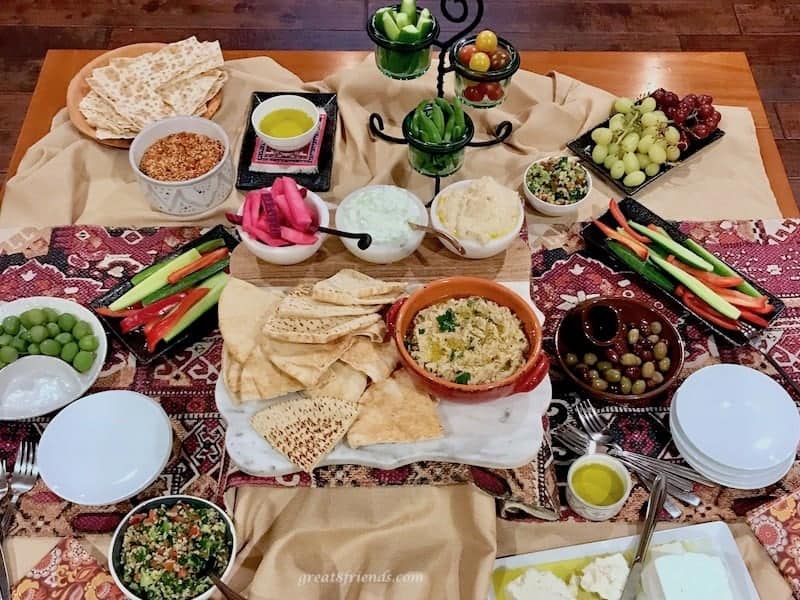 Jurga's Dolmas (Stuffed grape leaves) were amazing! Not only did she make what was requested, she made 2 (yes 2!) versions! How excited do you think we were!?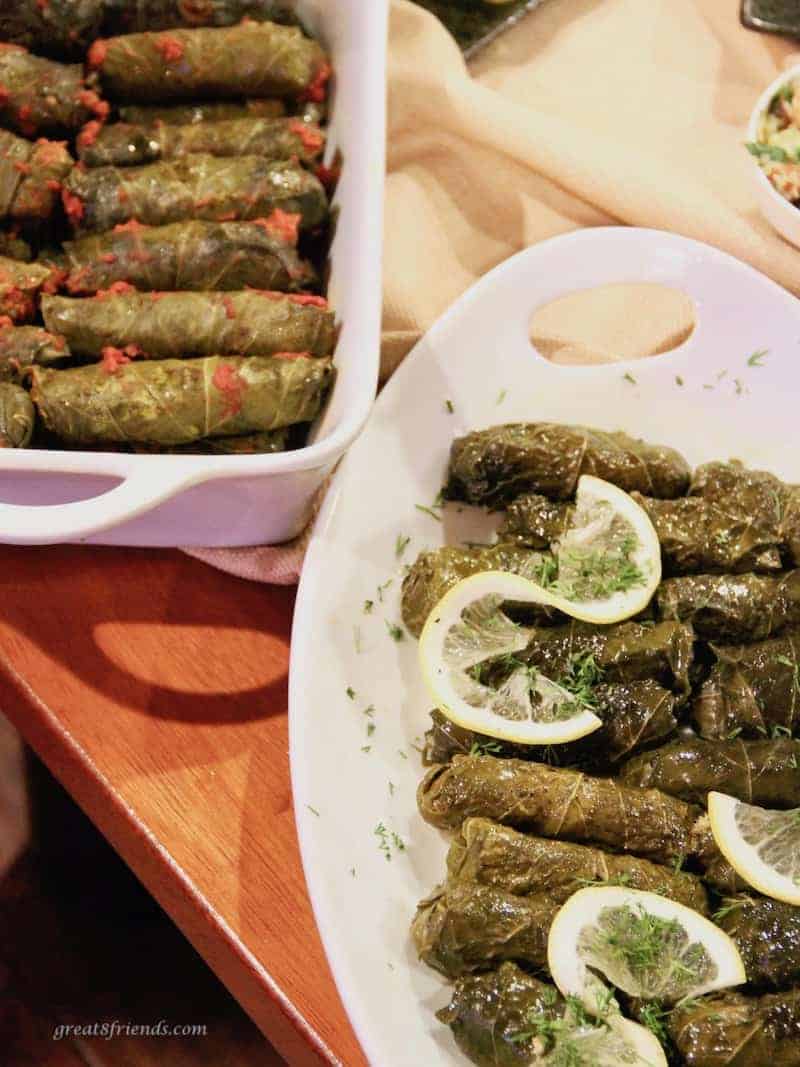 Always loving anything eggplant, Phil and I knew that Baba Ganoush was a must on the menu! Kyle made a delicious version of this eggplant dip, and it was enjoyed with lavash bread and pita chips.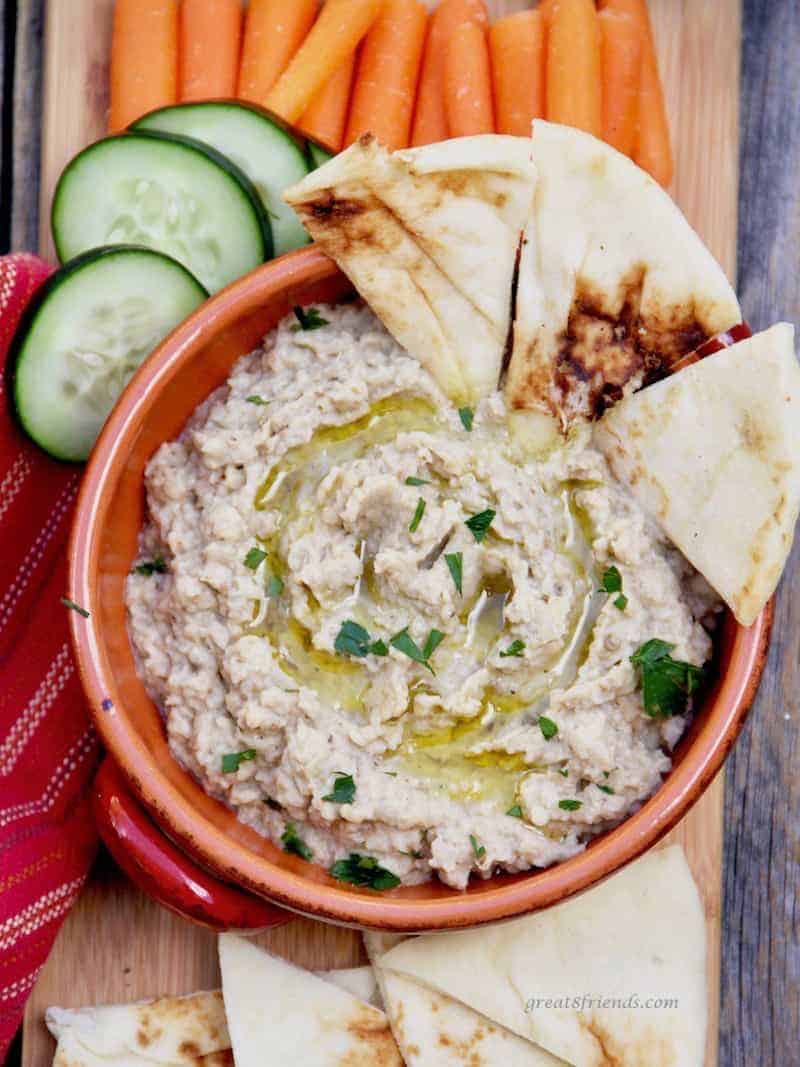 When our theme was decided, I couldn't wait to tell my friend Sonya! Sonya is Persian, and we love talking about food! I've learned so much from her about the different ways they celebrate meals in Iran. It truly is a celebration! Everything is on the table, right there in the center in front of everyone. Once she told me about that, I knew exactly the feel of how I wanted the table to look.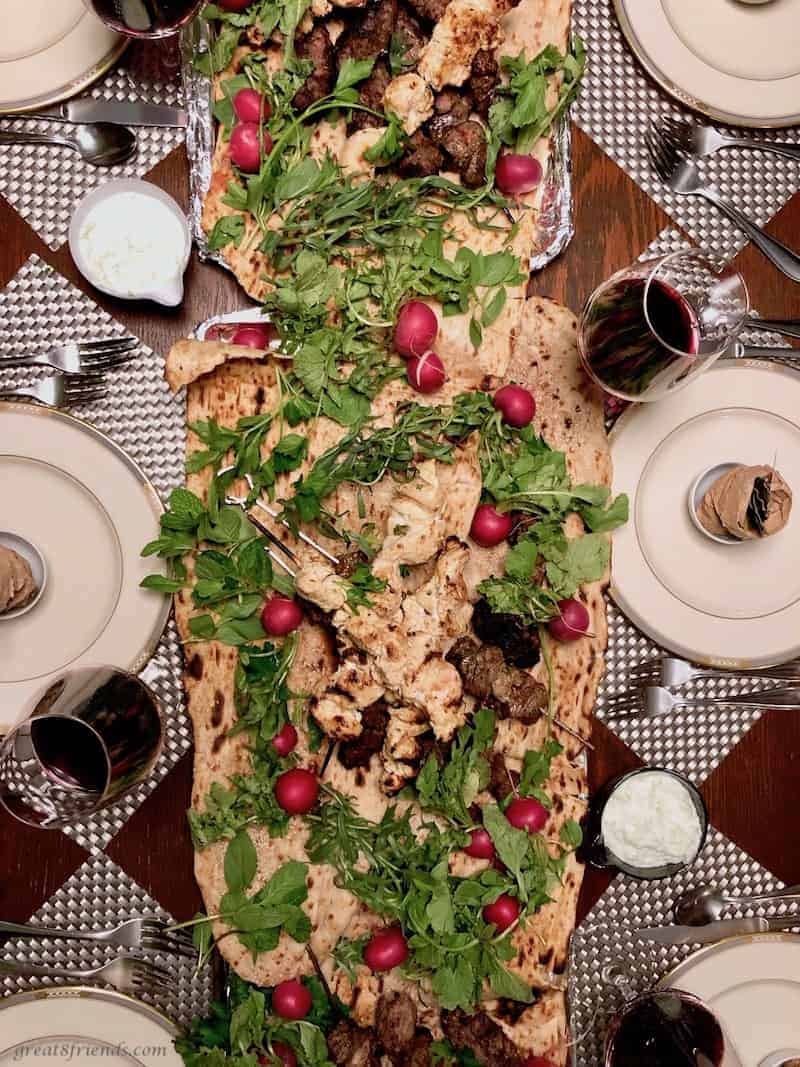 Not in dishes to be passed like at Thanksgiving, but all within reach without having to get up! I think that idea was what made this "feast" one of Phil and my favorites. Two full sheets of Sangak (a thin flat bread that's literally 4 feet long each!) was kind of like an edible table runner! With the Lemon Yogurt Chicken Skewers and the other meats that Phil grilled on top of the Sangak. I bordered it all with radishes and fresh herbs.
We had such an enjoyable evening at the table together, eating, sipping, laughing and talking.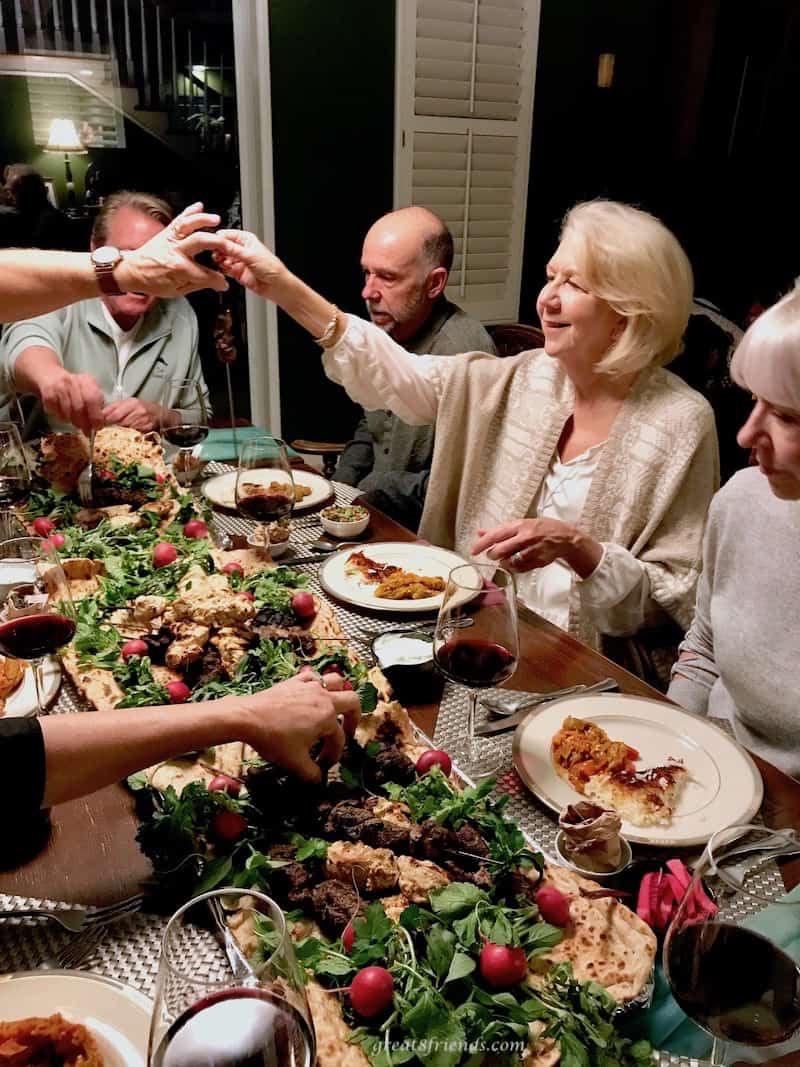 It's not over yet! Hello?! Dessert! As per tradition, the last Great 8 dinner host, makes the dessert for the next one. Anna....you're up! Baklava was the plan and boy did she deliver! Twice! She doubled up the flavors. She and Jurga, I tell ya!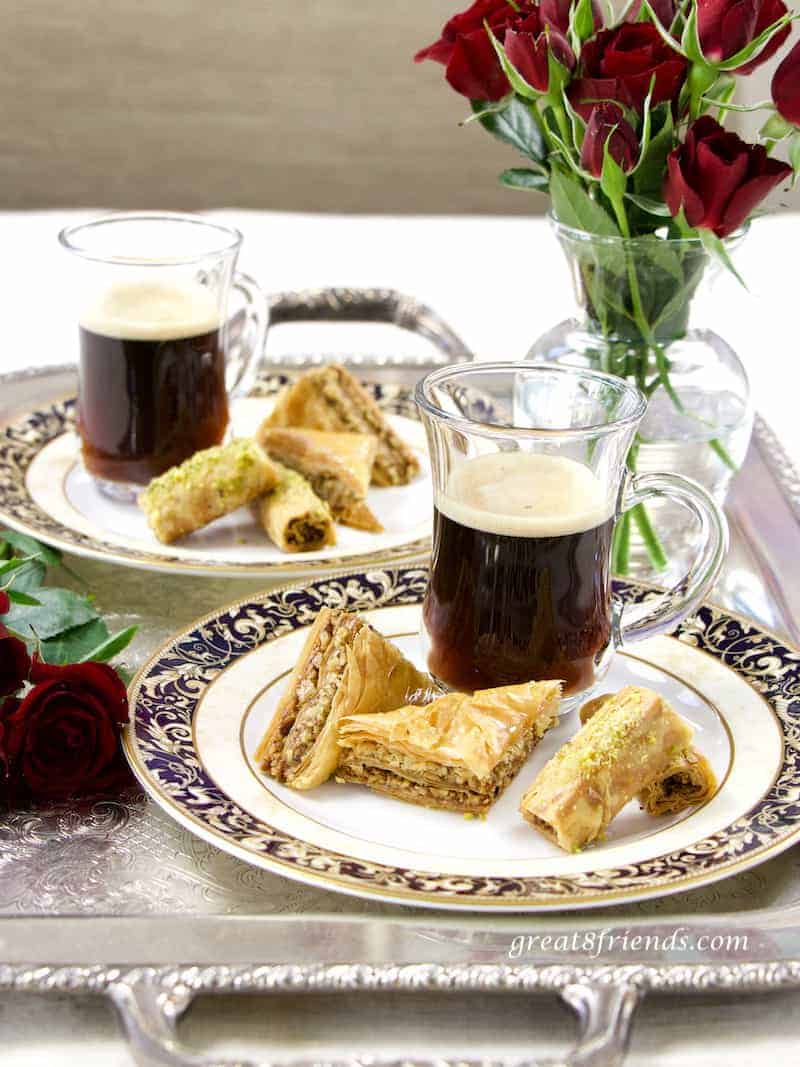 With our bellies full and leftovers packed, we finished another Great 8 Dinner with happy hearts. دوستانمان ("We love our friends"!)
Middle Eastern Feast Gr8 Recipes
Baba Ganoush
You'll love this easy and healthy eggplant dip recipe, also known as Baba Ganoush, with a smokey flavor from cooking the eggplant on the grill.
Gr8 Recipe Here!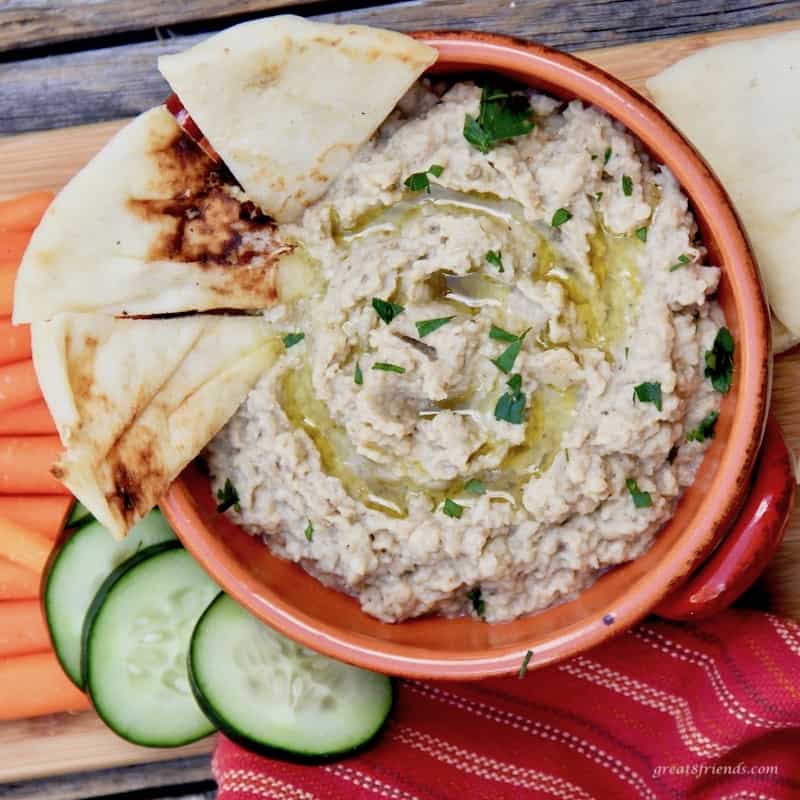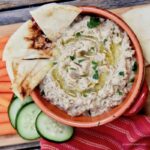 Lemon Yogurt Chicken Skewers of the Middle East
This is a perfect chicken dish that's packed full of amazing flavor. The overnight yogurt marinade with its creamy, tangy combination keeps the moisture in. It's a delicious dish any time of the year! Get the grill fired up!
Gr8 Recipe Here!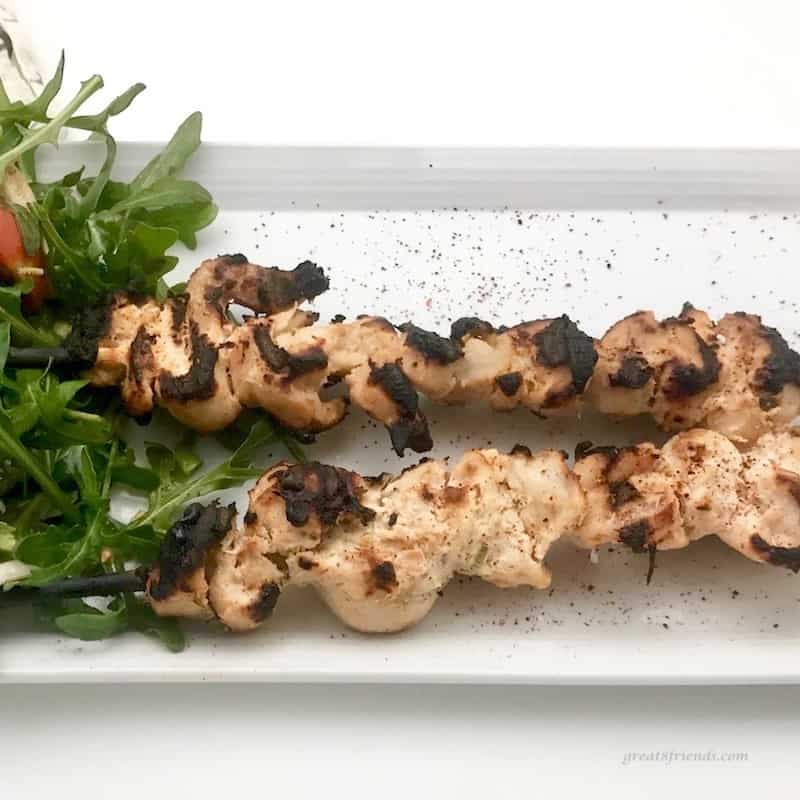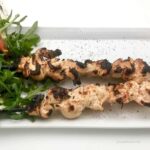 Lebanese Baklava or Baklawa
A homemade flaky, sweet and tasty treat!
Be sure to put the phyllo in the refrigerator the day before to defrost.
Gr8 Recipe Here!