I sometimes hesitate to serve lamb to guests because there are those that say they don't like it. One thing that we learned recently is that American grown lamb is less "gamey" than New Zealand or Australian lamb. Here is an article with more information on varieties of lamb.
So for the folks that say they don't like lamb, I say try it my way! When I serve lamb, I almost always make a quick sauce that the lamb can marinade in and then heated and served with the lamb, kind of like a gravy. This sauce has a fantastic flavor and for those of us who like a little something with their lamb (yes, that's me), it's the perfect accompaniment. So much better than that jar of mint jelly our parents would encourage us to eat with lamb! I have also posted this same sauce with a butterflied leg of lamb that we often serve for Easter dinner.
Joel and I both prefer the taste of American lamb marinaded in this sauce which is made of olive oil, lemon juice, soy sauce, dijon mustard, garlic and brown sugar. It is delicious and would be a great marinade/sauce for any other cut of beef as well.
These Orange Glazed Carrots are a colorful and tasty side dish for any meal. A one pot recipe and so simple to prepare! The addition of orange sections adds a surprise of fresh flavor.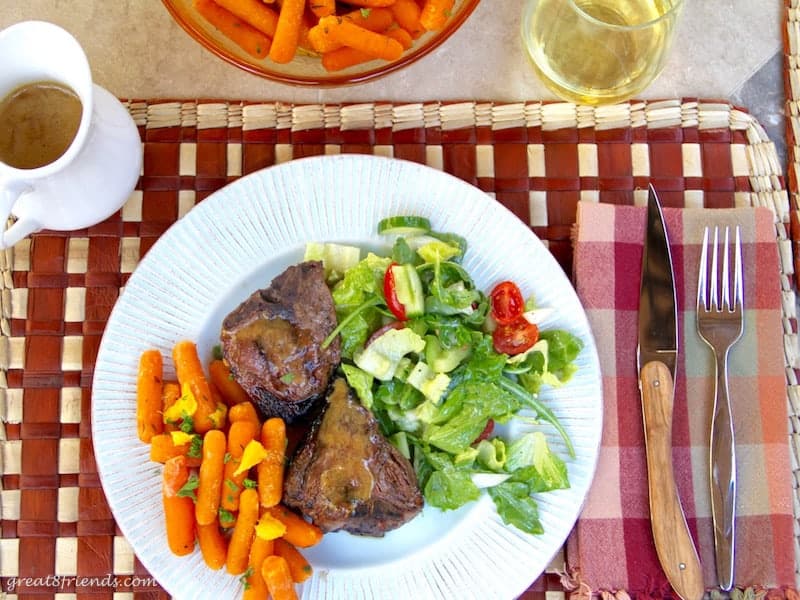 The combination of these two dishes is also Gr8 because you can make most of them ahead of time. The sauce/marinade can be prepared earlier in the day and then used as a marinade or heated up before serving. The carrots can also be made ahead of time and left on the stove and warmed up just before serving. Toss a quick salad and dinner is served without even breaking a sweat, I promise!
Lamb Chops and Orange Glazed Carrots
These two recipes are delicious and perfect accompaniment to each other!
Ingredients
Lamb Chops and Marinade
⅔

cup

fresh lemon juice

½

cup

brown sugar

¼

cup

Dijon mustard

¼

cup

soy sauce

2

cloves

garlic

,

minced

1

teaspoon

salt

½

teaspoon

pepper

½

inch slice

fresh ginger

,

unpeeled

16

lamb chops

,

enough for each person to have two chops
Orange Glazed Carrots
1 ½

pounds

carrots

,

baby carrots or larger carrots cut into ½ inch slices

3

Tablespoons

butter

1

teaspoon

cumin

1

teaspoon

garlic powder

½

teaspoon

ground mustard

½

teaspoon

thyme leaves

1

teaspoon

salt

½

teaspoon

freshly ground pepper

1

cup

fresh orange juice

1

navel orange

parsley

,

chopped for garnish
Instructions
Lamb Chops
Combine all ingredients above (except the lamb chops) in a blender or using a whisk, mix until completely combined.

Lay the lamb chops into a baking pan and pour a couple of spoonfuls of sauce on each the chops. Cover with plastic wrap and refrigerate for 1 - 2 hours. Reserve the remainder of sauce in saucepan.

Take the chops out of the refrigerator about 30 minutes before cooking.

Cook the chops on the outside grill or on an inside grill pan to desired doneness.

While the chops are cooking, heat the sauce on the stove on low.

Add a few spoonfuls of sauce on top of each lamb chop before serving and pass the warm sauce for those that might want more.
Orange Glazed Carrots
Melt the butter in a large sauté pan.

Add all the spices, cumin through pepper. Stir and cook for one minute in the butter.

Add the orange juice and stir to combine with the butter mixture. Bring to a simmer.

Add carrots to the pan and bring the liquid back to a simmer. Stir the carrots with the butter mixture. Partially cover the pan (about ¾ covered) with a lid and simmer the carrots for about 15 minutes.

While the carrots are cooking, cut the peel and white pith off of the orange. Cut the segments from the membranes and reserve the segments in a separate bowl.

Remove the lid from the carrots and continue to cook until liquid has condensed to more of a glaze (about 15-20 more minutes).

Stir the carrots to incorporate all the glaze. Serve warm sprinkled with the orange segments and parsley.
Notes
Gr8 Make Ahead Tips:
The lamb marinade can be one day ahead of time and kept in the refrigerator until time to use.
The carrots can be made ahead of time and warmed on the stove or microwave before serving.
sm 4/15/19