Ahhhh, Spa.... Just saying the word brings a sense of calm and relaxation. Spas have a particular smell; and that music, what is that music?
One of my best memories is our Gr8 Dinner that was spa themed. Our dinner was scheduled for August, a favorite month of mine because of the warm, balmy evenings which beg us to eat outside, al fresco as they say in Italy! Another benefit of summer evenings is that the heat makes us want to eat healthy and light. So what better theme than...
A Gr8 Spa Dinner!
Debbie and Phil, Joel and Kyle, and Jurga and Tim arrived at our home in comfortable, loose clothing as instructed on the invitation. We began the evening with a half hour of gentle yoga stretches, to get us in the mood for our "Spa" evening. They were all a little surprised that this dinner party included "exercise"!
I wish I could say we looked like this:
But in reality, we looked more like this: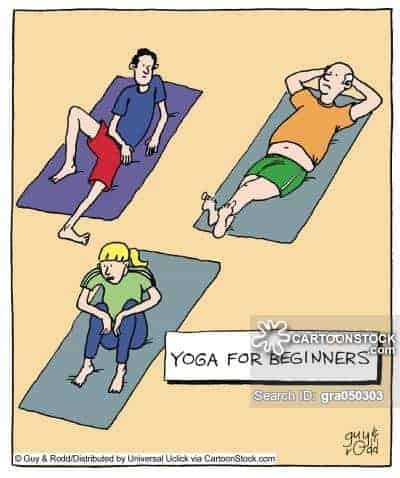 Then everyone took turns in the spare bedroom, changing into bathing suits and putting on the white terry robes provided. (I searched and searched for those robes until I found a clearance deal! That's why it's a good idea to have your theme chosen well in advance; you can then take your time collecting the accoutrements and not have to spend a fortune.)
Everyone was surprised when we escorted them to the backyard because there was a "cabana" all set up for sunset massages!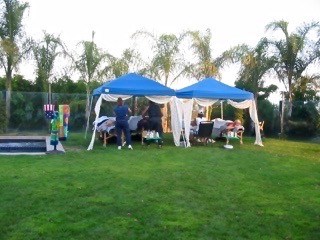 A dear friend of mine is a massage therapist and she was able to arrange for a couple of her peers to do "mini-massages" for each of us.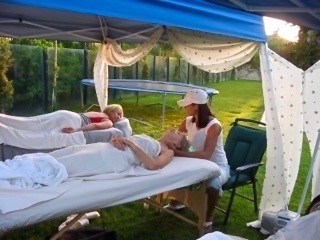 We took turns getting massages and munching on light appetizers and then proceeded to dinner, in our robes! (Please forgive the photos. These photos were taken on an old camera, at the very beginning of digital. This is as large as they get without being grainy.)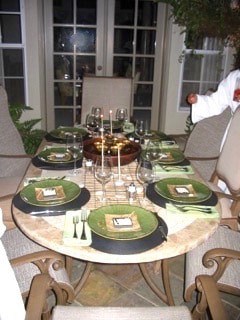 The centerpiece was a small water fountain and the place cards were miniature zen gardens that each guest was able to take home. Our kids always look forward to hearing about our dining adventures and so it is fun when we can bring home a little something that they enjoy; and they loved playing with these zen gardens!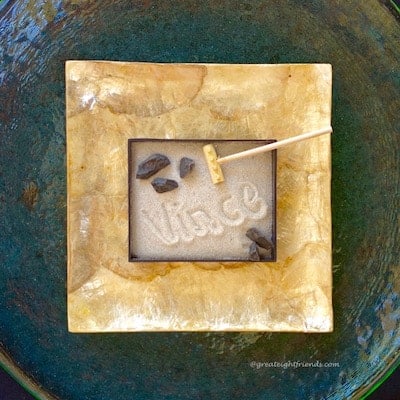 ∞ ∞ ∞ Menu ∞ ∞ ∞
∞ Light Appetizers ∞
∞ Main Course ∞
Steamed Rice
∞ Dessert ∞