Pasta Salad is a simple and colorful addition to any meal. It's so easy to put together and perfect for a buffet, barbecue or beach party!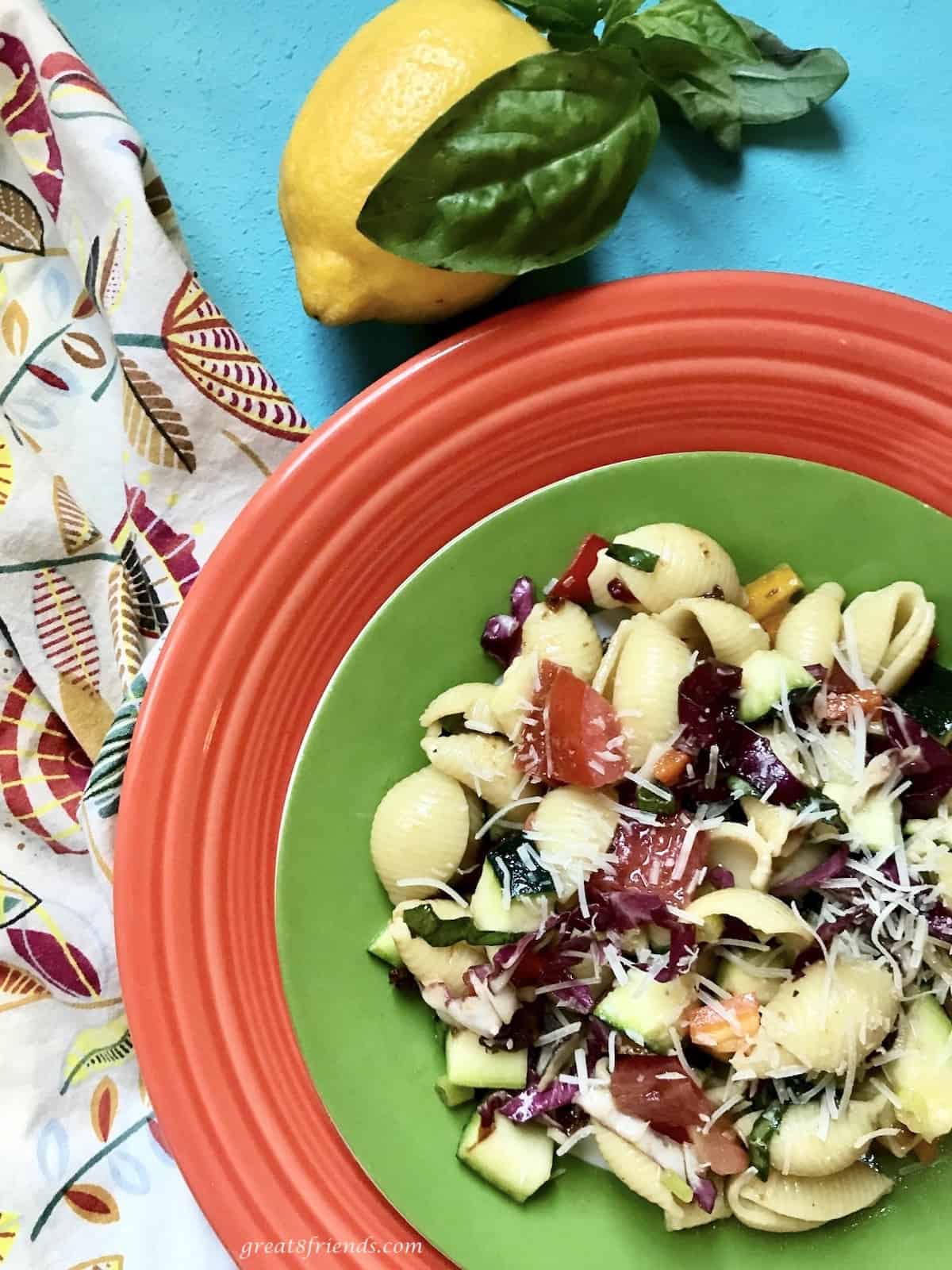 If you can boil noodles and chop some fresh vegetables, you're going to love this recipe! It's as easy as that!
How lucky was I that Pasta Salad was the dish Anna and Vince chose for me to bring to their Beach Blanket Barbecue.
With a summer date for their Great 8 dinner, how perfect is their theme!
What made it even more fun was, she was specific on the pasta shape. Shell, of course! Get it? "She sells seashells by the seashore!"
That Anna! Clever as ever! And of course it made perfect sense to serve it in a sand pail with shovels as the salad "tongs"!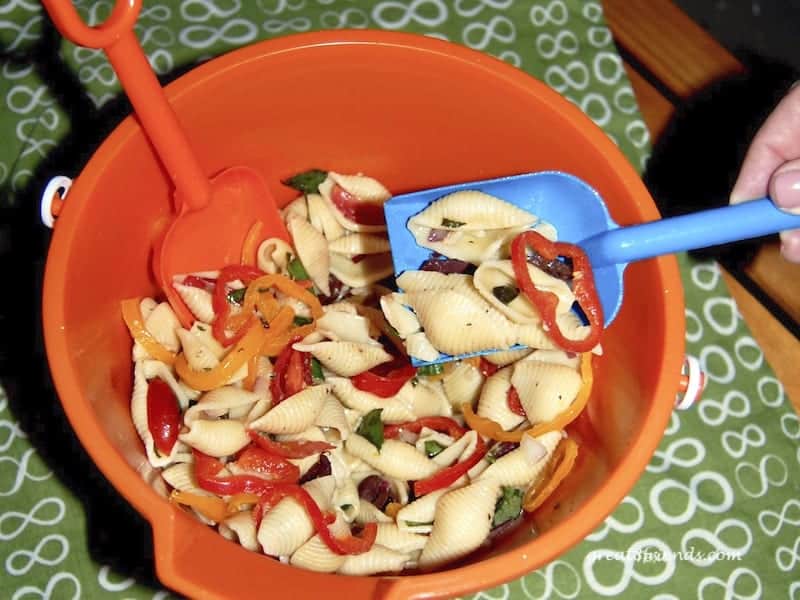 Easy and delicious with all the fresh ingredients found at our nearby Manassero Farms and our local Trader Joes, I knew exactly what I wanted to include in this pasta salad.
It has all the flavors of summer in every bite. The lemony freshness in the dressing, balances out the rest of the ingredients making this salad light and refreshing.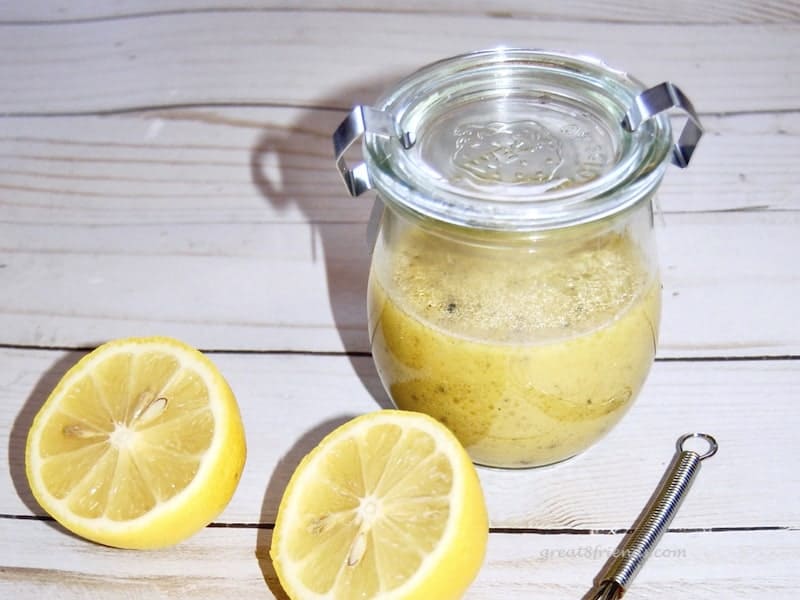 Seeing all of the vegetables combined and being a USC alumna, I especially loved the colors of the tomatoes and peppers together!
I had to pause and take a picture, of course! Fight on!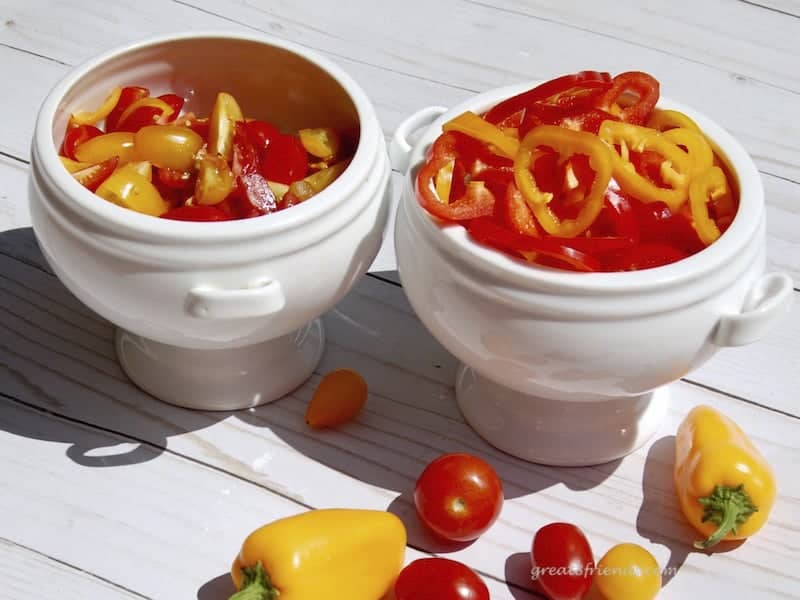 Loving all things mini, how cute are the baby zucchini! When sliced, they're the perfect itty bitty bite size..about the size of a dime! Cute Cute Cute!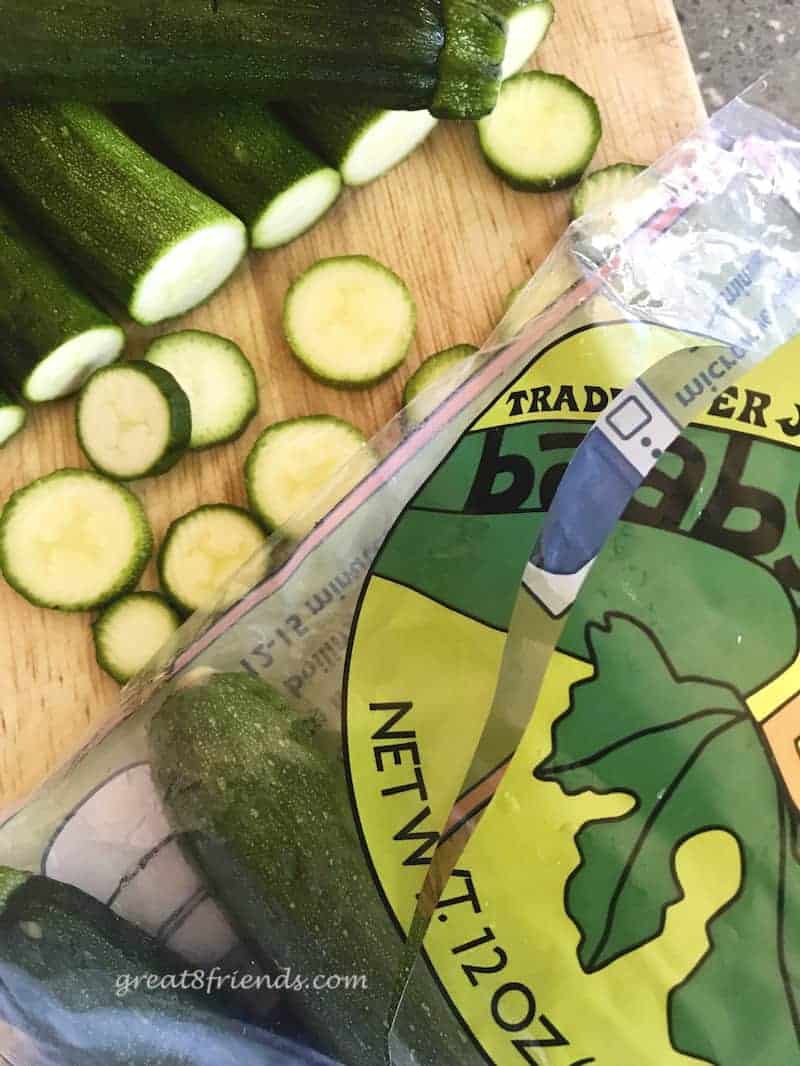 My Pasta Salad Secret Trick
Often times, thank goodness not THAT often, my husband comments on the dressing to salad ratio...sometimes I've added a tad too much dressing. Whoops!
The days prior to Anna and Vince's Beach Blanket Barbecue happened to be a more than usual hectic week for me, so here's what I did!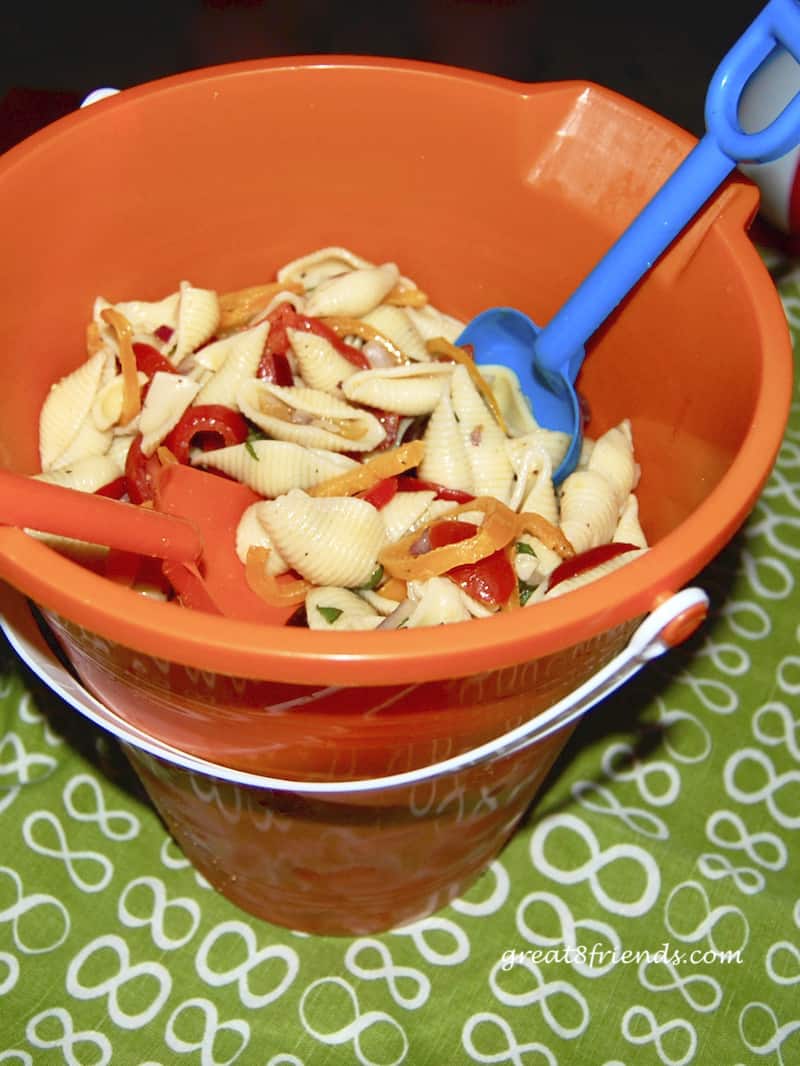 The day of, with all of the salad ingredients chopped, the dressing whisked and the noodles cooked and cooled, I set up kind of like a pasta salad bar.
Here you go Phil! I gave him the task of assembling, dressing and mixing! How Gr8 was that! He did it and he did a delicious job at it! I hope I remember this little trick next time!
If you choose to serve it as a main course, shred some of Anna's Easy Roast Chicken Provençal, add it in and mix it up.
The leftovers are just as good as the day the salad was made...whether it's served table side or beach side.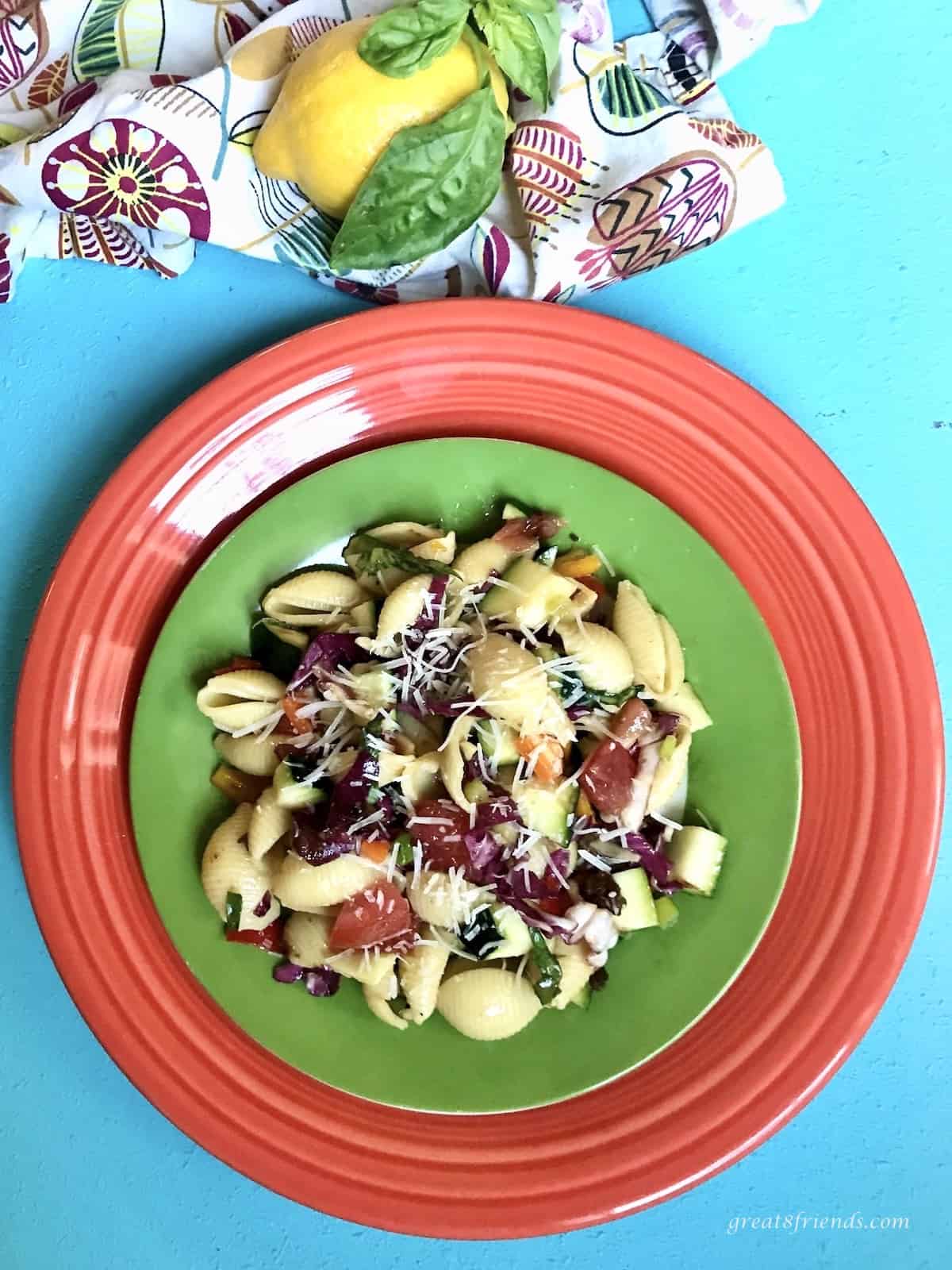 Some Other Gr8 Salad Recipes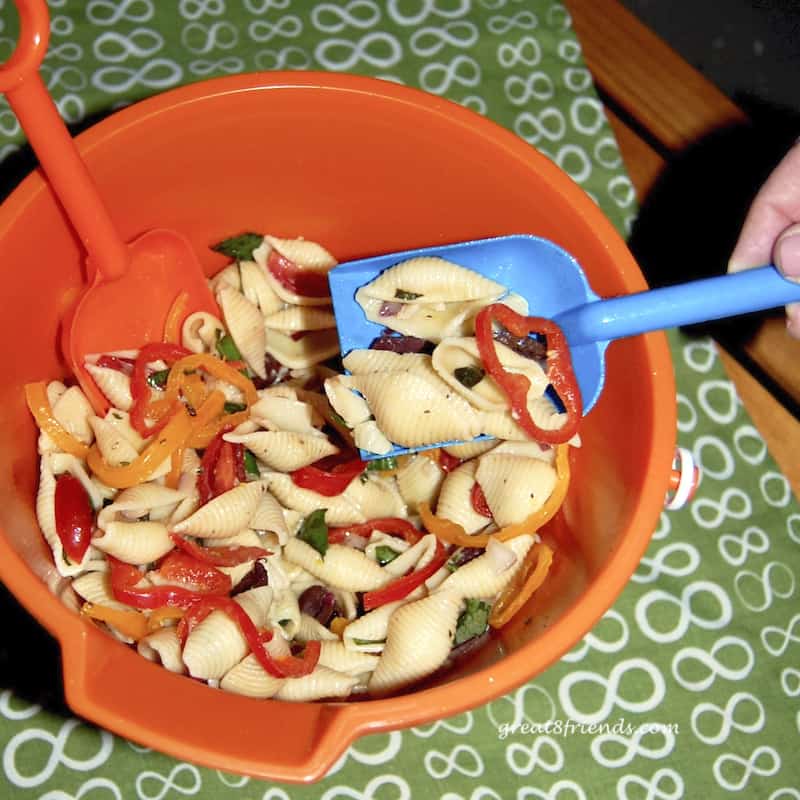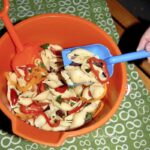 Print Recipe
Pin Recipe
Save this Recipe
Saved!
Please leave a rating!
Easy Shell Pasta Salad
When the temperature outside is warm and you want something light as a side dish or even a meatless main course, this Shell Pasta Salad is sure to be one of your favorites.
Ingredients
Lemon Dijon Dressing
¾

cup

extra virgin olive oil

¼

cup

plus 3 Tablespoons, Lemon Juice

2-½

Tablespoons

Dijon mustard

1-½

teaspoons

honey

1

teaspoon

freshly ground black pepper

,

or more to taste

1

teaspoon

Kosher salt

,

or more to taste
Pasta Salad Ingredients
1

pound

shell shaped dry pasta

8

medium

mini sweet peppers, sliced in rings (or diced)

,

assorted colors*

1-¼

cups

halved pear tomatoes

1

12 ounce bag

Baby Zucchini*, sliced

,

or 2 small fresh zucchini diced

1

7 ounce jar

julienned sun dried tomatoes in oil

,

drained and chopped

¼

cup

fresh basil, sliced

3

sliced green onions

,

green and white parts.

⅓

head

small radicchio, sliced

⅓

cup

grated parmesan cheese
Instructions
Salad Dressing
Combine all of the dressing ingredients in a small bowl. Whisk vigorously, until emulsified. Refrigerate until ready to mix in with the salad ingredients.
Shell Pasta Salad
Cook the shell pasta al dente ("to the tooth"! Not mushy!) according to package instructions. Sometimes to get the pasta "al dente" it needs to be removed from the water before the time in the instructions. So you may want to start testing it a couple minutes before it's supposed to be done. Drain and set aside to cool covered with a damp cloth, as to not dry out.

In a large mixing bowl, combine all of the salad ingredients, except for the pasta and grated parmesan cheese. Mix thoroughly.

Depending on your preference, add all or most of the cooked pasta. Mix thoroughly with the vegetables.

Slowly, in a steady stream, add the dressing. Add a bit, toss and taste. Mix gently and thoroughly. Add more if needed.

Add the grated parmesan cheese. Gently mix in 1-2 tosses, trying not to over mix.

Adjust seasoning to your liking: more dressing, salt and/or pepper. Cover until time to serve.
Notes
Gr8 Notes
If you choose to make this a main course and are short on time, grab a rotisserie chicken from your local market. Shred it and mix it in. Delicious!
*available at Trader Joes