The Great 8 enjoyed a Chicago Dogs Dinner party with authentic food that you would find in the windy city. Come along and enjoy a dog!
My husband, Tim, and I met and lived in San Francisco but were married in our favorite city — Chicago.
Chicago is my home town; Tim grew up in Indiana, but he spent many years in the city going to school and working.
Shortly after we married, Tim was relocated with his job to Southern California where we settled into a beautiful home and have enjoyed the weather. However, something was missing. What was lacking?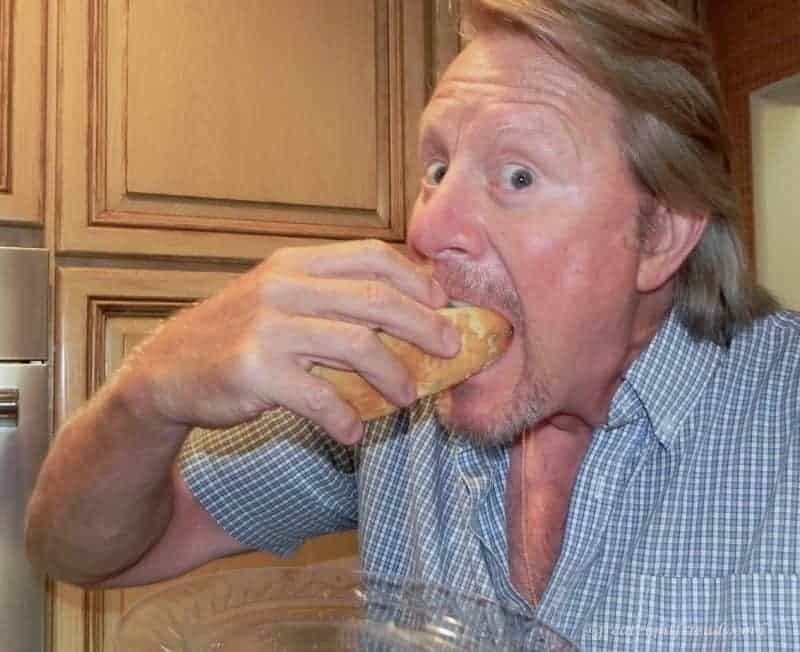 The food! A good Midwestern steak, deep dish Chicago-style pizza, and most notably, a Chicago-style hot dog!
Although we searched many restaurants that claimed "the best Chicago pizza or hot dogs in town" we were always disappointed. Those foods were just not the same!
Therefore, when it was our turn to host the next Gr8 dinner, a Chicago theme was a no brainer.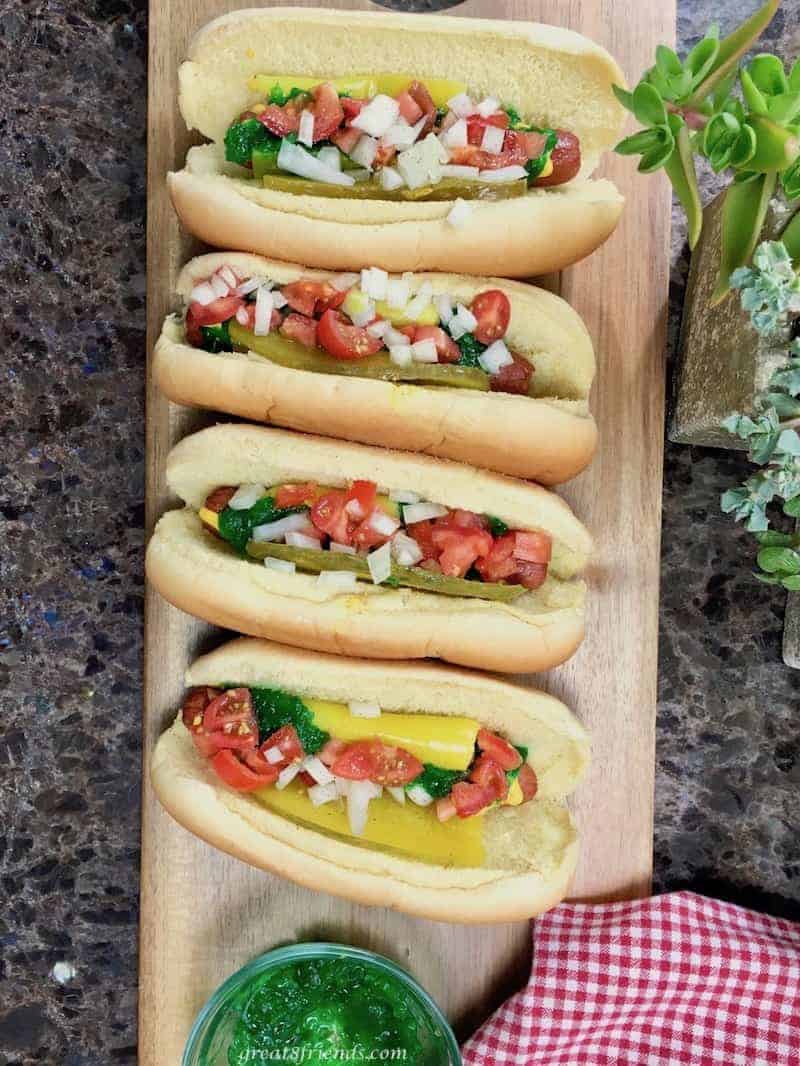 I wanted the dishes on the menu to be as authentic as possible, so I knew I needed help. That's where Chicago's Lou Malnati's online ordering came to the rescue!
Typically, our Gr8 dinner appetizers are light with a few cocktails, but not this time. Our evening was going to start with the mother lode — Chicago-style hot dogs with all the fixin's, BBQ ribs, and deep dish pizzas (2 varieties).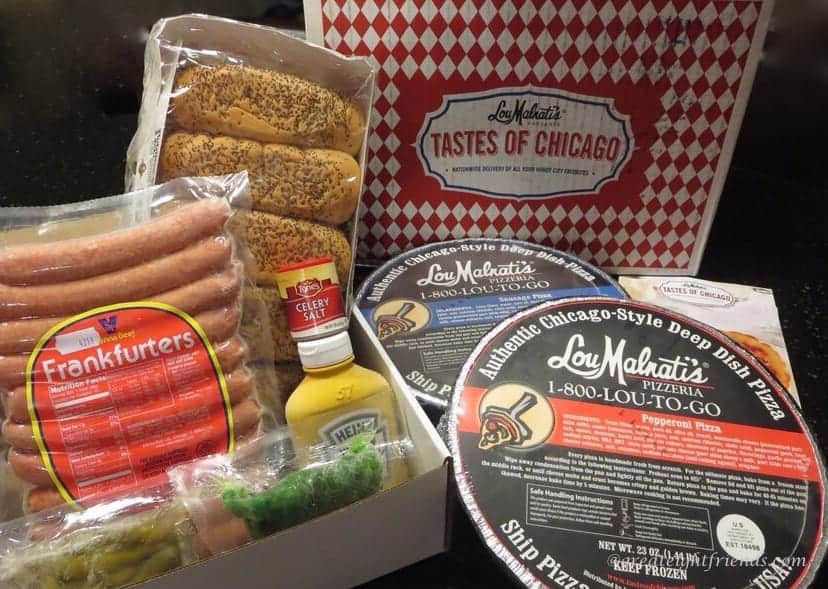 Remarkably, all sent to us from Lou Malnati's.
Besides the pizzas and ribs, other items in the Styrofoam dry-iced packed container included 10 Vienna hot dogs, 10 poppy seed buns, 6 oz. bright green sweet pickle relish, 6 oz. sport peppers, mustard, and celery salt (we had to supply the onions, tomatoes and kosher pickle spears).
The package also included the world famous Eli's Cheesecake that I topped with my freshly whipped cream and strawberries to enjoy at the end of the meal. Cocktails were none other than PBR (Pabst Blue Ribbon beer).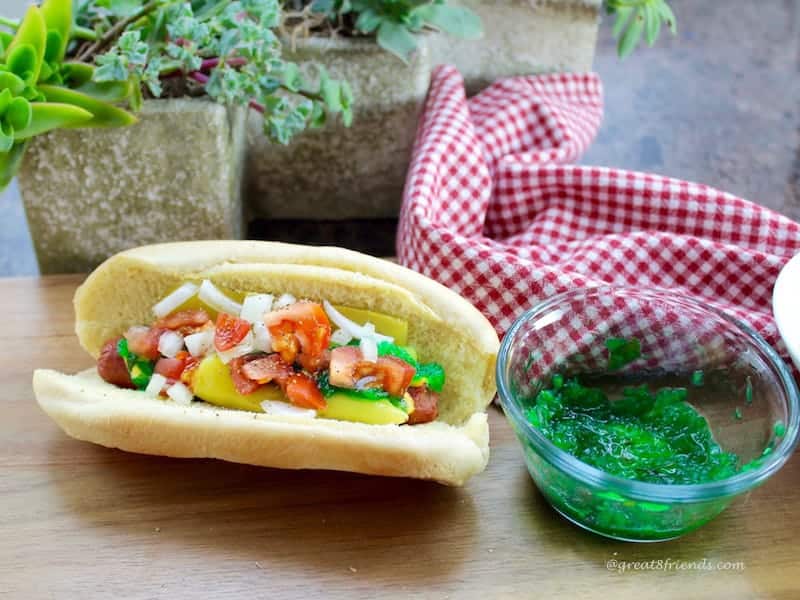 While we were all pretty full from the heavy appetizers, no one was complaining!
Even though the hot dogs were the biggest hit of the night, I knew there would be enough room for the main course of my special Grilled Beef Tenderloin; Roasted Green Beans, Mushrooms and Onions; and roasted potatoes.
This post contains affiliate links which means Great Eight Friends may earn a small commission if you click on the link. There is no additional cost to you. As an Amazon Associate we earn from qualifying purchases.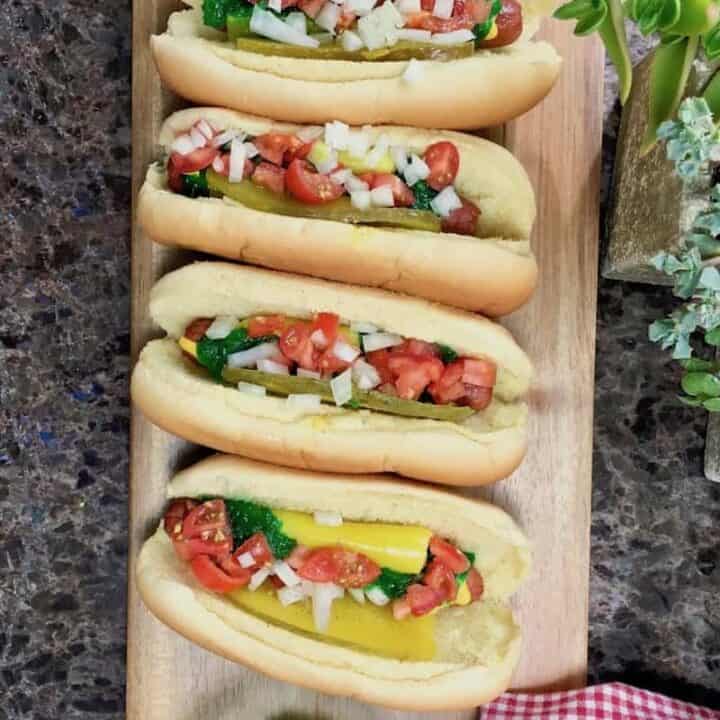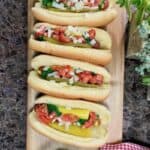 Print Recipe
Pin Recipe
Save this Recipe
Saved!
Please leave a rating!
How to Build Chicago Dogs
If you're craving a Chicago style hot dog, this recipe's for you!
Ingredients
1

steamed poppy-seed bun

,

for homemade, try King Arthur Flour's recipe, or follow Gr8 Tip, below

1

all beef frankfurter

,

boiled not grilled

squirt of yellow mustard

1

Tablespoon

green sweet pickle relish

1

Tablespoon

chopped white onion

2

Tablespoons

chopped fresh tomato

2-3

sport peppers

,

or mild pickled wax peppers

1

kosher dill pickle spear

Celery salt

,

sprinkle the top

NO KETCHUP 🙂
Instructions
Layer the above ingredients in the order given.
Notes
Gr8 Tips:
For quick and easy poppy seed buns, split regular buns (preferably brat buns as they hold up better) and brush the outsides with a bit of melted butter. Sprinkle with poppy seeds and bake in a 325ºF oven for 5 minutes, or until warm.
If you want to make homemade buns, give this King Arthur's recipe a try!
Bright green relish can be made by adding a dash of green food coloring to your favorite sweet green pickle relish.
A Gr8 Way to Stock Your Pantry:
For your convenience, here are the links for ordering these pantry items from Amazon.
Last published February 15, 2017.