My mom can't figure out why I love to cook and have dinner parties, because her dream house comes without a kitchen! The fact is, I do love to have people over and conversation is always fun and lively when food and drink is involved.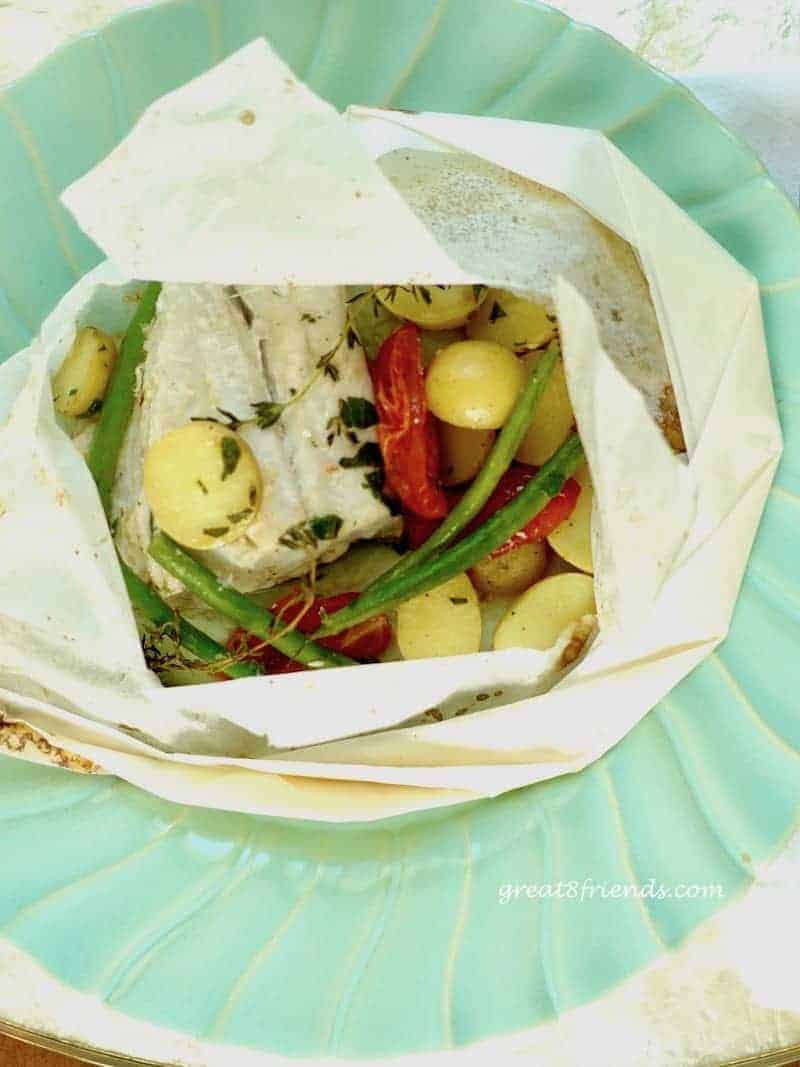 An important rule that I've made for myself is that most of the dishes need to be able to be prepared somewhat ahead of time so that when the guests arrive, I can enjoy their company without focusing too much on the cooking.
This meal is almost perfect...Of course, there will always be last minute things to do when you are serving a meal to anyone, but this is an entire meal in a smart parchment paper packet. The French call it "en papillote"... I call it amazing.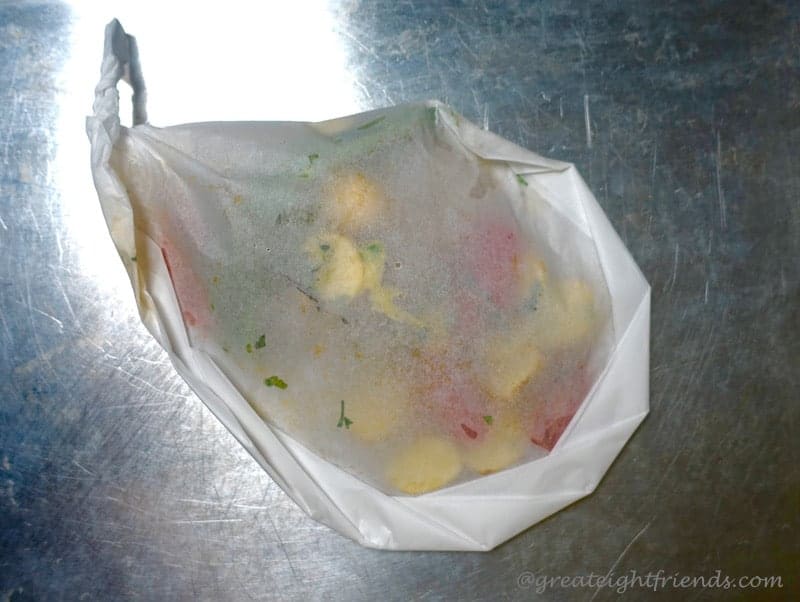 The concept is that the food is sealed inside the paper (you can also use foil) and it steams to cook. This can be a low-fat and tasty way to prepare your food. This recipe does include butter to give just that little extra silkiness to the sauce.
There are a few Gr8 things about this meal. The first is that the parchment packets make a beautiful presentation when served to your guests. Also, you can use almost any vegetable/herb combination you like and use any liquid. Be Cre-8-ive!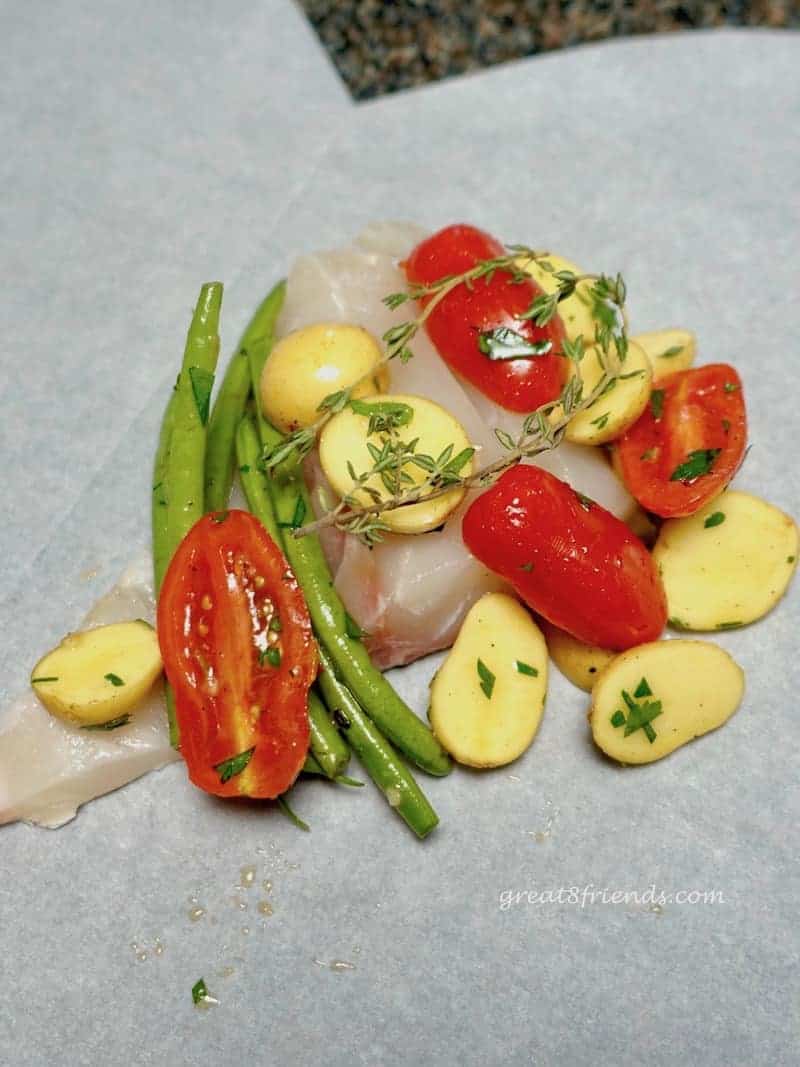 Check out this video from bon appétit for instructions on cutting and folding the parchment paper into a tight packet to enable the food to steam.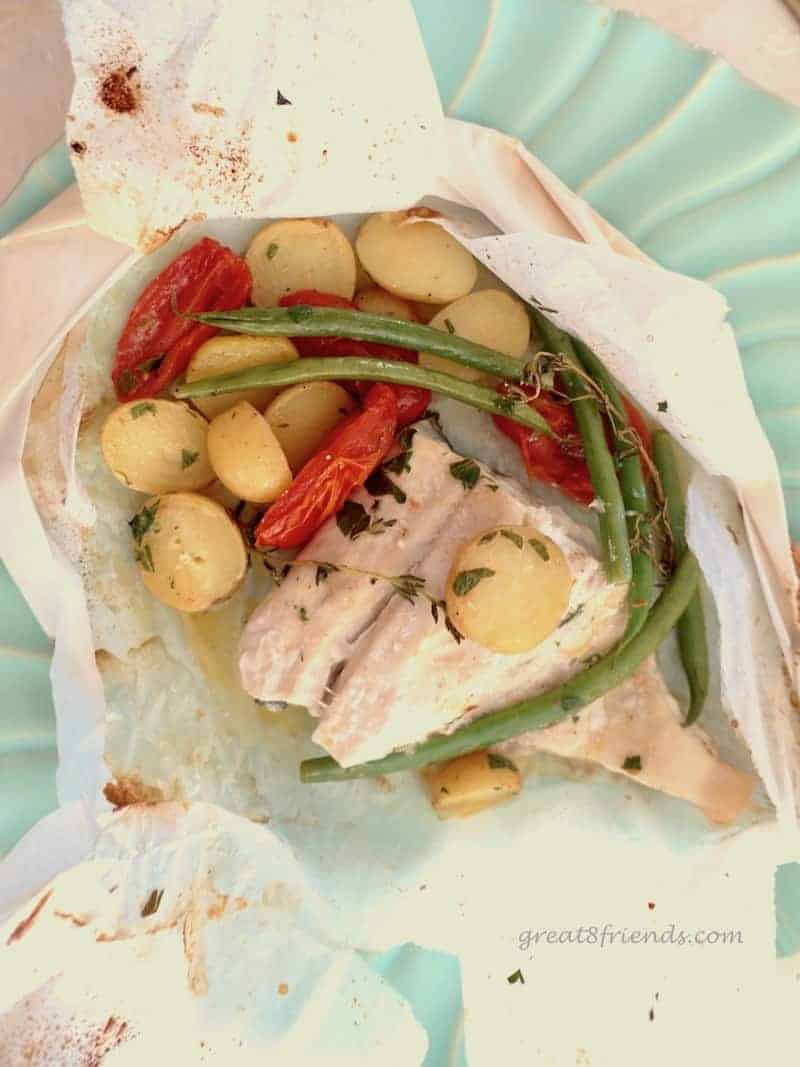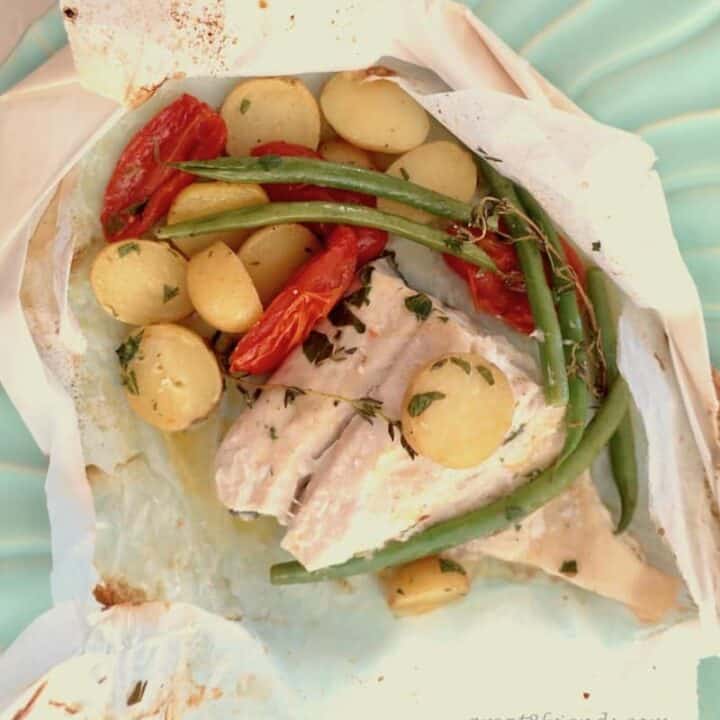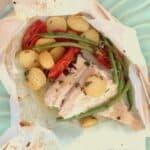 Print Recipe
Pin Recipe
Save this Recipe
Saved!
Please leave a rating!
Fish Dinner for Eight
If you don't have parchment you can also use foil. Foil does not have to be cut into the heart shape because it can be crimped; so just make small rectangular packets.
Ingredients
8

new potatoes,

,

sliced ¼" thick; or 32 "Peewee Potatoes" cut in half

16

cherry tomatoes,

,

halved

½

pound

haricots verts or thin green beans

3

Tablespoons

finely chopped parsley

3

garlic cloves

2

Tablespoons

extra-virgin olive oil

1

teaspoon

salt

½

teaspoon

freshly ground black pepper

¼-1/2

teaspoon

red pepper flakes,

,

depending on your tolerance for hot

2

pounds

sea bass cut into 4-ounce fillets,

,

you can also use halibut, sole, or any flaky white fish, about ¾" thick

16

thyme sprigs

½

cup

dry white wine,

,

divided

4

teaspoons

butter,

,

divided, if desired
Instructions
Preheat oven to 375ºF.

Cut 8 parchment paper hearts. (Check out this video.)

In a large bowl, mix together the potatoes, tomatoes, haricots verts and the parsley.

Peel the garlic and, using a garlic press, press the garlic cloves into the vegetable mixture. Or, peel and smash the cloves well with the side of a butcher knife. (careful!)

Add the olive oil and mix until all the vegetables are coated.

Sprinkle in the salt, pepper and hot pepper flakes and mix well.

Lay a piece of fish onto one of the paper hearts just next to the center crease.

Arrange one-eighth of the vegetables around and on top of the fillet.

Lay 2 sprigs of thyme on top of the fish, then sprinkle 1 Tablespoon of wine over the mixture.

Top with ½ teaspoon of butter.

Seal the parchment packet.

Repeat with all eight pieces of fish.

Lay the packets side by side onto two large baking sheets and bake for 15 minutes.

Remove the packets from the oven and put each pack onto a plate.

Give each guest a sharp knife (like a steak knife) to cut into the parchment. Or you can go around with a pair of scissors and open each packet. CAUTION! The steam will be hot, so make sure everyone uses care when opening their pack.

Et Voilà! Dinner for 8!
Notes
Gr8 Do Ahead Tip:
The packets can be made up to two hours ahead of time. Place them on the baking sheets and refrigerate. Remove from the refrigerator and let sit at room temperature while the oven heats. Then bake and serve!