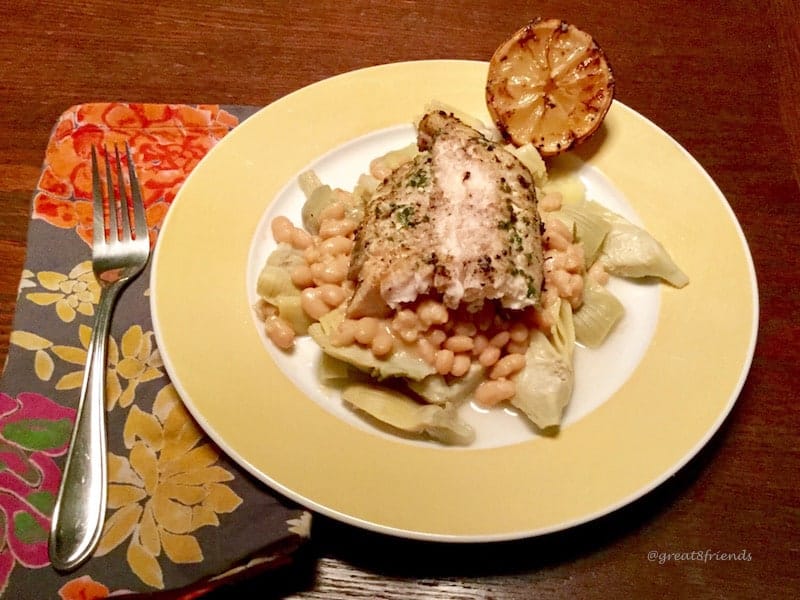 Do you have that favorite restaurant that's out of town? You know, the one where you make a reservation weeks before you go because you've been craving it since you were last there?! We actually have a list of faves...pretty much anywhere and everywhere! And in San Francisco we've got tons! Way too many to choose! Can you blame us? That amazing city is full of hidden gems! One of ours was Rose Pistola! Sadly, just around the time of this post, they closed their doors after 20+ years. When we are in that wonderful city, (which is pretty much every Fall) we have had a tradition of taking our nieces and nephews who live in the area, out to dinner. Most of them were there for college and what college student would pass up a delicious meal at an amazing restaurant! Way better than dorm food or a meal plan!! Our choice every year was Rose Pistola! They all loved it, and we couldn't wait! We'd give them a heads up on the date and we're always thrilled when they are be able to join us!
One of our favorite dishes that at least one of the 10 of us would order was always the Grilled Sea Bass (Branzino) with Lemons and White Beans.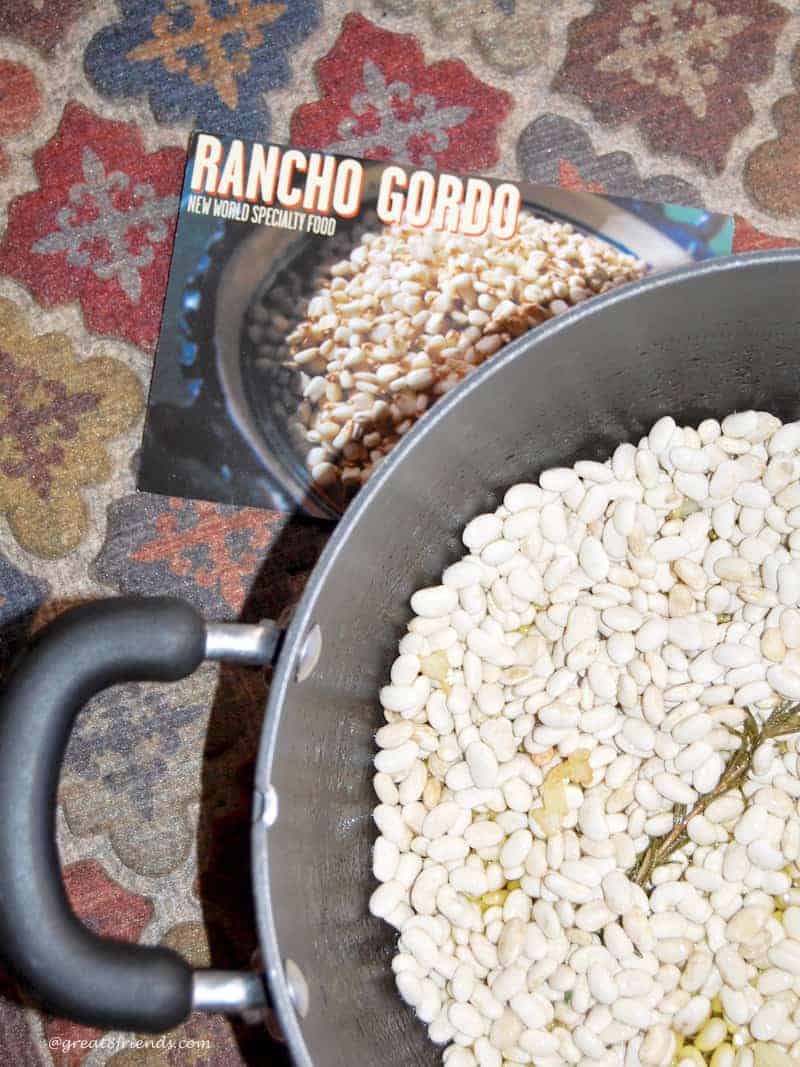 My personal addition is the artichokes, and those flavors combined are delicious!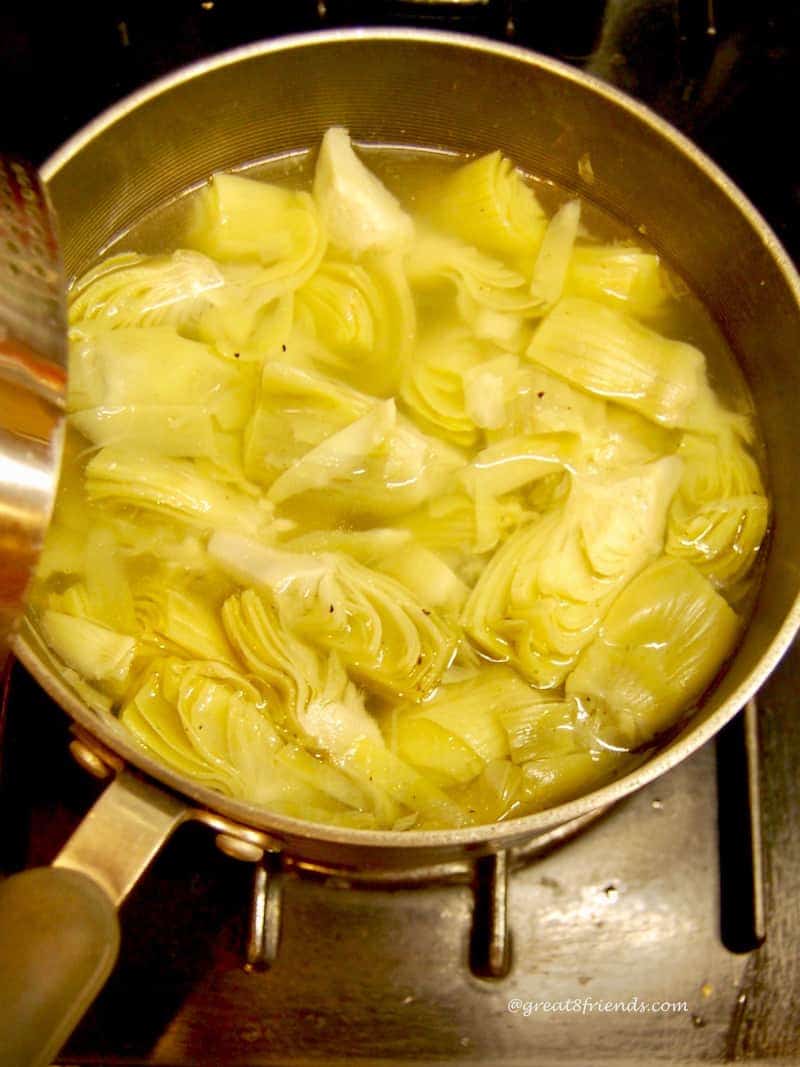 The flakiness of the sea bass takes on the light flavor of the grilled lemons...with the earthiness of the artichokes and beans...forget it! Indescribable! A full meal on one platter! At Rose Pistola, they'd use a whole fish. The waiter would bring the platter of goodness to the table for all to admire! After the oohs and ahhs, it's brought back to the kitchen for deboning! You can bet the waiting is tough, but oh so worth it! The fillets are used here for the impatient ones at home...and easier too!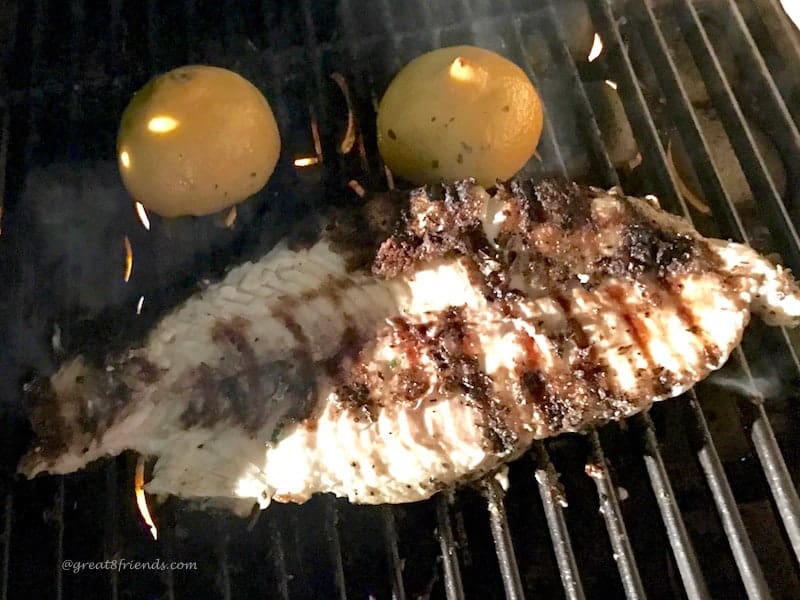 We had some Gr8 memories at that little gem of a place! We will surely miss it. I'm so happy I have the cookbook to cling to!
Just to let you know, some of the links on this page are affiliate links. Great Eight Friends may earn a small commission when items are purchased through these links. Thank you for your Gr8 support!
Recipe adapted from The Rose Pistola Cookbook.
Grilled Sea Bass with Lemon White Beans and Artichokes
Ingredients
For the Beans (If using canned beans, go straight to "For the Lemon, Beans and Artichoke"):
1/2

cup

extra virgin olive oil

1

clove

garlic,

,

peeled and crushed

2

rosemary sprigs,

,

about 4″ long

3

cups

dried white beans
If using canned beans instead of dried beans:
2

15-ounce cans

Cannellini beans, (only if you are not using the dried beans),

,

drained and rinsed
Optional Bean ingredients:
Parmesan and/or Prosciutto rinds,

,

See Gr8 tips below
For the Lemon, Beans and Artichokes:
1

lemon

1

bag

frozen artichokes hearts,

,

(or 2-14 1/2 ounce cans of artichoke hearts, drained)

2

cups

Cannellini Beans

,

cooked and drained (recipe above, or a 14 1/2 oz. can, drained)

1

clove

garlic

2

sprigs

marjoram,

,

about a 5" long stem

1/4

cup

extra virgin olive oil

Kosher salt or sea salt and freshly cracked black pepper
For the Fish:
1 1/2

Tablespoons

fresh oregano leaves

2

Tablespoons

extra virgin olive oil

2

cloves

garlic

1/4

teaspoon

salt

1/2

teaspoon

freshly ground black pepper

4

6 inch

sea bass fillets

2 - 3

lemons,

,

halved
Instructions
For the Dried Beans:
In a large ovenproof pot, heat the EVOO, garlic and rosemary over medium high heat.

Sauté until the garlic begins to brown slightly. (I couldn't resist dipping a tiny piece of Parmesan into that EVOO garlicy rosemary pool of goodness!)

Once it begins to boil, immediately decrease the heat to simmer.

Cover and place in the preheated oven.

Bake for 2 hours until fork (or taste!) tender (may be less time, depending on freshness of dried beans**)

Check the water level from time to time. The beans need to be slightly covered with water.
For the Lemon, Beans and Artichokes:
In a small sauce pan, boil the lemons in water just to cover.

Reduce heat to a visible simmer, slightly covered until tender when pierced with the point of a sharp knife, 12-15 minutes.

Drain liquid into a bowl, keeping the lemony water. (The boiled lemon can be made a day ahead, kept covered and refrigerated, and sliced the next day.)

Slice lemon crosswise, in about 1/8″ slices.

Let the artichokes (frozen or canned) sit in the bowl of lemony water.
While the fish cooks:
In a saucepan, warm the cooked beans (or canned beans) with the sliced lemon, garlic, marjoram and olive oil about 5-7 minutes. Season with salt and pepper.

Keep warm while the fish is on the grill.
For the Fish:
Using a mortar and a pestle, mini food mill or processor, mash, blend or puree all of the ingredients except for the fish and halved lemons (oregano to black pepper).

With your hands or a rubber spatula (I'm guessing Rose used her hands!) rub the mixture evenly over the fish pieces.

Place the fish pieces and the lemon halves (cut side down) onto the grill directly on the grates.

Grill until the fish is slightly opaque (starting to turn white on the edges, about 3-4 minutes).

Turn the fish carefully. If It sticks to the grill, you're turning too soon. Continue to cook longer until it no longer sticks.

Continue cooking until almost fully opaque in the center, about 5 minutes, more or less. Grill time varies depending on the thickness of your fillets and how hot your grill is.

Check the glossy caramelization of the lemon halves…tart but sweet. Be careful not to burn them.
To serve:
The last few minutes of grilling, place a platter away from the direct heat to warm. Arrange the warmed drained artichoke hearts on the warmed platter. Top evenly with the beans and arrange the fish over the beans.

Squeeze the caramelized grilled lemon halves over the dish before serving.

Make Rose proud and enjoy!
Notes
Gr8 Tip:
The bean recipe is amazingly delicious with the fish. But here's an idea! If you're serving them as a side dish alongside something other than fish, in Step 4 when cooking the beans, throw in a small piece (about 3″) of Parmesan rind and/or ask your butcher for a piece of the prociutto rind. Both add an amazing flavor. Discard before serving.
Gr8 Do Ahead Tip:
The beans can be prepared the day ahead and warmed the day of serving.