A brilliant concept, though not a new one, sausage and eggs, a breakfast combination. But unless you are in the habit of eating the traditional foods of Great Britain, it is doubtful that you have experienced them quite this way. I came across this idea when preparing the menu for our Olde English Christmas Gr8 Dinner. And surprise, surprise, my Gr8 British friend, Christine, loves these!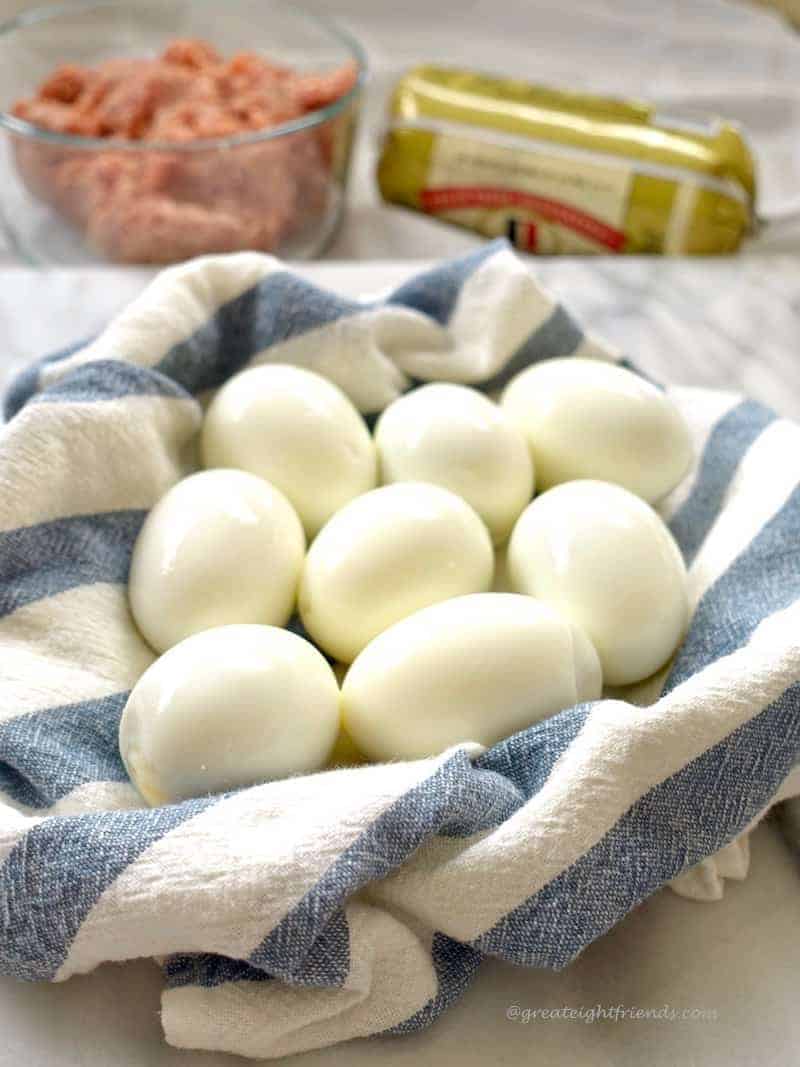 This recipe takes the humble hard-boiled egg and encases it in a robe of sausage, to then be deep fried. It is spicy, and creamy, and crunchy, and rich, and just plain old yummy...all at the same time!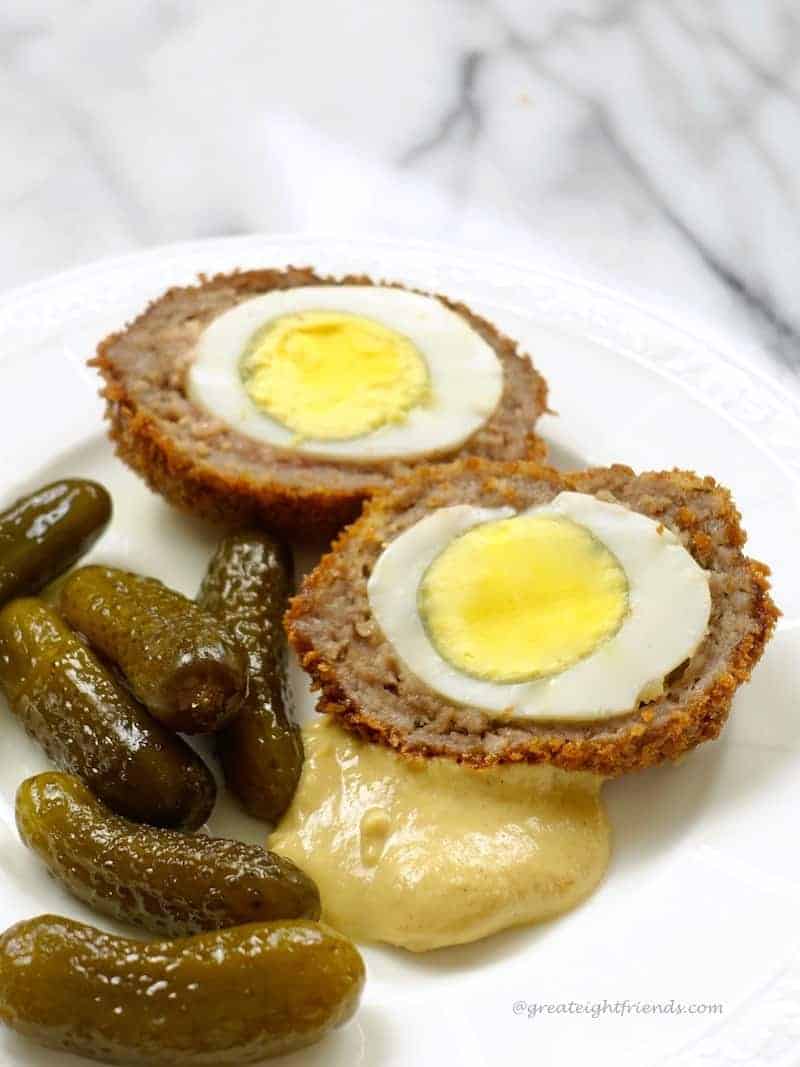 Scotch Eggs are perfect for a brunch buffet or serve them with a salad for dinner or lunch, they also make a delicious appetizer. Or these can be the perfect breakfast on the go. The really Gr8 part about these eggs is that they can be served warm, cold or at room temperature! How Gr8 is that? (I prefer them at room temperature or with a little chill.)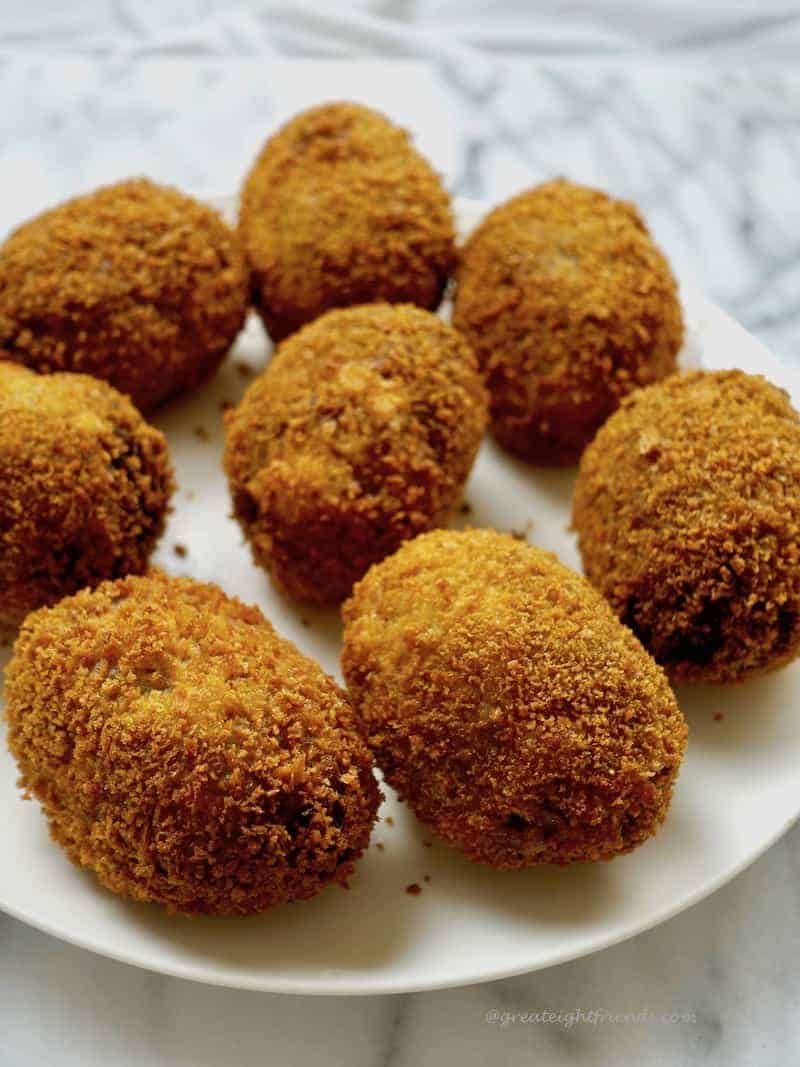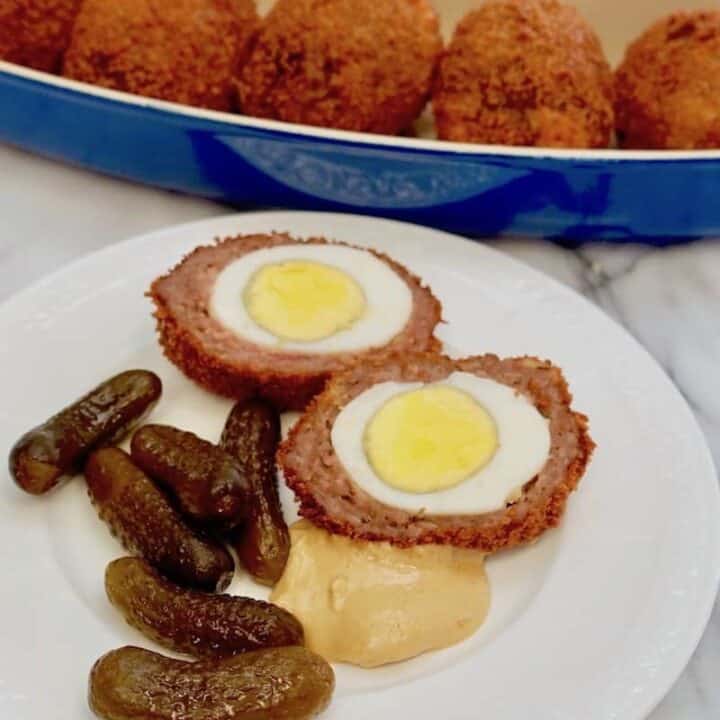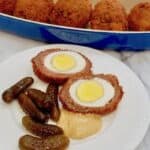 Print Recipe
Pin Recipe
Save this Recipe
Saved!
Please leave a rating!
Scotch Eggs
This is a Gr8 snack, appetizer, breakfast on the go, or buffet addition. Truly an all around food!

Ingredients
8

large

eggs, hard boiled and peeled

2-3

Tablespoons

all-purpose flour

20

ounces

sausage meat,

,

I used breakfast sausage

1

egg

1

teaspoon

water

1

cup

breadcrumbs

Oil,

,

for frying
Instructions
Roll each peeled egg in flour until completely coated.


Divide the sausage meat and make 8 patties.


Lay one egg in the middle of one sausage patty and work the meat up and around the egg until none of the egg shows through. The sausage meat should be fairly evenly distributed so it cooks evenly. You don't want it too thick anywhere.

Do this for all 8 eggs. At this point, if the sausage is too sticky and difficult to work with, put the sausage covered eggs in the refrigerator to firm up a bit.


Beat the one egg with the teaspoon of water in a small bowl.


Put the breadcrumbs into another shallow dish.


Meanwhile, put about 2" of oil into a medium saucepan and heat it to 375ºF. (A thermometer comes in handy here.)


Roll each sausage encased egg in the egg wash then roll in the breadcrumbs to cover.


When the oil is ready, carefully lower each egg into the oil and fry until golden brown and the meat is cooked through, about 5 to 6 minutes. Don't crowd the eggs and try to keep the oil temperature at 350ºF.

Drain on paper towels.


For the best presentation, cut the Scotch in half lengthwise. Or, you can leave them whole, they look like geodes or dinosaur eggs!

Notes
Gr8 Do Ahead Tips:
To do ahead and serve hot, prepare eggs through Step 4, then refrigerate for up to a day. Proceed with Step 5 when ready to serve.
Or, complete the entire recipe, then refrigerate for up to 3 days. These make a Gr8 breakfast to grab on the go or set them out for your buffet.
Gr8 Alternative Cooking Method:
If you really don't like to fry things, these can also be baked. Heat your oven to 400ºF and bake for 25 to 35 minutes until the sausage is cooked through.
Gr8 Serving Tips:
For an appetizer or snack serve with mustard and gherkins.
For dinner serve with a green salad with a mustard vinaigrette.