Surprise the sweeties in your life with some of these adorable paper crafted Valentine's Wrapped with Love.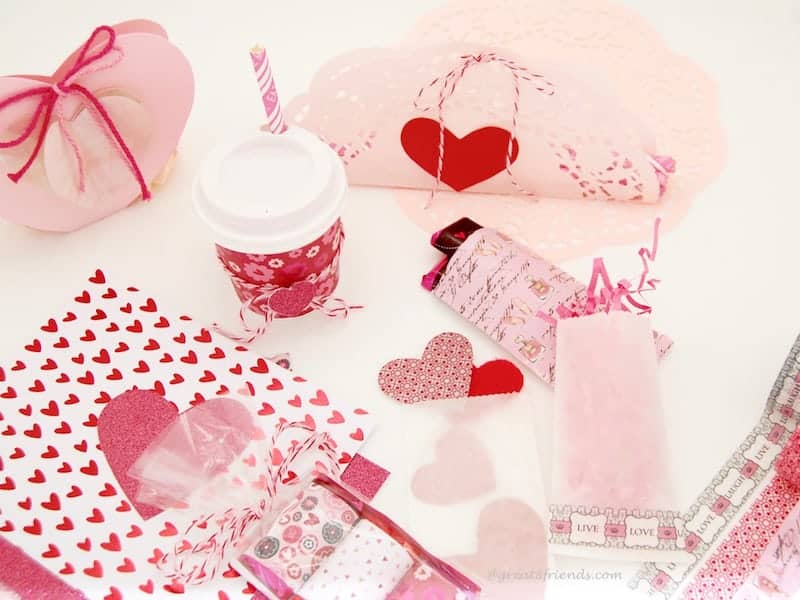 Love is in the air!
Now that all of your holiday decorations are packed away in the attic, rafters, basements or storage units, what's next? Valentine's Day!
No more red and green! Get your minds set with red and pink! It's time for hearts, cherubs and love!
Whether you give a box of those cute little conversation hearts, a little sack of treats (hopefully homemade!) or a basket of cutesy lovey, heart-sy things, gather them together...we're here to share some Gr8 ideas to help you get your Valentine's Wrapped with Love. Besides, it's all about the presentation, right?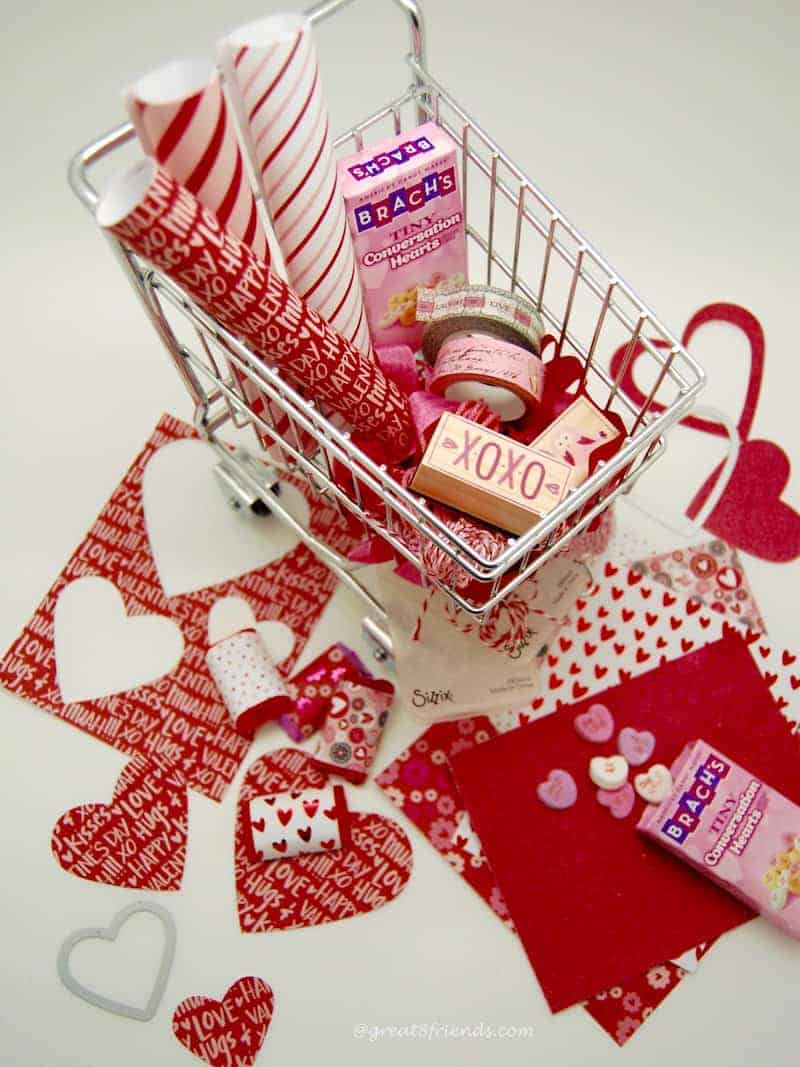 Share the Love
Okay so I was one of those moms (when my girls were little) that couldn't wait for those school projects and class parties! Crazy, right? Not to me!
I always wanted to sign up for the snacks and treats! We all know that homemade is always best and no matter their age, your Valentine will taste and appreciate the difference!
Wrap up our Caramel Popcorn with Smoked Almonds and Fleur de Sel in cute Valentine papers, or fill a cello bag with our Homemade Peanut Butter Cups all tied up with a cord and cute heart shaped tag.
Whatever the treat or trinket, it's so much fun to make them happy with the presentation, too!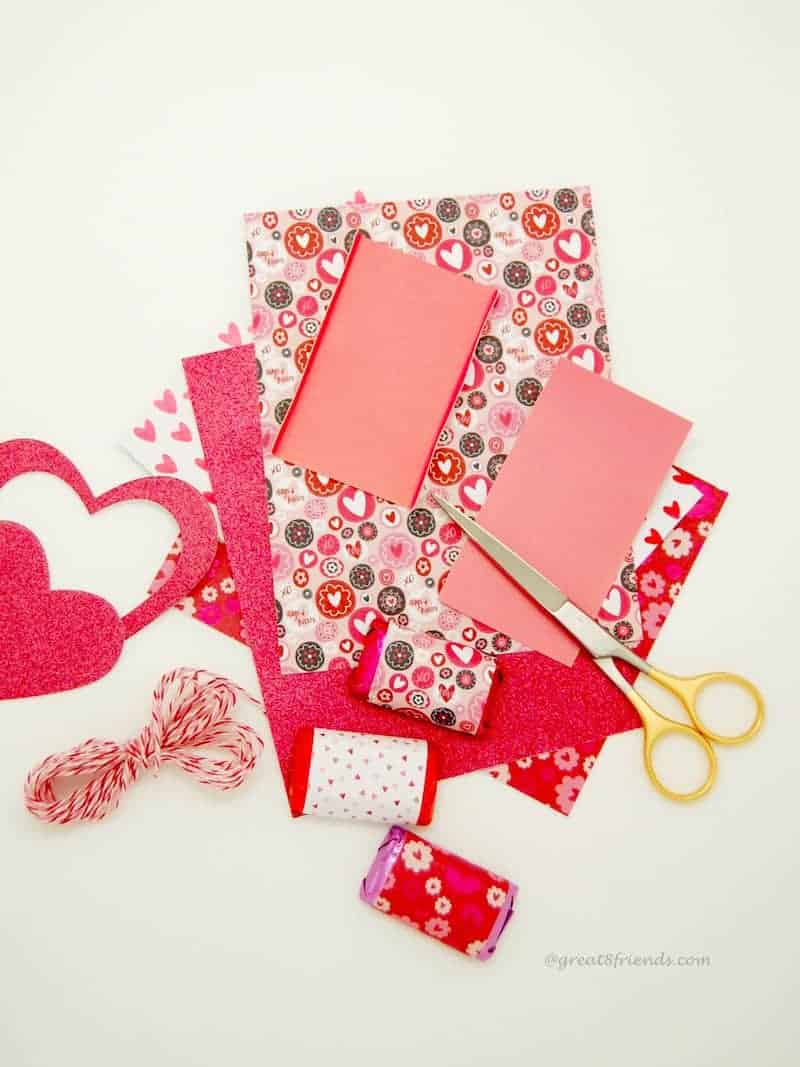 I pretended to ignore "Mom, can't we have an after school snack first?" Hello….we had to get to the stores before the other eager moms!
I know, I know…it wasn't my project, but I sure had fun helping it "come to life"!
The class parties were always fun! Whether I signed up for the craft project or not, at least I knew my girls would be bringing treats to their little classmates.
Wrapping up the goodies in a way different than how they were on the store shelves was the best!
My girls are all older now and their class parties are long gone, but now I wrap, pack and/or ship to my 3 lovelies! Whatever the season or holiday, there's always a care package on the way!
Papercrafting has always been my "thing," and working in the craft industry with Sizzix, how lucky am I?! My friends at Sizzix all know how I love anything mini! They call it "Debbie size"!
To me, a tiny version of regular everyday things is just so gosh darn cute, so when my good friend Janette of janettelane.blogspot.com gave me a mini version of a grocery cart, I about fell over! Isn't it just the cutest thing ever!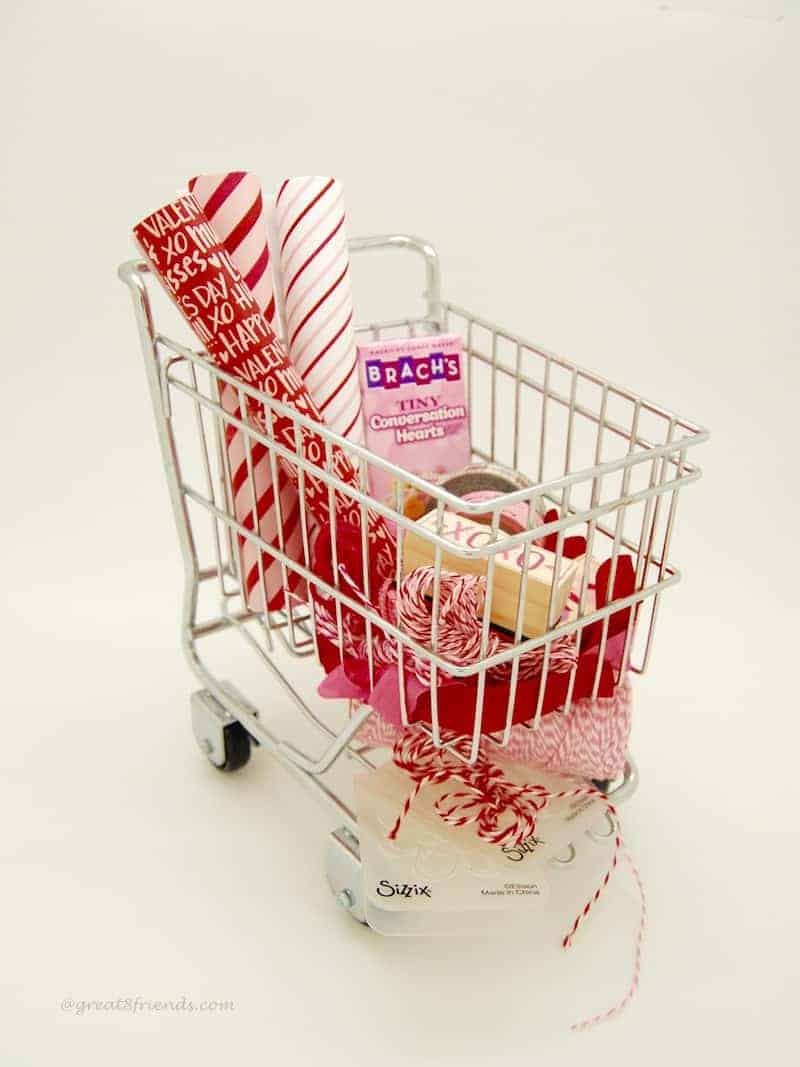 Makers gotta make!
Whether I'm snipping and trimming with scissors or doing some die cutting with my Sizzix Big Shot machine, I take my little grocery cart down my craft supply "aisles" and do some "shopping" in my own home!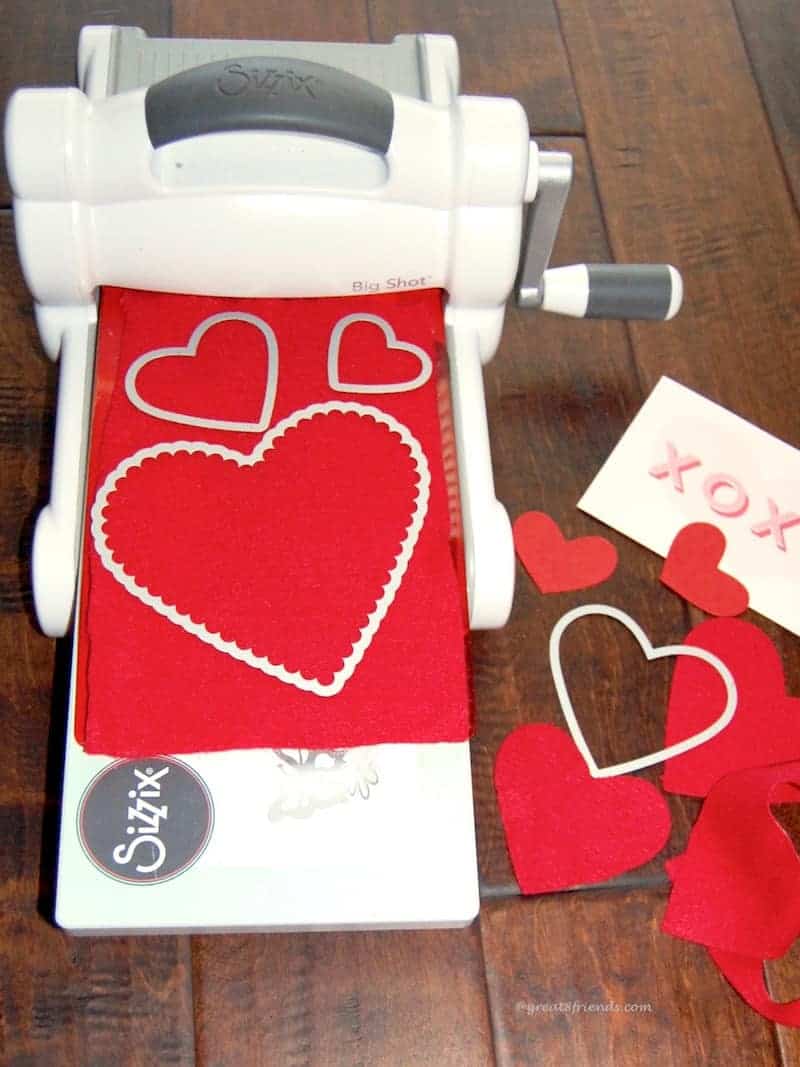 So, my friends, come along…gather some papers, heart dies, stickers, etc., we've got some crafting to do!
Some of the things I'd "LOVE" for you to use:
A Sweet "Tray" of Love
A darling Valentine to give to loved ones young and old.
Ingredients
cardstock

,

patterned or solid color

1

piece

cardstock

,

cut to 2 ½" x 3" for the "tray". Adjust length only if using more than 3 chocolates).

3

assorted pieces

patterned paper or cardstock

,

cut to 1 ½" x 3" (to wrap around each Hershey Mini)

Long narrow clear treat bags,

I like 3"x9"
Instructions
To create the "tray," take the 2 ½" x 3" piece of card stock, and with the point of a scissor and the edge of a ruler, carefully score a straight line ¼" in on the 2 long sides. Fold up "walls" to create the rim on the long sides.

Using the 1 ½" x 3" assorted pieces of card stock, wrap around the chocolate minis and adhere with tape.

Place a small piece of adhesive underneath each wrapped chocolate to prevent from sliding. Adhere to the tray.

Place the "Sweet Tray of Love" inside the treat bag and tie with bakers twine.
Cup of Love
*My friend Wendy found some "Debbie size" paper cups for me! When ordering the cute mini cups, please note that sometimes the lids and cups are sold separately and in different increments.
Ingredients
paper cups with lids,

hot beverage type, you will need one extra cup to use for a pattern

cardstock

,

Valentine themed patterned and solid scrapbooking papers

treats

die cut hearts or Valentine themed stickers

pink/white or red/white paper straws,

these are easily found at craft stores
Instructions
Using your extra cup and your sharpest scissors, carefully cut all around the top and base about ¼" down from the lip and ¼" up from the base of the cup. Try to keep your edges straight and the center piece kept in one long piece. Discard the lip and base, but keep what was once the "wall" of the cup. This will be your template.

Using your template, trace it onto your patterned and or solid papers. *IMPORTANT* When tracing, have the good side of the paper up and the good side of the template up OR the opposite (wrong side down of the papers and wrong side down of the template). The reason this is important is because with the "curve"…the decorative papers won't lay right when wrapped around the cup.

Using the traced decorative papers, wrap them around each of your cups, adhering with your double-sided tape.

Embellish with die cuts, baker's twine, stickers or stamped images.

Fill with shredded tissue and treats.

Secure with the lid and add the cute paper straw for a fun finishing touch!
A Heart Full of Love
Ingredients
cardstock

,

patterned and solids 6" x 12" (Valentine themed scrapbooking papers)

treats

die cut hearts or Valentine themed stickers

Sizzix Bigz heart die with the Sizzix Big Shot machine (optional)

,

Links to these products below

heart shape to trace from
Instructions
Fold the 6" x 12" piece of card stock in half, short side up to create a 6" x 6" folded piece of paper.

With folded edge closet to you, fold it up again by ¼" or so.

Before tracing, place the heart shape to trace from on top of the folded paper (heart point at bottom).

Slide the heart shape down about ⅓ inch. The point of the heart should be hanging off of the fold. Peek ahead to the photo after Step 6, there is no heart point. The reason for this is to save your folds and not cut 2 individual hearts.


Trace and cut out your heart.

Open up the heart. You will see 3 crease lines in the center connected area of the heart.

Pinch up the center score line to create a "mountain" in the middle.

Fill your treat bag with love and goodness. Tie to close with twine.

Place the pouch of treats inside the heart.

Close the top of heart with adhesive.

Embellish front with stickers, die cuts or rubber stamp images.

Finish it off with a ribbon or more twine. Adhere ribbon/bow to the top.
Notes
Gr8 Note:
*If using the Sizzix Big Shot machine, place the Bigz Heart Die on the cutting pad, bottom of the heart closest to you, blade side up. Place the folded paper on top of the blades, with the folded edge closest to you. Slide the paper up about ⅓" inch exposing the heart point of the blade at the bottom. The reason for this is, you want to "save" your folds. If you don't see a portion of the blades showing, you will just cut 2 complete hearts.
Delicate Doily of Love
Ingredients
8"

pink doily

sugar candy straws, licorice or any long narrow candy

adhesive

die cut hearts or Valentine themed stickers
Instructions
With folded edge closet to you, fold it up again, ¼".

Open up the doily. You will see 3 crease lines in the center.

Pinch up the center score line to create a "mountain" in the middle.

Fill with sweetness of choice, tied together with twine.
Sealed "Washi" Kiss
Ingredients
Washi tape

,

assorted patterns/colors

solid color cardstock

treats

shredded tissue

,

(optional)
Instructions
Decorate bags with Washi tape.

Completely cover a piece of card stock with Washi tape and die cut with Sizzix Bigz or Framelit heart die.

Fill bags with shredded tissue, treats and/or Washi tape die cut hearts.