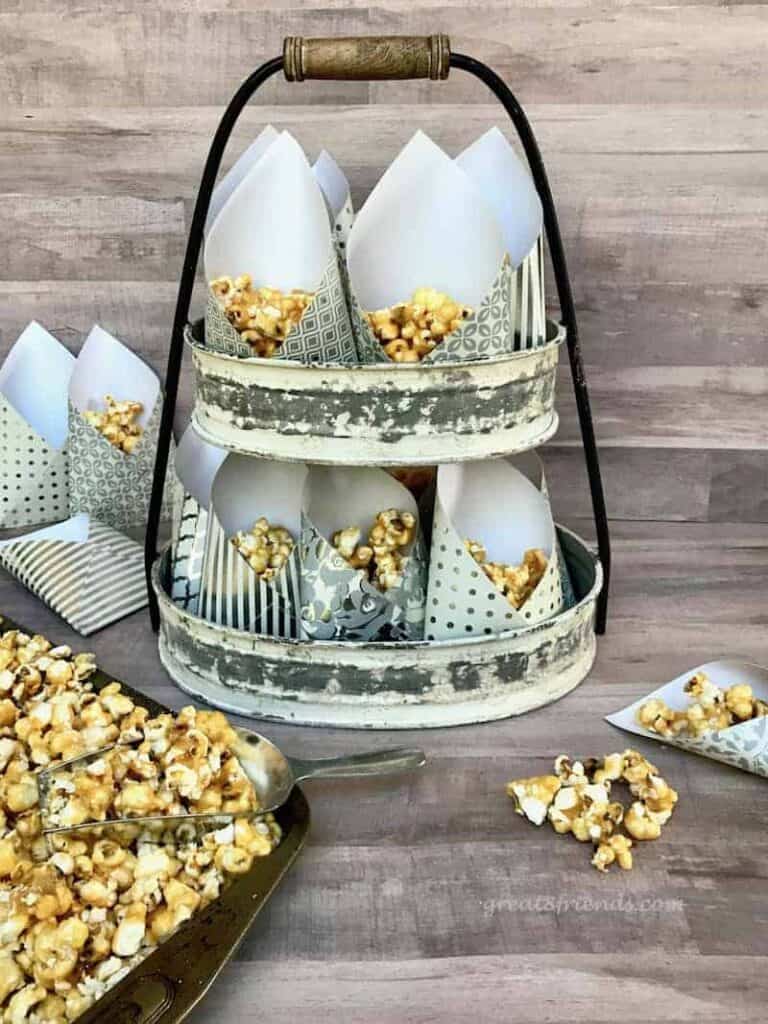 How fun was it when you were a kid and you finally discovered the prize at the bottom of your box of caramel corn?
Skip the movie theater altogether, add your own prizes, and satisfy your cravings at home with this yummy candied popcorn!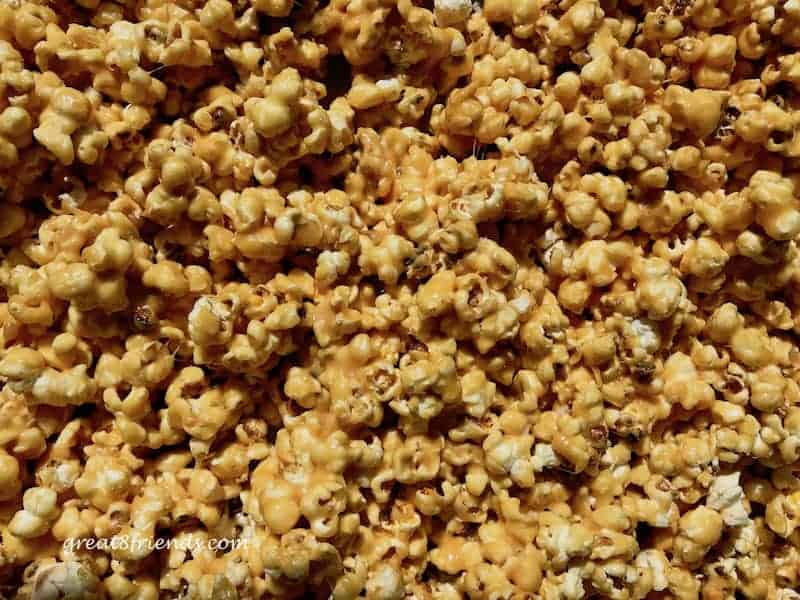 Homemade Caramel Corn with Smoked Almonds and Fleur de Sel. Yes, it's as amazing as it sounds! It's easy to make and tastes better than the one you remember from the county fair! The sweetness of the caramel and the salty savory goodness from the almonds will take you back to your days in the movie theater or in front of your favorite movie in the family room!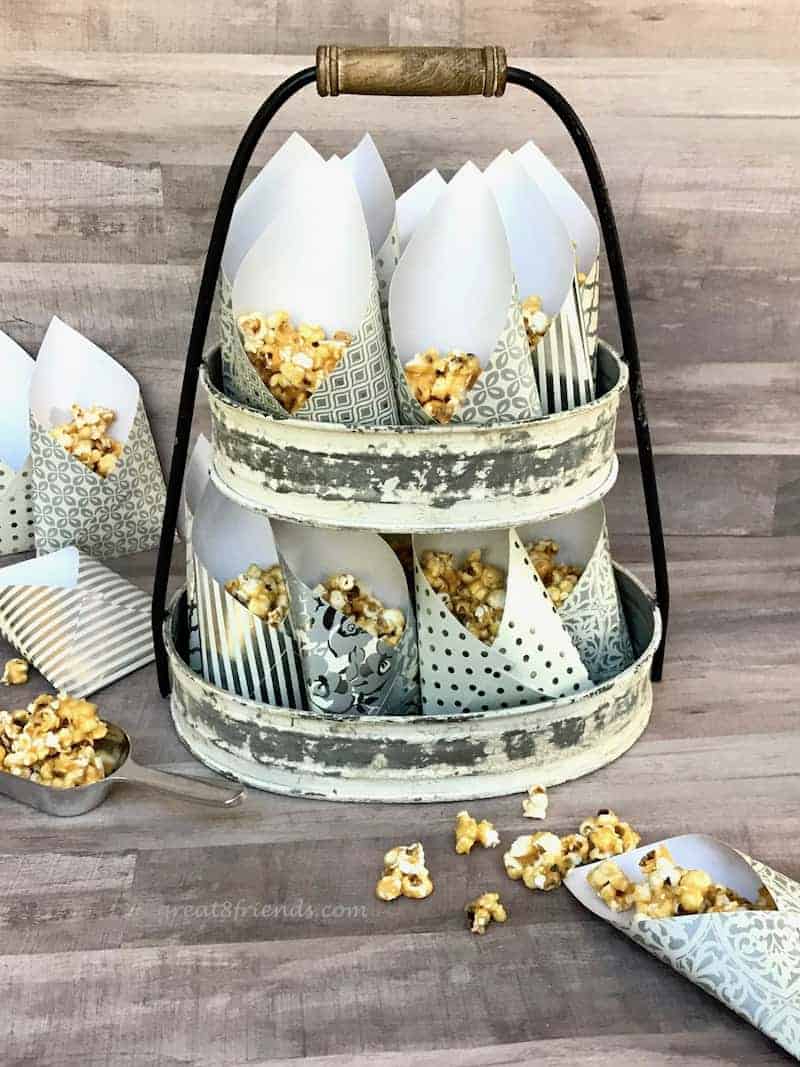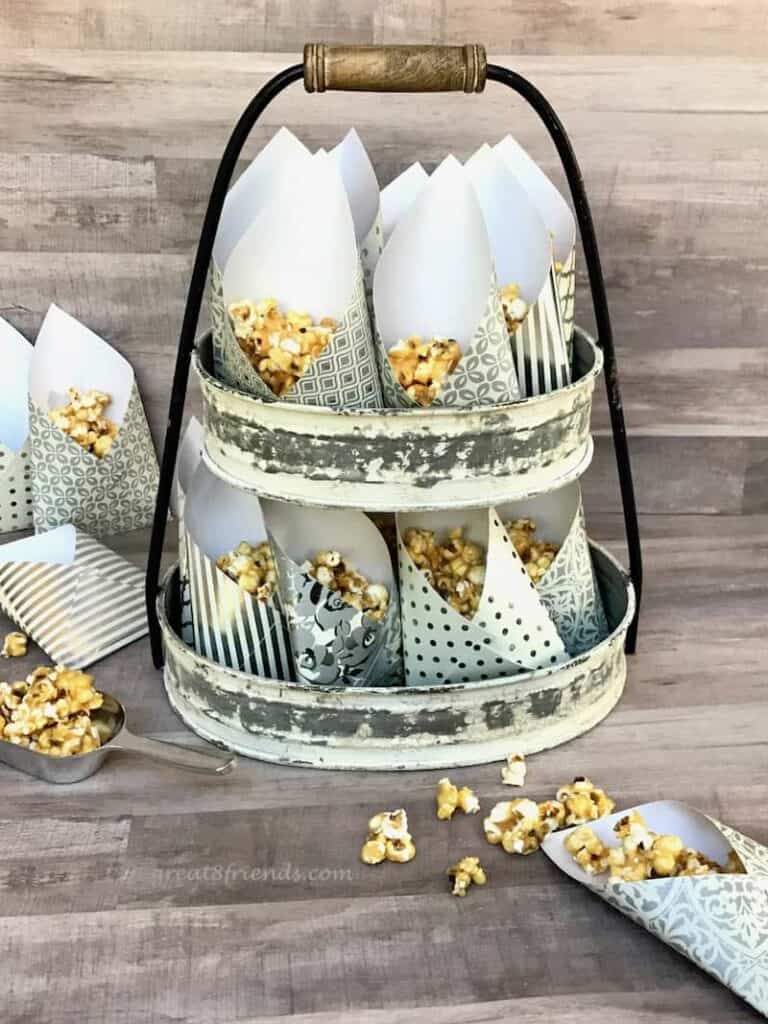 Do you have a theme you'd like to go with? Visit any of your local craft stores. They have a Gr8 scrapbooking section, full of fun papers that would be perfect! Hobby Lobby would be my favorite spot to find some fun ones! With the paper (cut to 6"x6") set in front of me (wrong side down) and a point at the top, I "rolled" (no crease) the left and right points to meet in the center and overlap a tad. Adhere the points with tape. "Roll" the bottom point up to just cover the 2 taped points, and using double sided tape (or tape runner adhesive) secure it to down.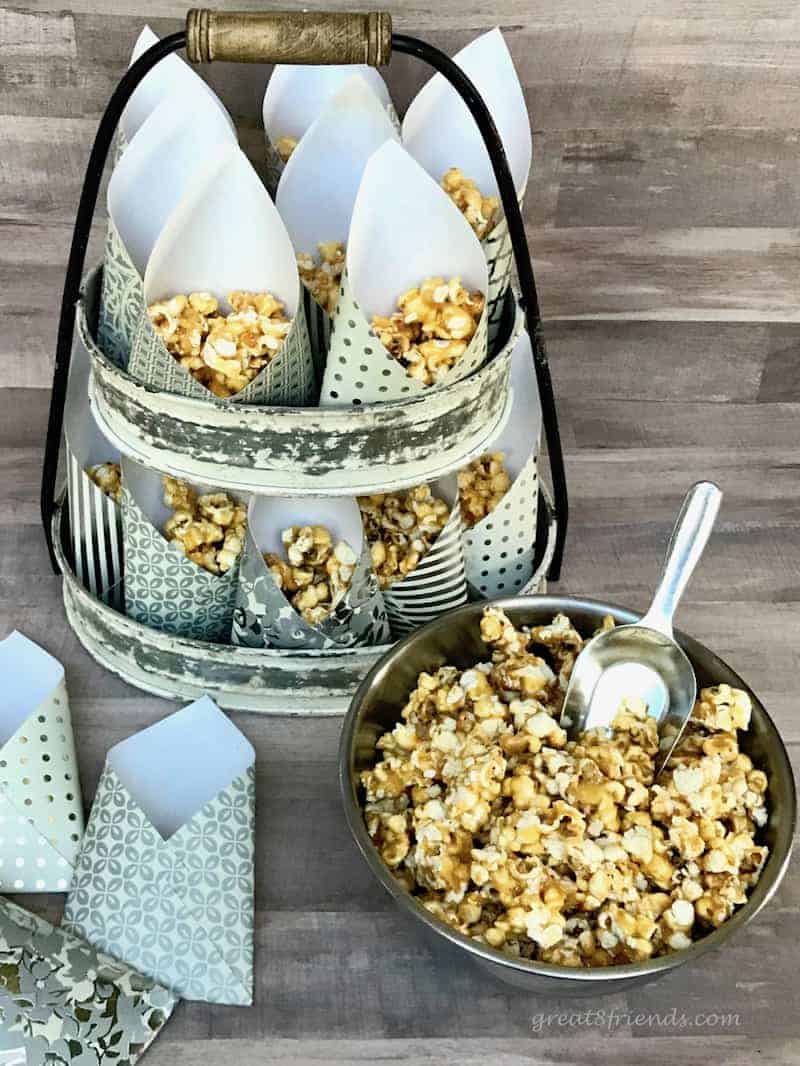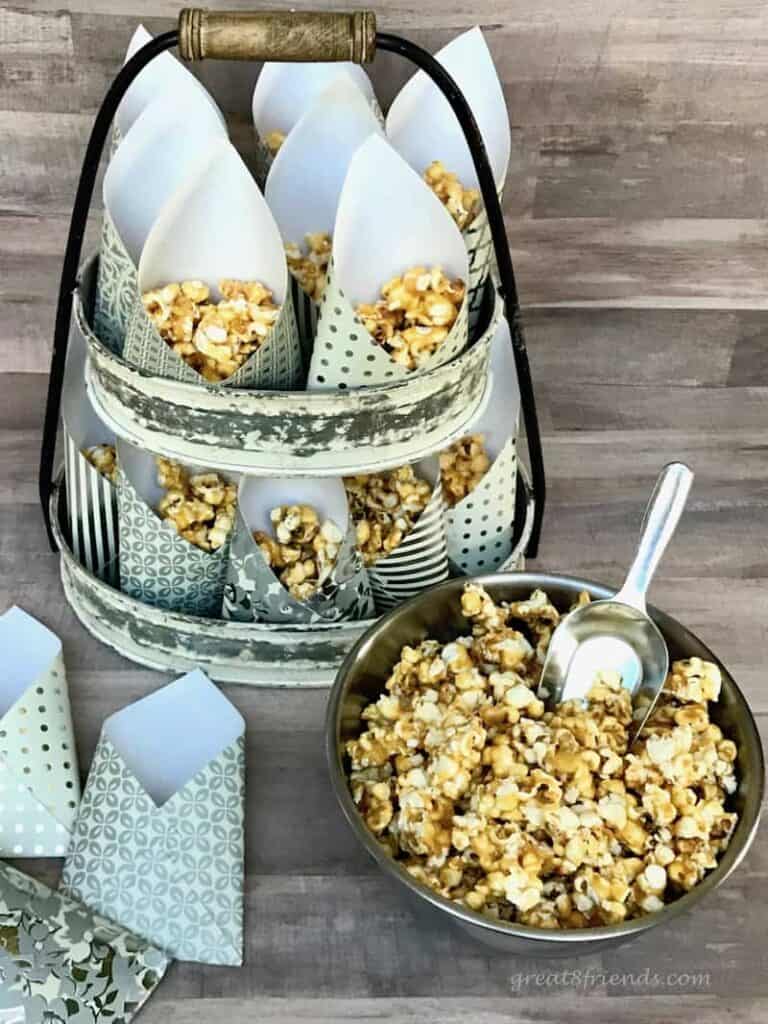 How adorable is that! An open flap envelope ready to fill with some sweet and salty goodness! Another way to display and serve is simply rolling the squared paper into a cone! Both ideas are super cute and so easy too! Cozy up on the couch with a cone of this fun treat, a glass of Anna's Refreshing and Healthy Iced Tea and your favorite movie! It'll make for a Gr8 night!
Be careful...it's addicting!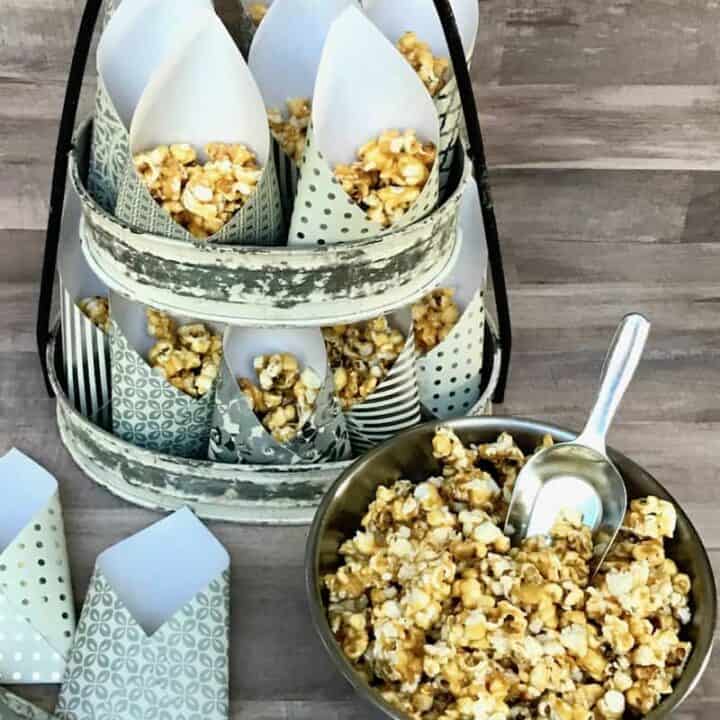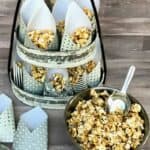 Print Recipe
Pin Recipe
Save this Recipe
Saved!
Please leave a rating!
Caramel Corn with Smoked Almonds and Fleur de Sel
The classic childhood treat is made at home instead of shaken from a box...minus the prize. Remember, everything's better homemade.
Ingredients
Nonstick vegetable oil spray

1

cup

popcorn kernels

1

Tablespoon

vegetable oil

½

cup

light corn syrup

2 ¾

cups

sugar

¼

cup

water

½

Tablespoon

baking soda

8

Tablespoons (1 stick)

butter,

,

cut into cubes

2

cups (about 8 ounces)

marcona almonds (or any roasted nut of choice)

,

roasted

1 ½

Tablespoons

Fleur de Sel
Instructions
Line a large baking sheet with parchment paper or foil and coat lightly with vegetable oil spray.

With vegetable oil spray, oil a large bowl and a rubber spatula

In a large deep pot with a fitted lid, add popcorn kernels and oil. Stir to coat and combine. Cover.

Place pot over moderately high heat. Cook, shaking the pot continuously, until all the kernels have popped, about 6 to 8 minutes. You will hear as the popping slows down. Stop as soon as they stop! You don't want to let it burn!

Transfer the popped popcorn to the large oil prepared bowl. Carefully remove the ones that didn't pop.

Using the same deep pot, combine the corn syrup, sugar and water. Turn heat to moderately high. Stir to combine.

Cook, undisturbed, until the mixture develops a light caramel color, about 10 minutes. Careful not to let it burn.

Remove the pot from the heat and add the baking soda and butter.

Stir continuously for about 20-25 seconds melting the butter and combining the ingredients as you stir. Be careful here at this point. The mixture will be very hot and quickly rise and become foamy. Continuous stirring helps the foam subside.

Here's my favorite part! Work quickly and very carefully. Pour the caramel over the popcorn and quickly add the nuts so they'll adhere to the caramel goodness.

Using the prepared oiled rubber spatula, stir everything together. You'll want to work quickly so that the popcorn and nuts will be evenly coated with the caramel.

Transfer the crunchy sweet goodness onto the prepared baking sheet. Spreading out the caramel corn as evenly as possible.

Quickly sprinkle the caramel corn with the fleur de sel. Let cool and harden for about 20 minutes.

Break it up into smaller, bite-size pieces and serve.

To serve individually (and to avoid germs from grimey little hands digging into a big bowl), roll fun papers into a cone shape or scoop into fun little cups.
Notes
*Marcona almonds are skinned tender Spanish nuts, roasted and salted. They are available at Trader Joe's or specialty markets. Be careful not to grab flavored ones!
Gr8 Do-Ahead Tips:
1. The popcorn can be popped up to 3 days in advance (Steps 3 and 4) and stored in an airtight container at room temperature. OR…
2. Caramel corn can be prepared in advance and stored, in an airtight container at room temperature, up to 3 days. 
sm 4/6/20