Send this bright, happy and very yellow box of sunshine and put a smile on someone's face. Easy DIY care package would make anyone smile.
Well "Hello Sunshine"! If this box could talk, that's what it would say as soon as it's opened!
A few years ago, my friend Debi (she's really my friend! I'm not calling myself my friend! Hahaha) was telling me about this idea she had heard about. "A Box of Sunshine" is what she called it and once she described the idea...I couldn't wait to put one together!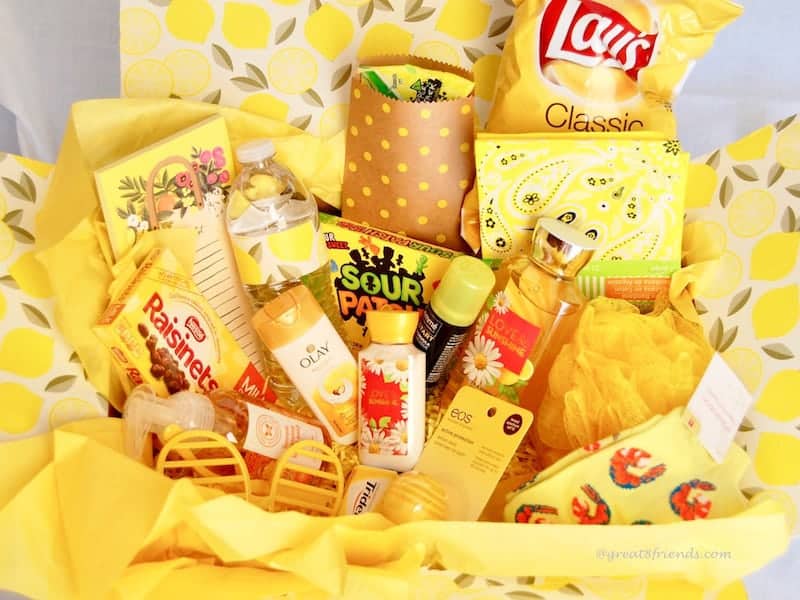 She was going to send one to her daughter's friend who needed something to brighten her day.
At that time Phil and I had just one daughter away at college so that was easy! Bela would be the happy recipient!
I love, love, love sending care packages and this was the best idea yet! No occasion. Not a holiday. A "just because" care package, and it was perfect timing... Bela's final exams were coming up!
Can you imagine? You're anxious about the tests on the horizon, you've got all night study sessions and then a surprise box arrives! Nothing beats a care package from home, right?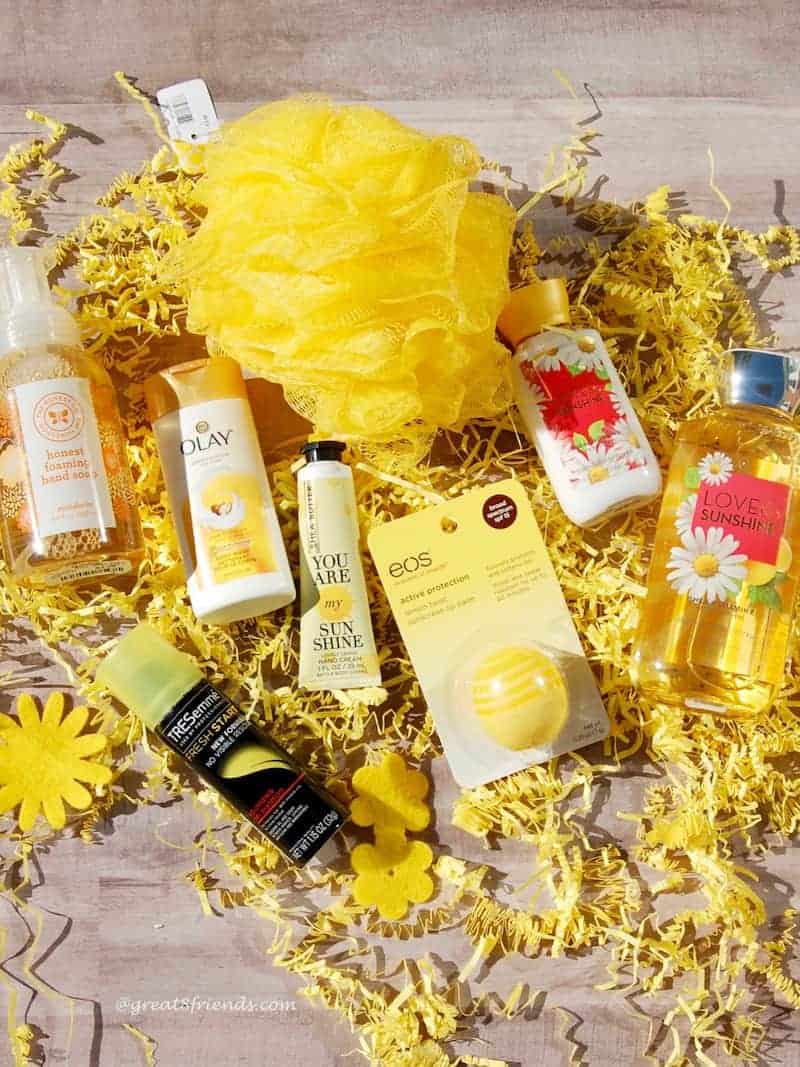 This is how it goes: Yellow Yellow Yellow. Focus on all things yellow.
Whether you "shop" at home with what you might already have, or head out to your favorite stores, you don't have to spend a lot. Stroll the aisles at The Dollar Store, Target and Michael's $1.00 sections, TJ Maxx or Marshall's with your eyes focused on all things yellow and only yellow.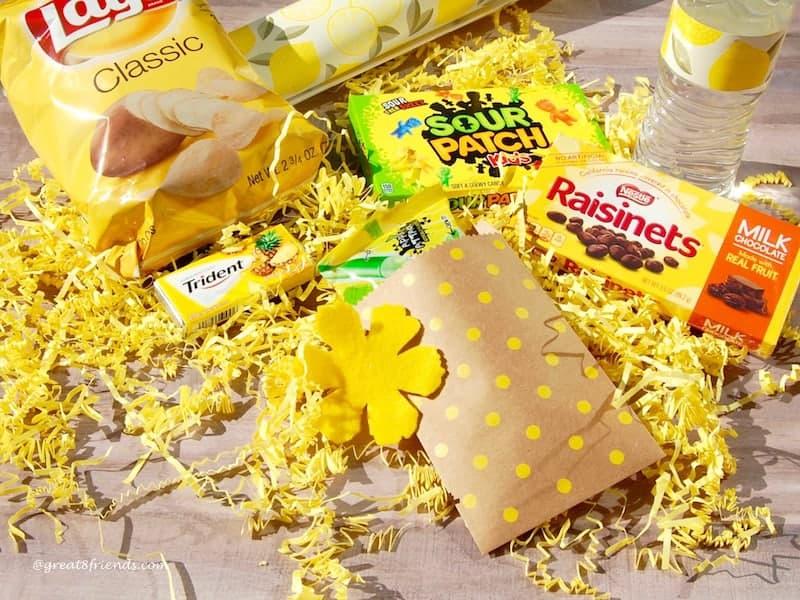 It's so much fun and so easy to do and you'd be surprised at the supply of sunny goodness you can collect.
From snacks and soaps to candles or candy, the rays of "sunshine" will glow once the box is received and the smile on their face will glow even brighter! They'll be "Walking on Sunshine."
Here are a few fun ideas found in most stores (in yellow packaging of course):
Chips
Crackers
Gum
Candy
Nail polish
Socks
Giftcards (some are yellow!)
Travel sized shampoos, lotions
Lip balm/Chapstick
Comb/Brush
Pad of paper
Pens/Pencils
Little sign with a Happy quote (Michael's, JoAnns, Hobby Lobby, Target)
Pillowcase
Rubber flip flops
White shipping box
Yellow packing material (tissue or shredded tissue)
Yellow themed wrapping paper or patterned 12" x 12" scrapbooking papers, optional
Of course any of the recipient's favorites are always appreciated!
Directions
I like to pick up a white box (maybe the USPS priority mail ones). I say white because it makes the yellow fun inside "glow" even brighter, than it would from a brown box. Line the inside (or maybe just the inside of the flaps) with the decorative paper, if using.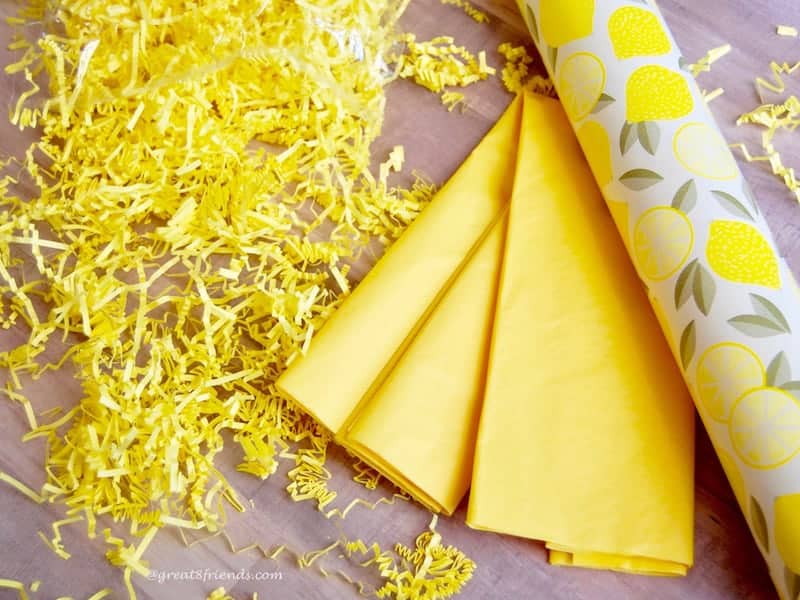 Stuff it with shredded filler or yellow tissue paper and fill it up with all the sunshiny happiness you've collected!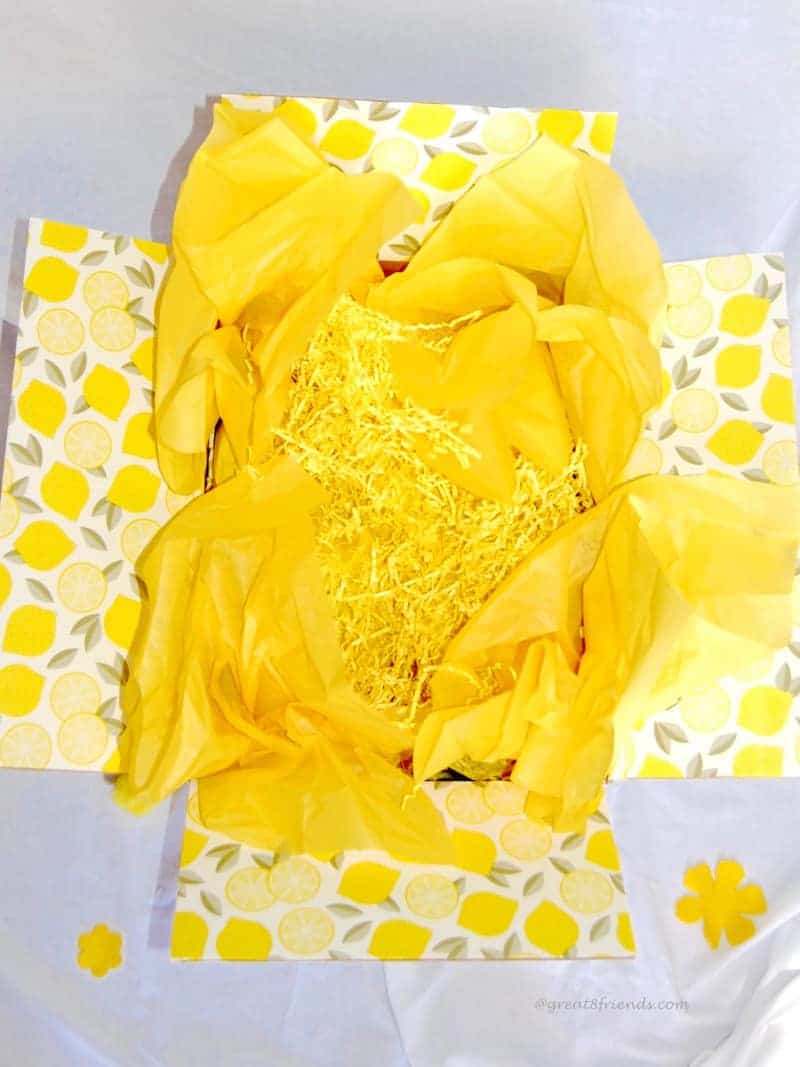 Gr8 Tip:
Yellow means: Optimism, happiness, enthusiasm, sunshine, laughter, confidence, emotional strength, friendliness, creativity, uplifting, stimulating, knowledge, self esteem.