When you're looking for a delicious breakfast or brunch dish, this Salmon Hash with Horseradish Dill Sauce recipe is easy and delicious!
People used to consider Hash as a "clean out the refrigerator" meal, because pretty much most of the leftovers you've got in the refrigerator would combine well together in a Hash recipe.
But...Salmon Hash with Horseradish Dill Sauce is an exception! After learning (and enjoying!) how to make this deliciousness from one of Caroline's Cooking by the Sea classes, we were sold!!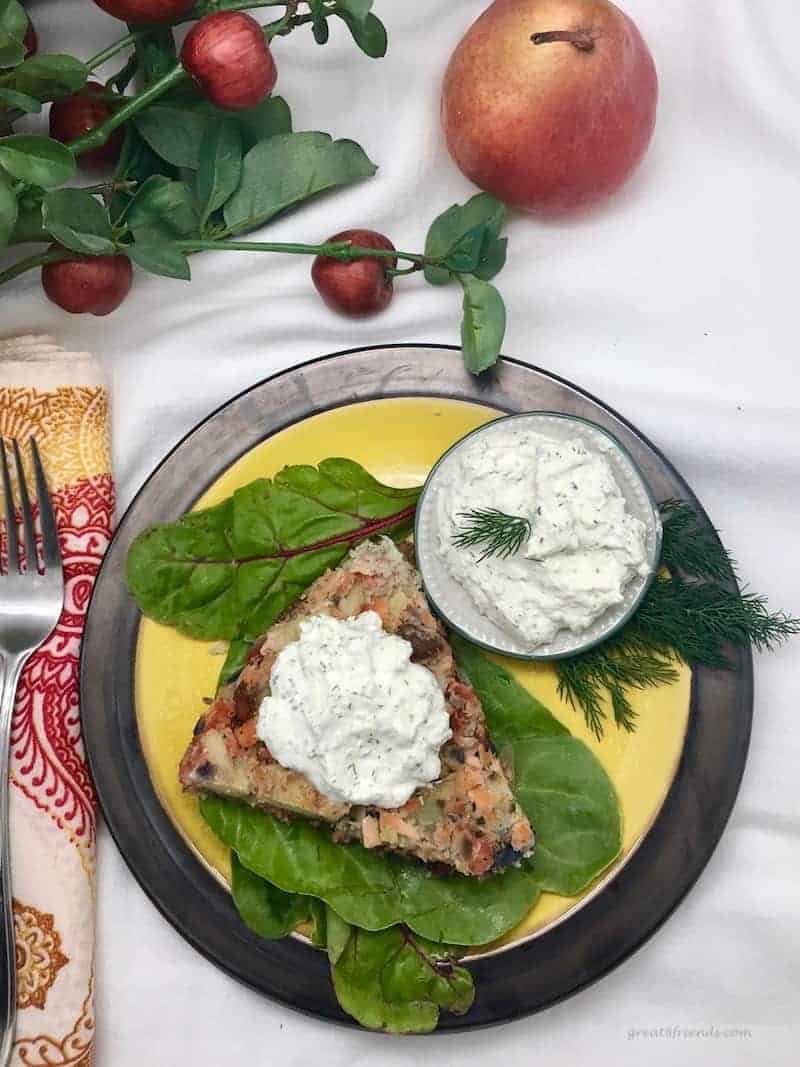 I was so ready to make it for my family! We are big seafood lovers and salmon is definitely one of our favorites!
They couldn't wait to try it! Little did they know that my first time making it wasn't going to be for them! Sorry gang!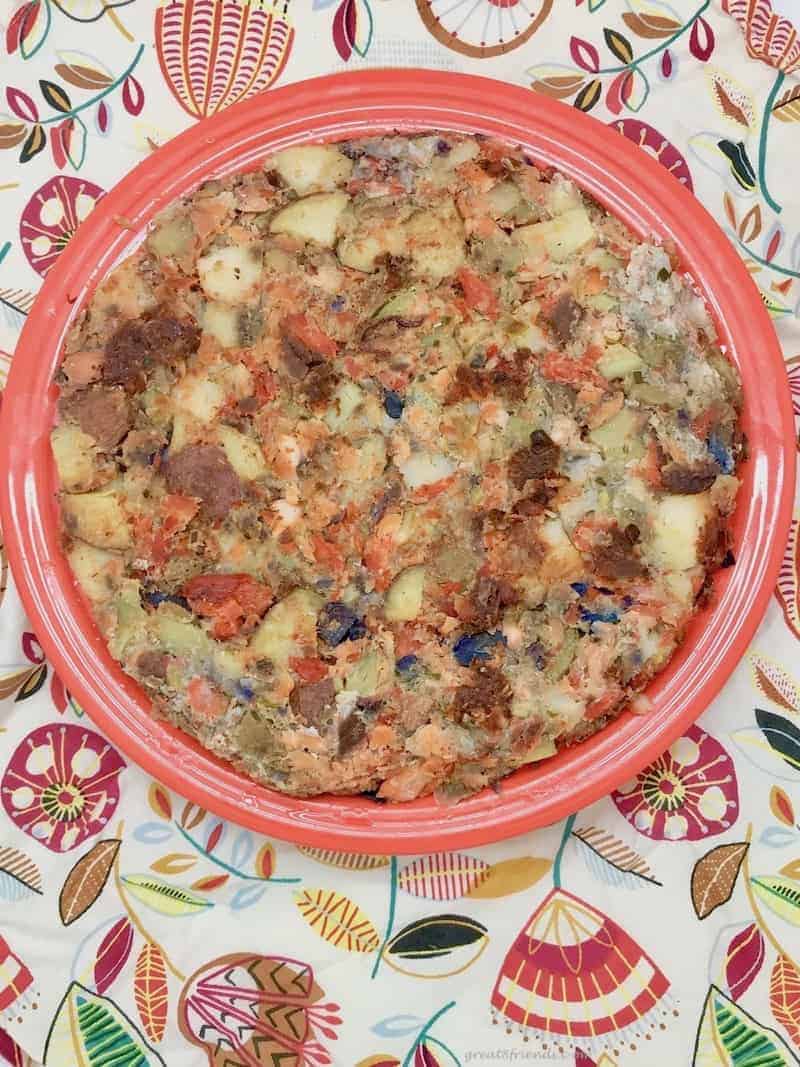 When Jurga and Tim hosted their BFD Great 8 dinner (Breakfast for Dinner, fun right?!), I highly doubted that she wanted me to "throw in" all of the foil wrapped, Tupperware® stored scraps I had from the prior days' meals into my assigned dish: Salmon Hash...especially with the Horseradish Dill sauce! Who'd have that in abundance left over, anyway?
We've all heard of Corned Beef Hash, right? Well this is a twist...an absolutely delicious twist, of that traditional dish!
Using tricolor potatoes is a fun switch to the usual! Look at the colors! I couldn't wait to cut into them and especially see the deep color of the purple ones! Even darker than an eggplant! Gorgeous, right?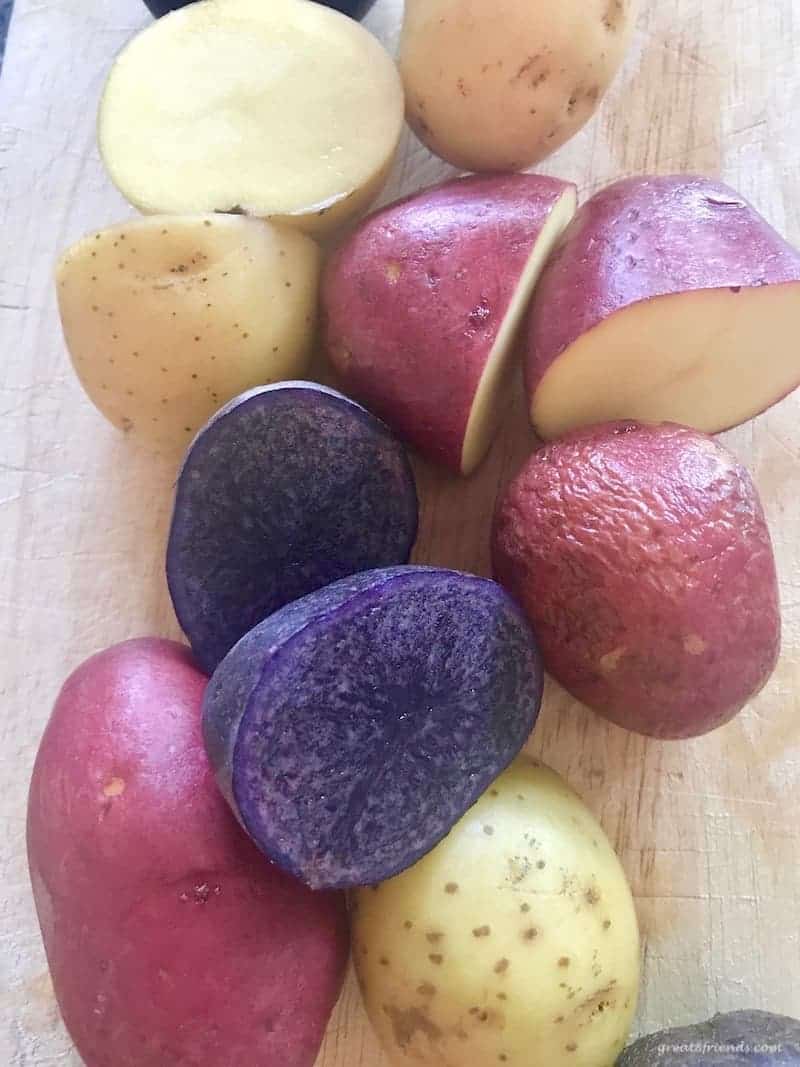 I think that my favorite part of this recipe, well next to eating it of course, is seeing the vibrant colors of the ingredients all mixed together!
The color combination of the cooked salmon, the deep orange (my favorite color!) of the hot-smoked salmon and the pieces of the purple potatoes all coming together looks like thrown confetti at a festive party!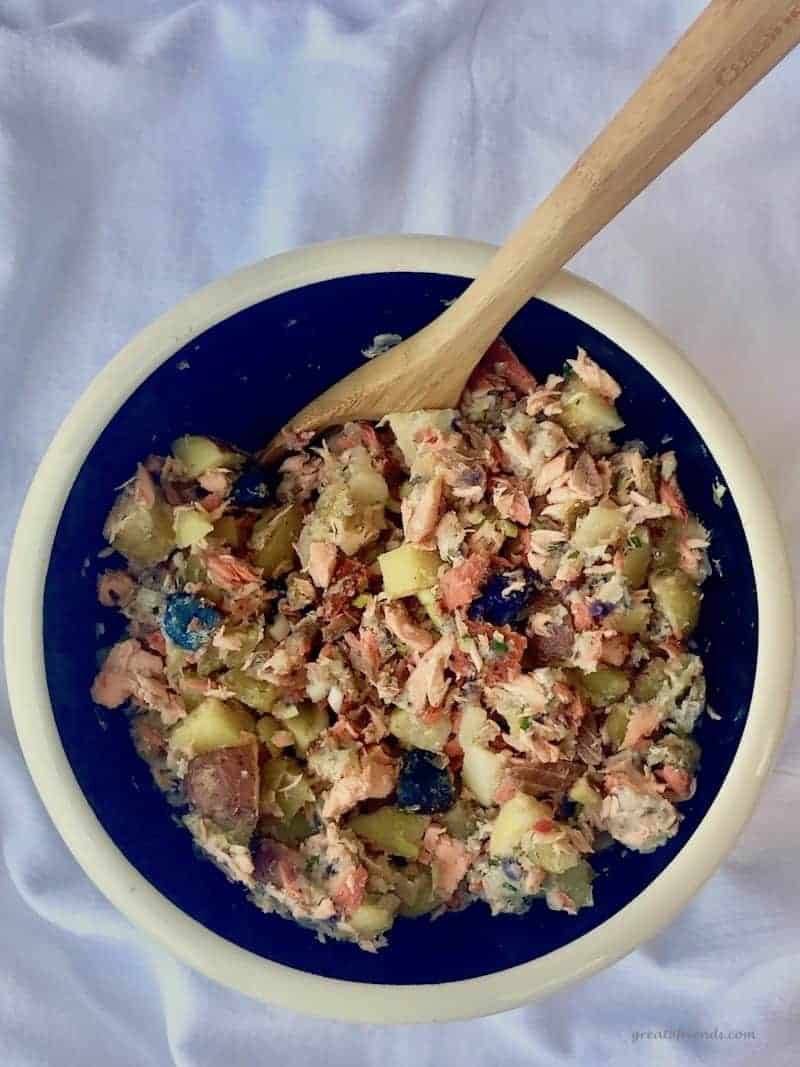 And then there's that triumphant feeling when you've mastered the flipping and sliding of the hash! I'll wait while you do the happy dance!
You can find the flipping and sliding technique in my Tortilla Española post. Look at the layer of crispy goodness! YUM!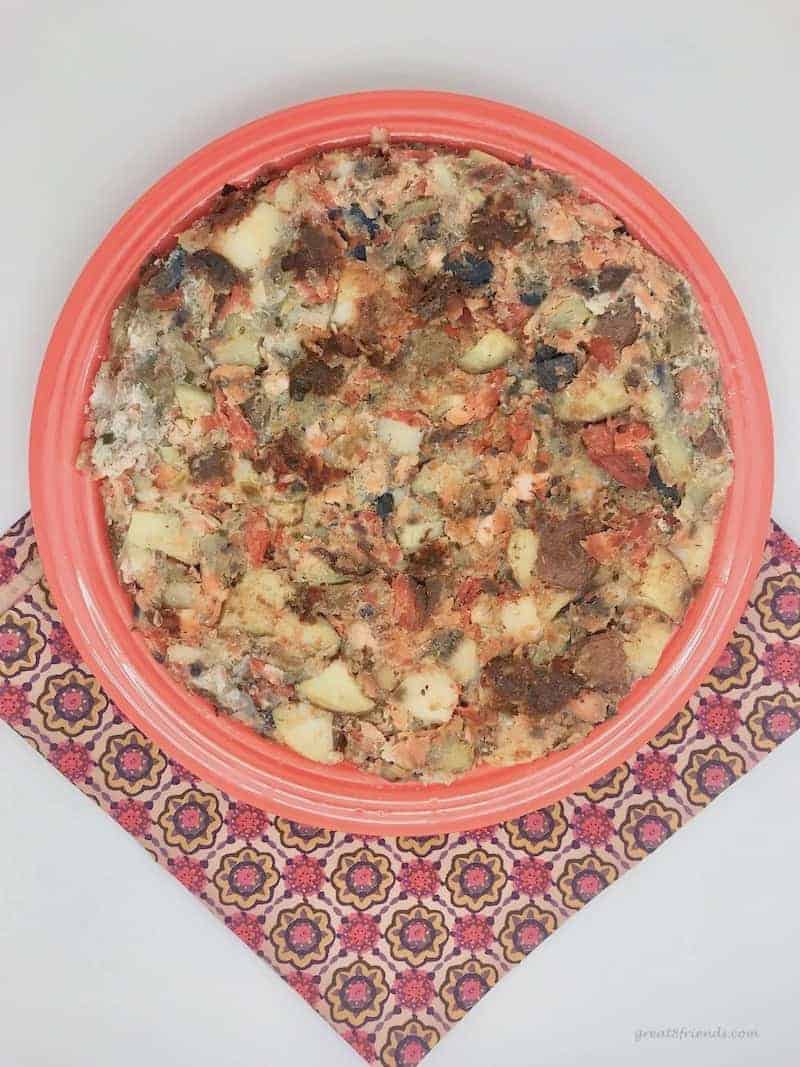 With the light whipped Horseradish Dill Sauce being passed along with the Salmon Hash, it makes for a delicious brunch especially when served with Kyle's Arugula Fennel Salad and Lemon Vinaigrette. The party in your mouth is just getting started!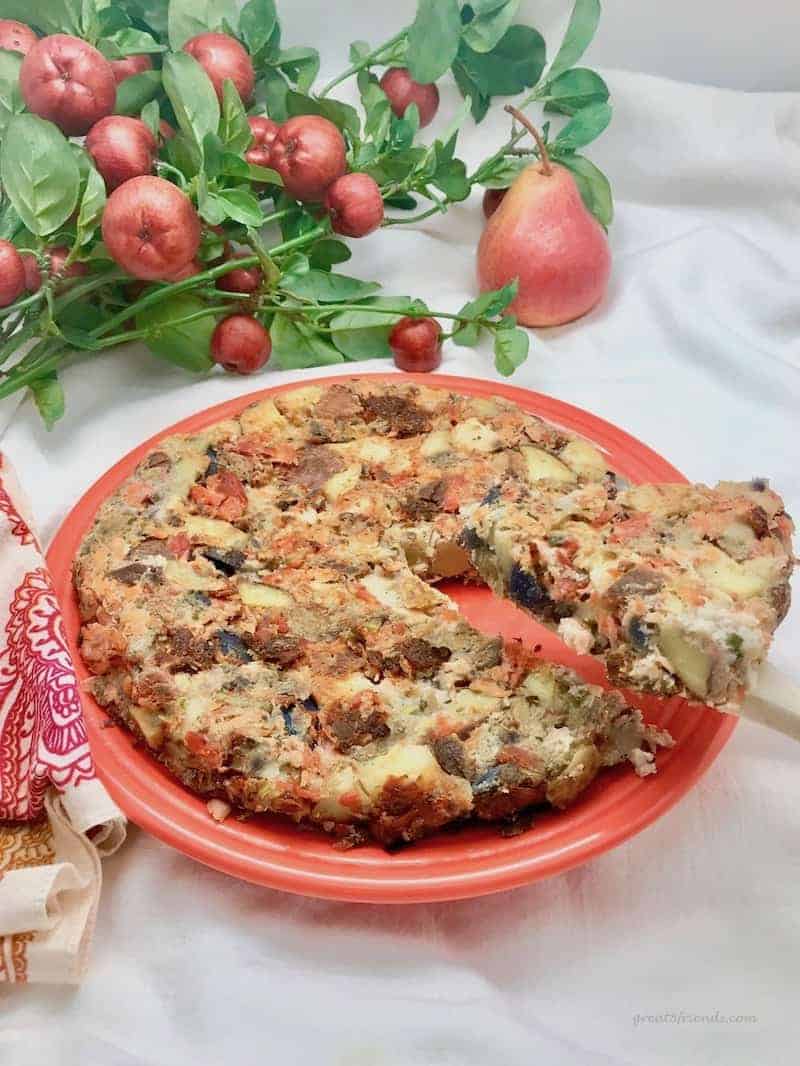 Don't you want to join the party? I promise you, your tastebuds will be on the "dance floor!"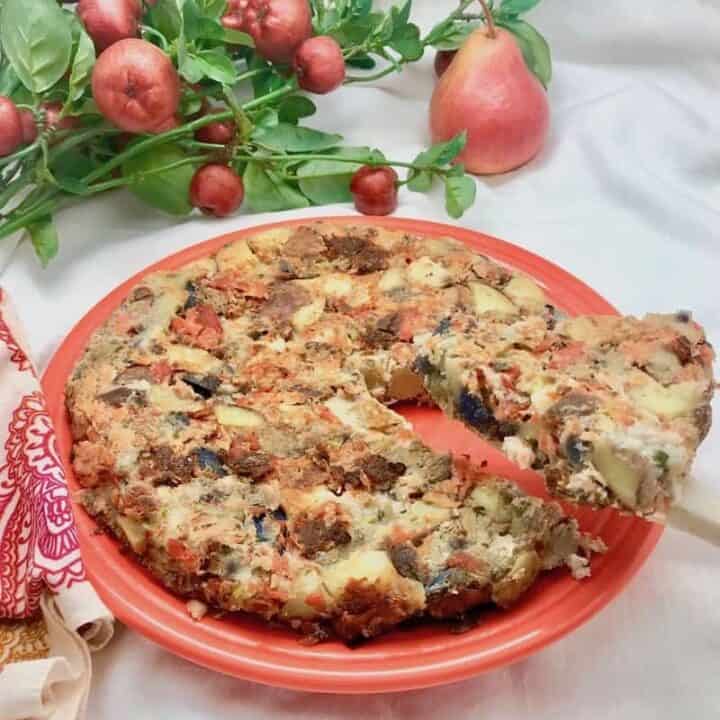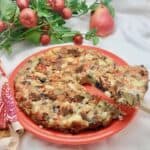 Print Recipe
Pin Recipe
Save this Recipe
Saved!
Please leave a rating!
Salmon Hash with Horseradish Dill Sauce
When you're looking for a delicious breakfast or brunch dish that's sure to please, this Salmon Hash recipe is easy to put together and with some fruit or a salad on the side, it will be at the top of your go to list!
Ingredients
4

cups

water

2

cups

white wine

20

ounces

skinless salmon fillet

,

cut into 4 pieces, seasoned with salt and pepper

salt and freshly ground pepper

,

to taste

4

ounces

hot-smoked salmon

,

flaked with a fork; this does not mean spicy hot - See Gr8 Tips below for an explanation

20

small

tricolor new potatoes

,

scrubbed and halved

14

Tablespoons

heavy cream

,

divided

6

Tablespoons

prepared horseradish

,

or more to taste; divided

4

Tablespoons

fresh dill

,

snipped, divided

2

teaspoons

white wine vinegar

1

cup

scallions

,

white, light and dark green parts of the scallion, chopped

5

Tablespoons

unsalted butter
Instructions
Pour the water and white wine in a large skillet and bring to a boil. Turn off heat.

Place the salmon fillets in the skillet; let stand for 6 minutes. Turn salmon over; let stand for 5 minutes.

Bring the liquid just to a simmer and cook until the salmon is just cooked through, about 30 seconds. Using a slotted spatula, transfer the salmon to a plate and cool.

Place the potatoes in a pot of cold salted water. Bring to a boil. Cook until tender, about 15 minutes. Drain. Allow to cool and cut into quarters.

In a medium bowl, whisk 10 Tablespoons of the cream, 4 Tablespoons of the horseradish and 3 Tablespoons of the dill, until stiff peaks form.** Whisk in the vinegar. Season with salt and pepper to taste. Cover and refrigerate.

With a fork, flake the cooked salmon into bite-sized pieces.

In a medium bowl, mash 1 ½ cups of the cooked/cooled potatoes with the remaining 4 Tablespoon of cream, the remaining 2 Tablespoons of horseradish and the remaining 1 Tablespoon of dill until almost smooth.


Gently fold in both salmons (cooked and smoked), the scallions and the remaining potatoes. Season with salt and pepper.

Everything can be covered and refrigerated at this point and stored in the refrigerator for up to one day ahead. Remove the potato/salmon mixture from the refrigerator 30 minutes prior to continuing.

In a large nonstick skillet, melt the butter over high heat. Add the hash and press to compact. Reduce the heat to medium and cook until the bottom is brown and crusty, about 10 minutes.

Using a large spatula, turn the hash over in sections, (or use the technique found on the Tortilla Española post).

Press lightly to compact and shape the mixture until the bottom is browned, about 5 minutes.

Turn the hash out onto a serving plate. Serve with the Horseradish Dill Sauce.
** Apparently my upper arm strength isn't what it used to be to create the "stiff peaks"! I tried to whisk by hand, but had to turn to my KitchenAid mixer!
Notes
Gr8 Tip:
Click here to find out more about Hot-Smoked Salmon. If you have a Trader Joe's near you, it is available there.
Gr8 Make Ahead Tip:
The salmon hash can be prepared one day ahead and then cooked right before serving.