This Tortilla Española is a dish very close to a frittata, both having eggs as their main ingredient. Enjoy it for breakfast or appetizer or any meal!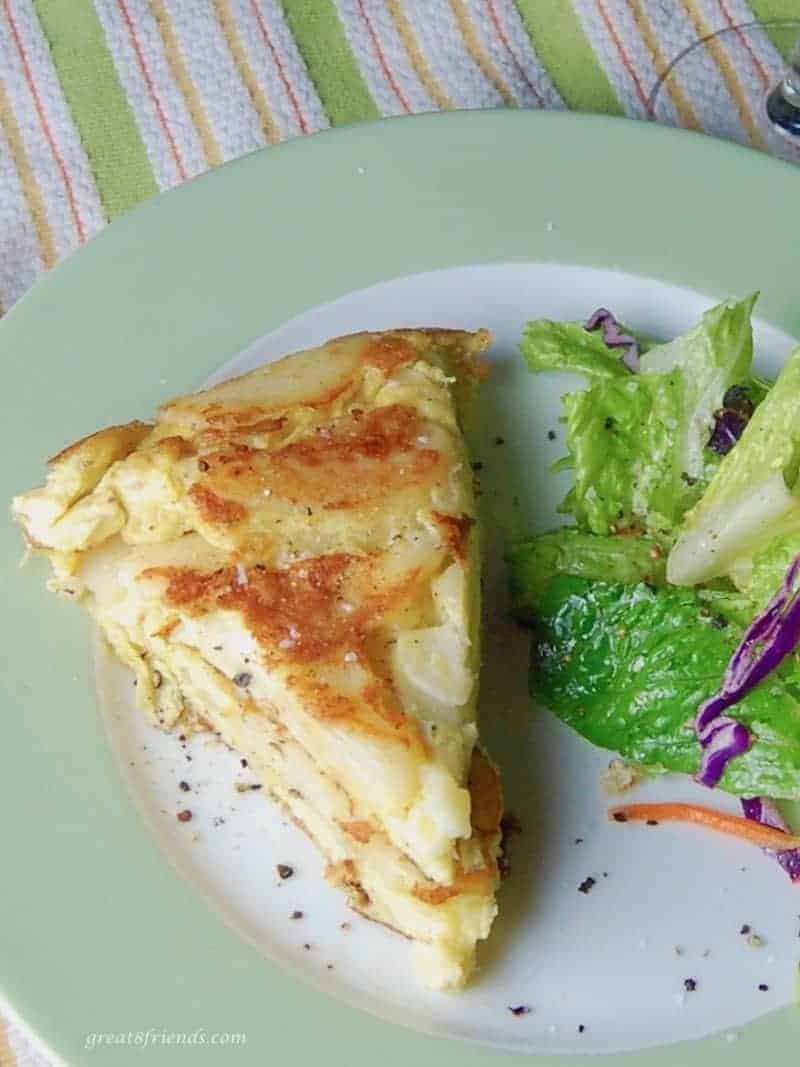 When we chose Spain as the theme for our Great Eight Dinner many years ago, I knew that the Tortilla Española would be on the menu. In addition to Paella, this is another traditional food of Spain.
Surely you are familiar with the other "tortilla"! Just so you know, the tortilla of Mexico and the tortilla of Spain….same spelling, same pronunciation, but no similarity between the two. Tortilla Española is a dish very close to a frittata, both having eggs as their main ingredient.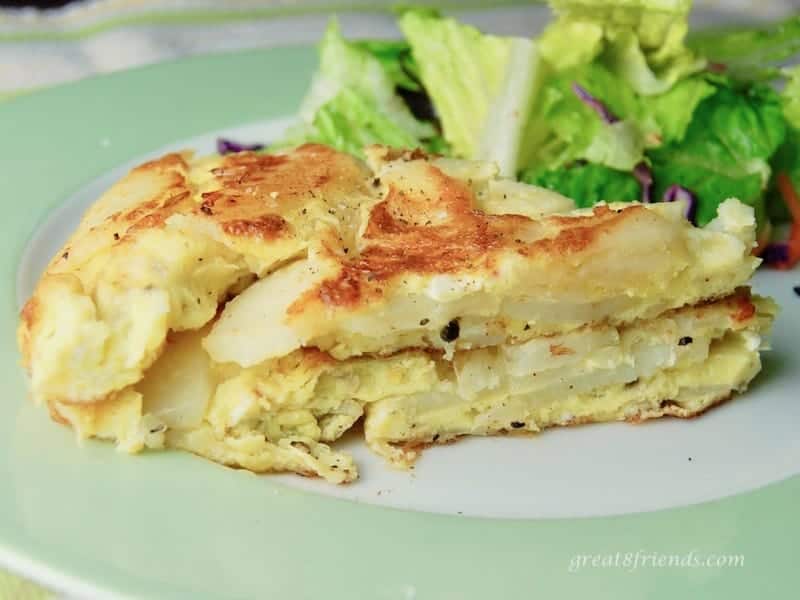 Often served warm for breakfast, lunch and sometimes dinner, the Tortilla Española can also be found on the menu at many tapas bars. Cut into cubes and speared with a toothpick, when paired with a glass of Spanish wine, it is delicious at room temperature! I remember back in college while studying abroad, my señora would serve the tortilla to us as a bocadillo (sandwich). Simple and tasty!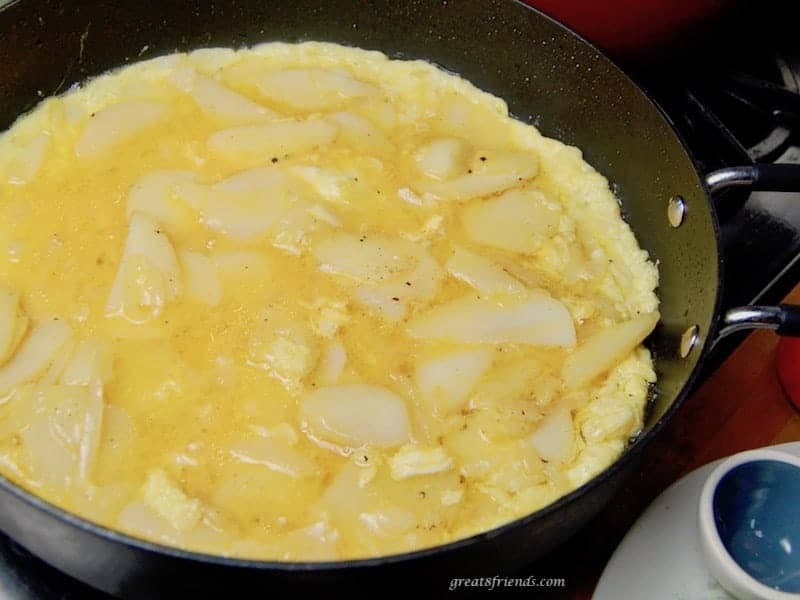 Mastering the flip: You've got to cook the tortilla on both sides and they say "the flip is all in the wrist!" I'm a bit rusty now, but back then, with a lot of practice, I was actually able to master the talent of flipping the tortilla IN the pan! Hooray! Everyone was quite impressed! Until then, invert it onto a plate and slide it back to the pan to cook the other side. You get the same results…just no applause!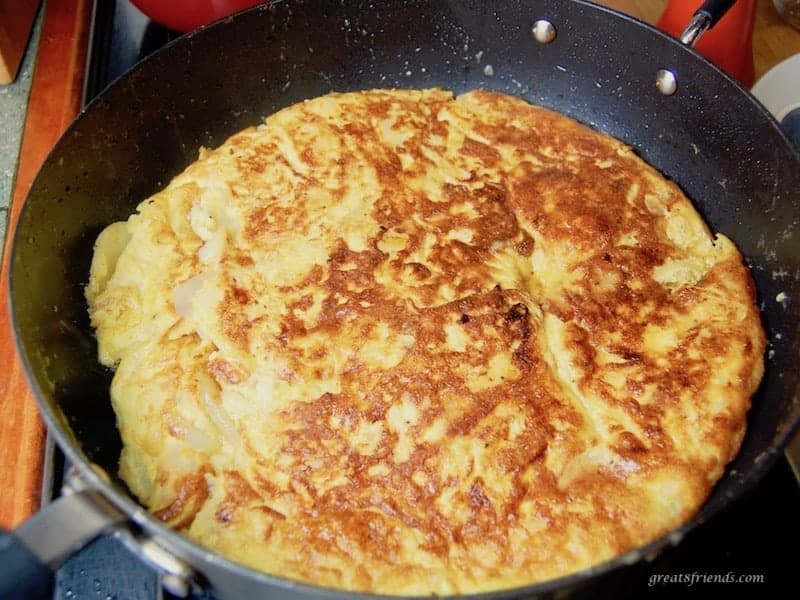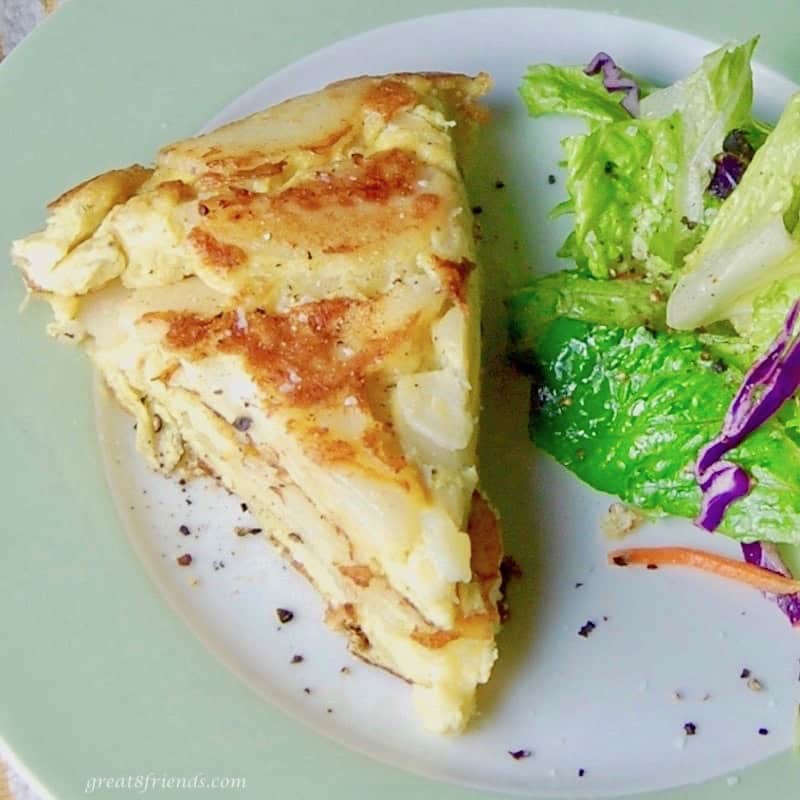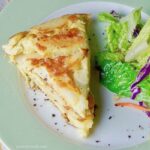 Print Recipe
Pin Recipe
Save this Recipe
Saved!
Please leave a rating!
Tortilla Española
This Tortilla Española is a dish very close to a frittata. Having eggs as their main base ingredient, it's like a blank "canvas" before you add all the delicious elements! Enjoy it for breakfast or appetizer or any meal. Warm, room temperature or cold, it's delíciosa!
Ingredients
¼

cup plus 1 Tablespoon

extra virgin olive oil

½

large

onion

,

chopped or sliced

3

cloves

garlic

,

sliced

5

small

yukon gold potatoes

,

peeled, cut to ¼" slices

7-8

large

eggs

,

beaten with a whisk

¼

cup

milk

,

optional

salt and pepper

,

to taste
Instructions
In a large 10"-12" skillet, warm 1 Tablespoon extra virgin olive oil over medium high heat.

With a pinch of salt and pepper, sauté onion and garlic until translucent and beginning to brown, about 5-7 minutes. Remove from pan and set aside.

In same skillet, warm ½ of the oil (⅛ cup), over medium heat, then add potatoes, turning regularly until tender, but not mushy. Drain, reserving oil. Cool slightly.

In a medium size bowl, combine the eggs, milk (if using) with onions and potatoes.

Season with salt and pepper to taste.

Return reserved oil to coat the pan, plus the remaining ⅛ cup.

Warm oil over medium high heat.

Add egg/potato mixture and let sit and set, until a little soupy on top layer.

Continue to loosen around edges (and gently check underneath) to prevent sticking.

With a dinner plate, or platter larger than the diameter of the skillet, gently slide the tortilla onto the plate, still "wet" side up.

Using another same sized plate or platter, invert the tortilla onto 2nd plate. The cooked, browned side is now up.

Slide back into skillet, and cook until cooked through and brown on bottom, about 5-7 more minutes.
Notes
Gr8 Tips:
If cook time is longer and mixture isn't setting, with a small spatula, pull some of the tortilla from the edges of the pan and let some of the liquid mixture run underneath. Repeat in different areas before inverting.
If you choose to cover skillet with a lid, remove at a certain point to give the tortilla a browned, slightly crisp edge.
The tortilla can be served, sliced in a baguette, or cut into cubes as an appetizer. Both can be at room temperature.
A little splash of hot sauce always adds a little kick...perfecto!