Mom's Brisket is a delicious melt in your mouth, cook all day recipe that takes you back to family suppers from your childhood.
I remember my mom's brisket so well. Coming home from school after our carpool dropped us off, I can still remember the aromas as we came through the front door!
Seeing that big pot that used to be Granny's on the stove, always gave us such a cozy feeling. "Yay! We're having Brisket," my sister Nise and I would say!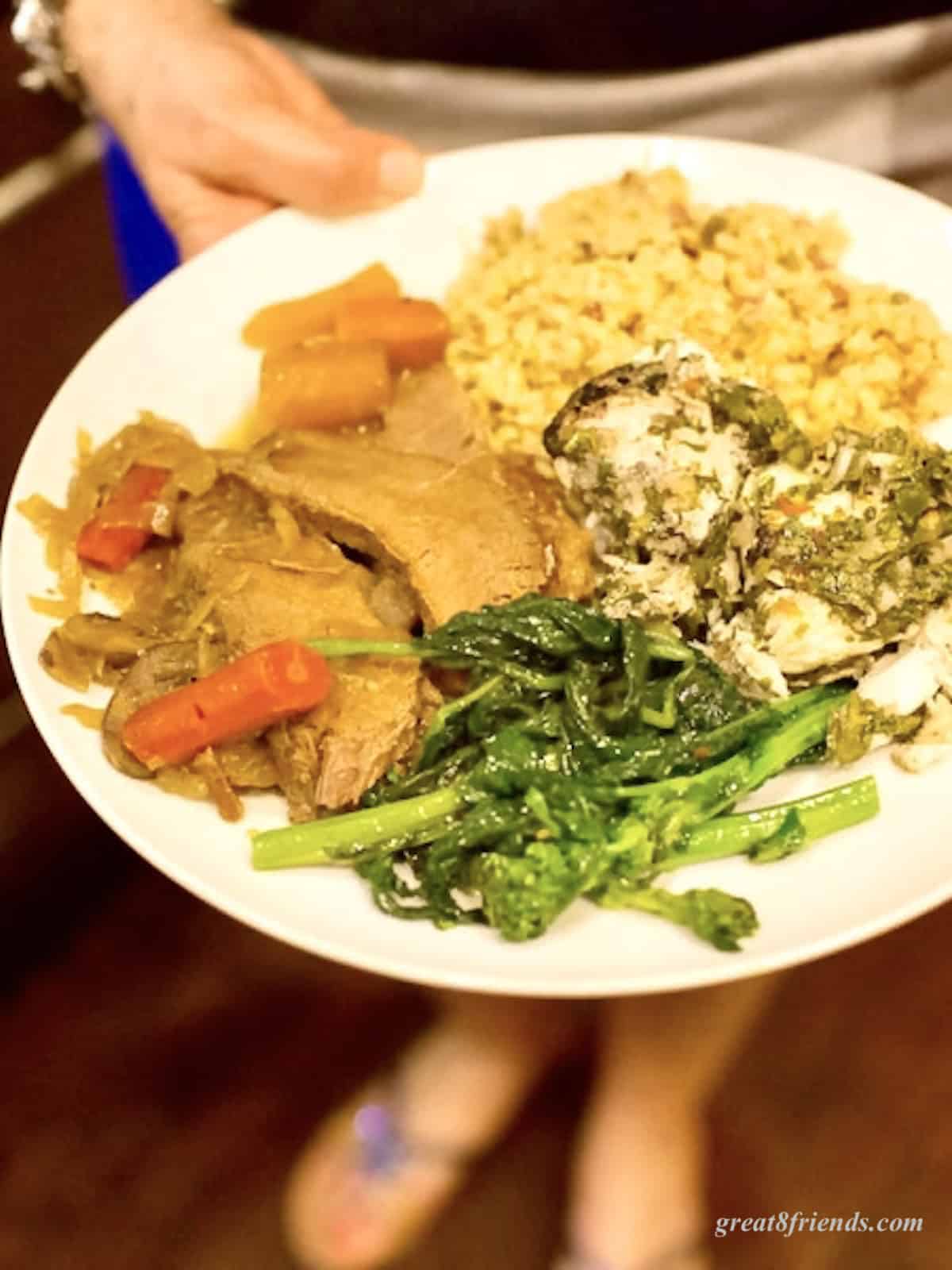 Sneaking a few carrots from the pot before I headed to my room to start my homework, I'd be somewhat satisfied until dinner was ready; but not for long!
The tenderness of the meat, braised for so long was my favorite part; fork tender and perfectly paired with the carrots!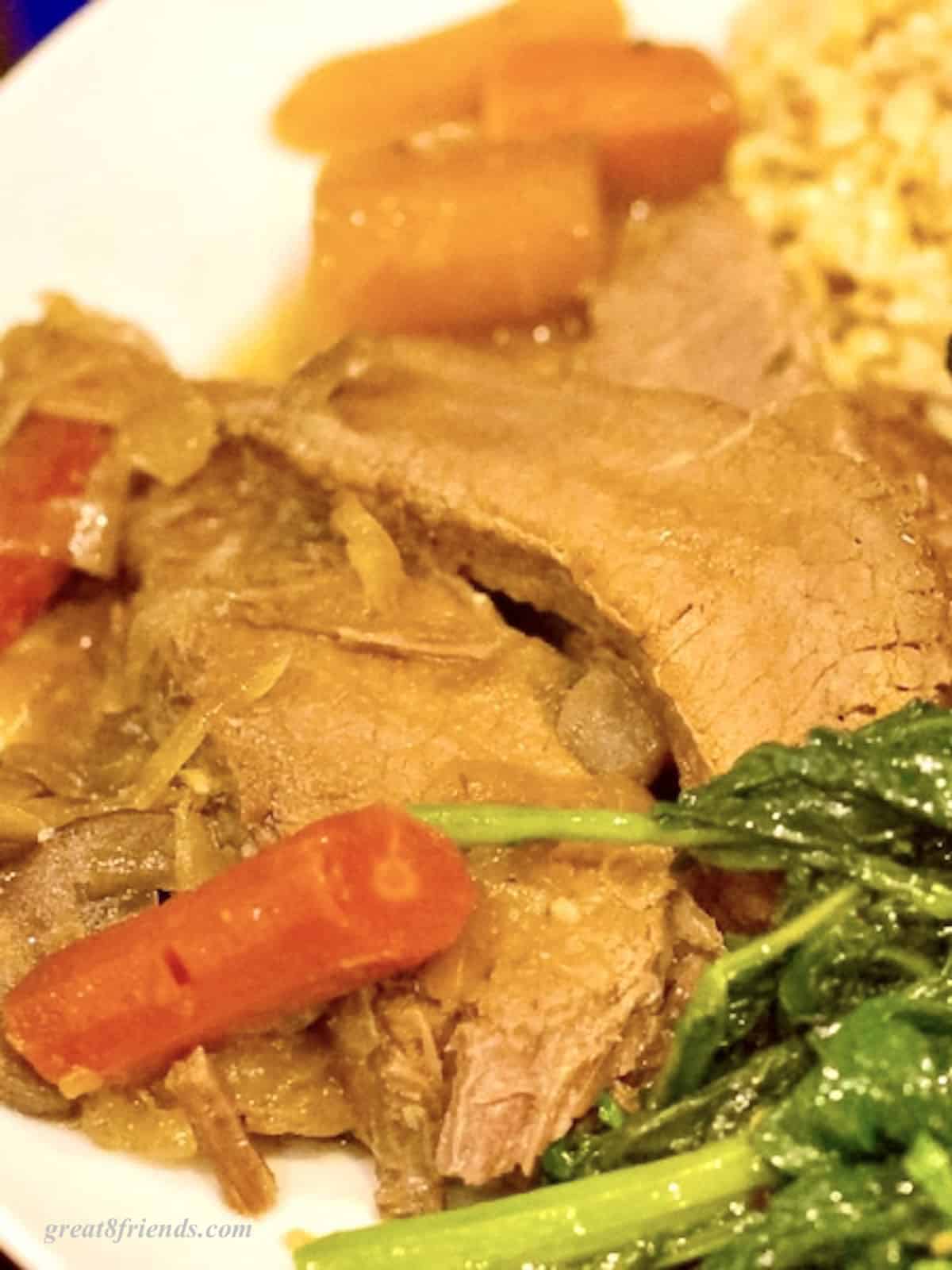 All of the seasonings that my mom would pick up when she and my dad would go to Grand Central Market, make this a win win dish.
You'll be bending the rules here a bit from the traditional brisket, with the prunes and beer, but the flavors of the two are well worth it. Trust me…as a teenager, seeing prunes and beer in a pan on the stove for a dinner that I was going to eat? I don't think so! I hesitated for sure!
But the rules were, you've got to try it. So I did! Hopefully you'll love every bite of my mom's brisket too!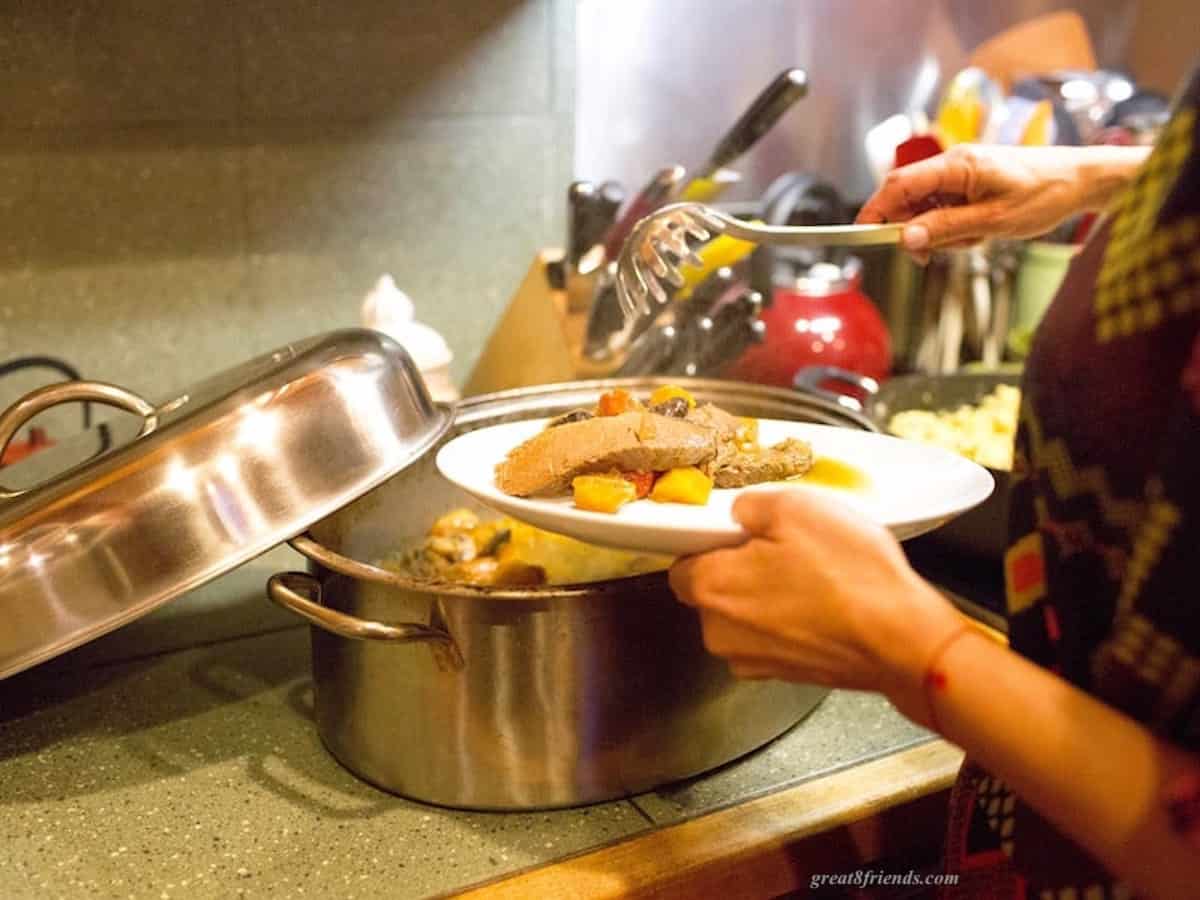 Thanks Mom! Love you!
This meal takes planning and preparation; as the meat and vegetables have to chill for at least 24 hours after the initial braising.
It is GR8 to make ahead of time for a big dinner for family or company. Serve with one of my favorites, my Granny's Fried Corn.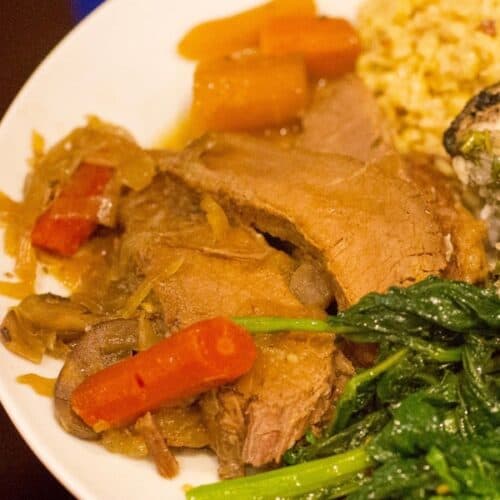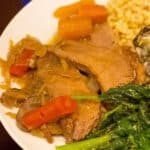 Print Recipe
Pin Recipe
Save this Recipe
Saved!
Please leave a rating!
Mom's Brisket
Start the preparation of this recipe at least 1-2 days before serving.
Ingredients
1

Tablespoon

kosher salt

2 ½

teaspoons

freshly ground black pepper

2 ½

teaspoons

dry mustard

3

teaspoons

chopped fresh sage

3

teaspoons

chopped fresh thyme

6

lbs

flat brisket,

,

a little fat is OK

2 ½

Tablespoons

bacon drippings or vegetable oil

5

cups

chicken broth

,

or more if needed

12

ounces

stout beer

5

prunes

,

pitted, (optional)

4

dry bay leaves

1 ½

teaspoons

dark brown sugar

6 ½

cups

white onions

,

sliced very thinly

11

cloves

garlic

,

peeled

1

pound

mushrooms

,

thinly sliced

¾ - 1

pound

medium carrots

,

peeled, cut into 2" lengths

2

Tablespoons

whole grain mustard

1

Tablespoon

white vinegar
Instructions
Mix first 5 ingredients in a small bowl and rub this mixture over all sides of the brisket.

Melt bacon drippings over medium-high heat in a heavy, large oven-proof pot (large enough to fit brisket). Add brisket to pot and brown, about 5 minutes per side. Transfer Brisket to cookie sheet with rim.

Add 2 cups of broth to pot and bring to a boil; scrape browned bits from bottom. Stir in beer, prunes, bay leaves, and brown sugar; bring to boil.

Place brisket back in pot, with fat side down; scatter onion slices over meat to cover, and add garlic cloves.

COVER pot and place in oven. Braise for 1 hour.

Turn brisket over; return pot to oven UNCOVERED and braise for 30 minutes longer.

Add 2 cups broth. COVER and bake 1 ½ hours more.

Transfer Brisket to a cookie sheet; add remaining cup of Broth to liquid in pot along with mushrooms and carrots.

Return brisket to pot; COVER and return to oven. Braise until meat and carrots are very tender, about 45 minutes.

Slowly add more broth if needed, so vegetables are covered. Cool slightly then refrigerate uncovered until cold.

Once completely cold, cover and keep chilled at least 1 to 2 days.

On the day of serving: Preheat oven to 350ºF. Spoon off any solid layer of fat from surface and discard.

Transfer brisket to cutting board and thinly slice crosswise. Place Brisket slices in large roasting pan; leaving vegetables and broth in the pot.

Bring the pot of vegetables to a boil. Whisk in whole grain mustard and vinegar. Season to taste with salt and pepper. Slowly add more vinegar to taste.

Pour pan juices and vegetables over brisket.

Cover pan tightly with heavy-duty foil, and cook in oven until brisket slices and vegetables are heated through, about 1 hour and 15 minutes.

Serve meat with vegetables and sauce.
Notes
Gr8 Do-Ahead Tip:
Make this dish through Step 11 for serving at a party a day or two later. All the hard work is done and you will only have the roasting pan to wash after the dinner!