This Roasted Carrot and Tomato Soup recipe is mainly staple ingredients. Chances are you can have a pot of this EASY and delicious soup on the stove tonight! Winter, Spring, Summer or Fall, carrots and tomatoes are always in season. Enjoy a bowl of this perfect comfort food anytime.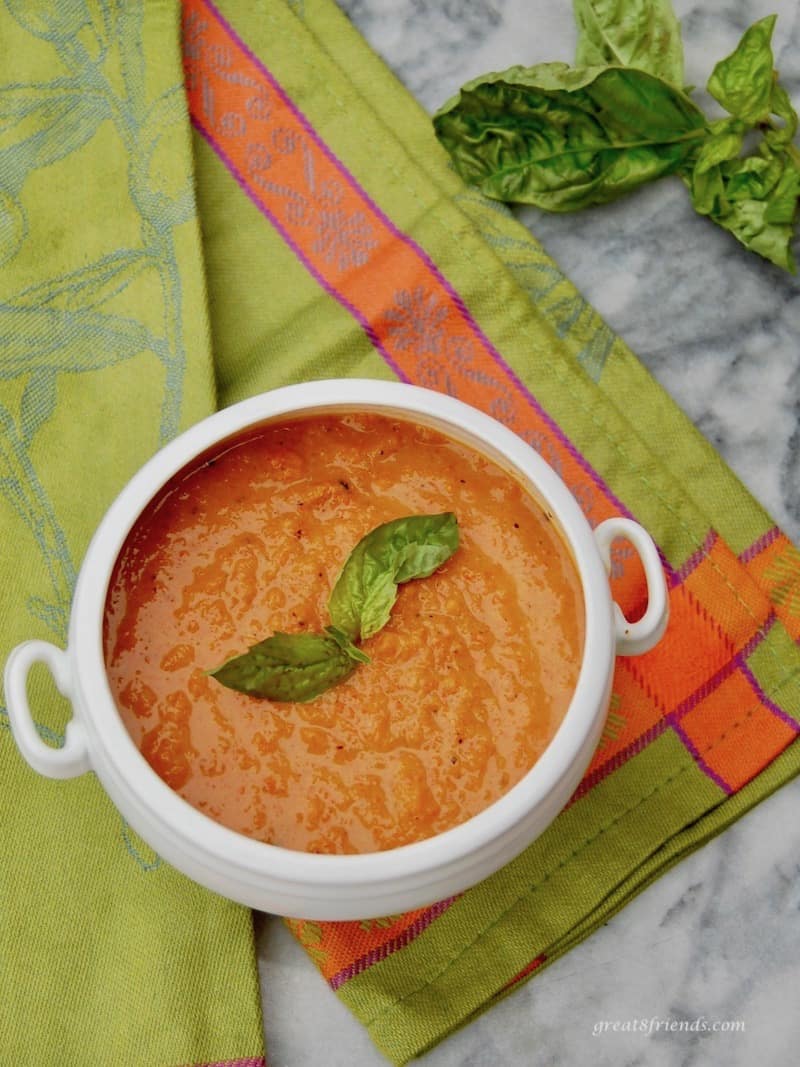 In California, we are always ready for some cooler temperatures, and right now we are having some wonderfully crisp nights! Nothing soothes the soul (and the belly) better than a nice bowl of soup in front of you!
I love a meatless soup, no matter what the season. If it's easy, even better!
This Roasted Carrot and Tomato Soup with Basil recipe starts with the simplest ingredients and it just gets better from there. During the roasting, the carrots almost take on a caramel-like look. It doesn't add sweetness though, like you might think. It enhances the flavor, and boy is it a delicious touch! Way better than boiling!
You probably have all of the ingredients already, and can start right now! If you're lucky enough to have a farmers market or actual farm stand in your neck of the woods, even better!
We all want the freshest of the fresh, right? For this recipe, I head towards our local favorite, Manassero Farms. They plant it there, they grow it there, you buy it there! Doesn't get any fresher than that!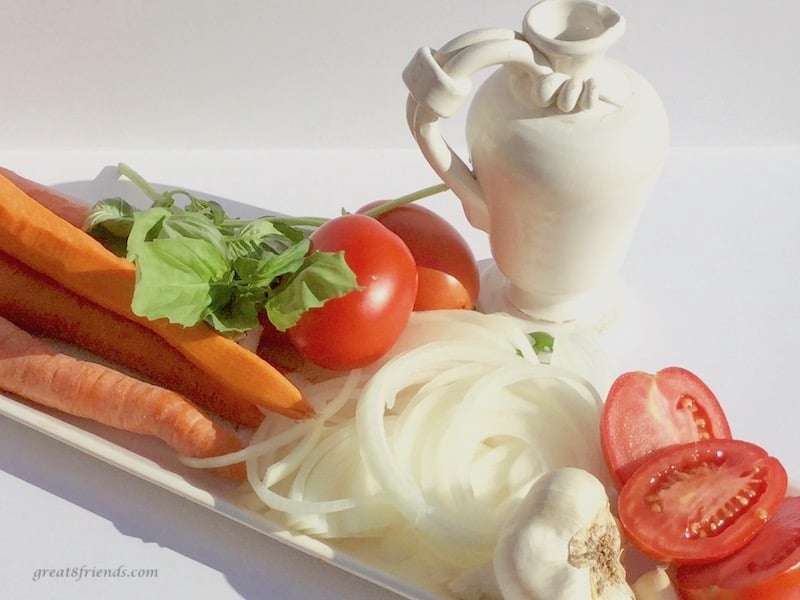 If you've got it already, grab that bag of carrots that you forgot was in the crisper drawer!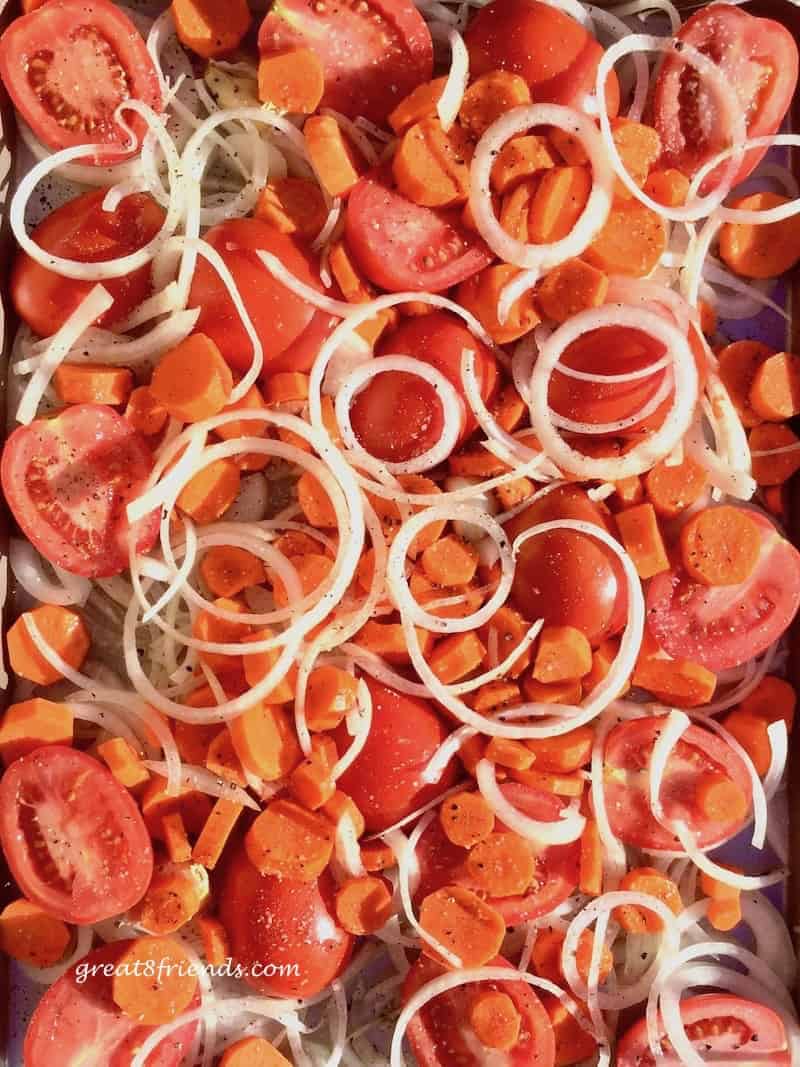 The vegetables, once roasted, sum up the heart and soul of this bowl of goodness. This flavorful meatless soup is light and perfect for all seasons and, if you're like me, you won't want to wait! Don't forget to dunk a bit of French Bread (Olive Bread 2-2-2)!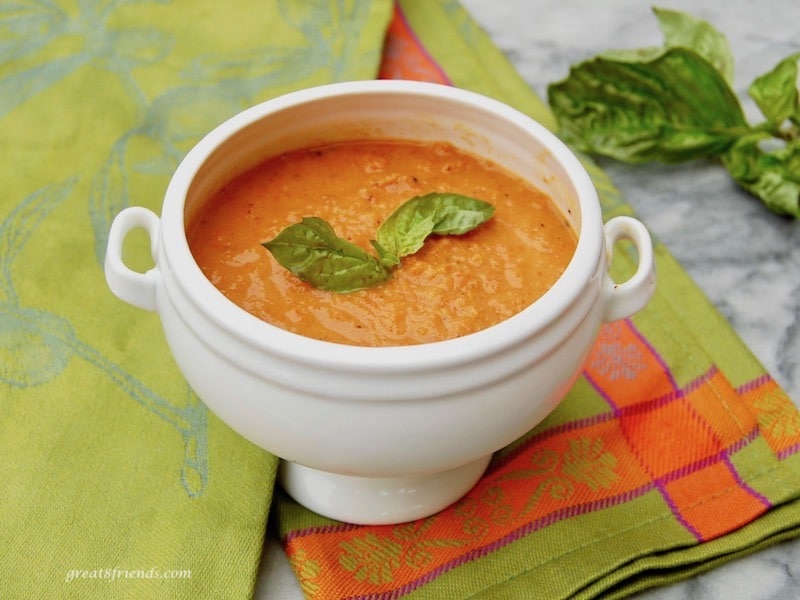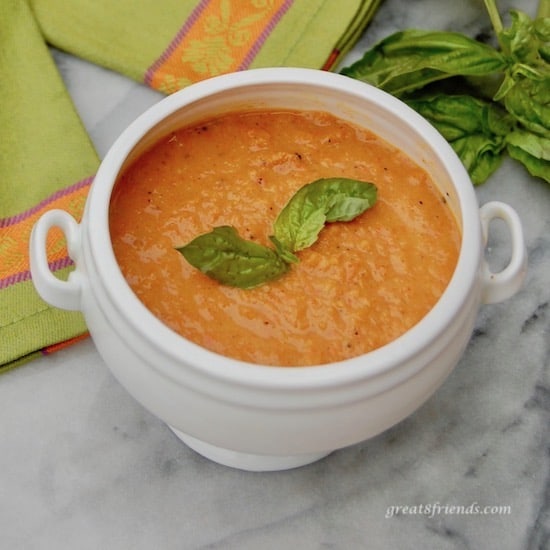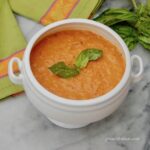 Print Recipe
Pin Recipe
Save this Recipe
Saved!
Please leave a rating!
ROASTED CARROT AND TOMATO SOUP
Winter, Spring, Summer or Fall, carrots and tomatoes are always in season. With such an easy recipe, chances are, you can have a pot of this delicious soup on the stove tonight!
Ingredients
olive oil for the pan,

or nonstick cooking spray

1

large

white onion

,

halved and thinly sliced

8

*Roma tomatoes

,

halved lengthwise

6

medium carrots

,

peeled, cut into thick rounds

2-3

large cloves

garlic

,

unpeeled. (I LOVE garlic, so I sometimes triple the garlic!)

1

Tablespoon

extra virgin olive oil

2 ½

cups

water**

,

(or more depending on desired consistency)**

2 ¾

cups

low fat milk**

½

cup

basil leaves,

,

thinly sliced or julienned with kitchen scissors), use more or less basil depending on personal taste.

salt & pepper
Instructions
Preheat oven to 400℉. Lightly oil (or spray) a large rimmed baking sheet.

In an even layer, place the sliced onion, halved tomatoes, cut carrots and garlic cloves on the prepared baking sheet.

Drizzle the vegetables with olive oil.

Season with salt and pepper.

Roast for about 1 hour or until tender and beginning to brown. To ensure that they are evenly browned, turn and rotate baking sheet after 30 minutes.

When cool enough to handle, peel the garlic cloves. Just give 'em a squeeze!

Transfer vegetables to a large bowl…keep the baking sheet juicy and messy! Don't clean it…yet!

Scraping up the browned bits of goodness, slowly add 1 cup of the water to the baking sheet. Pour mixture into bowl with vegetables.

You can puree the soup with an immersion blender or food processor. If using an immersion blender, add the remaining water and blend vegetable mixture directly in the bowl.

If using a food processor, slowly add ½ of the vegetables and the water from the pan to a food processor and purée until smooth. Transfer pureed mixture to a large saucepan. Add remaining vegetables and 1 ½ cups of the water to food processor and purée. Add 2nd batch to saucepan.

Gradually add the milk to saucepan to thin to desired consistency, may be more or less of the 2 ¾ cups.

Stir in ½ of the sliced/julienned basil.

Simmer uncovered for about 15 minutes to blend flavors.

Season with salt and pepper to taste.

Serve in soup bowls or in mugs as an appetizer. Just before serving, garnish with remaining sliced/juilenned basil.
Notes
*Roma Tomato or "Roma" is a Plum tomato
**If a thicker soup consistency is desired, a lesser amount of the liquid (water and milk) is recommended. Check as you go...you can always add more. 
Gr8 Do-Ahead Tip:
Can be made 6 hours ahead up through Step 14. Cover; chill. Bring to simmer before continuing.
Gr8 tip:
To serve as an appetizer, pour into your favorite little teacups or espresso cups; for lunch…sip from a mug! Serve this soup with some Parmesan Cheese Crisps Laced with Zucchini & Carrots.
sm 4/2/20