You will get rave reviews when you make these delicious Pork Dumplings with Sesame Dipping Sauce! Perfect side dish, appetizer or meal!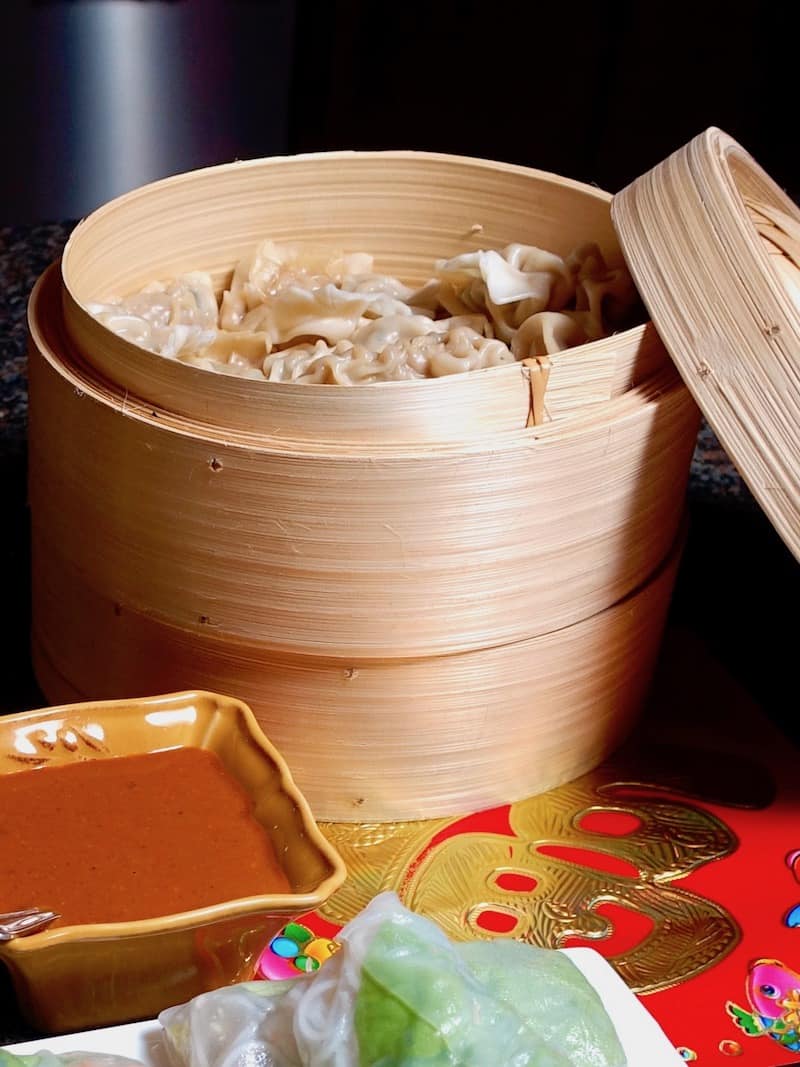 Ding Dong Ditch! That's what Anna and Vince did with the help of their daughter, Tori. We knew the day their Great 8 invitations would be delivered, but not exactly when. A ding from my phone and here comes the text! "Check your porch." 
I hurried to the door just as Vince and his cohorts sped away, excited about the theme and my designated dish! Pork Dumplings!! Yay for me! Nothing better than making something you love to eat! Did you guess the theme?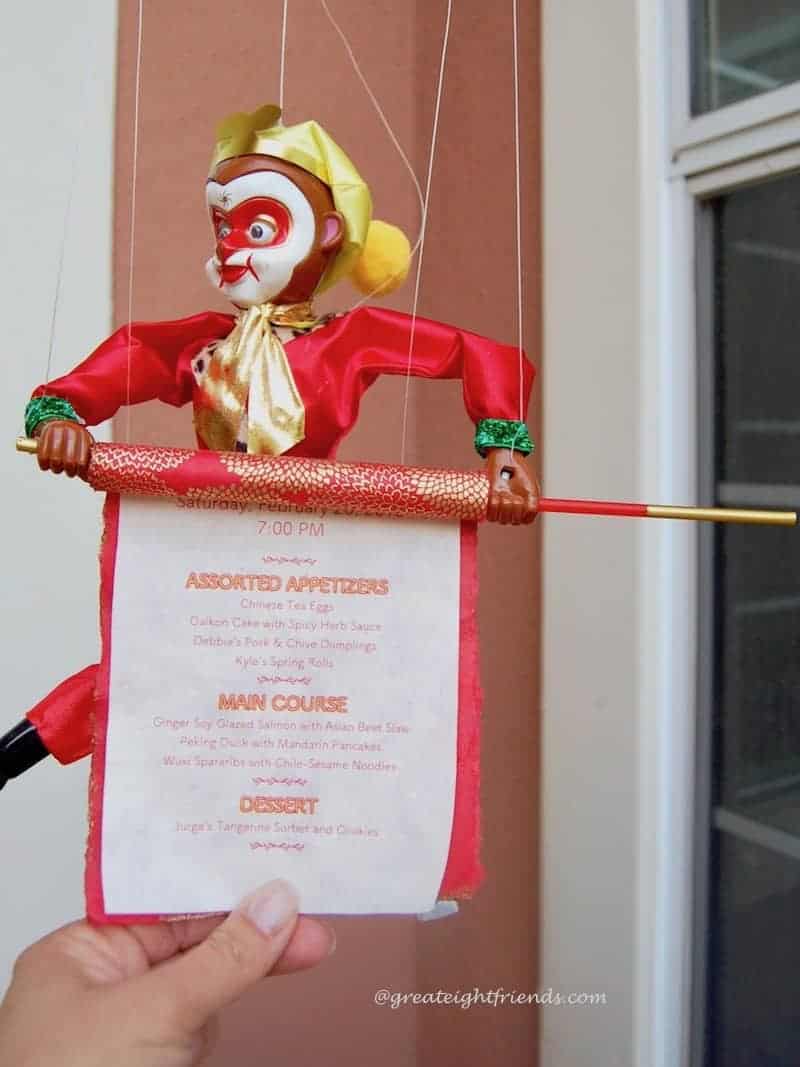 Chinese New Year! Another theme we haven't done! How fun is that! And the invitation, playing traditional Chinese music, was hanging in a planter, with a Year of the Monkey puppet holding the menu! Once again...they outdid themselves.
So...Pork Dumplings! I have always loved dumplings and pot stickers! How did Anna know that? I don't think she did, but I'm sure glad I got dibs on it! I had always wanted one of those double layer bamboo steamers...now I've got an excuse! It's so fun and easy to use and the steamer totally completes the presentation!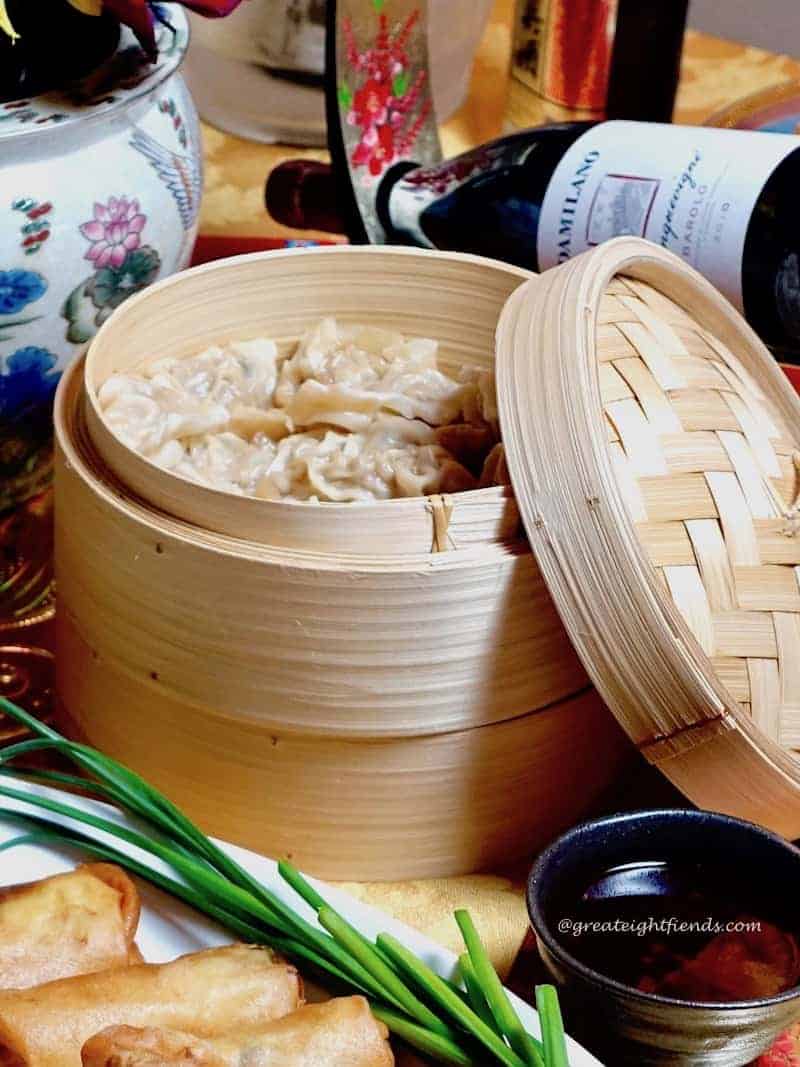 I searched a few recipes to find out the traditional filling mixture and of course the authentic way to cook them.
Wanting to create a tasty combination of flavors , I had to be sure I used fresh ginger which I LOVE in Asian cooking (and cocktails!) A few ingredients that I had never used or heard of, but were easily found at one of our nearby Chinese markets.
The Black Vinegar is common in Chinese cooking, but a good substitute is equal amounts of balsamic and red wine vinegars. But you've got to admit, Black Vinegar is pretty intriguing, right? Thank goodness the labels also had some words in English!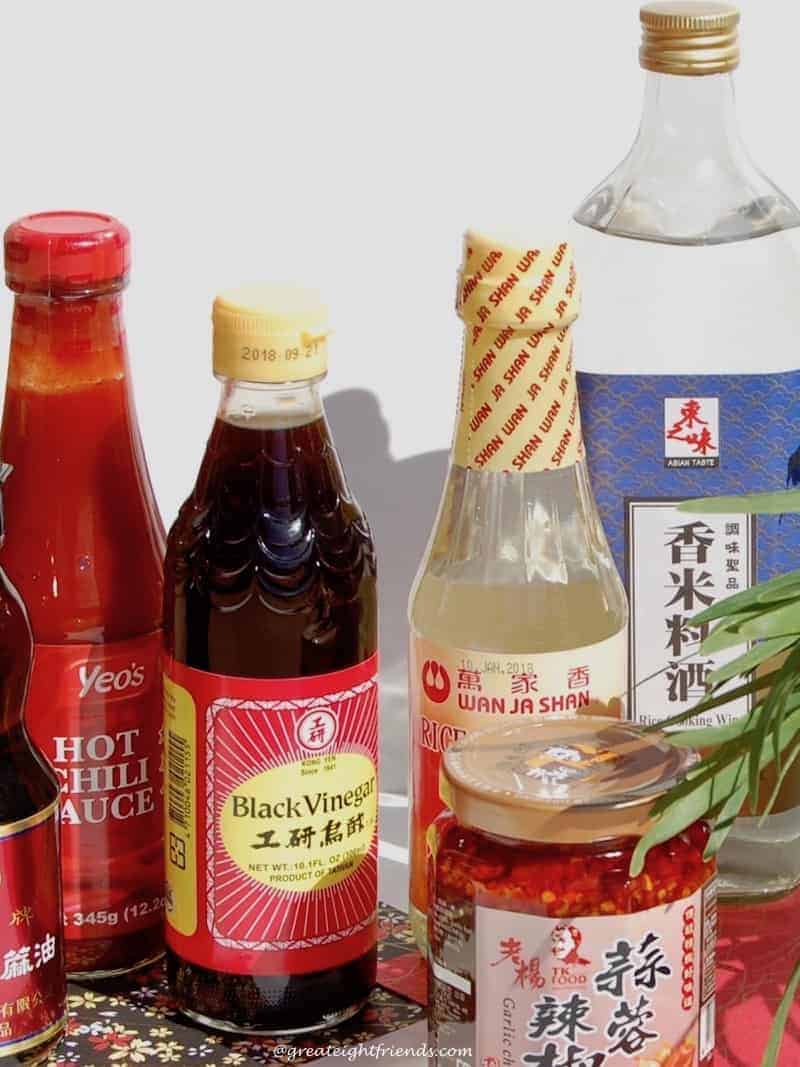 Making the filling was really simple, and assembling the dumplings was pretty fun! Since I love crafting, Anna knew exactly what dish to give me to make! "Crafting" with food that's delicious...even better!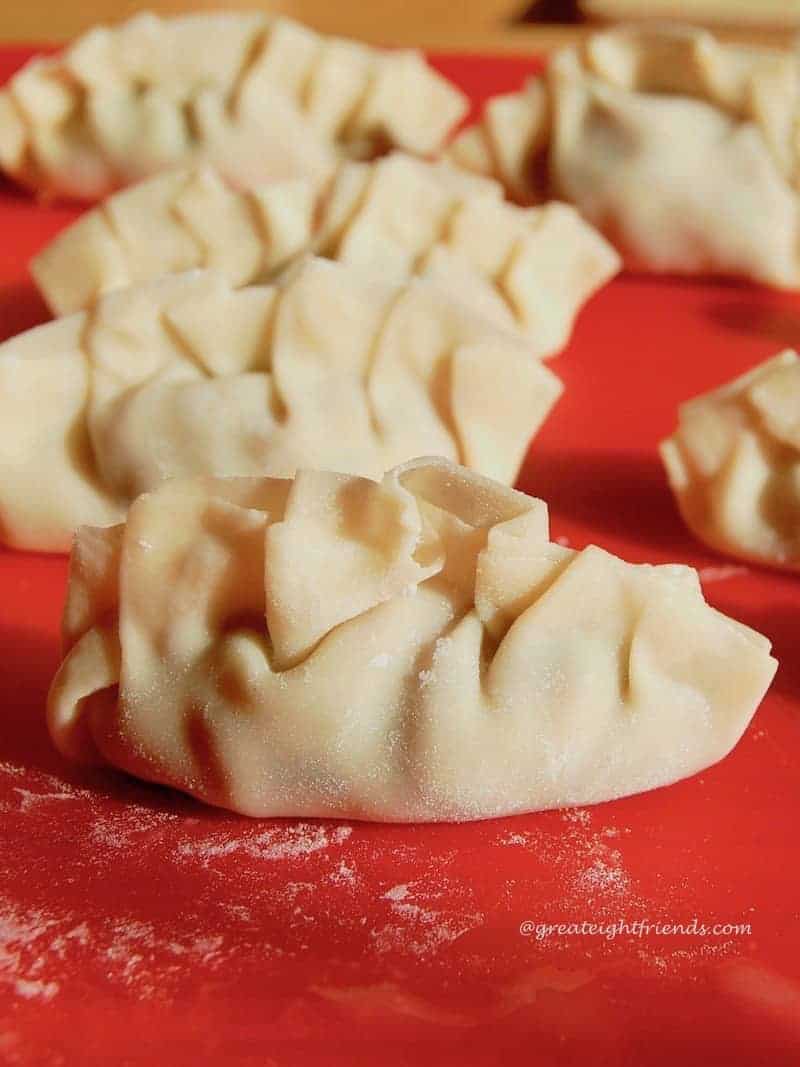 Here is a video showing one method for folding the dumplings.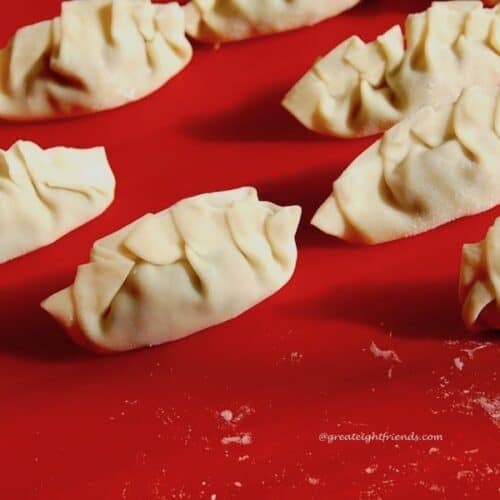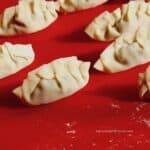 Print Recipe
Pin Recipe
Save this Recipe
Saved!
Please leave a rating!
Pork Dumplings with Sesame Dipping Sauce
You will get rave reviews when you make these delicious Pork Dumplings with Sesame Dipping Sauce! Perfect side dish, appetizer or meal!

Recipe adapted from Epicurious.
Ingredients
Dumpling Filling:
1

pound

ground pork

1

pound

Savoy cabbage (or Napa)

,

halved lengthwise and cored

1

Tablespoon

fresh ginger

,

grated on a zester, or pressed through a garlic press.

2

scallions

3-4

Tablespoons

soy sauce

,

depending on how lean your pork is (regular or low sodium)

1

Tablespoon

Chinese cooking wine or sherry*

2

teaspoons

sesame oil

1

scant teaspoon

fine sea salt

Pinch of white pepper

1

package frozen round dumpling wrappers

Small bowl of water
Dipping Sauce
3

Tablespoons

soy sauce

1

teaspoon

Chinese black vinegar* (alternatively, ½ teaspoon balsamic mixed with ½ teaspoon red wine vinegar)

,

Available at Chinese markets

1

teaspoon

sesame oil

a pinch of white pepper

Chinese hot pepper sauce

,

optional
Instructions
Making the Filling:
Place the ground pork in a large bowl. Cover and set aside.


Over high heat, bring a large pot of water to boil. Add the cabbage and blanch to quickly wilt.

Using a slotted spoon, remove the cabbage from the water and when cool enough to handle, squeeze out any excess liquid, or wring out with a clean dish towel.


Chop cabbage in 1" pieces.

In a small bowl, allow ginger to sit in 2 Tablespoons of water, it should be enough to cover the grated ginger. Allow to sit for a few minutes. (You will use the ginger infused water and discard the actual ginger.)


Trim root end of scallions, Cut in half lengthwise, and thinly slice crosswise, using up the white, light green, and dark green parts. Add to the bowl with the pork.


Strain the ginger infused water onto the pork and with a wooden spoon push on the ginger to squeeze out all the infused juice. Discard the ginger pieces.

Mix the soy sauce, cooking wine, sesame oil, salt, and pepper into the pork mixture until well combined.


Add the chopped cabbage to the pork filling mixture. Continue to mix well.
Assembly:
Line a cookie sheet with foil.


Onto the center of one dumpling wrapper place a generous tablespoon of the pork filling.


Using the small bowl of water and your fingertips, dampen the outer edge of the dumpling wrapper. Fold the wrapper over so it creates a half-moon shape.

With the rounded edge facing away from you, pinch the edges of the dough to create "pleats," pressing each pleat against the next pleat to seal the dumpling along the way. Work your way to the center then start at the other corner, pleating towards the center.


Be sure the wrapper is completely sealed so there is no filling oozing out. If the dumpling cannot be sealed because of too much filling, remove the excess. This will ensure that the dumplings remain sealed while cooking.


As you go, place each dumpling onto the prepared baking sheet. To avoid having them stick together, make sure they aren't touching one another.

Cooking the Dumplings - Method #1:
Bring a medium pot of water to a boil. With a slotted spoon or mesh ladle, gently lower the dumplings into boiling water and boil for 3-5 minutes. They are done when the dumplings float for a few minutes and the wrappers are somewhat "shear." Remove carefully with a slotted spoon.
Cooking the Dumplings - Method #2:
Mist a few cabbage leaves with cooking spray. Line steamer with leaves. If your Bamboo Steamer has 2 levels, line both levels with the leaves. Add dumplings on top of cabbage leaves.

Bring 1 ½" water to a simmer in a deep, rounded skillet (like a wok). The reason the curved sides of a wok work best is because, to avoid burning, you don't want the bottom of the steamer to directly touch the bottom of the pot, only the sides. The dumplings are done when the wrappers ("skins") are translucent.

Serve hot.
Dipping Sauce:
Mix all of the dipping sauce ingredients together and serve alongside the dumplings.

Notes
Gr8 Do Ahead Tip:
After the assembly is complete and the dumplings are lined up on the baking sheet, freeze them for a couple of hours. Once frozen, they can be put into a freezer bag and frozen for up to one month.
Recipe adapted from Epicurious
sm 1/18/19